FilzaEscaped iOS 15 | How To Download FilzaEscaped iOS 15 IPA Without Jailbreak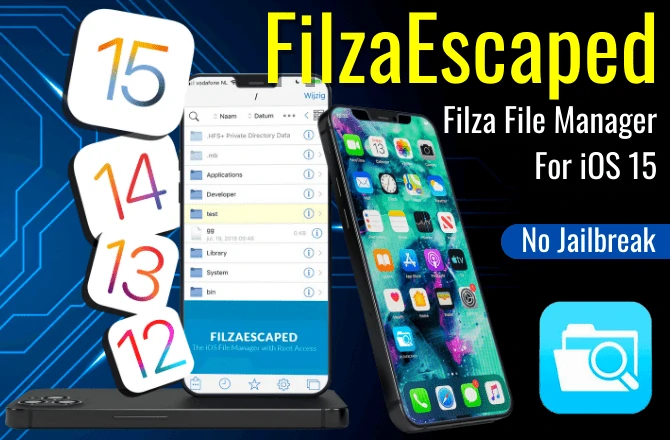 FilzaEscaped iOS 15 Is Finally Here!
Filza is a program that lets you play around with your iPhone or iPad's root file system. Filza Escaped makes this possible without the need for a jailbreak. This implies that FilzaEscaped is the best way to explore with the filesystem or just use Filza without a Jailbreak to prevent Jailbreak detection and other issues.
Download FilzaEscaped iPA – File Manager for iOS iPhone, iPad, and iPod (download on PC)
How To Install FilzaEscaped15 – No Jailbreak Required
Step 1 > Filzaescaped iOS 15 ipa download on Mac or Windows PC here
Step 2 > Sideloadly to be downloaded next, depending on whether you have a Mac or a Windows PC (How to download Sideloadly)
» Download Sideloadly for Windows 64-bit
» Download Sideloadly for Windows 32-bit
.Step 3 > Now simply select the ipa that you have downloaded for files.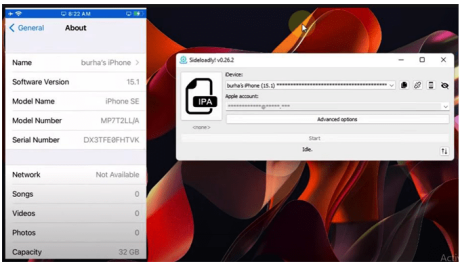 Step 4 > Put in your Apple ID > Click to start.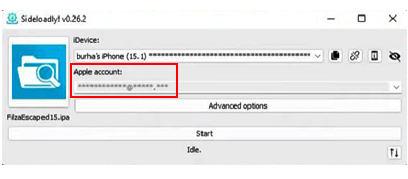 Step 5 > Now install FilzaEscaped15 to your device and the status of the installation is showing up.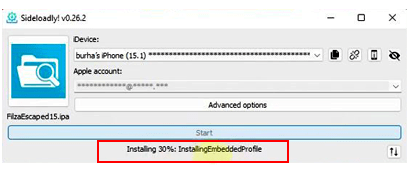 Step 6 > Before you can use FilzaEscaped15, you have to go to settings > general > scroll down and you'll see device management > verified.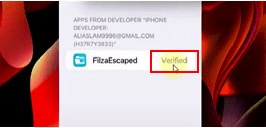 Step 7 > Now you can open the app and just from here you can browse your file system and you can also install tweaks via dev files using the file manager.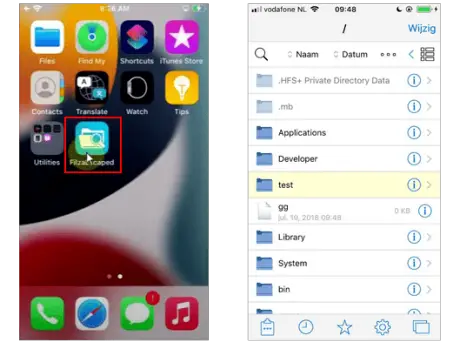 Now that FilzaEscaped is installed, you may explore with ringtones, backdrops, app icons, control-center layouts, hacking games, and so on. On the proper iOS version, all of this is achievable without a jailbreak!
Filzajailed / Filza Escaped Supported iOS Versions
iOS 15 to iOS 15.1/15.1.1 on all devices
iOS 13.4.1, iOS 13.4, iOS 13.3.1, iOS 13.3, iOS 13.2.3, iOS 13.2.2, iOS 13.2, iOS 13.1.3, iOS 13.1.2, iOS 13.1.1, iOS 13.1, iOS 13
iOS 12.4.1, iOS 12.4, iOS 12.3.2, iOS 12.3.1, iOS 12.3, iOS 12.2, iOS 12.1.4, iOS 12.1.3, iOS 12.1.2, iOS 12.1.1, iOS 12.1, iOS 12.0.1, iOS 12
iOS 11.4.1, iOS 11.4, iOS 11.3.1, iOS 11.3, iOS 11.2.6, iOS 11.2.5, iOS 11.2.2, iOS 11.2.1, iOS 11.2, iOS 11.1.2, iOS 11.1.1, iOS 11.1, iOS 11.0.3, iOS 11.0.2, iOS 11.0.1, iOS 11
Install Filzajailed/ Filzaescaped for iOS 11- iOS 11.1.2 With Cydia Impactor
Step 1 > Download FilzaJailed IPA from the link above, then install Cydia Impactor on your PC.
Step 2 > Drag FilzaJailed IPA to the Cydia impactor after extracting and opening it.
Step 3 > Now enter your Apple ID (email address) and password.
Step 4 > Please wait till the FilzaJailed IPA installation is completed.
Step 5 > Go to Settings > General > Device and Profile Management. The FilzaJailed app may be found there. Select "Trust FilzaJailed" from the drop-down menu. Then, when a pop-up message appears, tap trust.Step 6 > You've now completed the FilzaJailed IPA setup. The FilzaJailed app now allows you to access the iOS 11 file system.
FilzaEscaped On iOS 15.0-15.1.1: How to Change Carrier Name
Let's start with a discussion of the carrier and why you should change it if you're an iOS user. This method is based on D AppleDry05's recently published FilzaEscaped for iOS 15.0 through 15.1.1, although it may also be used with the Filza file manager through Cydia.
The Filzaescaped iOS 15 system can be accessed without a jailbreak. The carrier name, which is the SIM card carrier displayed in the status bar of your iOS device, is one such modification that Filzaescaped iOS 15.1 allows you to make.
The Easiest Guide To Customizing The Carrier Name With FilzaEscaped in iOS 15 – 15.1.1
Because the carrier name is recorded in the files that make up the carrier bundle, changing it with Filza or FilzaEscaped15 is simple. To know the name of the carrier, how to utilize the settings, and what restrictions (Hotspot, among others) apply to the device, This carrier bundle's files are used.
Step 1 > FilzaEscaped15 can be downloaded and installed using your preferred sideloading tool, such as AltStore or Sideloadly.
Step 2 > After that, open FilzaEscaped15 and go to the Carrier Bundle.
/var/mobile/Library/CarrierBundles/Overlay
Step 3 > Multiple files with varying names can be found within this path. This differs from one network to the next. Open each one until you locate the file that has your carrier's name.
Step 4 > Find and open the StatusBarCarrierName key. The carrier name can be changed here with whatever you desire.
Step 5 > Save the file and reboot the phone once you've renamed the carrier. After just a reboot, the changes will happen immediately.
So, with FilzaEscaped15, is it worth it to change the carrier name to anything you want? It can certainly achieve that; it's a wonderful modification that offers your iOS device a stylish appearance. Filzaescaped iOS 15 is a great program that lets you do a lot of cool things. This is a fantastic way to make a small change.
What is FilzaEscaped15?
FilzaEscaped for iOS is an excellent file manager with efficiency improvements and a fantastic user interface. It makes the process of editing, transferring, and creating files more easier. It was previously compatible with iOS 11 to iOS 13.4.1. GeoFilza was the name of an earlier version of this tool. There is no need for a jailbreak. Bas vT, the creator of FilzaEscaped, has recently confirmed that a public version of iOS 15 – iOS 15.1.1 is now available for download.
A media player, hex editor, text editor, SQLite editor, IPA installer, DEB installer, web viewer, terminal, and various file viewers are all included in FilzaEscaped. The software supports ZIP, 7, RAR, TAR, TAR.GZ, and GZ archives for compression and decompression. FilzaEscaped also can extract DEB/IPA files, view information about DEB/IPA files, download a normal file, and copy an HTML link to the clipboard.
The Best Place To Download iOS Apps With FilzaEscaped15
The iPA Store is a great resource for downloading iOS jailbreak, tweaks, and apps. The library is easy to browse and you can find a variety of different apps and tweaks for your iPhone, iPad, or iPod Touch. The IPA files are easy to install and you can use them to customize your device to your liking. iPA Store is a great resource for jailbreakers and those who want to customize their iOS devices.
Filza v3.9.5 Now Supports TrollStore On iOS 15
Since Filza is one of the most well-known file management tools currently available, if you've jailbroken iPhones or iPads for any long period of time, you should at least be somewhat familiar with it. FilzaEscaped15 updated to support the TrollStore perma-signing tool for jailbroken iOS & iPadOS 15.0-15.1.1 devices, Filza File Manager version 3.9.5 was made available by TIGI Software.
This is a significant element since it enables the software to be sideloaded permanently onto any device, jailbroken or not. The update also includes UI enhancements and bug fixes, as well as Fish shell support for TrollStore users.
This version of Filza enables users to not only read from but also write to /var because of the enhanced privileges provided by the exploit utilized by TrollStore. According to Opa334 of TrollStore, this version of Filza has a root helper, providing full filesystem access much like on jailbroken iOS devices.
TrollStore Permanently Sideload Any IPAs For Free »
Why Do You Need FilzaEscaped iOS 15 No Jailbreak?
After jailbreaking, you may use Cydia or the Sileo app manager to personalize your device. There is still no semi-untethered or semi-tethered jailbreak for iOS 15 and later. But chayote jailbreak iOS 15 and the new checkra1n iOS 15 can be used soon. As a result, FilzaEscaped15 is an excellent option for iOS 15 and later users who want to modify their iPhone or iPad without jailbreaking.
Moreover, there are perfect iOS 15 jailbreak alternatives freely available. These options are also compatible with iOS 16. To access the amazing iOS customizations, please see the link given below.
| | |
| --- | --- |
| Jailbreak iOS 15.5 -iOS 15.6 GET | Jailbreak iOS 15.4 / iOS 15.4.1 GET |
| Jailbreak iOS 15.2 – iOS 15.3.1 GET | Jailbreak iOS 15 – iOS 15.1.1 GET |
FilzaEscaped iOS 15 Features
FilzaEscaped is incredibly useful since it helps you to delete any unnecessary files and manage applications on your device. Filza gives a list of all installed apps, as well as the opportunity to remove or install applications.
FilzaEscaped allows you to browse files and folders in a list or grid view.
Using the Air Browser, you may share files between your PC and your device.
Filzaescaped iOS 15, filzaescaped iOS 14, filzaescaped iOS 12, filzaescaped iOS 13, offers cloud services like Dropbox, Box, OneDrive, SugarSync, FTP, SFTP, and Windows File Sharing (SMB).
Filzaescaped iOS allows you to read office documents like Word, Excel, and PowerPoint.
Filzaescaped download makes it easy to customize your device. You have the option to modify the theme, icon theme, and folder theme. You may also make your own theme.
Organize your iPhone's music library. Provide options for data import, export, renaming, and deletion.
This application has direct access to system files and can read and change them. Make a DEB file. Manage file associations and viewers using Filzaescaped iOS. Installer allows you to see details, install, and extract IPA and DEB packages.
The hard work of FilzaEscaped iOS 15 developer Bas vT @AppleDry05 is much appreciated! FilzaJailed/FilzaEscaped may be downloaded and installed for free. These developers, on the other hand, are always working to provide you with the greatest, most problem experience possible.
FilzaEscaped For iOS 16
Looking for a more powerful file browser for your iOS device? FilzaEscaped is designed to work on devices running iOS 11.0 up to iOS 15, and offers many enhanced features compared to the standard Filza file browser. FilzaEscaped for iOS 16 will be available soon, so stay tuned!.
If you're looking for a jailbreak for your iOS 16 device, then FilzaEscaped is the best option. This new jailbreak method is simple and easy to use, and it doesn't require a computer. You can now customize your device with a wide range of jailbreak tweaks and themes.
Get the iOS 16 Customization Platform and start enjoying its many features!.
What's New In Filza File Manager?
✔️ TrollStore support with Filza iOS 15.
✔️ Only the Fish shell TrollStore version is now supported by Terminal.
✔️ Bug fixes and UI enhancements for FilzaEscaped.
✔️ Fixed bug: iOS 14's Image Viewer does not function correctly.
✔️Fixed problem: FilzaEscaped crashes on iOS 14 launch.