Fugu15 / Fugu14 Untethered Jailbreak For iPhone & iPad With Unc0ver Via AltStore
Fugu14 is an untethered jailbreak on iOS 14 devices based on kernel exploit, kernel PAC bypass and PPL bypass. It will be officially released this Sunday, October 24th.
Everything you need to know about Fugu14 untethered jailbreak, the latest version, support for iOS versions, and compatibility, how to jailbreak with unc0ver as well as information on how to download Fugu jailbreak online and on PC methods with latest jailbreak updates.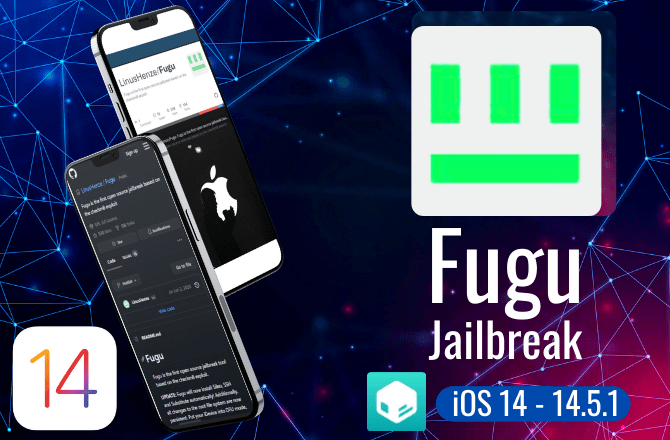 Fugu Untethered Jailbreak iOS 14.3-14.5.1 For iPhone And iPad Is Available Now
iOS developer Linus Henze has released the Fugu14 untethered jailbreak tool for iPhones and iPads running iOS 14.5.1 – 14.3 devices. You can install Cydia through the Fugu 14 jailbreak with the Unc0ver jailbreak. Fugu14 jailbreak download free iOS now.
Fugu14 jailbreak can install automatically with the latest Uncover update. How to download Fugu14 Jailbreak automatically with Unc0ver?
Fugu Jailbreak with Unc0ver older updates. It's a manually installed method. Fugu14 Install manual with Unc0ver Jailbreak.
Fugu14 Jailbreak iOS Devices Compatibility
Fugu Jailbreak Support iOS Versions – iOS 14.3 – 14.5.1
iOS 14.5.1, iOS 14.5, iOS 14.4.2, iOS 14.4.1, iOS 14.4, iOS 14.3
Fugu Jailbreak Support iOS Devices – A12 – A14
All arm64e devices (iPhone XS and newer) should be compatible with Fugu14 running iOS 14.3 – iOS 14.5.1.
A14 Devices Jailbreak > iPhone 12 Mini, iPhone 12, iPhone 12 Pro, and iPhone 12 Pro Max, iPad Air (4th generation)
A13 Devices Jailbreak > iPhone SE 2, iPhone 11, iPhone 11 Pro, iPhone 11 Pro Max
A12 Devices Jailbreak > iPhone XS, iPhone XS Max, iPhone XR, iPad Pro 12.9-inch (4th generation, iPad Pro 11-inch (2nd generation), iPad Pro 12.9-inch (3rd generation), iPad Pro 11-inch (1st generation), iPad Air (3rd generation), iPad (8th generation), iPad mini (5th generation)Support for lower versions (down to 14.0) can be added by editing
arm/shared/ClosurePwn/Sources/ClosurePwn/PwnClosure.swift and arm/shared/KernelExploit/Sources/KernelExploit/offsets.swift .
Currently, according to the developer, lower versions of (down to iOS 14.2) arm64 devices are not supported because the exploit to install the Fugu14 App does not work on these devices. However, jailbreak tools like checkra1n can be used to jailbreak your arm64 device.
Fugu15 Jailbreak For iOS 15 With Safari based Jailbreak
It's now possible to jailbreak iOS 15 with the revolutionary linus henze fugu15 tool 🖤
Released with the new renaissance of iOS 15 jailbreak tool, fugu 15 download really brings new hope for jailbreak. In order to sign the Fugu15 jailbreak application and bypass, Henze's Fugu15 jailbreak effort depends on a CoreTrust vulnerability. fugu15 Jailbreak along with Cheyote Jailbreak iOS 15, Palera1n Jailbreak iOS 15 and Blizzard Jailbreak iOS 15 introduces new technologies to iOS 15 jailbreak users. With fugu jailbreak iOS 15, you also have the opportunity to experience the most exciting iOS 15 jailbreak experience.
» How To Jailbreak Your iDevice With Fugu Jailbreak iOS 15?
Fugu15 Jailbreak for iOS 15 Methods | Fugu15 semi-untethered Permasigned Jailbreak
Linus Hanze released the Fugu15 Jailbreak for iOS 15 as an open-source project on GitHub. Since it is a rootless jailbreak, as anticipated, most modifications will need to be modified to work. Until libhooker is updated, it does not yet support tweaks for iOS 15. But you can easily use Palera1n Jailbreak for iOS 15 – iOS 15.7 to install iOS 15 tweaks.
| | |
| --- | --- |
| ✅ How To Install Fugu15 Jailbreak Using TrollStore | |
| ✅ How To Install Fugu15 Jailbreak Using Safari | |
| ✅ How To Install Fugu15 Jailbreak Using USB | |
What is Fugu Jailbreak?
Checkm8 exploit-based jailbreak tool Fugu Jailbreak iOS 14 was the first to be released as open source. Sileo, SSH, and Substitute will now be set up automatically by Fugu! To make things even better, all changes made to the root file system are already permanently saved. DFU mode your iDevice, run Fugu iStrap, unlock your iDevice and follow the on-screen instructions.
At the end of last month, @LinusHenze showed off an iOS 14.5.1 jailbreak on an iPhone 12 Pro Max. He's now hinted at this in his twitter account's cover photo, which he updated. So, it looks like the new fugu untethered jailbreak 2021 iOS 14 Jailbreak will indeed be available now.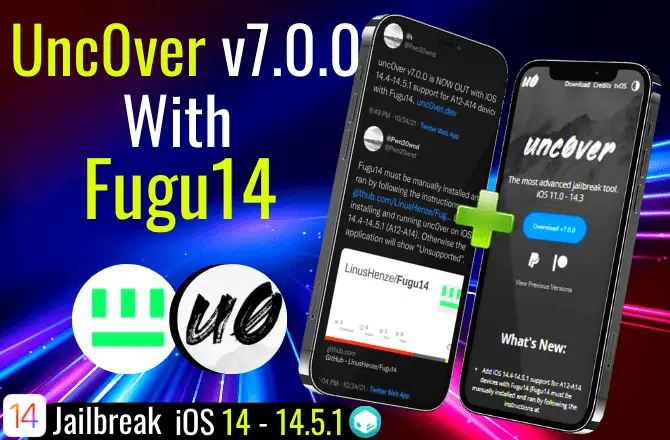 Unc0ver v7.0.2 is now support with Fugu14
Unc0ver v7.0.2 is now available with support for iOS 14.4-14.5.1 on A12-A14 devices with Fugu14 untethered jailbreak as the exploit. Fugu14 will now automatically be installed when installing latest Unc0ver Jailbreak.
Required – If you want to Fugu14 automatically install, Unc0ver must be installed through AltStore latest version v1.4.8
Before run Fugu14 Jailbreak, you need to install and run Unc0ver on iOS 14.4-14.5.1 (A12-A14)
» Download free Unc0ver v7.0.2
» Install Uncover v7.0.0 online (This method only support manually install Fugu Jailbreak)
Including the iPhone 11 and iPhone 12 series, the latest version of Unc0ver works with all iPhones and iPads powered by A12-A14 Bionic Chipsets. The latest Unc0ver builds were tested by Linus Henze's Fugu14 before the release and were found to be error-free and worked just fine.

How to jailbreak with Unc0ver + Fugu14
» Your device must be compatible with the Fugu14 jailbreak. Check device compatibility.
Unc0ver install to run Fugu14 jailbreak
If your device is compatible with Fugu14, you must want to download Unc0ver to your device. Several methods have to be installed on the Unc0ver tool. Select any method and you can install the Unc0ver.
» Unc0ver Install On Windows PC
» Unc0ver Install Other methods
If you installed Unc0ver latest v 7.0.2 version, you can run Fugu14 automatically.
If you installed Unc0ver v 7.0.1 or below, you can install the Fugu14 jailbreak with a manual method. How To Install Fugu14 jailbreak manually?
New updates to AltStore, Fugu14, and unc0ver have tied it all together to make the installation procedure simple and uncomplicated if you have a Fugu14 untether-compatible device and are interested in using it to untether your unc0ver jailbreak.
Fugu14 – iOS 14.5.1.1 untethered jailbreak features
The kernel exploit is extremely reliable and it will never trigger a kernel panic.
Fugu14 has a simple TCP shell that is available on port 1337.
Trustcaches put in /.Fugul4Untether/trustcaches/ will be loaded automatically.
Executables put in /.Fugul4Untether/autorun/ will be launched during boot. Fugu14 – iOS 14.5 make sure to also create a trust cache for your executable.
Fugu14 – iOS 14.5 jailbreak supports Siguza's libkrw library (load/usr/lib/libkrw/libFugul4Krw.dylib and call krw_initializer)
Developers of jailbreak tools: you now have the option to create an untethered jailbreak. Supports the libkrw library from Siguza (load /usr/lib/libkrw/libFugul4Krw.dylib and call krw_initializer ) just by creating a CLI version that supports libkrw, copying it to /.Fugul4Untether/autorun/ and writing a trust cache to /.Fugul4Untether/trustcaches/ )
How To Jailbreak With Fugu14 Untethered Jailbreak
Using Fugu14, there are two ways to jailbreak your iPhone or iPad.
Fugu Jailbreak Methods Step-by-Step Guide
Fugu 14 Jailbreak Using Xcode And Mac
Fugu14 Jailbreak for Windows Method
Fugu14 jailbreak Online method released soon. So firstly, Fugu14 Jailbreak will be available for Mac and Linux PC methods. Fugu developer will officially release Fugu Jailbreak download Mac and Fugu jailbreak Linux options, there is no word on when it will be released for Fugu Jailbreak Windows.
How To Install Fugu14 Untether Jailbreak Using Altstore Method
To jailbreak using Fugu untethered jailbreak iOS 14, you need a Mac or a Windows PC. Installing Altstore is the first step. You need to update the alt server on your PC if you already have Altstore installed.
How to install AltStore on Mac & Windows PC?
Step 1 > Open Safari now, then go to download Unc0ver.
Then select "Open in AltStore." You'll need to enter your Apple ID and password to log in.
Step 2 > You have the option of moving on with the untether or continuing to use unc0ver semi-untethered without it, as you have done in the past. The Install Untethered Jailbreak button should be tapped.
Step 3 > The unc0ver placeholder installation is now being done by AltStore. Tap the Open Placeholder button when completed.
AltStore installs the unc0ver placeholder, then the UI for customizing the Fugu14 untether appears
Step 4 > Tap on the blue Setup Fugu14 button.
Step 5 > The installation wizard runs commands, and a pop-up window stating "Open Altstore to continue installing the Untethered" will appear. Tap "OK".
The unc0ver placeholder will now start to be patched by AltStore.
Step 6 > Once it's done, tap the "Open Placeholder" button.
You can now see the familiar jet-black Fugu14 interface.
Step 7 > Tap the blue button to Install the Untether.
After executing some further commands, the Fugu14 setup process asks the user to restart their device.
Step 8 > In the pop-up window that displays, click the Reboot Now button.
After the reboot, launch AltStore once more, and the app should prompt you to keep installing the unc0ver jailbreak.
Step 9 > Tap on the Install unc0ver button.
The unc0ver jailbreak app is installed by AltStore, and after that it prompts you to complete the process there.
Step 10 > Tap the Open Uncover button now.
You can now proceed with the procedures to formally jailbreak your device with unc0ver after installing untether.
Step 11 > Tap the blue Jailbreak button once the unc0ver jailbreak program has loaded.
You must restart your phone after using the unc0ver jailbreak app in order to finish the jailbreak.
Step 12 > To proceed, click the OK button on the pop-up message.
Launch the Unc0ver jailbreak program once more after the reboot, and then touch the blue Jailbreak button to continue the jailbreak.
Step 13 > You'll be asked to do the one final device reboot when unc0ver has finished the jailbreak procedure.
Step 14 > To start the final reboot, tap the OK button.
Thanks to the combined efforts of Fugu14 and unc0ver, you will have successfully jailbroken your device after it has finished restarting.
Cheers! After restarting your iPhone or iPad, you won't have to sign your unc0ver jailbreak app any longer and may easily re-jailbreak with the unc0ver app.
Fugu 14 – Untethered iOS 14 Jailbreak Development
How to Fugu14 Jailbreak building and running
Requirements to install Fugu14 Jailbreak
Fugu14 jailbreak compatible iOS / iPadOS device
Mac computer with Xcode installed
USB connection
You want to iproxy and ideviceinstaller installed (brew install usbmuxd ideviceinstaller)
All you have to do to build and run the iOS Jailbreak is run the ios_install.py script and follow instructions. If you receive a code signing error, navigate to arm/iOS/Fugu14App/Fugu14App.xcodeproj and modify the code signing options.
Fugu jailbreak building
To get started with Fugu building, just follow these simple instructions.
Download Fugu
Install Xcode and Homebrew on your macOS
Install LLVM and Binutils using Homebrew
Open the Fugu Xcode Project
Select Fugu as target & and build it
Then, in the build directory, you'll see Fugu and a shellcode folder.
All you have to do is type Fugu iStrap to get everything working with Fugu – If running this command numerous times does not work, try entering DFU mode again and try again.
Fugu components
Fugu14 – iOS 14.5 untethered jailbreak is made up of the following components:
Fugu utilizing checkm8, this macOS application uploads iStrap, iStrap loader, and iDownload to your device.
iStrap loader – This is a small shellcode which patches iBoot and runs iStrap after iBoot has completed its tasks.
iStrap the Kernel bootstrapper – At boot, you'll notice that the kernel has been patched, which is an important step in the jailbreak process. Additionally, it injects boot parameters as needed while running shellcode inside the kernel.
iDownload – iDownload is just a little application which will be installed during boot and will be started in place of the default launchd application. The forked copy will run on Port 1337 (only on 127.0.0.1, and it will connect via iproxy) and give a simple bash-like user interface, similar to the classic.
Warning with Fugu14 Jailbreaking process
The untether can cause your device to BOOTLOOP if you play with it too much.
The fast untether feature has not been tested on a real device and should therefore be avoided if possible.
Even if it works, the fast untether poses a greater safety risk than the "slow" untether.
According to the developers, before making any changes to the Untether, please test it on a virtual device first.
How to recovery – Fugu14
Your device is now stuck in a bootloop because you neglected to read the warnings. I'm hoping you didn't enable the fast untether while you were fiddling with the settings.
In any case, try the following first before updating your device to the most recent version of iOS:
Get irecovery for your computer and install it.
Boot into the recovery mode after connecting your device to the computer with a USB cable.
Proceed your computer with irecovery -s and then type the following commands:
setenv boot-args no_untether
saveenv
reboot
It's safe to say that your device has now successfully rebooted. If it doesn't, go back to step two, run irecovery -s, and then type the following commands:
setenv boot-args untether_force_restore
saveenv
reboot
Is your device still refusing to boot up? Unfortunately, you'll have to do an update to the most recent versions.
iOS 15.0 – 15.4.1 Fugu15 Jailbreak Announced!
For those jailbreak enthusiasts out there, Fugu15 jailbreak has some fascinating news. A new version of Fugu, called Fugu15, has been released for iOS 15.0 up to iOS 15.4.1 on all devices, according to security researcher Linus Henze, the creator and Pwn20wnd and incorporated into Unc0ver.
The specifics of the Fugu15 jailbreak, the strategies and bugs exploited, as well as a fresh and exciting method of installing Fugu15, are to be unveiled. The CoreTrust bug that allowed us to obtain permanently signed jailbreak tools was also disclosed by Linus Henze.
Taurine Jailbreak Support New Fugu14 Untether
On supported device and firmware configurations, CoolStar gives data about how Odyssey Team will include the new Fugu14 untether into the Taurine jailbreak. The Fugu14 untether will be packaged with the Taurine jailbreak by the Odyssey Team to make the processes more user-friendly from the start rather than developer-focused.The Taurine jailbreak supports iOS 14.3-iOS 14 jailbreak. So there is high hope that Taurine with fugu 14 Jailbreak will work together successfully in the near future.
Who created the Fugu 14 jailbreak?
Linus Henze's Fugu14, like most programs, incorporates (derived) code created by others.
Linus Henze would like to express his gratitude to the following individuals for sharing their open-source code: In the dyld exploit, the SLOP technique and the JavaScript Int64 library (+utils) were used by Samuel Groß.
Fugu14 also contains a number of Apple header files. In accordance with the MIT license, Fugu14 is available for free.
Why is untethered jailbreak better?
A semi-untethered jailbreak is what's currently available for those who want to get out of jail quickly. Even if your device restarts, the jailbreak app must be re-run for it to work again.
Is Fugu 14 a complete jailbreak tool? So the details of this Fugu14 – iOS 14.5 that it is going to be an untethered jailbreak for arm64e devices. Untethered means that once you jailbreak, you don't have to run any software. You don't have to download and run an application again like Uncover or Taurine or Chimera. If you do it once and you are jailbroken, the only time that you can remove it is if you restore it in iTunes, so it can be removed as well.
Tethered jailbreaks used to let you reboot your phone, but you required a PC to reinitialize the jailbreak after you did that. If you have an untethered iPhone or iPad, you can reboot, turn off, and turn it back on without any problems. It will boot normally and everything on your device will work as it should.
The best jailbreak method is the untethered one. That said, achieving it is the most challenging part. It would be a major accomplishment if @LinusHenze managed to jailbreak iOS 14 without using a third-party tool. Untether can be used instead of semi-untethered jailbreaks like Checkra1n, Unc0ver, and Taurine, which can all be converted.
How to download fugu14 online, new fugu untethered jailbreak download as well as all other key jailbreak information about fugu, will be updated soon.
How To Install Fugu14 Jailbreak Manually With The Step-by-Step Guide
How To Install Fugu14 & Unc0ver Using Xcode And Mac
If you installed Unc0ver v7.0.1 or below, you can use the below manual method to run Fugu14 Jailbreak.
Step 1 – Install Unc0ver Jailbreak
You can download and install the Unc0ver jailbreak first. Install Unc0ver jailbreak >>
If you already installed Unc0ver Jailbreak, you can follow the below manual method to run Fugu14 jailbreak.
Step 2 – You will need access to a Mac computer
If you don't have a Mac, just keep in mind that the next Fugu update will be compatible with all PC models.
Step 3 – Download xcode (on Mac)
If you want to get Xcode from the app store.
Simply open appstore, search for it, and download it.
3.1 Once you have Xcode installed, it wants you to open up a new terminal window to just search for the terminal.
3.2 After pressing enter, you'll be able to view the terminal field.
3.3 Here is a command in the text below that you need to copy and paste. Then click enter and you can see the terminal field.
Command to run after installing Xcode:
sudo xcode-select –switch /Applications/Xcode.app
3.4 Just click on enter.
3.5 It will ask for your password. The field will stay hidden even though you are typing in the password, then click on OK.
Step 4 – Download Python
Next, you want to download Python.
Python download Click on this and then run the package file. Make sure the Python is installed.
Step 5 – Download Homebrew
5.1 Next you will need to download Homebrew. You just want to find this icon right here. Click on this and this will copy the install command.
5.2 Then open up a new terminal window.
5.3 Paste the command into the command prompt, run the commands, and Homebrew will install.
Step 6 – Download iOS Downloads
Next, you will need to download the iOS firmware for your device.
6.1 On the iPhone, we want to find your iPhone model, and then we're just going to scroll down. Until we see your iOS 14 version.
It doesn't matter that this firmware is unsigned; it really doesn't.
6.2 Just click on it, then click on the download, and then download this file.
Step 7 – Download Fugu14
Next, we would need to download Fugu 14.
Just click on code download zip and then you just want to click on save file and okay and then figure 14 will download.
Download Fugu14 zip (download link)
Before we go anywhere further, you will need to have the AltStore set up on your device.The main reason why is that we need an identifier from the AltStore which is only available if we need it.
So once you have all of this stuff downloaded, we can start the long process.
Jailbreak Process
7.1.1 Open up a new term in the window and you just want to find where the fugu14 master.zip is.
7.1.2 Double click on this to extract it, then double click on the folder to open it.
7.1.3 First of all, you have to click double click on arm > ios >Fugu14 app > fugu 14 app.xcode project
7.1.4 Wait for this to load up. Then click on trust and open.
7.2.1 You just want to open up this xcode project.
7.2.2 Click on Fugu14 app > targets > signing and capabilities
What you're going to see under the name, what you want to do is click on this and then find your apple ID.
If you don't see any apple id here, click on "add an account" and then add in your apple id and password.
7.2.3 Once you've done that, we just want you to click on the team and personal team.
7.2.4 If you've done this, you can close out of Xcode.
7.3.1 You're brought to the Fugu14 master. You just want to find iOS install.py and run it.
7.3.2 On the terminal, type cd space and then drag the Fugu14 master folder > click enter.
7.3.3 Then type Python 3 > drag the ios_install.py file > press enter
7.3.4 Welcome to the fugu 14 iOS installer -this script will build and install fugu 14 on your device as you can see.
Before continuing, please read the requirements.
7.3.5 Well, you see the command right here, brew install- Highlight this and then copy it together.
7.3.6 Right-click on the terminal to get a new window.
7.3.7 As long as you have homebrew installed, you can paste this command and click enter.
You must wait for this to install before you proceed.
7.3.8 To proceed, just click on enter to continue.
As you see, you'll be asked a few questions:
Do you want to build jailbreak (Y/N) – Y
What is the name of your iOS signing certificate – you want to get your iPhone.
Open up settings > general > device management > tap on the developer app
You see this developer's iphone-developername.com and you see that text right after you.
7.3.9 Then go to the terminal and input that text into this field. Make sure you type this in correctly. Just type that in and press enter.
7.3.10 Now fugu14 will compile.
7.4.1 While you're waiting for this to compile, just going to
Right-click finder new finder window > downloads > find the ipsw downloaded earlier >
Just click on that.
7.4.2 You want to double click ipsw and rename the .zip
7.4.3 Double click the zip file and wait for it to extract.
7.4.4 Open the folder containing your unzipped ipsw now.
7.4.5 Open the largest.dmg file that contains the root file system (for example, 5.17 GB).
7.4.6 Press enter once in the terminal.
7.4.7 Please enter the path where the dmg is mounted (regular finder and under locations you just want to copy and paste). Then click on enter.
7.4.8 As you can see, the ips have been successfully created.
Step 8 – You just need to make sure that your iPhone is plugged into the computer.
8.1.1 Just click on enter to continue.
8.1.2 A fugu14 ipa should now be sideloaded onto your device.
8.1.3 You should be able to see it on the home screen fugu14 app.
8.1.4 When you try to open it, you'll get an untrusted developer message. To fix it, go to settings > general > device management > tap on trust
8.1.5 Then fugu14 will open.
8.1.6 You just want to click on enter again in the terminal and you can see that it is done.
Step 9 – Open the fugu14 app again and follow the on-screen instructions.
We're not done yet, and once your device has been jailbroken and unlocked, you can connect it by running the following command, but how do you do that?
9.1.1 Open up a new terminal window and just copy and paste this command right here. iproxy 1337 1337 and then open another terminal window, copy this and paste it.
9.1.2 If you've done so, just follow the on-screen instructions.
Step 10 – Next, you want to run the Unc0ver tool.
10.1.1 Let's open the Unc0ver app on your iPhone or iPad device and all we need to do is just tap on jailbreak.
10.1.2 Now your iPhone will restart. Then we'll be successfully jailbroken with cydia installed.
10.1.3 Let's just unlock the device.
10.1.4 Just open up Unc0ver and tap on jailbreak again.
10.1.5 If there are issues, you just restart and try again until you see Cydia on the home screen.
10.1.6 Jailbreak completed no error occurred > ok
10.1.7 Unlock your device.
10.1.8 You have successfully jailbroken with fugu14 + Uncover, congratulations!
Linus Henze (@linushenze), Independent Security Researcher | Fugu15 Jailbreak Development
Get root on macOS 12.3.1: proof-of-concepts for Linus Henze's CoreTrust and DriverKit bugs
proof-of-concepts for two security flaws discovered by @LinusHenze and patched in macOS 12.4 and iOS 15.5.
✅ CVE-2022-26763: Linus Henze – DriverKit
Impact: A malicious application may be able to execute arbitrary code with system privileges
Description: An out-of-bounds access issue was addressed with improved bounds checking.
✅ CVE-2022-267643: Linus Henze – Kernel
Impact: An attacker that has already achieved kernel code execution may be able to bypass kernel memory mitigations
Description: A memory corruption issue was addressed with improved validation.
✅ CVE-2022-26765
Impact: A malicious attacker with arbitrary read and write capability may be able to bypass Pointer Authentication
Description: A race condition was addressed with improved state handling.
✅ CVE-2022-26766: Linus Henze – Security
Impact: A malicious app may be able to bypass signature validation
Description: A certificate parsing issue was addressed with improved checks.
Linus Henze for properly identifying and reporting these problems, ensuring the security of macOS users, and most importantly carefully archiving research in writeups. Linus Henze is continuously working on the Fugu15 jailbreak.
💡 How Fugu15 bypasses installd's signature check
💡 How Fugu15 figures out the base address of the PCI mapping to turn virtual memory out-of-bounds access into kernel read/write
💡 How Fugu15 exploits a PCI/Thunderbolt/USB4 bug on an iPhone without Thunderbolt/USB4
💡 How the other two Fugu15 bugs (PAC bypass, PPL bypass) work
Thanks to the CoreTrust bug released by Linus Henze, many jailbreak developers are on the verge of releasing an iOS 15 jailbreak. Stay tuned to @iExmoJailbreak for the latest Fugu15 untethered jailbreak iOS updates.