Best iOS 16 Customization Guide-iOS 16 Lock Screen Widgets, Home Screen & More!
There's a lot more you can do with iOS 16. Here we will guide you through all of the Ultimate ways to personalize your iOS device, including the Lock Screen, Focus modes, iOS 16 Home Screen, widgets, iOS 16 tips, iOS 16 tricks, and much more! Make It Yours!
How To Customize The iOS 16 Lock Screen & Home Screen – Make Your iOS Device Unique 🖤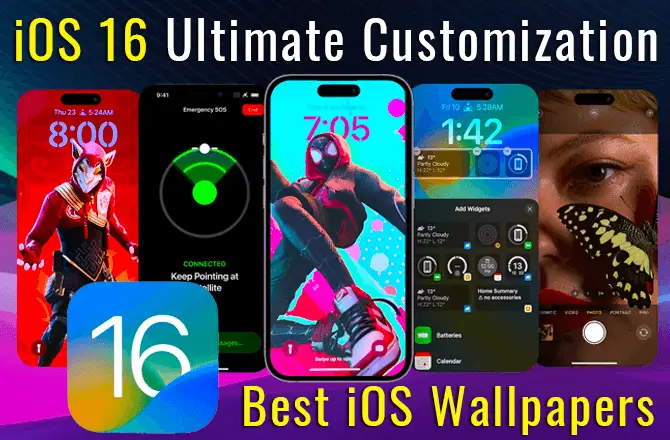 iOS 16 Lock Screen Customization
In iOS 16, Apple is redesigning the best iOS 16 setups Lock Screen, adding lots of new customization options that will allow you to personalize your iOS 16 lock screen, iOS 16 lock screen widget. You may add widgets, change the colors, and utilize emojis, images, or pre-installed wallpapers.
How To Edit Your iOS 16 Lock Screen
You can set up a new lock screen by tapping on the "+" button, or you can alter the current lock screen by tapping on the "Customize" option. You can access all of the controls by unlocking your iPhone using Face ID or Touch ID, swiping downwards if you aren't on the lock screen, and then long pressing just on the display.
You may change the current Lock Screen at any moment by simply pressing it and selecting the gallery view, or by going to Settings > Wallpaper & Lock Screens.
You can also select from a variety of iOS 16 wallpapers, widgets, and colors, which are all explored more below.
The iOS 16 Lock Screen Gallery
The iOS 16 UI is similar to how you may customize Apple Watch features. The iOS 16 Screen Lock collection is divided into three sections: Apple Lock Screens, Photos, and Colors. To pick any available lock screen, swipe left and right, and long press one to change it.
Aside from that, you may personalize the now selected lock screen by tapping Customize, or you can make a new one by tapping the blue Plus button.
How To Customizing Your Lock Screen In iOS 16
How To Customizing A "Color" Lock Screen
You can adjust the color and hue by tapping the colored circle on the left, as well as apply a unique style to the image by swiping left and right.
How To Customizing A "Photo" Lock Screen
The bottom buttons allow you to pick another picture, or a collection of images or shuffle wallpaper, from your photo library, apply a filter, and activate or disable the perspective zoom and depth effect.
All the filters you may reach by swiping left and right are smartly generated automatically for the selected image, allowing you to see various possibilities. For example, If it's a photograph, keep in mind that different filters may result in different letter styles for the time and date. The settings at the bottom of the screen are more minimal if you're designing a lock screen using Apple's "Collections."
How To Customize "Date & Time" Displayed On Lock Screen
There are frames around the time and date at the top, as well as a gap below the time. The middle frame shows that you may press to change the clock style, although the frames above and below it suggest that you can tap to add extra widgets.
The next calendar event, a weather condition, another time zone, your activity rings, a set alarm, the next reminder and a selected stock are among the iOS 16 widgets that may be added above the time. Widgets for iOS 16 that may be put below the time display extra information and also include Calendar, Fitness, battery levels, News, Clock, Reminders, Home, Weather, and Stocks.
How To Create A New iPhone Lock Screen iOS 16
You may select from a range of customized iOS 16 lock screen wallpaper styles, featuring shuffling photos, emoji backdrops, apple themes and colors, and interactive weather and astronomy panels that truly reflect data. You may create a gallery of lock screen wallpapers as well as switch among them with a simple swipe.
Let's get started by making a new iOS 16 lock screen using the following method.
1️⃣ Use Face ID or Touch ID to unlock your iPhone.
2️⃣ Tap and hold the Lock Screen button.
3️⃣ Press the blue Plus button, either swipe left until you reach the end, then tap Add New.
4️⃣ Choose a new iOS 16 wallpaper from the range of options that includes Photos, People, Emoji, Photo Shuffle, Astronomy, Weather, Collections, and Color. Set the clock appearance and add widgets above and below the time by touching the frames at the top of the Lock Screen.
5️⃣ Use the filter and picture choices at the bottom of the screen to further personalize it, which will be based on the sort of wallpaper you selected.
6️⃣ When you're done creating your new Lock Screen, touch Done in the top-right corner, and tap the screen once more to exit the Lock Screen gallery.
How To Delete A Lock Screen Wallpaper iOS 16
Apple completely redesigned the Lock Screen in iOS 16 to make it much more personal. You can now customize everything ranging from the color and font of the clock to the appearance of the wallpaper images. Also, iOS 16 adds Lock Screen widgets that let you quickly glimpse at information about your apps without going to the Home Screen.
Even the method of deleting wallpapers from the gallery is simple with iOS 16. This is how it is done.
1️⃣ Use Touch ID or Face ID to unlock your iOS device.
2️⃣ To access the wallpaper gallery, tap and hold on the lock screen at this moment.
3️⃣ Tap the wallpaper you want to remove and swipe.
4️⃣ On the selected wallpaper, swipe upward.
5️⃣ When the red trash symbol appears, tap it.
6️⃣ When prompted, choose Delete to confirm.
There is nothing further to say. With the understanding that you can always utilize the delete feature if you have too many or don't like what you have, you can now make as many iOS 16 Lock Screens as you like.
iOS 16 Wallpaper Options
iOS 16 offers a variety of wallpaper options to choose from. You can either select a pre-loaded wallpaper or use your own photo. To change your wallpaper, simply go to Settings > Wallpaper > Choose a New Wallpaper. From there, you can select the image you want to use. If you want to use your own photo, select the "Camera Roll" option. You can also use Live Photo effects to create a unique wallpaper.
Simply touch the "+" button to begin creating or customizing a new Lock Screen when you're ready. The wallpaper interface will be shown right away, allowing you to choose the ideal picture to serve as your wallpaper.
Apple iOS 16 Wallpaper has organized the different wallpapers into categories that you can select from the top of the interface. This makes it easy to find the perfect iOS 16 wallpaper for your device. There are a variety of categories to choose from, including nature, abstract, and geometric. Each category contains a range of different wallpapers, so you can find the perfect one for your device.
Brand New iOS 16 Wallpapers For iPhone And iPad »
People Image Category iOS 16
When you touch on the "People" category, pictures of people you've taken will show. These pictures will look great with the new depth effect that the Lock Screen allows. In some photographs, the time will be placed beneath the subject or item to give the picture a layered appearance.
You can see how a person will seem with the dynamic depth effect once you decide someone to showcase on your Lock Screen. Based just on the photo you're using, you have the choice of leaving the image natural or adding a Studio, Black and White, or custom Color Background.
By touching on the three dots at the bottom, you may turn off the perspective zoom as well as the depth effect if you don't like it.
How To Disable Lock Screen Depth Effect In iPhone iOS 16
The depth effect may but sometimes be automatically added to the image you choose, but it may take up too much space on your Lock Screen or may just not appear right. If so, it's simple to turn off the depth effect. The steps below will indicate how to do it.
1️⃣ Unlock your ‌‌iPhone‌‌ and to access the wallpaper gallery, press and hold just on the lock screen.
2️⃣ If required, swipe to see the depth-effect lock screen wallpaper and select Customize.
3️⃣ Tap the ellipsis icon > Tap Depth Effect > Uncheck the option > Tap Done (top-right corner)
4️⃣ In the gallery, tap the wallpaper once again to make it active.
Now that the depth effect has been removed, your selected Lock Screen should seem as it does.
How To Disable Lock Screen Perspective Zoom In iOS 16
When you turn your iPhone, the perspective zoom function that enables you to view more of the Lock Screen wallpaper is still there in iOS 16. The option, as in early versions of iOS, seeks to enhance your iPhone experience with much more motion and engagement, but you can manually turn it off. if you don't like it, find it annoying, or just prefer a static background.
1️⃣ Get your iPhone unlocked > Press and hold iOS 16 Lock Screen > Wallpaper gallery.
2️⃣ Swipe > Tap Customize > Tap three encircled dots > Tap Perspective Zoom > Uncheck the option > When you're done making modifications, tap Done.
3️⃣ Tap Set as Wallpaper Pair > To activate, tap the wallpaper again.