iOS 14.4 – iOS 14.5.1 Jailbreak
All Latest Jailbreak Solutions with Fugu14, Unc0ver v8.0.2 & Checkra1n
The latest jailbreak solutions for jailbreak 14.4 -14.5.1 jailbreak are available for you here. How to jailbreak 14.5.1? You can download all of the latest jailbreak tools and simply follow the instructions for jailbreaking iPhones and iPads running iOS 14.4 or iOS 14.5.1.
Latest jailbreak techniques for iPhone and iPad (iOS 14.4 – iOS 14.5.1)
Now Available: Unc0ver v8.0.2!
The most powerful tool for jailbreaking iOS 11.0-14.8 is Unc0ver v8.0.2. Unc0ver is designed to be stable and deliver flexibility from the moment you jailbreak your device using it.Update exploit advice for A12-A13 iPhones running iOS 14.6-14.8 to increase their dependability. Resolve issues with exploit reliability for iOS 14.6-14.8-based iPhone XS devices. You can install Cydia with any A13 and below devices on the Unc0ver jailbreak. Check Unc0ver Jailbreak compatibility.
Install Unc0ver v8.0.2 Jailbreak 14.4 – iOS 14.5.1 without PC (below buttons work only iPhone / iPad safari web browser)
Download Unc0ver Jailbreak on PC
Unc0ver Jailbreak latest version can install on PC method. It is compatible with iOS 11 – 14.8.1 all A13 and below iPhones and iPads devices.
How to jailbreak with Unc0ver? »
Unc0ver Jailbreak iOS 11 – 14.8 full guide with all download methods.
How to jailbreak iOS 14.8?
The Unc0ver jailbreak new version, v8.0.2, has been made available. You can now Jailbreak iOS 14.8, all the way down to iOS 14.6, thanks to the latest Uncover Jailbreak version! As a result, the Uncover Jailbreak v8 update will work with iOS 14.8 and iOS 14.7. The A12 – A13 iPhones are the only ones that can be jailbroken using the current version of Uncover jailbreak online for iOS 14.4 – iOS 14.5.1, iOS 14.7.1, 14.6, 14.7, and 14.8.
Fugu14 Jailbreak : Untethered iOS 14 – 14.5.1 Jailbreak is now available
For the jailbreak community, this is fantastic news: New untethered Fugu jailbreak iOS 14 – iOS 14.5.1 is released!
Fugu jailbreak is the first open-source Untethered iOS 14 Jailbreak technique that relies on the kernel exploit, kernel PAC bypass and PPL bypass, and it is still under development. Using @LinusHenze's untether, fugu14 jailbreak uses a kernel exploit, a kernel PAC bypass, and a PPL bypass to partially jailbreak iOS 14.
Now you can download the Fugu14 tool source and other needed files on the links below.
Fugu14 untethered jailbreak compatibility
Fugu14 support versions – iOS 14.4 – 14.5.1
iOS 14.5.1, iOS 14.5, iOS 14.4.2, iOS 14.4.1, iOS 14.4
You can use the checkra1n permanent jailbreak tool if you are operating iOS 14.5.1 to iOS 14 below A12 / A13 / A14.
Fugu14 support devices – A12 to A14
iPhone : iPhone XR and newer
A14 – iPhone 12 Mini, iPhone 12, iPhone 12 Pro, and iPhone 12 Pro Max
A13 – iPhone11, iPhone 11 Pro, iPhone 11 Pro Max, iPhone SE 2
A12 – iPhone XS, iPhone XS Max, XR
iPad : A12 – A14
A14 – iPad Air 4th gen
A12Z – iPad Pro 4th gen, iPad Pro 2nd gen
A12X – iPad Pro 3rd gen, iPad Pro 1st gen
A12 – iPad Air 3rd gen iPad 8th gen, iPad mini 5th gen
What is the Fugu untethered jailbreak tool?
The Fugu 14 jailbreak is the latest untethered jailbreak tool for iOS 14.3–14.5.1 focused on the Checkm8 exploit.
Fugu14 ipa and Unc0ver, a jailbreak tool, have been made available together for the first time. Jailbreaking an iOS device with Unc0ver, a semi-untethered jailbreak tool, is possible. How to install Fugu14? Unc0ver is an online jailbreak tool that does not require a PC. Because fugu14 is an untethered jailbreak tool, you'll need access to a computer to perform the jailbreak.
How to run Fugu 14 jailbreak easily
How to download Fugu14? The Fugu14 + Unc0ver 14 Jailbreak supports the Mac PC method, and you must manually configure Fugu14 before you can begin. Take the easy Fugu jailbreak tutorial iOS 14.5.1 jailbreak here completely.
Fugu14 14.5.1 jailbreak is currently only available for Mac OS, but Fugu jailbreak windows, Fugu jailbreak Linux will be available soon.
How to Jailbreak iOS iOS 14.4 – iOS 14.5.1 with Fugu14 Jailbreak »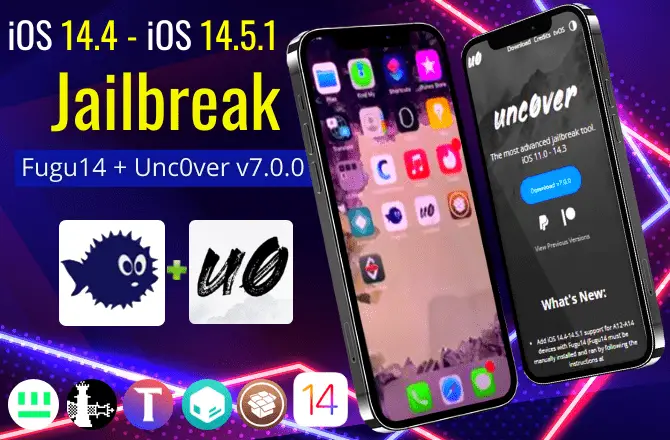 Unc0ver Jailbreak for iOS 14.4 – 14.5.1
New Unc0ver v7.0.0 now supports the Fugu14 untethered jailbreak for iOS 14 devices.
Pwn20wnd releases Unc0ver v7.0.0, which includes successful support for Linus Henze's untether Fugu jailbreak iOS 14, which needs to be manually installed. You can jailbreak iOS 14.3 – iOS 14.5.1 using the latest update Unc0ver and Fugu14.
How to jailbreak iOS 14.3 – 14.5.1 with Unc0ver + Fugu14 »
Linus Henze's Fugu14 untethered iOS 14.5.1 jailbreak has been added to Unc0ver as of version 7.0.0, which has been designated version 7.0.0. Since the iPhone XS and newer models are installed with A12-A14 chips, they can use the new release of Unc0ver to jailbreak iOS and iPadOS versions 14.4-14.5.1 if they've been perfectly prepped to use Fugu14 in the past.
As of now, the Fugu14 untether is not included in unc0ver v7.0.0's package, so users will have to do additional work to install it.
Checkra1n Jailbreak for iOS 14.5 – jailbreak 14.5.1
With the most recent update, Checkra1n added support for jailbreaking iOS 14.5 devices. You can indeed jailbreak iOS 14.5.1 by using the same checkra1n update as mentioned before. It is the only jailbreak that is semi-tethered for iOS 14.5 and iOS 14.5.1.
However, the Checkra1n Jailbreak is only compatible with the iPhone 6s, iPhone 6s +, iPhone SE 1st generation, iPhone 7, iPhone 7 Plus, iPhone 8, iPhone 8 +, iPhone X, iPad 5th gen, iPad 6th gen, iPad 7th gen, iPad Mini 4, iPad Air 2, iPad Pro 1st gen, iPad Pro 1st gen, iPad Pro 2nd gen, iPad Pro 2nd gen and iPod Touch 7th gen. It does not function with any other iPhone models yet.
The checkm8-based Checkra1n jailbreak is now available to jailbreak iOS 12 – 14.8.1. Although Checkra1n hopes that jailbreak iOS 15 with iPhone 13 will be compatible in the future, there is no official information available now.
Checkra1n for Cydia installation on your iPhone or iPad can be downloaded using any of the methods listed below easily.
Checkra1n can be installed on your device through a variety of different ways. Select any method to jailbreak your iPhone or iPad with Checkra1n Jailbreak Tool.
Even though Unc0ver might support the Fugu14 untether installer, the Odyssey Team is also continuing to Fugu jb work on the Taurine (odyssey15) jailbreak for jailbreak 14.5.1. There is currently no information on what the checkra1n team intends to do, but we expect to hear more in the near future.
Jailbreak alternatives iOS 14.4 – 14.5.1
iPA Store – Jailbreak apps, ++ apps and hack games
Install collection of customized apps, without the need for a jailbreak using the IPA Store, which is completely free.
It is possible to instal tweaked apps, emulators and hack games on iOS 14.5 and iOS 14.5.1 devices without the need to jailbreak their devices. As a result, Apps can be used to gain hands-on expertise with app icon personalization and more. iPhone or iPad users will notice a significant change to their iOS 14.5 / iOS 14.5.1.
iPA Installer (download iPA online)
iPA Store > iPA Installer
There is no need to jailbreak your smartphone to use iPA Store, which allows you to download non-jailbroken hacked and cracked apps and also iOS and customizations. Without the need for a PC, only the iPhone and iPad are supported.
iPA Downloader (install iPA on PC)
iPA Store > iPA Downloader
Well here's the most popular iOS 14.5.1 Jailbreak App IPA's available for download. In fact, it is compatible with any iPhone or iPad device applications for iOS 14.5. On your Mac or Windows ios 14 jailbreak pc. It's simple to download and install all of the applications and modifications.
Taurine jailbreak tool for iOS 14.5 – iOS 14.5.1
Coolstar & the Odyssey Team developed this. This is an upgrading tool for Odyssey. Unfortunately, Taurine (odyssey15) jailbreak easily applied on jailbreak 14.5 or jailbreak iPhone 14.5.1 are not compatible. But there is always great hope that it will be released very soon.
Taurine jailbreak is compatible jailbreak on all iPhone 12, iPhone 12 Pro, etc. devices including the latest A14 chip. Taurine Jailbreak may use any iOS 14 to iOS 14.3 device to jailbreak. Taurine jailbreak is the default package manager for the Sileo package manager. Let's explore how you can download Jailbreak of Taurine and Jailbreak iOS 14 – iOS 14.3 from any iDevice.
However, if you are running iOS 14 or iOS 15, you will be unable to jailbreak using the Taurine jailbreak. Please visit the unique iOS 15 guide to learn more about the newest iOS 15 jailbreak news.
To download and install Taurine online and iOS 14 jailbreak with a computer, you can simply follow the step-by-step guidance provided here.
Cydia will be supported for iOS 14 – iOS 14.5 / iOS 14.5.1.
Cydia can run with jailbroken devices. You can download Cydia for jailbroken your device with Checkra1n. Cydia enables the download and installation of a large number of Cydia apps and modifications, allowing you to get the most from your iPhone or iPad by bypassing the standard limitations. So, keep your eyes open for the opportunity to Cydia Download iOS 14.4 – iOS 14.5.1 in order to make your most recent system software even more impressive in its features.
iOS 14.5 – iOS 14.5.1 Cydia installation with Checkra1n
With the Checkra1n jailbreak, Cydia is compatible with iOS 14 and upwards, and the Checkra1n developers have announced that compatibility for alternative package managers, such as Installer, will be provided soon, with a predicted worldwide release in the upcoming days. It's the only way to just get a perfectly functioning Cydia experience on iOS 14.5 or iOS 14.5.1 using this method. With Checkra1n, you can install lots of new Cydia tweaks on your device. However, there are numerous difficulties with checkra1n.