Jailbreak iPhone 13 With Chayote Jailbreak (Taurine 15) All Latest Jailbreak Solutions
How to jailbreak iPhone 13, iPhone 13 mini, iPhone 13 Pro, iPhone 13 Pro Max. Find Jailbreak availability and all jailbreak solutions for iPhone 13 series.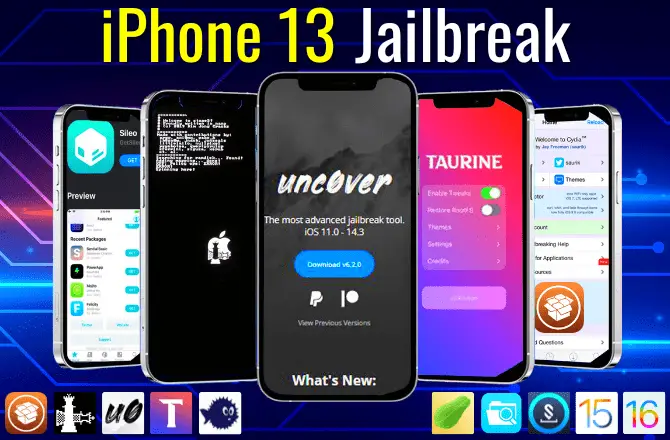 Best Jailbreak Alternative Solution For iPhone 13 And 13 Series 
Enhance Your iPhone 13 Experience With Cowabunga Lite – No Jailbreak Needed!
Cowabunga Lite, the latest release for iPhone 13, is now available for iOS 16 to iOS 16.5 versions. Users of macOS can already access the updated tool, while a Windows version is expected to be released soon, catering to a wider user base.
Download Cowabunga Lite For iPhone 13
Cowabunga Lite iPhone 13 serves as an enhanced version of the original Cowabunga app, providing users with additional jailbreak-like features and customization options.
The Cowabunga Lite iPhone 13 tool brings a range of exciting features to your device, allowing you to personalize and customize your iPhone 13 experience. Some of the notable features currently supported by Cowabunga Lite include:
🔹 Icon Theming: Transform the look and feel of your iPhone and iPad by customizing the device's icons. Choose from a variety of themes and give your device a unique appearance.
🔹 Status Bar Customization: Take control of your device's status bar and customize it according to your preferences. Modify the battery indicator, network signal display, and other status icons to create a personalized status bar setup.
🔹 SpringBoard Options: Enhance your home screen experience with Cowabunga Lite's SpringBoard options. Customize the layout, enable new gestures, and optimize your device's usability.
🔹 Setup Options and More: Cowabunga Lite offers additional setup options to further personalize your iPhone 13. Dive into advanced theme settings, enjoy customized animations, and unlock a range of customization possibilities.
Don't miss out on the exciting features of Cowabunga Lite for iPhone 13. Download the tool today and elevate your device's appearance and functionality without the need to jailbreak.
Misaka Tweak Manager For iPhone 13
Discover the power of Misaka tweak manager for iPhone 13, which revolutionizes the way tweaks are installed on your device without the need for jailbreaking. Rest assured, Misaka fully supports iPhone 13.
Installing Misaka Tweaks on your iPhone 13 is made easy through IPA file installers like TrollStore, Sideloadly, and AltStore. You can enjoy the benefits of tweak customization without the requirement of jailbreaking your device.
Misaka Tweak Manager iPhone 13 is an innovative package manager designed specifically for iPhone 13 users who prefer a non-jailbreak approach. Developed by @straight_tamago and the Misaka team. Misaka is compatible with iOS 16 – iOS 16.1.2 and iOS 15 – iOS 15.7.1 versions. You can utilize the IPAs provided by Misaka without the need to jailbreak your device. Misaka utilizes the power of Mac dirtyC0w and executes dirtyc0w programs within a single app developed by others.
With Misaka, you gain access to an impressive collection of tweaks that enhance the customization of your iPhone 13.
Best tweaks available With Misaka for iPhone 13:
Disable Homebar
Hide Homebar
Dock Color Customization
Change Dock Color
ControlCenter Color Customization
Change ControlCenter Color
LockScreen Icons Customization
Coolwcat & US Ü3/1.0
Change LS UI
DialSound Piano and more!
Misaka IPA iOS 16 Compatible Versions
iOS 16.1.2, iOS 16.1.1, iOS 16.1, iOS 16.0.2, iOS 16.0.1, iOS 16.0
Misaka IPA iOS 15 Compatible Versions
iOS 15.7.1, iOS 15.7, iOS 15.6.1, iOS 15.6, 15.5, iOS 15.4.1, iOS 15.4, iOS 15.3, iOS 15.2.1, iOS 15.2, iOS 15.1.1, iOS 15.1, iOS 15.0.2, iOS 15.0.1, iOS 15
With Cheyote Jailbreak, You Can Finally Jailbreak Your iPhone 13
Arrival of the first jailbreak tool for iOS 15-running iPhone and iPad. More than a year after the release of the operating system, the Cheyote jailbreak tool is the first to support iOS 15. This strong Cheyote was formerly known as Taurine15.
A First Jailbreak For The iPhone 13 Lineup
As these devices were released with iOS 15 and iPadOS 15, Cheyote must be the first jailbreak way to enable the iPhone 13 series and iPad mini 6 when it becomes online.A jailbreak tool for iOS 15 at this moment becomes much more interesting given that the official release of iOS 16 is planned for September. With Cheyote Jailbreak For iOS 15, jailbreak lovers should have fun exploring the features that the procedure makes possible on the iPhone and iPad.
Jailbreak your iPhone 13 with Cheyote right now »
The Best iOS 15 tweaked and hacked app collection for iPhone 13 – no jailbreak
If you're looking to customize your iPhone 13 without the need for a Jailbreak, you'll find some fantastic iPA apps in the 100% free Tweaked and Jailbreak iPA Store with both online and On PC methods.
Your favorite iOS 15 jailbreak download tools, such as cracked ipa download, iOS 15 ipa apps download, emulator ipa files, best free jailbreak tweaks apps and utilities, ipa games hacked, ipa games free download, are all here for your iOS devices. There are no technical skills or challenges to deal with because it is so easy and flexible.
Jailbreak Installer for iPhone 13
You'll have quick and simple access to the most famous jailbreak tools like install Uncover jailbreak, Fugu 14 jailbreak download, Checkra1n download, Taurine and more with the best jailbreak installer tool collection. You can download free Jailbreak tools for iPhone 13 and apps from your iPhone/iPad.
Free iPA Installer for iPhone 13
The latest method of installing apps from iPA Installer online which you may get so many of the iOS hacks no jailbreak, ios\\OS hack games, iOS emulators ipa, and ++Apps that allow you to unlock powerful features without jailbreak for iPhone 13.
iPA Downloader for iPhone 13
A free ipa downloader through PC that allows you to easily get the most recent version of IPA files. The most popular games, tweaks, ++ apps , IPA files, and install guides. IPA can be downloaded and installed through Mac or Windows PC.
WeatherHTML 2.0 to customize iPhone 13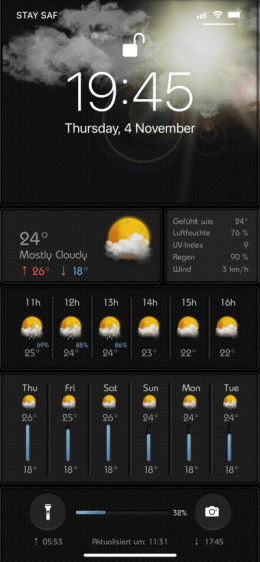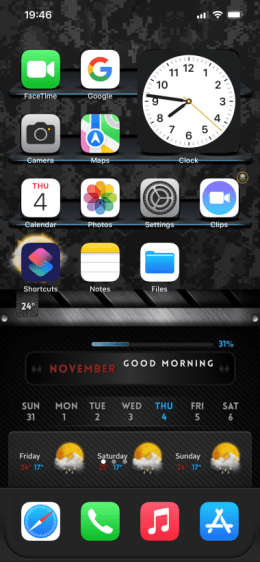 WeatherHTML shortcuts can be used to customize your iPhone 13 Lock Screen and Home Screen without jailbreak. How to download weatherHTML 2.0?
The iPhone 13 Pro jailbreak has already been accomplished
Remote jailbreaking of an iPhone 13 Pro took only one second despite the best efforts of a Chinese white hat hacker. Jailbreaking the iPhone 13 Pro is now possible thanks to Team Pangu's win at the Tainfu Cup. An iPhone 13 Pro was publicly jailbroken for the first time at an event like that really, and the remote jailbreak was performed successfully.
This does imply that an iPhone 13 Pro jailbreak tool is on the way. It is uncommon if ever that the exploits used to demonstrate jailbreaks at cybersecurity gatherings are made available to the public. So, expectations are high for the upcoming release of an iPhone 13 Pro jailbreak.
Pangu Team successfully jailbreaks iOS 15 beta 4
Can You Jailbreak the iPhone 13? Enjoy the amazing news on Apple's new iOS 15 operating system release with iPhone 13. By using the iOS 15 beta 4 on the iPhone 11 pro, Pangu Team was able to successfully jailbreak iOS 15. But the iPhone 13 was not released at that time.
When iOS 7 and iOS 9 were released, Pangu Team was the most popular Chinese jailbreaking team in China. When it comes to jailbreaking iOS 7.1 using Pangu, this is the first time it's been made available by Pangu.The great news is that iOS 15 contains a security flaw. So, jailbreaking is not going away any time soon either. Pangu may not release it, but another jailbreak team may for the iPhone 13 all series.
Jailbreak tool for the iPhone 13 that is quicker and more efficient Jailbreak
Unc0ver for iPhone 13 series free – Unc0ver is the newest jailbreak platform for iOS 11 to iOS 14.3 versions operating on all Apple devices, as well as iPhone 12 models. The Jailbreak method for the iPhone 13 series is expected to be released any time soon by the Unc0ver team.
Taurine for iPhone 13 series free – To guarantee the highest jailbreaking possible experience, Taurine uses libhooker and thorough testing.Jailbreaking the iPhone 12 is now possible with the help of Taurine Jailbreak tools, and the iPhone 13 jailbreak is expected to be released in the coming days.
Fugu jailbreak for iPhone 13 – Fugu is the first untethered jailbreak for iOS 13 and iOS 14.3 – 14.5.1 that works on all models of the iPhone and iPad. The Fugu14 jailbreak tool can be used to jailbreak the iPhone 13 with the iOS 15 jailbreak is expected to be released in the near future.
Checkra1n for iPhone 13 series free – It is now possible to jailbreak iOS 12 – iOS and iPadOS 14.8 using the checkm8-based Checkra1n jailbreak. While Checkra1n is expected to be supported to iOS 15 with the iPhone 13, no official details have been released.
Cydia for iPhone 13 – Cydia will be available for iPhone 13 as soon as the Unc0ver, Checkra1n or Taurine jailbreak is launched. Cydia will be installed as the default package manager after installing unc0ver, Checkra1n and Taurine.
Sileo for iPhone 13 – In alternative to Cydia, Sileo is included as a secondary package manager in the Taurine Jailbreak. After Taurine is released for iPhone 13, Sileo will be released for iPhone 13.
Use Cydia on the iPhone 13: How do I get it?
Currently, Cydia is available for iOS 14.8.1 and below, but official Cydia is not compatible for the latest iPhone 13 series yet. But virtual Cydia is compatible with iPhone 13 running iOS 15 and above.
Cydia download iOS 15 no jailbreak and its predecessors benefit iDevices greatly.
A collection of third-party apps called Cydia is available for all iDevice models.
Lots of third-party apps, tweaks and extensions as well as amazing themes and add-ons are available.
Cydia is very easy to use.
It's no secret that all of these tweaks and apps improve the performance of the iDevices.
It allows you to customize your iDevices and handle the file system.
When it tends to come to Apple devices, it's a free version.
Cydia is a store where you can get free apps and tweaks.
Users will find Cydia Download to be intuitive and easy to use.
Since iOS 15 is the newest version of iOS, Cydia iOS 15 support for the iPhone 13 series has become a hot topic. Therefore, you will have to wait for a little longer to experience the benefits of Cydia tweaks on your iOS 15 device.
» It's possible to download Cydia for iOS 15 now?
Virtual Cydia iPhone 13 – No Jailbreaks
Virtual Cydia is an alternative for Cydia package manager. It's compatible for all iPhone / iPad models including iPhone 13 running iOS 15 and above. There are tweaked apps , themes and hack games included on virtual Cydia.
A15 jailbreak supported devices
The A15 bionic chip is featured in the iPhone 13 models.
The iPhone 13 does not currently have a jailbreak, iPhone 13 jailbreak tweaks or jailbreak alternative option that may be used. Unofficial iPhone 13 jailbreaking is still a mystery. The jailbreak for iPhone 13 has not been officially confirmed by a developer, but in the near future, we can expect to experience the jailbreak on iOS 15.
iPhone 13 jailbreak with unc0ver
Jailbreak iPhone 12 is now compatible with iOS 14 – iOS 14.3 on Unc0ver. There is a semi-untethered Jailbreak for the iPhone 12 called Unc0ver. Since the release of iOS 11, Unc0ver has been the most reliable jailbreak tool. Pwn20wd and the Unc0ver team have worked together to create Unc0ver. Unc0ver allows users to bypass restrictions placed on key iPhone functionalities, such as tracking the operating system, which apps can be installed and so many more.
iOS jailbreak by the Unc0ver team is available for all versions of iOS. It is compatible with iPhone 12 Pro, iPhone 12 Pro Max, iPhone 12 Mini, iPhone 12, iPhone SE 2020. We can expect the iPhone jailbreak solution in the near future, such as Unc0ver jailbreak for iPhone 13, 13 Mini, 13 Pro and 13 Pro Max.
When is the iPhone 13 jailbreak coming out? Unc0ver for iPhone 13 jailbreak predictions are possible. In the future, the iPhone 13 jailbreak iOS 15 with unc0ver will be available. Aside from jailbreaking, there are a number of other, more worthy and interesting reasons why it's useful to look into the possibility of using it.
» How to jailbreak iOS 12 – 14.3 using Unc0ver?
iPhone 13 Jailbreak With Palera1n Jailbreak
Palera1n Jailbreak is a powerful semi-tethered jailbreak tool that provides the freedom to customize and enhance your iPhone's functionality. While Palera1n is compatible with iOS 15 to iOS 16.3 versions, it unfortunately does not support the latest iPhone 13 models.
Palera1n is designed to work seamlessly with A8 to A11 devices, allowing users to jailbreak their devices and install various tweaks and modifications. However, due to hardware differences, the Palera1n Jailbreak tool is not compatible with the Apple A15 Bionic chip found in the iPhone 13 series.
» Download Palera1n Jailbreak Tool
iPhone 13 jailbreak with Fugu jailbreak
Linus Henze aka @LinusHenze from Koblenz, Germany has started a new era of iOS jailbreak history by releasing Fugu14 jailbreak. Fugu jailbreak iOS 14 is the second jailbreak tool based on the checkm8 exploit. It was revealed last year that Checkm8 was an unpatched bootrom exploit that affected a wide range of iOS devices, from the iPhone 4S all the way up to the iPhone X.
iOS 14.4-14.5.1 on A12-A14 iPhones running the Fugu14 untethered jailbreak is now supported by Unc0ver v7.0.2. Fugu jailbreak with uncover download will now include Fugu14 by default.
The Fugu14 jailbreak method has successfully jailbroken iOS 14 – iOS 14.5.1 on iPhone 12 and iPhone 12 Pro, so there is reason to think that the fugu jailbreak for iPhone 13 download will be released soon.
iPhone 13 jailbreak with checkra1n
In the version of Checkra1n, a jailbreak for iOS 14 was successfully released, but it only works with a select set of iPhone and iPad devices. Due to Checkra1n's dependence on the checkm8 bootrom exploit, the program only works with vulnerable devices. This includes the iPhone X and older models.
But Checkra1n Jailbreak does not support the latest iPhone 13 series. Because, this jailbreak does not work with modern hardware, such as Apple's A12,A13 and A14. A15 bionic is the powerhouse of the iPhone 13. Apple's iPhone 13 running iOS 15 won't be able to jailbreak it with Checkra1n now, but there is always hope with Checkra1n's developers.
How to jailbreak your iPhone or iPad using Checkra1n?
iPhone 13 jailbreak with Taurine / Odyssey15
A new semi-untethered jailbreak, Taurine, has been launched, and it works with the most recent iOS versions. Because of this, it's possible to jailbreak the upcoming iPhone 13 with Taurine.
Unc0ver's jailbreak is very similar to Taurine's. On all iPhones and iPads, both tools support jailbreaking iOS 14 – iOS 14.3. However, Taurine uses Sileo as its package manager, whereas Unc0ver uses Cydia.
Taurine is a semi-tethered jailbreak platform, like Unc0ver. Apple iPhone 12 Pro, 12 Pro Max, 12 Mini, 12, and SE are all compatible with the Taurine jailbreak. However, the Taurine for iPhone 13 is still not compatible with iOS 15. In other words, we can believe that Taurine will reveal an iPhone 13 jailbreak functional with all devices in the near term. Alternative jailbreaks are available for iOS 15 iPhone 13 series, so there is no need to panic.
Jailbreak iOS 14.3 to iOS 14 with Taurine – All devices supported
iPhone 13 jailbreak with Chimera
Chimera is the very first true iOS 12 jailbreak that does not only work on the iPhone X and iPad X. Binaries can be signed without worrying about CoreTrust and A12 devices such as the iPhone Xs and iPad Pro are also supported. Due to the fact that Chimera does not interfere with the user's files, it is more secure than alternatives.
As the first ARM64e jailbreak for iOS 12, Chimera has proven itself to be a high speed, steady and efficient tool. You should go to this page if you want to jailbreak your iOS 12 device. Developed by CoolStar lead Electra team, same team behind the Taurine jailbreak, it's free and open source. Consequently, the CoolStar development team is in an advantageous state to release a jailbreak method for the iPhone 13 series.
What do we know about iOS 15 and iPhone 13 after Apple's event?
Apple's iPhone 13 series includes a lot of upgrades, but relatively little in the way of new features.
Overview of Apple's newest iPhones, which have additional camera features and a speedier A15 processor.
FaceTime upgrades: Spatial audio, support for Android and Windows.
Photos, news articles, and playlists can now be shared via iMessage in iOS 15. You'll see a dynamic collage of photographs when a friend sends you many photos via iMessage. You'll be able to swipe between them or tap through that to view the entire collection in your photos app.
In addition to better night mode, Apple Maps now has more elevation data, road colors, and gps coordinates, as well as rich labels, 3D landmarks, and rich labels. AR walking guidance and weather alerts have been updated as well.
If you have an iPhone, you may now carry digital replicas of government-issued identification cards such as your driver's license on your phone with ID card support added to the Wallet app in iOS 15.
Jailbreaking iPhone 13 will be the greatest challenge for Jailbreak developers during this time. Because of this, Apple has advanced the security mechanisms on the new iPhone 13 in hopes of preventing iOS 15 Jailbreak too.
As part of its iPhone 13 product line, Apple will launch the A15 Bionic chip prior to the public release of iOS 15. In terms of speed and power effectiveness, the A15 Bionic chips will be a step up. Jailbreaking A15 – iPhone 13 and iPhone 13 mini will be more difficult than ever before. Even though iOS 15's jailbreak is going to be more difficult than we thought, we should wait to jailbreak iPhone 13 with high hopes.