Palera1n Jailbreak For iOS 15.0 – iOS 15.7.1 / iOS 16 – iOS 16.4 With Tweak Installation | Checkm8 Jailbreak iOS 15 – iOS 16
Palera1n Jailbreak iOS 15.0 – 15.7.1 / 16 – 16.2 (v4.0) released
The newest Palera1n jailbreak download allows you to install Sileo Package Manager on checkm8 devices running iOS 15.0 to iOS 15.7.1. Palera1n jailbreak offers the first semi-tethered checkm8 jailbreak for iOS 15 and iOS 16 with Palera1n tweaks support.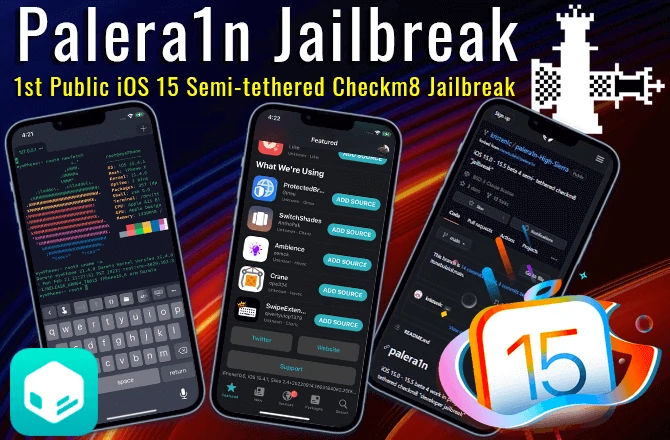 Palera1n 1.4.0 Jailbreak Support For iOS 16
Palera1n now supports iOS 16 after a lot of testing and development! Keep your mind that the Palera1n Jailbreak is only for CheckM8 (A11 and below) devices.
According to expectations, the palera1n team has officially introduced support for iOS & iPadOS 16 to their checkm8 bootrom exploit-based palera1n jailbreak toolkit in version 1.4.0, following the report that tfp0 (kernel task port) has already been successful on an iOS 16.1.1 device.
Do you have an interest in applying the innovative iOS and iPadOS 16 jailbreak support provided by the palera1n team?
🚀 How To Jailbreak iOS 16 via Palera1n »
Palera1n Is The First Semi-tethered Jailbreak For iOS 15
On compatible iDevices, the Palera1n Jailbreak (Checkra1n developed) script for macOS and Linux enables you to use the iOS 15.0 – iOS 15.7.1 checkm8 exploit. It needs you to install Pogo via Amy through the TrollStore app in order to access the Sileo package manager and boots the device with AMFI fixes.
Palera1n jailbreak download, Palera1n jailbreak windows, Palera1n jailbreak ipa, Palera1n windows, Palera1n jailbreak GitHub, Palera1n install, Palera1n tweaks, Palera1n jailbreak guide, jailbreak iOS 15 and you have the chance to discover the most updated data about Palera1n.
Download Palera1n iOS 15.0 – iOS 16.4 Support Checkm8 Jailbreak
✔️ Palera1n v1.4.2 – iOS 16.4 Support
Palera1n Jailbreak v1.4.2 (all source files) »
Palera1n Jailbreak Supported Devices
Jailbreak supports all A8-A11 systems on a chip (SoC). The complete list of iPhones and iPads that can be jailbroken using Palera1n Jailbreak is shown below. Just on iPhone X GSM, iPhone 7, and iPhone 6s running iOS 15, the jailbreak was tested to function and work without any major concerns.
Palenra1n Jailbreak Compatibility For iOS 16.0 – iOS 16.2
A11 > iPhone 8, iPhone 8 Plus / iPhone X / iPad Pro 10.5-inch / iPad Pro 12.9-inch (2nd generation)
Palenra1n Jailbreak Compatible iPhones
A11 > iPhone X / iPhone 8 Plus / Phone 8
A10 > iPhone 7 / iPhone 7 Plus
A9 > iPhone 6S / iPhone 6S Plus / iPhone SE
A8 > iPhone 6 / iPhone 6 Plus
Palenra1n Jailbreak Compatible iPads
A10X > iPad Pro 10.5 – 2017 / iPad Pro 12.9″ 2nd Gen
A10 > iPad 6th gen – 2018 / iPad 7th gen – 2019
A9X > iPad Pro 12.9 in. 1st gen / iPad Pro 9.7 in.
A9 > iPad 5th gen – 2017
A8 > iPad mini 4 / iPod touch 6th Gen, 2015
Palera1n Jailbreak Supported iOS Versions
Palera1n Jailbreak For iOS 16 – iOS 16 / iOS 16.0.1 / iOS 16.0.2 / iOS 16.0.3 / iOS 16.1 / iOS 16.1.1 / iOS 16.1.2 / iOS 16.2 / iOS 16.3 / iOS 16.3.1 / iOS 16.4
Palera1n Jailbreak For iOS 15 – iOS 15 / iOS 15.0.1 / iOS 15.0.2 / iOS 15.1 / iOS 15.1.1 / iOS 15.2 / iOS 15.2.1 / iOS 15.3 / iOS 15.3.1 / iOS 15.4 / iOS 15.4.1 / iOS 15.5b4 / iOS 15.5 / iOS 15.6 / iOS 15.6.1 / iOS 15.7 / iOS 15.7.1
Palera1n Jailbreak Installation: Complete iOS Guide [Latest]
Please choose your PC's operating system.
PaleRa1n Jailbreak For iOS 15.0 – iOS 15.3.1 | Full List of PaleRa1n Compatible Tweaks
There are several ways to get palera1n tweaks injection to function on iOS 15. using a tethered jailbreak, most famously. Here are the top iOS 15 tweaks that are compatible with the jailbreak for iOS 15.
| Name | Compatible | Description | Repo |
| --- | --- | --- | --- |
| Akara | ❌ | Minimal design without compromise | Chariz |
| Amber | ✔️ | Amber-ify your LED torch | PoomSmart |
| Amelija | ✔️ | Take full control of your wallpapers on the fly | Twickd |
| Axon | ✔️ | Notification priority hub tweak | m3 |
| Badger | ✔️ | Notification Badges. Reimagined. | Havoc |
| BatteryBoobs | ✔️ | Enable Apple's hidden % in battery | Download Deb |
| BetterCCXI | ✔️ | Gives enhanced connectivity and Music Modules | Packix |
| CC On & Off | ✔️ | Toggle Wi-Fi and Bluetooth fully on/off from Control Center | PoomSmart |
| CCBalance | ✔️ | Change the audio balance from CC | KingPuffdaddi |
| CCSupport | ✔️ | Support tweak for CC modules | opa334 |
| CCUptime | ✔️ | Check your device uptime from the Control Center (Needs CCSupport) | Packix |
| CarrierModern | ✔️ | Change the carrier name in status bar | Packix |
| Cask 3 | ✔️ | Animated table scrolling | Packix |
| Checkl0ck | ❌ | Checkl0ck is a tweak for some devices to give you back the passcode and biometric capabilities. | Havoc |
| ChromaHomeBarX | ✔️ | Chroma on the Home Bar | BigBoss |
| ColorMeNotifs | ❌ | Bring colors to your notifications | Packix |
| ColorMyBattery | ✔️ | Battery Colors | Packix |
| DockSearch | ✔️ | Adds a browser search bar to your dock | Ginsu |
| Dodo | ✔️ | LS redesign. | Ginsu |
| Dress | ✔️ | Dress up your lockscreen | Taurige Github |
| DualClock 2 | ⭕ | Add 2 time zones to the LS and status bar | Ginsu |
| EmojiPort (iOS 12.0-15.3) | ✔️ | Latest emojis | PoomSmart |
| Eneko | ✔️ | Set a video as your wallpaper | Traurige Github |
| FloatingDockPlus 13/14 | ✔️ | Use your dock like a pro | Packix |
| FrontPage | ✔️ | Powerful HTML for the SpringBoard | JunesiPhone |
| Hestia | ✔️ | Global jailbreak detection bypass | Havoc |
| HideSerialNumber | ✔️ | Hide Serial Number in Settings About page | ichitaso |
| Jellyfish | ✔️ | Modernize your lock screen | Chariz |
| Kalm | ❌ | A beautiful first sight | Chariz |
| Laetus | ✔️ | Unparalleled keyboard customisation | SparkDev |
| LastLook | ✔️ | A last look at your Notification Center when you lock your phone | Packix |
| Little12 | ✔️ | Gestures on all devices | Packix |
| LockApps | ✔️ | Add an App Library with your favorite apps to the LS | Ginsu |
| Lower | ✔️ | Change media controls/notifications height on iOS 11+ | Packix |
| MacPass | ✔️ | MacOS login screen for iOS | nahtedetihw |
| NewTerm 2 | ✔️ | A powerful terminal app | Chariz |
| NotchBanners | ❌ | Make notifications come from the notch | Ginsu Tweaks |
| PerfectTime | ✔️ | Adds second line in status bar for showing the date on notched devices | Johnzaro's |
| Pocket Translator | ✔️ | A super lightweight translator. | Ginsu Tweaks |
| PomPom | ✔️ | A tidy lock screen redesign | none |
| ProGesture | ❌ | Modern gestures, iPad features, and many unique features but lightweight and less battery drain | Packix |
| PullToRespring | ✔️ | Pull down in Settings to respring | BigBoss |
| QuitAll | ⭕ | One tweak to quit them all | Chariz |
| RealCC | ✔️ | Actually disable Wi-Fi from the iOS CC | BigBoss |
| Rose | ✔️ | The most advanced and feature rich system wide haptic feedback tweak | Taurige Github |
| S8Edge | ✔️ | Brings Galaxy S8 Infinity to iOS | Bruno Andrade's Repo |
| Safecuts | ✔️ | Fix iOS 15.0-15.3.1 hidden actions vuln | 0xilis's Repo |
| ShortLook | ✔️ | Your notifications. At a glance. | Dynastic |
| Shuffle | ⭕ | Mix up your preferences | CreatureCoding |
| Sileo | ⭕ | A mordern APT package manager frontend | procursus-local |
| SmartBattery 2 | ✔️ | Battery saving, monitoring, and tuning tweak | Havoc |
| SmartNetwork 2 | ✔️ | Smart features and functions for internet connections | Havoc |
| Snapper 2 | ✔️ | Pin screenshots on the screen | Havoc |
| SnowBoard | ✔️ | Theming engine | SparkDev |
| Spectrum | ✔️ | Customize system colors | Skitty |
| Starfish Beta | ⭕ | The long-awaited HS redesign | Dynastic |
| Tako | ❌ | Notification priority hub tweak | Xyaman Repo |
| TetherMe | ✔️ | Dynamically enables native tethering for iOS 8+ devices | BigBoss |
| Tranzlo | ✔️ | A life savior translator tweak | MiRO92 |
| TrollStore Helper | ✔️ | Helper utility to install and manage TrollStore | Havoc |
| TweakSettings | ✔️ | Dedicated settings app for tweaks | CreatureCoding |
| Ultrasound | ✔️ | The volume HUD you deserve | Dynastic |
| Unsigncuts | ✔️ | Import unsigned shortcut files | Havoc |
| Ventana | ❌ | Modern lock screen inspired by desktop Windows 10 | Havoc |
| WiCarrier | ✔️ | Display WiFi network name in status bar | rpetrich |
| Youtube Reborn | ✔️ | Youtube Customizer | Lillie's Repo |
Palera1n Jailbreak For iOS 16.0 – iOS 16.2
Palera1n jailbreak for iOS 16 has officially been published with support for tweaks. Apparently, this version only functions with the aforementioned iPhones and iPads that are checkm8 compatible. Additionally, a graphic user interface (GUI) will be designed to make the jailbreak operation extremely user-friendly.
The palera1n project became the first to provide an iOS and iPadOS 16 supported jailbreak that still allows for tweak insertion. However, it's important to keep in mind that jailbreak tweaks probably will not fully offer iOS and iPadOS 16 and will have to be upgraded to function on it.
The Pogo app will now be replaced by a brand-new Palera1n loader app in the most updated Palera1n iOS 16 jailbreak targeting A11 devices. The Bootstrap is now prepared to use this tool, and Sileo will be installed in uicache, its default tweak manager. This Palera1n supports iOS 16.0 to iOS 16.2.
Additionally, the loader for Palera1n for iOS 16 provides tools to resolve certain common problems, like clearing icon cache, mounting rootfs with preboot as read/write, starting daemons, respringing SpringBoard, and turning on loaded customizations using substitute-launcher.
📌 For iOS 16, Palera1n jailbreak was made available in the official GitHub branch. Palera1n jailbreak for iOS 16.0 – iOS 16.2 is still advised that only expert users utilize it at this time. A9 and A10 devices are still not supported since Apple forbids the installation of iOS 16 on them.
Installing Palera1n Jailbreak Through TrollStore
Nebula's customized launchd and script were still not spawning the loader app during this point in its development. You could really install TrollStore via an SSH Ramdisk if you're on the beta version of iOS 16, jailbreak the device, and then install the loader app via TrollStore.
The Cydia Tweaks For iOS 16
It's still critical to remember that jailbreak tweaks work with iOS and iPadOS 16. Please be patient as updates to tweaks developers may be required to make them compatible with iOS 16.
Palera1n Jailbreak For iOS 16-16.2 Update
✅ Palera1n Jailbreak For iOS 16 With Cydia/ Sileo Tweaks
Palera1n jailbreak download creator @itsnebulalol uses an iPhone 8 running iOS 16.1.1 to demonstrate tweak injection and kernel read/write. So, the Palera1n jailbreak latest tweaks on iOS 16 work! Installing iOS 16 tweaks will soon be added to the Palera1n jailbreak for iOS 16.
Even though many users, whether developers or just not, have already been taking full advantage of a palera1n jailbreak for iOS 15, even though it was designed for developers, it didn't stop passionate jailbreakers from getting on board when the go-ahead is released. This is due to the fact that other jailbreak teams have not yet succeeded in making a workable jailbreak for iOS or iPadOS 15 available to the general public.
@itsnebulalol intends to reveal their iOS 16 development and it will be offered as an upgrade to the palera1n jailbreak tool for iOS 16.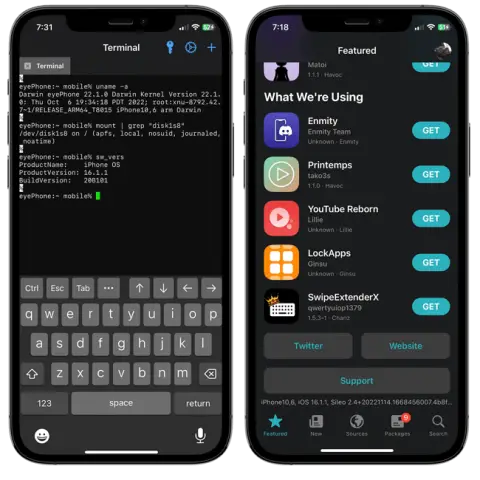 Palera1n Loader App For iOS 16
Awesome Palera1n loader app made by developer @llsc121! When the device is jailbroken via Palera1n, this will be installed automatically.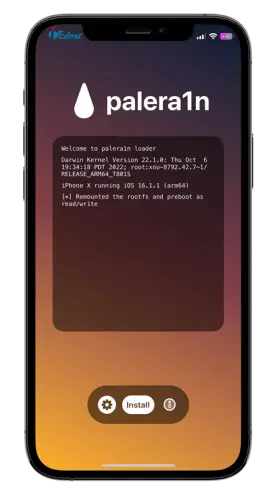 How To Jailbreak iOS 15 With Palera1n Jailbreak
Important Things You Should Know About Installing Palera1n
☑️ Palera1n Jailbreak is an ongoing jailbreak script that modifies the kernel to enable Sileo and tweak installation. With a few significant exceptions, palera1n is now compatible with iOS 15 and later on A11 (iPhone X) and previous devices.
☑️ In addition, if you are using iOS 16 and have ever established a passcode, you will need to delete all material and settings before you can jailbreak.
☑️ The device's Developer mode must be activated on iOS 16.
☑️ Check to see if your device is supported before trying to jailbreak iOS 15 with Palera1n. On A10/A11 devices, don't forget to remove the passcode before starting the jailbreak.
☑️ This is a tethered jailbreak if the semi-tethered flag is not being used, that also makes that in order for the device to boot at all, a PC must be used every time.
☑️ Following Removing palera1n jailbreak ipa, both tethered and the semi-tether may be simply removed.
☑️ Add the –semi-tethered argument towards the ends of the jailbreak command to make it semi-tethered if you prefer. This simply doesn't work on 16GB iPhones since it would require 5 -10GB of storage.
☑️ Because the script substitutes Amy's loading program Pogo for Tips, you need to install Tips from the App Store.
☑️ Palera1n is a script that is still under development that updates the kernel to allow for changes and other features.
How To Enabling Developer Mode
If you are using iOS 16, only this step will apply to you. Those using iOS 15 should skip this part.
Step 1 > Go to the Settings app.
Step 2 > Then choose Privacy and Security.
Step 3 > Go to Developer Mode and tap it.
📌 Before this option is available, an app must have been sideloaded.
Step 4 > Turn on Developer Mode, then select "Restart."
Step 5 > Tap "Turn On" to activate developer mode after your device restarts.
How To Installing Palera1n Jailbreak With macOS
Requirements
✅ Palera1n Jailbreak compatible iOS / iPadOS device (A8X / A11)
✅ iOS / iPadOS 15.0-15.7.1
✅ You must install the 'Tips app' from the App Store before run Palera1n Jailbreak script.
✅ Linux or macOS computer (Python 3 is required)
Applying The Palera1n Jailbreak
📌 Before November 13th, 2022, if you had already jailbroken with tweaks or utilized rootless Palera1n, run
Step 1 > Clone the repository with
git clone –recursive https://github.com/pwnd2e/palera1n-3.0 && cd palera1n-3.0
☑️ Put your device in DFU Mode before running this command.
☑️ Having previously cloned the repository, simply run
./palera1n.sh –tweaks <ios version youre on atm>
Step 2 > Now run
./palera1n.sh –tweaks <ios version youre on atm> –semi-tethered
☑️ When you're using a 16GB device and have less than 10GB free, skip the –semi-tethered argument from the command. This flag consumes 5–10GB of storage and is incompatible with 16GB devices.
☑️ With semi-tether after 1st install and re-jailbreaking just hit activate tweaks then respring.
🧿 If your having trouble in the middle of the procces, Start over and use below command and run script again.
☑️ Do you unerstand type
☑️ Again type
The Tips app will be replaced and blobs will be dumped when your device next boots into ramdisk mode. Also, this will establish boot args and various variables, prepare for the tether, or set up the false rootfs. Additionally, it will modify the kernel allowing you to apply tweaks.
Step 3 > Put the device into DFU once more after returning to recovery or normal mode.
Step 5 > When the device starts > Launch the Tips app > Choose install.
Step 6 > Your homescreen needs to now show Sileo.
☑️ If the Sileo package manager is not visible, click Tools and select Do all.
When palera1n indicates that the task has been completed successfully, the iOS tweaks are fully functional. A list of compatible Palera1n tweaks is available above.
How To Installing Palera1n Jailbreak With Linux
Installing The Palera1n Jailbreak
You'll need to take extra steps in efforts to progress because of challenges with Linux OS.
Step 1 > You must first open a terminal and execute the following commands.
sudo systemctl stop usbmuxd
Step 2 > Open a second terminal and proceed with the next instructions using that terminal window.
📌 Once November 13th, 2022, if you already installed rootless Palera1n or jailbroke with tweaks, execute rm -rf Palera1n.
Step 3 > Clone the Palera1n repo with
git clone –recursive https://github.com/palera1n/palera1n && cd palera1n
☑️ Execute cd palera1n if you've previously cloned the repository.
Step 4 > Run
sudo ./palera1n.sh –tweaks <iOS version you're on> –semi-tethered
☑️ To use this command, first keep your device in DFU Mode.
☑️ Even if you match the requirements to use the flag, such as utilizing a 16GB device, having less than 10GB free, or having an iPhone 7 or iPhone 8, you should not add –semi-tethered in the command.
Your iDevice will therefore boot up on ramdisk mode, restore the Tips app, as well as dump blobs. To prepare for the tether either set up the false rootfs, it'll also configure boot args and other variables. Additionally, it will update the kernel for you so that your iOS 15 device can support tweaks.
Step 5 > Restart the device in DFU mode after it has returned to recovery or regular mode.
Step 6 > Once the device has started, launch the Tips app, and select Install.
Step 7 > You must have seen Sileo for iOS 15 on your homescreen. Otherwise, select Do all from the Tools menu.
How To Installing Palera1n Jailbreak With Windows
Palera1n jailbreak for Windows is still incompatible with Windows PC. However, you may try using palera1n jailbreak windows with support of virtual MacOS environment to jailbreak iOS 15 instead.
Palera1n 1.4.0 Beta Graphical Interface Download
✅ Palera1n Jailbreak GUI is support for iOS 15 – iOS 16.3 beta.
✅ Support only checkm8 compatible devices.
✅ Supports Mac OS high Sierra 10.13.6 up to Mac OS Monterey 12.6.2.
The Palera1n Jailbreak GUI v1.0
The palera1n team's update that an official GUI was being developed was a big step forward because many jailbreakers have been turned off by the fact that palera1n is now simply a command line interface (CLI) jailbreak. It turns out that some users are hesitant to use Terminal because they are worried about typing commands incorrectly.
How To Removing Palera1n Jailbreak
When your device is configured in DFU, you can follow the PC/Mac instructions listed below to delete the Palera1n jailbreak. You don't need to restore in order to undo the jailbreak.
📌 You will need to complete another step first if you use Linux. Run these instructions in a terminal after opening it.
sudo systemctl stop usbmuxd
Open a new terminal, and afterwards continue out the next steps using that terminal window.
Step 1 > Clone the Palera1n repository using
git clone –recursive https://github.com/palera1n/palera1n && cd palera1n
☑️ Run the Palera1n repo clone command if you've previously done so.
Step 2 > Run
./palera1n.sh –restorerootfs <iOS version you're on>
☑️ For Linux users – Put sudo before the command.
☑️ If you use palera1n semi-tethered jailbreak –
☑️ At the later part of the command, add the –semi-tethered.
☑️ Add –debug to the end and utilize the logs to troubleshoot if you're experiencing problems.
Step 3 > You should be able to use your iOS device normally after it boots into iOS..
Helpful Options And Subcommands For Palera1n
While jailbreaking iOS 15, Palera1n grants access to a variety of options and subcommands. Below is a list of every feature that is currently offered, along with descriptions.
Palera1n Options
–help > Print these instructions.
–tweaks > Allow tweaks.
–semi-tethered > Create a semi-tethered jailbreak rather than a tethered one if you wish to utilize it with –tweaks.
–no-baseband > The fakefs may be successfully produced on devices without baseband when used in combination with –semi-tethered.
–skip-fakefs > Although if –semi-tethered is used, do not build the fakefs.
–dfuhelper > A DFU helper to assist in entering DFU mode after recovery mode on A11 devices.
–dfu > Identify the device as being connected in DFU mode.
–no-install > Skip the Tips for murdering.
–verbose > Turn on the device's verbose boot mode.
–restorerootfs > Restore tethered root file system.
–debug > Fix script issues.
Palera1n Subcommands
clean > removes the boot files that were produced.
dfuhelper > a substitute for —dfuhelper.
How To Jailbreak iOS 15 With Palera1n Jailbreak
Check to see if your device is supported before trying to jailbreak iOS 15 with Palera1n. On A10/A11 devices, don't forget to remove the passcode before starting the jailbreak.
What Is Palera1n Jailbreak?
The popular IPA Permasigner terminal tool, the first open-source method to install IPA files without revokes running iOS 14.0 up to iOS 14.8.1, and iOS 15.0 up to iOS 15.7.1 utilizing the CoreTrust bypass found by Linus Henze, is brought to you by Nebula @itsnebulalol, the developer of the Palera1n Jailbreak.
The installation procedure for Palera1n Jailbreak isn't as user-friendly as those of other jailbreaks because it is still under development. It is necessary to make certain preparations before and require a computer in order to install the semi-tethered iOS 15 jailbreak. It is only advised for experienced users to use checkm8 jailbreak iOS 15 tool.
Palera1n Jailbreak With Checkra1n Jailbreak iOS 15
The majority of checkra1n-supported devices should function with Palera1, however it's unstable and might cause problems along the process. Use it at your own risk, and when exiting recovery mode is required, use irecovery or futurerestore with the —exit-recovery option.
The major component of the checkra1n jailbreak is the checkm8 exploit created by axi0mX. This bootrom exploit's potential to guarantee everlasting jailbreak functionality for A5-A11 devices is its most fascinating feature. It implies that every new iOS version should have a security vulnerability.
Palera1n Jailbreak File Manager For iOS 15
For iOS 12 and later, Sileo is a splitting APT Package Manager that prioritizes performance and usability. This was developed to provide a genuine Cydia solution for jailbroken devices. If you're using unc0ver or checkra1n, Sileo may share its sources with Cydia and officially support all jailbreaks.
It was written in Swift, a cutting-edge programming language Apple developed to produce iOS apps with lightning speed. Sileo Package Manager therefore functions quickly on all jailbroken iPhone, iPad, and iPod.
Pogo App For Palera1n Jailbreak
Palera1n iOS 15 required jailbreak scripts are run by jailbreak, and Procursus Bootstrap with Sileo are installed through the Pogo app. With iOS 15 through iOS 15.7.1, you may use the package manager to manage repositories, browse packages, and install jailbreak apps.
Amy, the creator of the Pogo app for iOS 15, is applying the Palera1n tweak injection approach to use. Don't even bother to install Cydia tweaks on jailbroken iOS 15 right now. You may simply replace this by setting up tools like Filza file manager iOS 15, NewTerm 2, AppStore++, OpenSSH, and so on.
Sileo 2.4 from CoolStar is included in Pogo, but Amy is actively promoting beta releases out via a private repo. The Sileo version that comes with this is regarded as beta. To obtain the most recent Sileo APT releases, add the https://beta.anamy.gay repo if you want more frequent updates.
Palera1n Jailbreak Repo
✅ Tweaks mode – When utilizing tweaks mode, all repos are accessible since Procursus is used normally and not in a rootless method.
✅ Rootless – Make use of the official Palera1n repo as a guide if you wish to create a rootless repository. Nothing should be on the rootfs, and each deb must utilize the iphoneos-arm64 architecture. It should all be in /var/jb.
Filza File Manager Download For iOS 15
Filza File Manager and CocoaTop are now available for iOS 15 installation through TrollStore. A fantastic file manager with root access, a superb user interface, and excellent speed is Filza File Manager for iOS. Therefore, iOS 15 allows you to access the Root file system.
TrollStore For Palera1n Jailbreak
Any IPA you open in TrollStore will be permanently installed, making it a permanently imprisoned app. Because of a CoreTrust problem facing iOS 14.0 through 15.7.1, it functions (15.5b4).
TrollNonce IPA For Set Nonce On iOS 15.0 -15.1.1
The first downgrade tool for A10-A15 devices that works with 15.0-15.1.1 is TrollNonce. You may downgrade and upgrade your iOS versions with this TrollNonce tool to the unsigned iOS releases from Apple. You can downgrade your iOS 16 device to iOS 15 for jailbreaking using Palera1n.
How To Downgrade And Upgrade iOS Versions Using TrollNonce »
Palera1n Repo For iOS 15
Palera1n jailbreak repository now includes TrollStore! Install TrollStore Helper from trollStore on supported versions if you have Palera1n booting. Of course, if you aren't on 15.0 – 15.7.1.
Palera1n Repo URL – http://repo.palera.in
What Does Palera1n Jailbreak Do?
It does employ the checkm8 vulnerability and boots the device with amfi patches, that permits the running of unsigned code just on the iOS operating system. Since this is a "developer jailbreak," the Pogo bootstrap is not yet included.
TrollStore should be installed alongside the Pogo bootstrap, and you must follow those instructions to do it. When making your ramdisk, you want to utilize the script included in the repository kristenlc/SSHRD Script-High-Sierra.
The checkm8 exploit is applied to install TrollStore on the ramdisk. After installing TrollStore on your iPhone device, you may download the IPA for the Pogo bootstrap and can use it. As of now, there is no tweak injection.
How To Install Palera1n Jailbreak Online
Although the Palera1n jailbreak is not available online yet, you can install Palera1n alternative tools that may work with iOS 15 to iOS 16.
The Best Palera1n Jailbreak Alternatives
Fugu15 Online Jailbreak For iOS 15
Security researcher Linus Henze published the iOS 15.0 to iOS 15.5 Beta 2 Fugu15 jailbreak. Even though it is a developer jailbreak, the jailbreak ultimately includes even more than the greatest open-source iOS 15 jailbreak. A permanently signed jailbreak called Fugu15 may be loaded via Safari on the device without the use of a PC.
Important PaleRa1n iOS 15 Jailbreak Update
Because Palera1n jailbreak for iOS 15 does not presently repair the sandbox hooks, installed programs will remain sandboxed until the unsandbox privilege is inserted or the Sandbox hooks are patched.
When installed apps are not unsandboxed, this can and has caused difficulties with some changes not really being able to inject onto them.
PaleRa1n jailbreak for iOS 15 is available in two versions.
Palera1n Fully Tethered Jailbreak For iOS 15.0 – iOS 15.3.1
✅ PaleRa1n Tweaks version is compatible with iOS 15.0 – 15.3.1. – It has tweaks that function properly, but it is fully tethered. Tethered jailbreak is a sort of jailbreak in which the device requires the jailbreaking tool to restart whenever the user switches the power off then and back on.
Palera1n Semi-tethered Jailbreak For iOS 15.0 – iOS 15.7
✅ PaleRa1n Rootless version is compatible with iOS 15.0 – 15.7. PaleRa1n Rootless, similar to CheckRa1n jailbreak, lacks tweaks and is semi-tethered. A semi-untethered jailbreak seems similar to an untethered jailbreak in that it allows the device to boot up by itself. The device starting process is unaltered, and it boots itself into original, non-jailbroken settings on each boot. Therefore, instead of needing to run a jailbreak tool from a PC to jailbreak.
PaleRa1n iOS 15 Jailbreak is a developer jailbreak that should not be used by the general public. Initially, it is a completely tethered jailbreak, which means that starting your device must always necessitate the use of a PC. In comparison to checkra1n, PaleRa1n jailbreak requires your device to connect to a PC after each reset.
If your iPhone reboots and there is no PC with PaleRa1n jailbreak available, you also can boot to stock iOS. The Rootless version of both the PaleRa1n jailbreak is semi-tethered such as CheckRa1n and functions on iOS 15.0 to iOS 15.7, however PaleRa1n jailbreak does not currently allow customizations.
Who Created Palera1n Jailbreak?
@itsnebulalol created Palera1n jailbreak thanks to the famous checkm8 bootrom vulnerability, @itsnebulalol is the mastermind behind the innovative tethered jailbreak known as palera1n, which works with some versions of iOS & iPadOS 15 devices including A9-A11 devices.
Palera1n Jailbreak Credits
▶ Nathan
A condensed version of SSHRD Script is used in the ramdisk that copies rootfs, installs the pogo to tips app, and dumps blobs.
Restored external modifications.
Further assisted Mineek with the modifications and getting the kernel operating.
Assisting with expanding support for various devices.
Switching to the fsboot iBoot64Patcher branch will solve difficulties with the camera, among other things.
▶ Mineek
Regarding the booting and patching commands.
Providing support for tweaks.
For Releasing kernel patchfinders Kernel15Patcher/Kernel64Patcher.
▶ Amy – the Pogo app.
▶ checkra1n – base of the kpf.
▶ nyuszika7h – the entry script for DFU.
▶ Procursus Team – amazing bootstrap UI.
▶ F121 – assisting with Palera1n's jailbreak testing.
▶ M1sta – for pyimg4.
▶ Tihmstar – Prividing for pzb/original iBoot64Patcher and original liboffsetfinder64/img4tool.
▶ Xerub – for the ramdisk's restored external and img4lib files.
▶ Cryptic – liboffsetfinder64 fork and iBoot64Patcher fork.
▶ libimobiledevice – IRecovery, IDeviceEnterRecovery, and other tools were utilized in this project, and Nikos kept it updated.
▶ Serena – supporting the boot ramdisk.
▶ Nick Chan – general support with patches.
▶ Sam Bingner – for Substitute.
Palera1n Jailbreak Source Code | Palera1n GitHub
Palera1n is an open-source version of the (semi-)tethered checkm8 jailbreak for iOS 15.0–15.7.1. Each file may be accessed through the palera1n/palera1n GitHub repository.
You may look at all of @itsnebulalol's active iOS 15.0-15.7.1 work-in-progress. On macOS, you have the option of starting the project from scratch or contributing to the Palera1n GitHub project.
iOS 15 Jailbreak Status
With iOS 15 jailbreak release, checkm8 jailbreak windows, checkm8 exploit, checkm8 download, iOS 15 jailbreak checkra1n windows, checkra1n iOS 15 download, checkra1n iOS 15 release, checkra1n jailbreak windows, checkra1n jailbreak, checkra1n iOS 15 github everyone's hope Palera1n Jailbreak Support iOS 15 – with the release of iOS 15.7, a new path was opened for the jailbreak community.
Stay tuned for iOS 15 jailbreak news and all iOS 15 jailbreak downloads along with iOS 15 jailbreak status.
What's New In Palera1n Jailbreak ?
Latest Update In Palera1n iOS 15.0 – iOS 16.2 Work-in-progress
Palera1n Version v1.4.2
The Palera1n jailbreak Enable support for iOS 16.4.
Different fixes
Create a directory-independent palera1n.sh script.
When a computer is launched from recovery or DFU, add a check for arm64e devices.
A remark on a forced reboot following rootfs restoration.
Palera1n Version v1.4.1
Fix the ibot.patched.
Apply payload to the X.
When using variables, use jq –arg.
Change the reference to iOS 15 to iOS 16 in README.md.
Solve phase 2's dfuhelper instructions.
Correct removing the existing dsc from the fakefs.
Repair stderr not going to log file.
Resolve the development mode patch.
Palera1n Version 1.4.0
Support for jailbreaking iOS 16 on the A11 platform was included in Palera1n 1.4.0.
No longer necessary and does not mount the user data partition with iPhone X compatibility.
files are released to the rootfs (fakefs if needed)
Correct deviceid detection.
Due to rdisk dumping appearing to freeze, using apticket.der instead.
Include information in /.installed palera1n.
Uicache loader app in boot prevents Tips app hijacking.
Repair rootless.
Webkit update for 16.
Toggle local boot.
iPhone 7(+) and iPhone 8(+) home button fix.
Boost stability.
Provides all CheckM8 devices from 15.0 to 16.2.
Palera1n Version 1.3.0
Deep sleep problem is totally fixed in Palera1n.
On all Checkm8 iOS devices, Palera1n jailbreak now supports versions 15.0 through 15.7.1.
Enhance stability.
TrollStore for iOS 15, camera, and screen recording are all fixed by Palera1n.
Palera1n Version 1.1.1
Deep sleep problem fixed by Palera1n.
The Palera1n jailbreak has several fixes.
Install tweak support on Pogo.
Palera1n Version 1.1.1
iPad beta URLs are supported by Palera1n jailbreak.
Always ensure that auto-boot is setting to false (unless restoring rootfs)
Before launching postboot, wait for sshd to start.
Jailbreak fix for Palera1n How to spot errors
Fix restorerootfs
Palera1n Version 1.1.0
Verify that Tips is installed.
only time, request for the disclaimer
Search for DFU