Permasigner iOS – Permanently Sign Sideload iPA Apps On iPhones
A new application called PermasigneriOS will allow sideloaded iPhone apps to be permanently signed. Initially, an IPA Permasigner script for the desktop was created. Install PermasigneriOS on iOS 14 to run apps without being revoked.
What Is Permasigner iOS App?
On your jailbroken iOS device, you can permanently sign IPA files using the free PermasigneriOS iOS app. Once an app has been installed on your device and signed with PermasigneriOS, it will continue to function indefinitely and even after a restart. It supports iOS 15 and is compatible with iOS 14.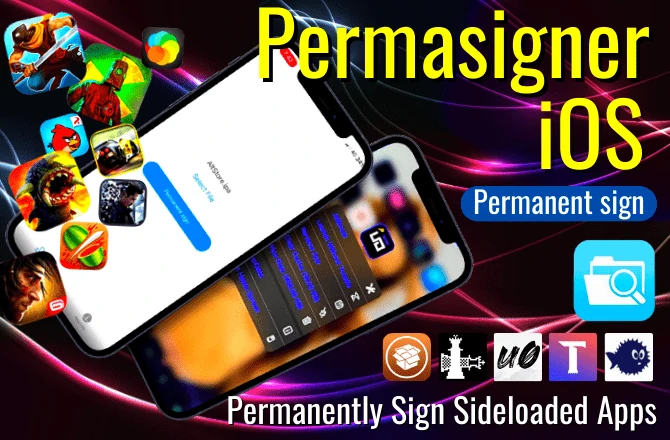 The software utilizes the same method for permanently signing IPA files as the previously released IPA Permasigner script for Linux and macOS developed by Linus Henze for Fugu14 jailbreak. The PermasigneriOS tool is really unique because it is a device based app that doesn't require you to use a computer to jailbreak. PermasigneriOS works with the Taurine jailbreak, Unc0ver users and Checkra1n users now.
The proof-of-concept (PoC) released by Zhuowei Zhang has generated a large amount of buzz in the jailbreak community since it enables apps to be signed permanently on a device. It now appears that other developers are focusing their efforts with the hack, which was previously used by the Odyssey Team to sign the Taurine jailbreak app for iOS & iPadOS 14 users permanently.
PermasigneriOS Supported Device
iPhone
✅ A14 – iPhone 12 mini / iPhone 12 / iPhone 12 Pro / iPhone 12 Pro Max
✅ A13 – iPhone SE 2 / iPhone 11 / iPhone 11 Pro / iPhone 11 Pro Max
✅ A12 – iPhone XS / iPhone XS Max / iPhone XR
✅ iPhone 8, iPhone 8 Plus, iPhone 7, iPhone 7 Plus, iPhone 6s, iPhone 6s Plus
✅ iPhone 6, iPhone 6 Plus, iPhone SE, iPhone 5s
iPad
✅ iPad Mini (5th generation), iPad Air (2019, 3rd generation), iPad mini 4, iPad mini 3, iPad mini 2
✅ iPod touch 6G 2nd-gen 12.9-inch iPad Pro, 12.9-inch iPad Pro, 1st-gen 10.5-inch iPad Pro
✅ 9.7-inch iPad Pro, iPad Air 2, iPad Air
Permasigner Supported iOS Versions
✅ iOS 14.8.1 / iOS 14.8 / iOS 14.7.1 / iOS 14.7 / iOS 14.6
✅ iOS 14.5.1 / iOS 14.5 / iOS 14.4.2 / iOS 14.4.1 / iOS 14.4
✅ iOS 14.3 / iOS 14.2.1 / iOS 14.2 / iOS 14.1 / iOS 14.0.1 / iOS 14 / iOS 13.7 / iOS 13.6.1 / iOS 13.6 / iOS 13.5.1 / iOS 13.5.5 Beta 1 / iOS 13.5 / iOS 13.4.1 / iOS 13.4
✅ iOS 13.3.1 / iOS 13.3 / iOS 13.2.3 / iOS 13.2 / iOS 13.1.3 / iOS 13.1.2 / iOS 13.1.1 / iOS 13.1 / iOS 13
✅ iOS 12.5.1 / iOS 12.5 / iOS 12.4.9 / iOS 12.4.8 /iOS 12.4.1 / iOS 12.4 / iOS 12.2 / iOS 12.1.4 / iOS 12.1.3 / iOS 12.1.2 / iOS 12.1 / iOS 12.0.1 / iOS 12
✅ iOS 11.4.1 / iOS 11.4 / iOS 11.3.1 / iOS 11.3 / iOS 11.2.6 / iOS 11.2.5 / iOS 11.2.2 / iOS 11.2.1 / iOS 11.2 / iOS 11.1.2 / iOS 11.1.1 / iOS 11.1 / iOS 11
For jailbroken iDevices using iOS 14.0 to iOS 14.8.1, PermasigneriOS may permanently sign IPA files by using the CoreTrust bypass. It implies that the signed software will continue to operate on your iPhone or iPad even after restarting your device and restoring iOS to its default state.
This signing bug will function with iOS 15.4.1 jailbreaks as well. Because a program must be installed from a jailbroken environment once it has been signed, you can't use it right now on iOS 15. Fortunately, iOS 15 will soon get a powerful jailbreak.
How Does Permasignerios iPA Work?
There is an issue in iOS 14.0-14.8.1 where CoreTrust accepts any root certificate. The bug is in iOS 15.0-15.6 and to jailbreak iOS 15, with the arrival of Cheyote Jailbreak and Checkra1n iOS 15 Jailbreak requires a jailbreak to install the Permasignerios application in the Applications folder, so you can use unlimited jailbreak users for now. Anything before iOS 14 is free from this problem. Based on an IPA, this script creates a DEB file for you.
Prerequisites For PermasigneriOS
📱 You need a computer or jailbroken iDevice with Procursus.
Permasigner is capable of working with Mac OS X 10.5.0 or later, Linux, a jailbroken iPhone or iPad, a Windows computer, or even simply a web browser.
📱 To use the permanent sign iPA you need a jailbroken "target" iDevice on iOS 14.0 – iOS 14.8.1.
How To Install PermasigneriOS
The DEB package for PermasigneriOS was made available, however only jailbroken devices can use it to install it. It is compatible with iOS 14 jailbreaks Checkra1n, Unc0ver, Taurine, and Fugu14. Users may easily use Filza Escaped 15 because to the DEB file's ability to be installed using a package manager like Sileo. All permanently signed software can be installed using this file manager as well.
Step 1 > Download PermasigneriOS.deb from Safari.
Step 2 > Install the downloaded DEB package with Filza Escaped.
Step 3 > The PermasigneriOS app will be displayed to the Home Screen after installation.
Step 4 > To permanently sign IPAs, open the PermasigneriOS app.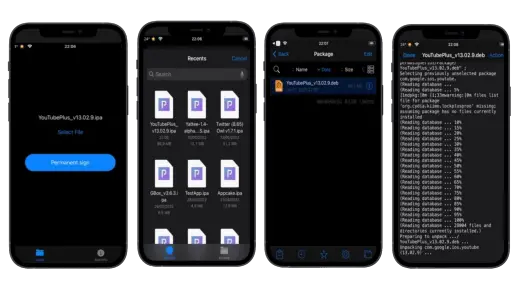 How To Sign IPA Files Permanently With PermasigneriOS
You can indefinitely sign any IPA on your iOS device by using the free PermasigneriOS application. Make sure you are using one of the well-known iOS 14 jailbreaks if you want to download IPAs. After installation, the app's sign will remain intact even when your device is restarted.
Step 1 > Open PermasigneriOS app from Home Screen.
Step 2 > To open an IPA file from your iCloud Drive, tap Select File.
Step 3 > The file's name will appear in the interface when it has been loaded.
Step 4 > To begin signing, click the "Permanent sign" button.
Step 5 > When all is done, the app will ask you to view the signed file.
Step 6 > To access the signed DEB location in the Filza Escaped file manager, tap "Ok."
Step 7 > Run the Installation by tapping on the DEB file name in FilzaEscaped.
Step 8 > The app icon will be visible from the Home Screen if everything goes as expected.
On iOS devices, any IPA files that have been signed using PermasigneriOS will function without any restrictions. Even if you restart your device, the app will continue to be signed.
The tool will be helpful for other apps that Apple restricts from being downloaded from the App Store due to laws and regulations, in addition to permanently signing jailbroken apps. Game emulators and clipboard access applications are only a couple of the many examples of these apps that are currently accessible through AltStore.
How To Run Permasigner | Permasigner iOS Install Methods
Run Online – Use GitHub Workflow To Run Permasigner
It's open-source on GitHub, go check it out.
Step 1 > You'll need to create a free GitHub account. To make a fork, click the fork icon in the upper right corner.
Step 2 > If you've previously created a fork, click fetch upstream, then fetch and merge. So each time you sign an application, you should follow this step.
Step 3 > Click Actions on the top, then enable actions.
Step 4 > Click run workflow on the right after clicking run script on the left.
Step 5 > Paste the direct URL of an IPA file in the box and click "run workflow" to continue.
Step 6 > Wait until the process is complete, then click it.
Step 7 > Send the deb file to your iDevice after you download and unzip the artifact.
The file may be shared using airdrop, but you can also utilize services like Mega or Dropbox. Procursus's openssh-sftp-server is available for advanced users. Simply unzip it and install it if you're running it on the device.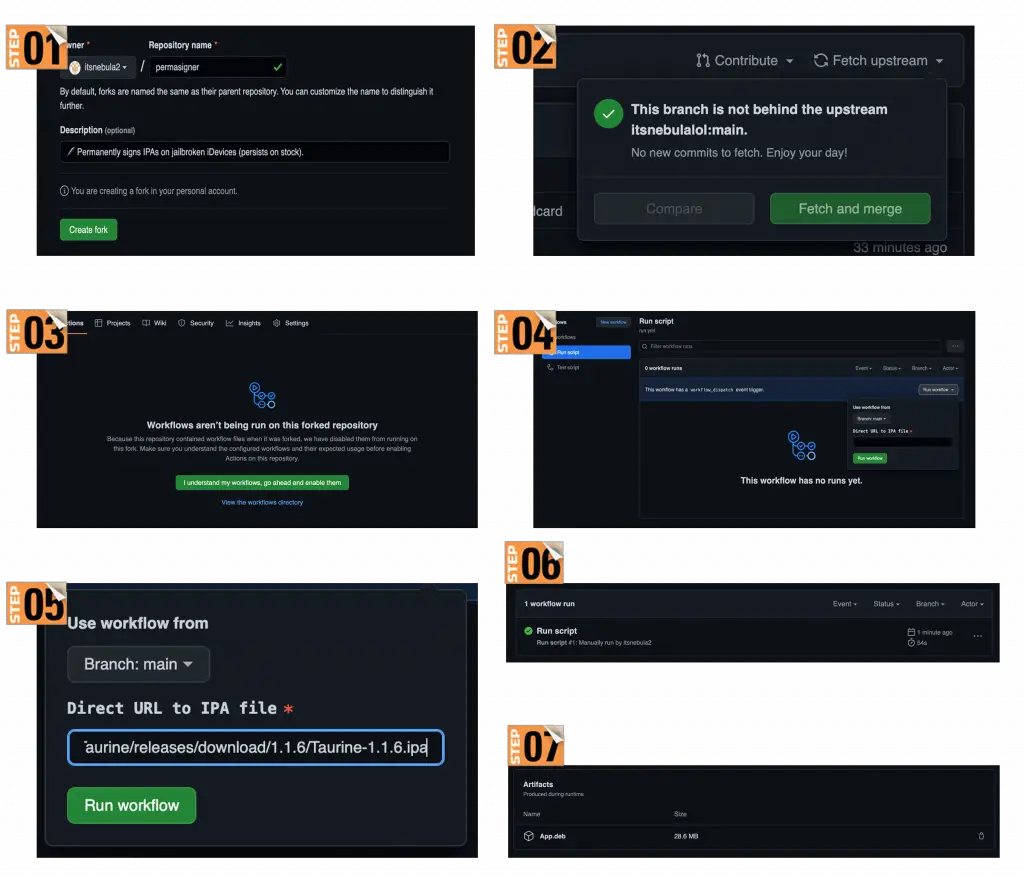 Unc0ver Perma-signed version 8.0.2 available!
With the help of the unc0ver-Permasign tool, you won't need to sign in to Unc0ver jailbreak every 7 days. Now that a smart technique has been made available, you may sign an unsigned jailbreak permanently, and it will remain valid even after a reboot. Unc0ver Jailbreak users can now permanently re-sign their Unc0ver IPA from their iOS device. Credit goes to a tweak developed by @ichitaso.
Unc0ver Permasigner Download Free »
As a jailbreak user, you can easily customize your iOS devices with the Unc0ver Jailbreak IPA, which is known as a highly efficient tool. With Unc0ver Jailbreak, you can do things like installing beautiful themes, useful tweaks, hacked games and modifying the user interface of the device.
Install Taurine Permanent On iOS
With the support for taurine-permanent, access to Taurine permanent jailbreak is now possible without having to sign the app, among other improvements. Based on Zhang's Proof of Concept, the new taurine-permanent package from Odyssey Team permanently licenses the taurine jailbreak app.
But the Taurine-permanent package does not expire, so you don't have to use an Altstore download anymore. You don't have to use Sideloadly anymore. You install the taurine-permanent package once and that's it. It stays signed forever, even after reboot. Even if you're not in jailbroken mode and you don't have to do anything, you don't need any developer account or anything like that. So it gets no revokes and whatever, so this is possible thanks to the bug that was released by @LinusHenze.
Step 1 > But the first time you install the Taurine-permanent application, you have to jailbreak your device.
Get the latest release of Taurine first, then install it normally using the steps-by-step in the Taurine install guide ».
Step 2 > After you jailbreak with Taurine, there should be a package in the Taurine/Odyssey Taurine permanent repo or you can download the repository below.
Download Taurine-Permanent Version 1.1.3 – Taurine Permanent Repo ( https://www.ios-repo-updates.com/repository/odyssey-repo/package/taurine-permanent/ )
Step 3 > Once you install Taurine Permanent Repo, you will get a taurine application that is signed. which will make the Taurine jailbreak never expire again.
The Taurine permanent was developed by the Taurine team. You should definitely download Taurine Permanent iOS because it is much better and never expires or revokes.
Best Free IPA Download To Install iOS Apps For iPhone, iPad And iPod
Download Jailbreak IPA apps, Hacked IPA Games, iOS ++ IPA Apps, and Tweaked IPA apps, for iPhone, iPad and iPod Touch no jailbreak required to install IPA files using Altstore and Sideloadly tools.
iOS Jailbreak Tools
Cool Tweaks And ++ Apps
Hacked Games For iOS No Jailbreak
Permasigner – Generate A Permasigned deb For Your Favorite App
Itsnebulalol decided to create a straightforward Python script that creates a permasigned deb from an IPA without modifying code in light of the recent disclosure of the CoreTrust exploit by Linus Henze.
Permasignerios should function on the majority of apps and has been tested with Taurine. Permasigning is compatible with any jailbroken smartphone running iOS 14.0 through iOS 14.8.1, and when a jailbreak is available, iOS 15.0 through iOS 15.6 as well. Permasignerios repo app will function both jailbroken and original, as the permanent sign iPA would imply, and it will never expire. Permasigner is very helpful for users of iOS 14.0 – iOS 14.2.1 who don't have a jailbreak that is permanently signed (like unc0ver + Fugu14).
Who Developed The PermasigneriOS Application?
Powen @powen00hsiao is the latest developer to showcase an innovative project. This week, he used Twitter to demonstrate a preview of a new software called PermasigneriOS, that can install and permanently sign any.ipa file on the iOS device.
The demo is truly inspiring because it demonstrates an incredibly simple-to-use tool that enables users to search their local and iCloud Drive files for the.ipa file they wish to install and sign indefinitely. An integrated file picker is the basis for everything.