Sideloadly Download Latest Version
The Enhanced & Faster Way Of Sideloading Your Favored Games And Apps To Your iOS Device
Sideloadly is the best Cydia impactor alternative, offering you the ability to effortlessly and quickly install IPA on your jailbroken or non-jailbroken iPhone or iPad. Both Windows and Macs are compatible via Sideloadly download iOS.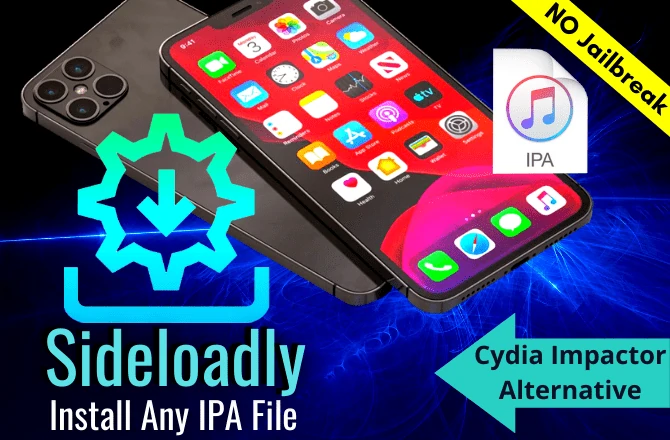 What is Sideloadly install?
Sideloadly is a powerful Windows and Mac tool that allows users to simply sideload IPA files into iOS devices. It's an excellent Cydia Impactor Alternative for signing IPA files. Sideloadly download iOS allows you to install IPA files on your iPhone and iPad.
So every IPA file that contains an ARM binary and it can be installed exclusively on an iOS device. You will get the most fantastic IPA files, which also include jailbreak tools, apps, and games, emulators, as well as tweaked IPAs, hack games, and many more.
Sideloadly iDevice is just as simple to use as Impactor. It has a multitude of functionality, beginning with the option to install apps via a paid or free Apple Developer account. You may also adjust the iOS version, remove limitations on compatible devices, modify the app name on your home screen, and edit the application bundle ID for your use.
Sideloadly supports iOS and iPadOS versions
iOS 15.2 Beta/ iOS 15.1.1/ iOS 15.0.2/ iOS 15.0.1/ iOS 15.0/ iOS 14.8/ iOS 14.7.1/ iOS 14.7/ iOS 14.6/ iOS 14.5.1/ iOS 14.5/ iOS 14.4.2/ iOS 14.4.1/ iOS 14.4/ iOS 14.3/ iOS 14.2/ iOS 14.1/ iOS 14.0.1/ iOS 14/ iOS 13.7/ iOS 13.6.1/ iOS 13.6/ iOS 13.5.1/ iOS 13.5/ iOS 13.4.1/ iOS 13.4/ iOS 13.3.1/ iOS 13.3/ iOS 13.2.3/ iOS 13.2.2/ iOS 13.2/ iOS 13.1.3/ iOS 13.1.2/ iOS 13.1.1/ iOS 13/ iOS 12 All Versions/ iOS 11 All Versions/ iOS 10 All versions/ iOS 9 All versions/ iOS 8 All versions/ iOS 7 All versions.
Sideloadly support device models
iPhone 13 mini, iPhone 13, iPhone 13 Pro, iPhone 13 Pro Max, iPhone 12 mini, iPhone 12, iPhone 12 Pro, iPhone 12 Pro Max, iPhone 11 and all below iPhone models
iPad Pro (2021), iPad Pro (2020), iPad Pro (2018), iPad 10.2 (2021), iPad 10.2 (2020) and all below iPad models
How to download Sideloadly iOS?
Sideloading iPA files with Sidelodly does not require a jailbreak. Sideloadly can be easily downloaded by using the download buttons provided below.
Sideloadly download for Windows
Windows 7 or higher is required.
After downloading a related Sildeloadly file for your windows computer, a simple way to install iPA files for your iDevice. iPA install through Sildeloadly to your iPhone or iPad. SideLoadly iPA Install Guide »
Sideloadly download for Mac
macOS 10.12 Sierra or higher is required. Apple Silicon Mac M1 is also supported.
☑️ For MacOS, Sideloady v0.26.3 gets an upgrade with significant improvements.
After downloading Sideloadly to your Mac PC, refer below steps to install jailbreak and non-jailbreak iPA through Sildeloadly App. Guide >>
How to install an IPA file using Sideloadly
How can I use Sideloadly to install iOS apps on any iPhone or iPad? Sideload iOS apps without jailbreak allows you to download and install any iOS application without difficulties. Ensure you have all of the following requirements before going with the step-by-step guide below.
Using Sideloadly, you can sign and install IPA files over Wi-Fi regardless of the OS you're using. Whether you have a macOS or Windows version, the process is the same. Here's how to sign IPA files for iOS 15 and install them through the app using Sideloadly.
Requirements –
* iPhone / iPad or iPod
* Windows or Mac Computer
Step 1 > Download and install iTunes and iCloud apps on your computer. (If you have already installed iTunes and iCloud go to below steps)
Step 2 > Download and install the Sideloadly tool on your Computer.
Step 3 > Sideloadly can be found in the installation folder and opened.
Step 4 > You can now download any of your favorite IPA files to install on your iPhone.
Step 5 > Connect your iPhone, iPad, or iPod to the PC via USB.
Step 6 > Open the Sideloadly app.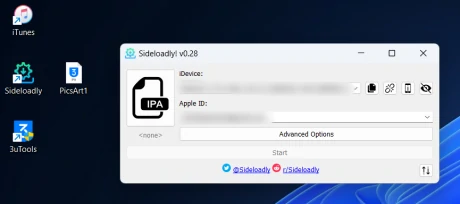 Step 7 > Drag and drop any iPA file download which you wish to install to Sideloadly.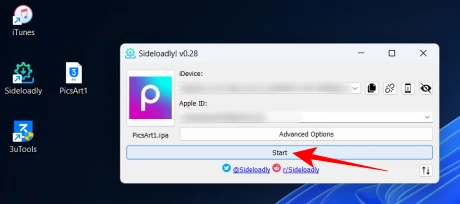 Step 8 > Start the installation process by clicking the Start button.
Step 9 > Now enter your Apple ID and Password to install the iPA file.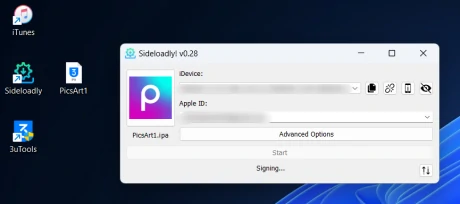 Step 10 > After installing successfully, Unplug your device in the computer.
– Now you can see that app in your iPhone / iPad home screen.
Tap to run the app and you can see the alert as below. You must Trust the app using below steps.
How To Trust An iPA Apps On iPhone From Untrusted Developer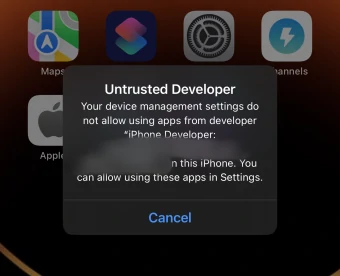 Step 11 > Go to Settings app > General > Navigate to VPN & Device Management.
Step 12 > Allow the app to run using this certificate by tapping Trust.
Step 12 > After the Trust app, If you have seen an alert again as below.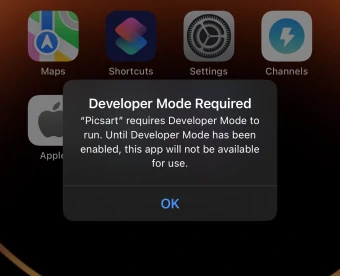 Step 13 > Go to Settings app > Privacy & Security > Developer Mode > Enable Developer Mode.
Now you can enjoy your apps!
Inject Tweaks (Deb/Dylib) Into IPA With Sideloadly
Sideloading lets you add dylib libraries to IPA files and dynamically load code at runtime. You can use dylibs to add new features to apps, remove advertisements, and more.
Step 1 > You can download the dylib library or you can build your own custom library.
Step 2 > You need to get a hold of a target application's decrypted IPA file.
Step 3 > Open the Sideloadly app, which is available for macOS and Windows.
Step 4 > Use the Sideloadly app to import the IPA file.
Step 5 > You can view additional settings by clicking on the Advanced button.
Step 5 > Click Start to add the dylib package by patching the IPA.
Step 7 > Your iPhone should sideload the patched IPA.
Step 8 > Try to make an in-app purchase, and click the popup to cancel.
Famous tweaks including Watusi for Whatsapp, Cercube for YouTube,Rocket for Instagram, uYou twerk, and many others implement a similar type of dylib injection inside IPA files.
How to install Unc0ver with Sideloadly?
Unc0ver Jailbreak can install both online or on PC methods. But sometimes, Unc0ver or any jailbreak app online methods do not work because Apple developer accounts expire for more reasons. So Unc0ver jailbreak can install through Sideloadly with simple steps. Unc0ver Jailbreak download given below button to your Mac or Windows PC and install it on Sildeloadly.
If your device model and version compatible with Unc0ver tool, you can jailbreak your device using Sideloadly method.
Unc0ver Jailbreak install to iPhone or iPad – Sideloadly guide »
Unc0ver Jailbreak compatibility – Check »
Taurine Jailbreak in Sideloadly
Taurine Jailbreak can install through Sideloadly app. If your device is compatible with Taurine Jailbreak, you can download Taurine jailbreak iPA to your Mac or Windows PC with the given button below.
After downloaded Taurine jailbreak file, follow this guide to install it through Sideloadly app. Taurine jailbreak install on SideLoadly method.
Sideloadly Latest Version Features
Install IPA – For your iPhone or iPad, installing an IPA is challenging, but if you using Sideloadly, you can do it quickly and effortlessly. IPA files may easily be sideloaded into your iPad OS.
Apps can be loaded without jailbreaking – The fact that you can use the app on any device without needing to jailbreak it is a special benefit. The same app has advantages that you can use on a normal iDevice.
Drag and Drop IPA files support – With the help of this function, you may quickly and easily put apps into your iPhone.
Use unsupported applications – Certain apps don't really support iOS. applications that are technically usable but that iOS does not support. In this situation, an alternative solution is Sideloadly. By using Sideloadly, you may avoid iOS app loading limitations.
Sideloadly [Sideload IPA Files] Pros
☑️ The iOS 15 versions are supported by Sideloadly.
☑️ Continues to support in-game progress via Sideloadly.
☑️ Sideloading effectively supports both Mac and Windows.
☑️ You can use any iOS app with Sideloadly.
☑️ Sideloadly is a time-saving solution.
☑️ Sideloadly is entirely legal.
Sideload iOS Apps Without Jailbreak
There is no need for a jailbreak. Sideloadly repo was designed for non-jailbroken iPhones.
Apple Developer Accounts, both paid and free, may be used to sideload apps.
Wi-Fi Sideloading, which allows you to sideload and install programs without connecting your device via USB, is now available.
The ability to keep your credentials allows extremely fast sideloading.
Modify the name of the app that will be displayed on your home screen.
There are several installation options available. Apple ID Sideload is the default method, followed by Normal Install and Ad-hoc sign, so every function is detailed when hovered over.
The feature UIFileSharingEnabled is activated. Makes it possible for you to see the documents of the sideloaded app on your PC.
You may use installation logs to help with issues.
The option to hide confidential information in order to make it simpler to get screenshots, create videos online, and share logs for troubleshooting.
Sideload iPA Remove the limitation on compatible devices.
Capable of including multiple.dylib, .deb, .framework, and bundle files in your iPA compatibility for cydia substrate and substitute framework for non-jailbroken iDevices.
Sideload iOS apps without jailbreak compatibility for Windows and Mac OS, as well as a Light/Dark style for mac OS.
Popular sideloadly install iPA files
You can download these iPA files on your Mac or Windows PC and install through Sideloadly tool.
Benefits of Sideloadly app install
What are the advantages of app sideload? The most significant benefit of Sideloadly is that it is compatible with both Windows and Mac OS. So it works on both non-jailbroken and jailbroken devices. Sideloadly app jailbreak is a simple method to install your favourite apps and games easily.
Sideloadly alternative for iDevice
Cydia Impactor – Cydia Impactor is indeed the best sideloadly alternative. However, Cydia Impactor doesn't quite support the most recent iOS versions, including iOS 13 as well as iOS 14. Cydia Impactor is a graphical interface that allows you to install iPA files on iOS devices. Saurik (@saurik), alias Jay Freeman, created this tool. It is free to access for Windows, Mac, and Linux users.
If you want to install iPA files on iPhones, you must first download the iPA files to your computer, which you will then sideload. Cydia Impactor download is definitely the perfect option, specifically for Apple fans. Without any problems, semi-tethered jailbreak tools could also be installed on iPhones using Cydia Impactor.
So why would Sideloadly be used as an alternative to Cydia Impactor?
The Cydia Impactor tool, as we all know, is problematic. To use it, you must have a premium Apple developer account. However, Sideloadly supports both paid and free developer accounts. It has also been made available as an alternative to cydia impactor. However, practically all Cydia Impactor solutions are only available for macOS. Because it works on both Windows and MacOS, Sideloadly is the perfect Cydia impactor alternative.
AltStore – Altstore iOS download is the ideal alternative to both Sideloadly and Cydia Impactor. AltStore is also used to install iPA files on your iOS device. Both Windows and Mac OS are supported through AltStore. Altstore offers apps that break the limits of iOS. There's no need to jailbreak.
AltStore has been upgraded to v1.4.8 in order to support installation of the Fugu14 untether with the Unc0ver jailbreak
3uTools – Fully featured flashing and jailbreaking tools for the iPhone, iPad, and iPod Touch. 3uTools allows automatic installation of iOS firmware. It is possible to flash iOS in regular, DFU, as well as recovery modes. The one-click jailbreak simplifies and guarantees the jailbreak procedures. Advanced functions such as SHSH backup, baseband upgrade/downgrade, and so on are available.
3uTools can also be used to install popular jailbreak tool iPAs such as Unc0ver, Electra, Chimera, and Yalu. Meanwhile, you are still unable to install the updated Checkra1n jailbreak application from 3uTools. With the exception of the Jailbreak IPA, you may install any iPA using the 3uTools flash technique.
How can I activate Wi-Fi sideloading with Sideloadly?
Connect your computer and iOS device to the same network to enable Wi-Fi sideloading on your iDevice. Then, based on your operating system, connect your device via USB and follow the steps below.
Latest mac operating system – Finder > Select your iDevice in Locations > General > Enable "Show this iDevice when on Wi-Fi" option > Sync > Done
Windows operating system – Open iTunes > connected Device > summary > options > Enable "Sync with this iDevice over Wi-Fi" option > Sync > Done
How do I save my game progress?
You must ensure that your gaming progress is being synchronized through Game Center, Twitter, Facebook, and Google+. If indeed the game stores its progress locally, you'll need to install the IPA, overwriting the one you currently have. To overwrite, the changed IPA has to have the same bundle ID as the original IPA, and you should be using the same Apple ID while sideloading.
How many apps can you install with Sideloadly?
iOS 10, iOS 11, iOS 12, iOS 13, iOS 14, iOS 15 and above – A up to three sideloaded apps may be installed on your iphone around the same time. Apple has limited the number of free Apple Developer accounts available and will not accept any more. Such restrictions do not apply to paid Apple developer accounts.
iOS 7, iOS 8, iOS 9 – On your iPhone, you may install quite so many apps however you like. Your free developer account, however, has limits, which you may simply overcome by setting up a new Apple ID.
How long can I have my sideloaded app for?
The software may only be used for 7 days with a standard and free Apple Developer account. After 7 days, you may sideload it again with the same Apple ID; however, make very sure your progress is backed up. A purchased Apple Developer Account is valid for a year.
Are Sideloaded apps safe?
Sideloading can be seen as a safety issue. Android phones do not support it out of the box; Android prohibits programs from unknown sources. "Unknown" is a broad phrase, but for most users, it refers to any app store that is not preinstalled as trusted by the phone maker, which is generally a tiny collection, but you can operate sideloading without difficulty.
How do you overwrite an app?
You may replace your existing app without uninstalling it. To achieve this, you must sideload the iPA using the same Apple ID as your previously sideloaded app. If you have established a custom bundle ID by hand, you will use the same iD again.
Is Apple Silicon M1 Mac supported by Sideloadly?
Apple Silicon MacBook, Mac Minis, and iMacs are now supported by Sideloadly. Whenever Sideloadly is run on an Apple Silicon device, it will identify and present the Mac itself through the list of devices to which the .ipa should be installed.
Sideloadly not recognizing my iDevice?
Try restarting your computer, opening iTunes while your device is attached, and making sure you press the 'Trust' button on your iDevice. Then launch Sideloadly. If it doesn't work, connect your device and make sure it's detected by your PC iTunes before launching Sideloadly. You may also try deleting and reinstalling iTunes. Additionally, ensure that you are using the online version of iTunes.
How do you use a sideloadly specific password for the app?
Sideloadly partly supports app-specific passwords. App-specific passwords can only be used if you have a paid Apple Developer ID and the anisette option is turned off.
How do I get my Game Center progress back after sideloading?
Apple has made it impossible for customers with free Apple accounts to sideload programs that have the same bundle ID as an App Store app in the newest iOS releases. Sideloadly is compelled to establish a unique bundle ID in order to sideload on the most recent iOS versions, and as a result, Game Center doesn't really detect the app and will not ask you to restore your data.
Fix Sideloadly Errors
2FA Requested second time – With the newest Sideloadly, it's no longer a problem.
Your maximum App ID limit has been reached – Apple has imposed this restriction on free developer accounts. To resolve it, you might also wait a few days and retry again, or sideload using a different Apple ID.
Call to np_client_new failed: NP_E_CONN_FAILED – Please ensure you delete it from iTunes before installing the standard online version of Sideloadly. Then after, connect your device and sync this before launching Sideloadly.
The identity used to sign the executable is no longer valid – Check that the time and date on your PC and your iDevice are both current and equal.
Failed to obtain anisette: 500 INTERNAL SERVER ERROR – A server fault created a temporary problem. If you are getting that message, please try again later.
No space left on device – The error generally indicates that there is no more space on your computer's hard disk. Actually verify that your PC has enough space for Sideloadly to function properly.
Sideloadly cannot be opened because the developer cannot be verified / macOS – Go to System Preferences > Security & Privacy > select Open Anyway.
DeviceNotSupportedByThinning (Device iPhone/iPadx,y not in Supported Devices list – .IPA does not support the device model you're using. However, there is a solution if you activate 'Remove restriction on supported devices' under advanced settings in Sideloadly and then retry.
no default case defined – Because a file included inside your.IPA is damaged or in the wrong format. Before you can continue, you must first delete the corrupt file from the IPA.
Ex: /AppName.app/ftm.dylib
IncorrectArchitecture (Failed to find matching arch for 64-bit Mach-O input file) – The .IPA file you're trying to install is incompatible with your device.