3uTools Download 2022 – The Latest Efficient iOS Files & Data Management Tool For iOS Users
Get the latest release of 3uTools for Windows. Use this all-in-one iPhone helper to do a wide range of things, including jailbreak your device, recover a forgotten passcode, flash and jailbreak iOS firmware, sign IPA files, install apps and games, spoof GPS location, deactivate the device, and install a variety of apps, distinctive ringtones, and eye-catching wallpapers and much more.
3uTools Download Windows + MAC Support iPhone, iPad, iPod
3uTools For PC Download Version: v2.63
3uTools The Best All-in-One Tool for iOS Devices
It is really simple to handle apps, pictures, music, ringtones, movies, and other multimedia items with 3uTools for PC download. View all of the iOS device's states, including the battery, iCloud lock, activation, and jailbreak statuses, as well as full iOS & iDevice relevant information.
What Can 3uTools Do?
For Apple users, there are more and more online tools and services available for free or for a fee. All iOS users may use 3utools work for free, and it has been available for a while with a number of significant improvements.
But what are the capabilities of 3uTools? Here, we'll outline a few of 3uTools' most important features for new users.
🚀 Jailbreak Your iPhone – For iOS devices, 3uTools can automatically update available firmware. It is possible to flash iOS in recovery mode, DFU mode, and regular mode. The jailbreak technique is really quick and dependable with one-click jailbreak. Highly powerful capabilities, such as baseband upgrade/downgrade, SHSH backup, and many more.
🚀 Customize Your Device Online Resource – You may download a variety of apps, interesting ringtones, and creative wallpapers from the 3uTools platform. The concept that 3uTools is available for free to all users is key.
🚀 Free iOS File Manager – Using 3uTools, download applications, manage iPhone photos, and import music Utilize 3uTools to Manage Videos, Download and Set Ringtones, Manage Books, iPhone Voice Memos with 3uTools, iPhone Files, and more with just a few clicks thanks to 3uTools.
🚀 iOS Helper Toolbox – All of us know that the "iDevice" component of 3uTools allows one to access the basic information about an iPhone. More tools for your iOS device may be managed and used using "Toolbox" features, including data backup, ringtone making, video converting, icon fixing, and so on.
---
What Is 3uTools iOS Helper?
The developers of the i4Tools app also produced the iPhone helper 3uTools download. The Chinese iPhone assistant has capabilities that are comparable to those of 3uTools. However, 3uTools iPhone is available in English, which is significant. Use the application to manage files, download apps, install IPA files, flash iOS firmware, jailbreak, and other tasks.
You can control your iPhone or iPad using 3uTools for Windows without having to use iTunes, and you can back up and restore full settings with just a single click. View and recover certain material from a backup file, as well as back up and restore a specified subset of data. For more features to make your iOS life easier and more enjoyable, use an encrypted backup file for data recovery or viewing with 3utools online.
3uTools For Windows Free
Installing the iTunes app is necessary to use 3utools for PC download. Because it is incompatible, you do not download iTunes via the Microsoft Store Apps. Additionally, Assistant has the power to fix, upgrade, or delete iTunes drivers as well as restrict the launch of the app.
When you connect your iPhone to your 3utools for windows 10, 3utools for windows 11, 3utools for windows 7 32 bit using a USB cable or Wi-Fi, 3uTools will recognize the device's hardware and show you useful details about it, including the device's production date, firmware version, jailbreak status, serial number, ECID, battery life, charge times, and activation status, among other things with 3utools for windows free download.
More than 40 tools are included in 3uTools to make your life simpler. You may stop iOS update alerts, reset the iDevice to factory settings, move data between two devices, and update IPCC operator files without upgrading iOS with the use of this iPhone Assistant.
Meanwhile, 3uTools for windows free provides a Deactivate module to perform the opposite and operate your iPhone in unactivated mode, as well as an option for Batch Activation skipping the settings for region, language, location, WiFi, Apple ID, Apple Pay, Face ID for numerous devices.
iPhone Helper
The iPhone Helper also includes a VirtualLocation module that enables you to pretend your device's location in any app or game. By setting your device's global GPS to any place in the globe, you may use this capability to pretend that you are somewhere else.
All iOS applications, including Camera, Find Me, Google Maps, and games that use GPS coordinates like Pokemon Go, iPogo, SpooferX, etc., are compatible with Virtual Location in 3utools online check.
3uTools IPA Signature
With your iPhone or iPad connected to the PC through a USB connection, 3uTools iPA signature download has an integrated module that allows you to sign and install IPA files. It makes use of libraries made available by the free and open-source AltStore, an IPA installer for iOS 9 through iOS 16. Use your own certificate to IPA-sign packages.
Use an Apple Developer Certificate, either for free or at a cost, to install IPA files on your device using the IPA Signature. There are no additional prerequisites for the free one, which is connected to your Apple ID and password. To sign an app for free, just submit your personal data.
Up to three applications may be installed and 10 apps may be signed using the free certificate. The sideloaded apps are valid for 7 days before being revoked. The app must be re-signed after that point. P12 certificates may be imported into the 3uTools IPA Signature tool to sign IPA files.
There is no need to sign IPA files if you are using a jailbroken smartphone with AppSync Unified installed. Without any limitations or time constraints, 3uTools allows installing games and apps.
---
iOS Jailbreak With 3uTools
A quick and simple jailbreak tool that works with a range of iOS devices is available from 3uTools jailbreak for those who wish to jailbreak their iPhone or iPad devices. The app recognizes your device and installed firmware, and it provides information about jailbreak possibilities for iOS 8, 3utools for iOS 15 to iOS 16.
3uTools Jailbreak includes the Classic Device Support Tool, which may jailbreak Apple products made before 2013. Only Windows XP and Windows 7 are compatible with the program, which supports iOS 4.1 through iOS 6.1.3 on iPhone 3GS and iPhone 4 devices.
Many jailbreak tools, including Checkra1n, Unc0ver, Pangu, Odyssey, Chimera, Electra, kpwn/yalu102, Meridian, doubleH3lix, h3lix, Etason JB, Phoenix, and Home Depot, may be installed via the 3uTools Jailbreak. AppSync and AFC2 packages may also be installed through the one-click jailbreak helper.
A built-in repo.cydiaabc.top repository browser is also available, giving users access to hundreds of jailbreak tweaks and applications. See the supported jailbreak versions and most recent tweak updates.
IPWS Download With 3uTools
How to install ipsw with 3uTools? The 3uTools app's Smart Flash tool, which can be accessed from the main menu, is the ideal way to download and install the most recent iOS firmware on your iPhone or iPad. Your device is instantly identified, and all signed iOS firmware is listed for it.
Upgrade the system for free to the most recent iOS 16 release for testing, and then use 3uTools to downgrade to the most recent stable iOS 15 release whenever you like. The app can identify both beta and stable iOS system versions. Versions that are not signed cannot be set up. Also, you have the option to download the outdated version of iTunes 12.6.3.6, which was released in 2017, as well as Pangu Jailbreak for iOS 9 and TaiG Jailbreak for iOS 8.
There are several flash tools available from Smart Flash 3utools for iOS. Pro Flash, Multiple Flash, Easy Flash, and iTunes Flash. Pro Flash can store SHSH blobs from your device, and Numerous Flash lets you turn on multiple flashed devices at once.
---
All-in-one 3uTools iOS Helper Brings Useful, Delightful Features
3uTools has created a collection of features for iOS users.
⭐Backup / Restore
⭐Clean Garbage
⭐Make Ringtone
⭐Convert Video
⭐Convert Audio
⭐Modify Audio
⭐Migrate Data
⭐Compress Photo
⭐Icon Management
⭐Realtime Screen
⭐Real Time Log
⭐Delete Invalid Icon
⭐Open SSH
⭐Stop iOS Update and more.
How To Jailbreak iPhone & iPad With 3uTools | 3uTools Easy & Best Methods
The "Jailbreak" option of 3uTools can also be used by anyone who wishes to jailbreak your iPhone or iPad devices in a quick and simple sort of way.
Step 1 > Open 3uTools after downloading it, then connect your iOS device to the PC.
Step 2 > Access the jailbreak feature on 3uTools Toolbox.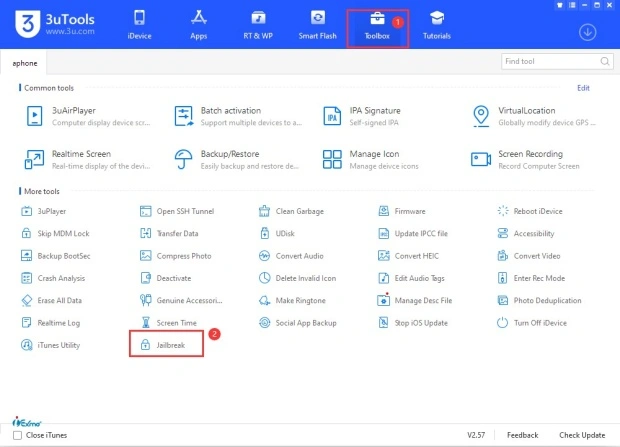 Step 3 > Following a successful connection with 3uTools, your jailbreak interface will immediately display the possible jailbreak tools; pick one by checking the box at the bottom. Next, begin the jailbreak.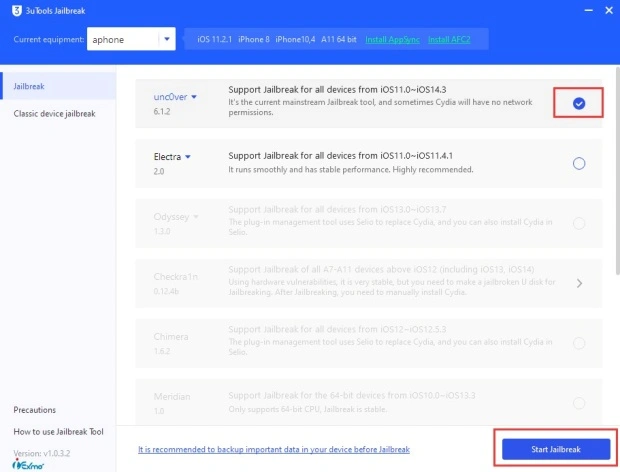 Step 4 > Wait patiently for the 3uTools jailbreak tool to be installed. Before you get the notice that says – Jailbreak installed 100%.
Please try again or use another jailbreak tool if somehow the download for the jailbreak tool is unsuccessful. Due to the fact that an unstable USB connection or network will affect the consequences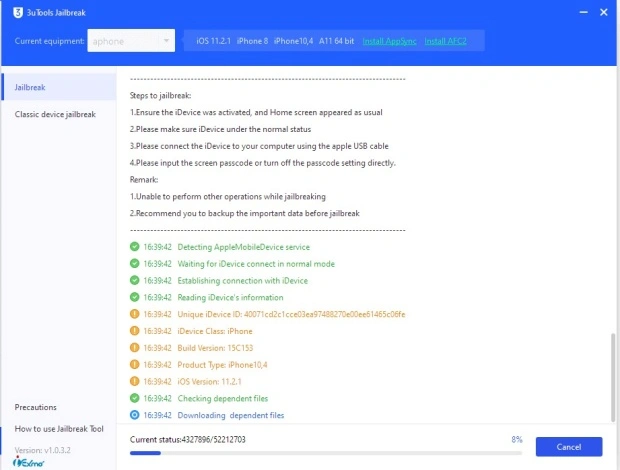 Step 5 > The Jailbreak tool will then be available on your iOS device.
Step 6 > Find Settings > Go to General > Profiles & Device Management > Click Trust.
Step 7 > Fantastic! Now you can enjoy your favorite jailbreak features.
How to Use 3uTools Virtual Location On iOS 16
The latest update for 3uTools is version V2.63. This time, the 3uTools team added several new features and rectified some existing problems. The usage of Virtual Location on iOS 16 devices is now supported by 3uTools V2.63.
These are steps for using virtual location on an iOS device that has been updated to iOS 16.
Step 1 > Open 3uTools, link to it using the regular USB cable, and look for VirtualLocation just on the toolbox.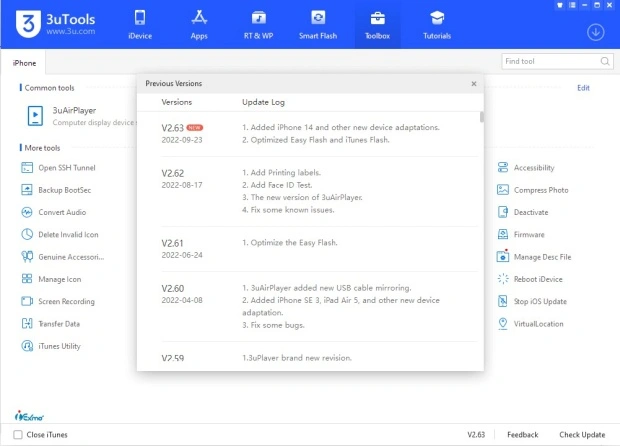 Step 2 > With 3uTools, you may change the device location in three different ways.
Enter the latitude and longitude there.
Type the address into the Search Location field.
Use your mouse to drag and pick the address just on a map.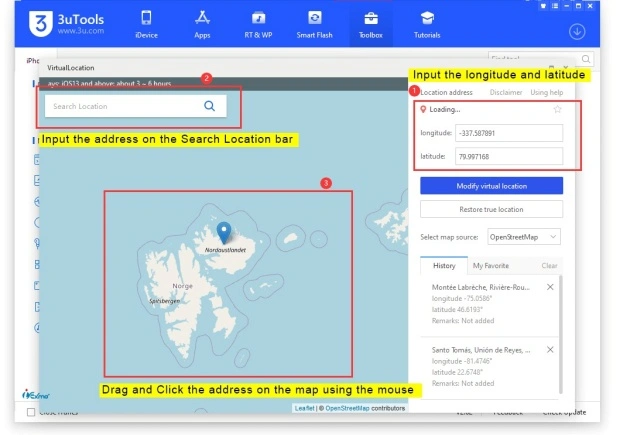 Step 3 > Kindly ensure the notification when your iOS device has received the iOS 16 update. When this question appears, it will ask the user to "Turn On" its developer mode, and the device will then restart itself.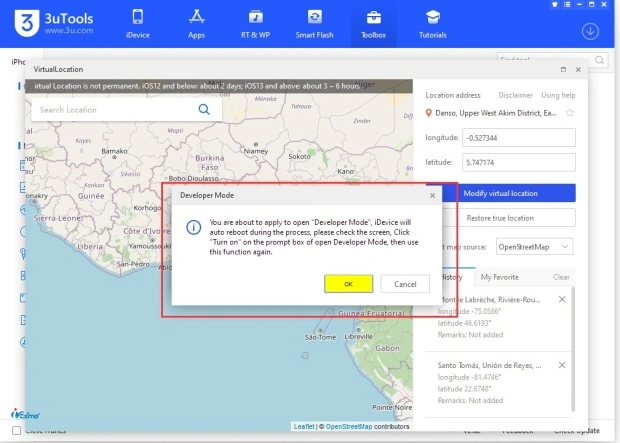 Step 4 > When the iDevice successfully reboots, a popup to enable developer mode will appear > Turn On.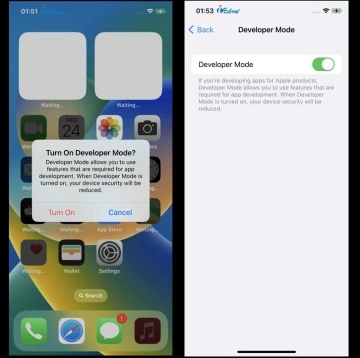 Step 5 > Go to Settings > Privacy & Security > You may move the position using Virtual Location iOS 16 if Developer Mode is enabled. Restart your iDevice to return to the original position.
How To Use 3uTools To Update The iOS Version
Users get fresh experiences when they update to a new version of iOS using 3uTools. Let's look at how to use the most latest 3utools to upgrade your iOS version.
Step 1 > Open 3uTools after connecting your iPhone or iPad to the PC.
Step 2 > Go to Smart Flash > Flash & JB option > Download the recommended iOS version.
Step 3 > To begin updating your device, click the Flash option after downloading the iOS version.
Before flashing, click the "Retain User's Data While Flashing" box if you wish to keep all data on your PC.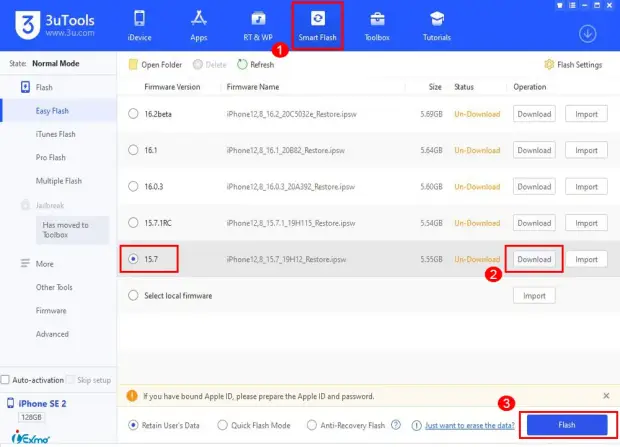 How To Download iOS 16 Using 3uTools
Now that iOS 16 firmware is available, you can download it to your computer or laptop from the 3utools firmware library. Install it on your iPhone or iPad from your PC next.
You can know the easiest way to customize your iPhone running iOS 16 latest version.
Step 1 > Choose iOS 16 firmware from 3utools firmware library.
Step 2 > Click the Download button.
Step 3 > Click the Flash button.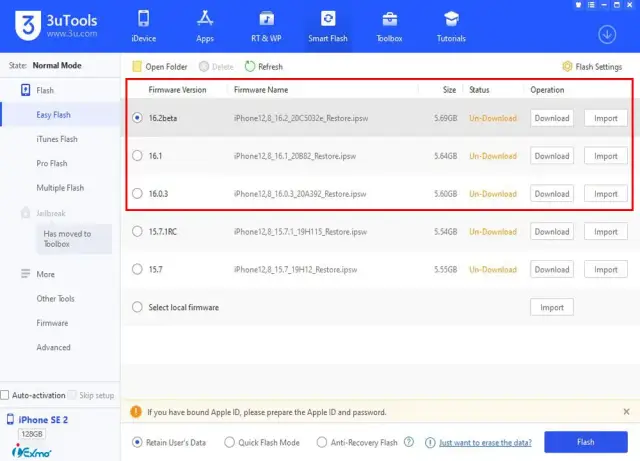 How To Downgrade iOS With 3uTools Without Losing Data
Can we downgrade the iOS version? Yes. Now you can downgrade the iOS version with 3uTools. You need how to downgrade iOS 15 to 14, how to downgrade iOS 16 to 15, how to downgrade iOS 15 to 14 without computer, how to downgrade iOS 14 to 13, downgrade iOS 15 to 14, downgrade iOS 16 to 15, downgrade iOS 16, downgrade iOS 14 to 13, downgrade iOS version, downgrade iOS 15 to 14 unsigned, downgrade iOS 15 to 14 without computer, downgrade iOS 15 to 13, downgrade iOS 16 to 15 without computer, iPhone downgrade iOS, downgrade to iOS 14, downgrade app iOS, downgrade to unsigned iOS, downgrade from iOS 16 beta, downgrade to iOS 14.3 3utools downgrade iOS enables you to do all such things.
Step 1 > Open 3uTools and link your iPhone using a USB cable.
Step 2 > Choose Flash & JB > Easy Flash from the top bar.
The 3uTools application will automatically display the compatible firmware currently installed on your device as well as any new firmware that is currently available for it.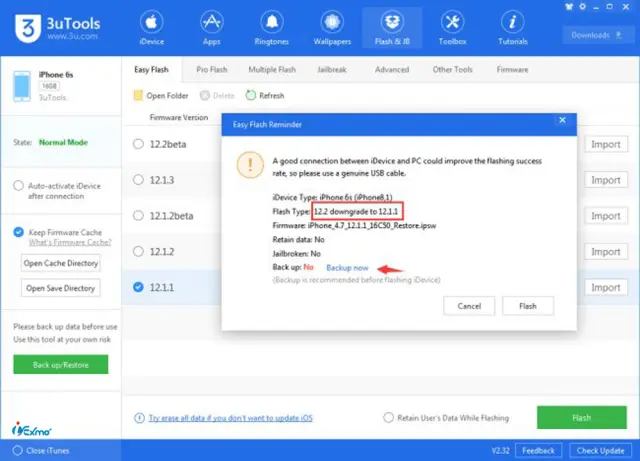 Step 3 > Click Flash after selecting the version you wish to downgrade to. Downloading the file and downgrading your iPhone will take a little while with 3uTools.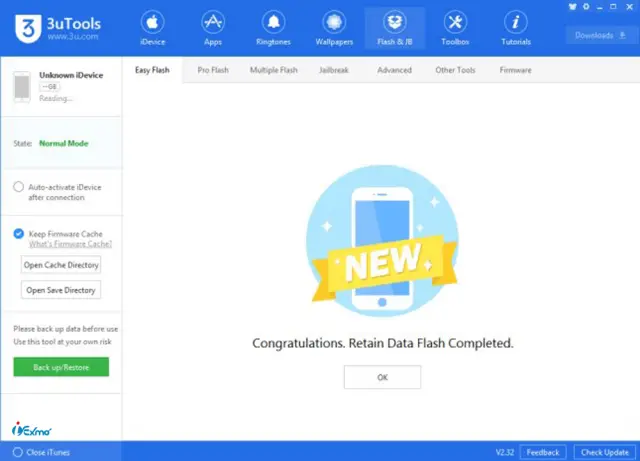 Use the customized backup option in 3uTools to protect your device from the possibility of data loss throughout the procedure. Additionally, avoid using your pc or iOS device while you are downgrading because doing so might result in an iPhone that has been bricked.
How To 3uTools Wallpapers Download Free – 3uTools Wallpapers For iPhone / iPad / iPod Touch /Mac
Step 1 > Connect the iDevice and launch 3uTools on the PC desktop.
To view the wallpapers, go to RT&WP and click Featured WP.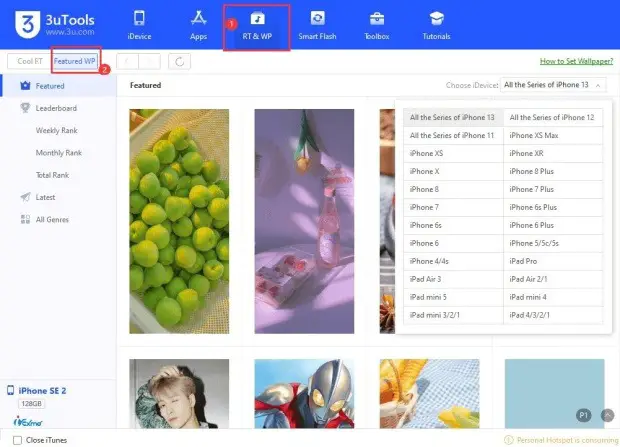 Step 2 > There are many subgroups like Featured, Leaderboard, Latest, All Genres, with a huge collection of 3uTools Wallpapers. You can choose anything you want.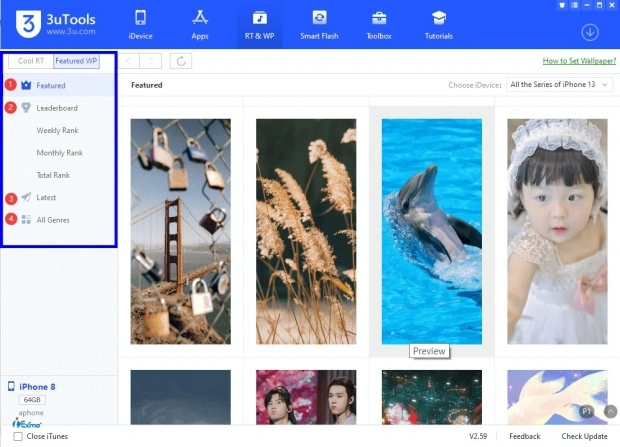 Step 3 >There are three options when you click a wallpaper: Save to Local, Import to Camera Roll, and Import to Photos Library.
Click Import to Camera Roll > Importing wallpaper to Camera Roll.
Click Import to Photos Library > Wallpaper is going to be added to the Photo Library.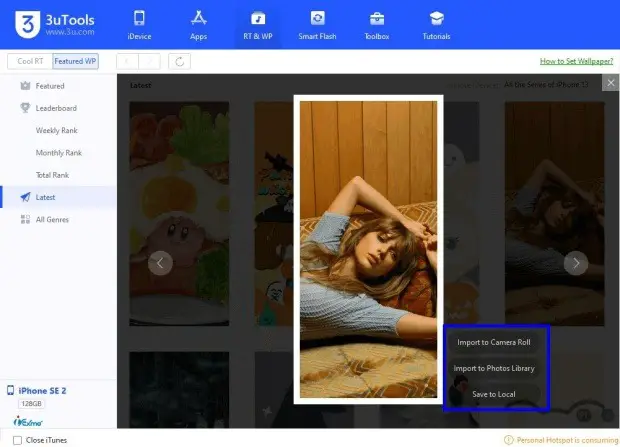 Step 4 > To set your favorite wallpaper go to Settings > Wallpaper > Choose a New Wallpaper > Camera Roll > Select the wallpaper image you just downloaded.
15 Best 3uTools Alternatives Wallpaper Collection For iOS 16
Looking for iPhone wallpapers with the iOS 16 depth effect? Here are some incredible iOS 16 wallpapers that have been enhanced for the cool effect feature. Whether you have the most recent iPhone 14, the iPhone 13, the iPhone 12, an earlier iPhone, or something else entirely. These wallpapers make it simple to beautify the lock screen on your iPhone.