AudioRecorder XS Tweak For iPhone Call Recording & System Audio Recording On iOS 12 – iOS 16  [Latest]
If you're someone who frequently records audio on your iPhone, AudioRecorder XS download is a must-have jailbreak tweak for you. This remarkable AudioRecorder XS download tweak works with iOS 12 up to iOS 16 and provides an ultimate solution for recording various audio types on your device. With AudioRecorder XS, you can easily capture high-quality recordings of phone calls, voice memos, and system audio without any hassle.
AudioRecorder XS Tweak Features
Here are some of the exciting new features included in the latest version of AudioRecorder XS jailbreak tweak for iOS:
📞 Record calls from ANY CallKit service such as Telephony, FaceTime, Skype, Viber, Messenger, Tango, LINE, BOTIM, Instagram and more!
🎙️ Record Voice Memos with instant activation actions directly from the device's microphone.
🔊 Record system audio with ease, which means you can capture any sound coming out of your device, even "what you hear".
📲 Automatically sync your recordings to your Dropbox or Google Drive account.
👥 Assign contacts to always record their calls automatically.
📨 Easily share multiple recordings at once by zipping and sharing them via email, iMessage, or all supported applications on your device.
🌐 Use your web browser to copy all calls from your phone to your computer.
🔍 Assign activation methods to bring up the recorder interface.
🤖 Manage recording automation per application.
🎧 Improved player and built-in visualizer for recording playback and more.
With these awesome new features, you can now record regular phone calls directly on your iPhone with ease.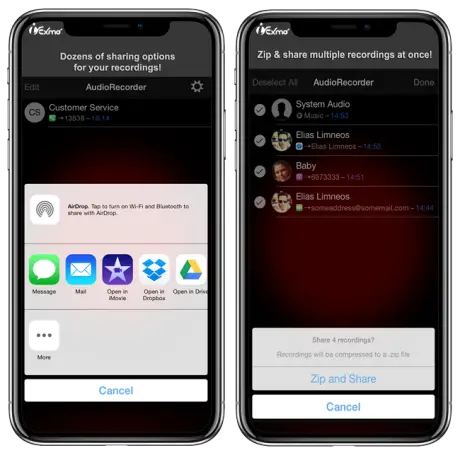 How To Add AudioRecorder XS Repository
If you're looking to install AudioRecorder XS tweak on your iPhone running iOS 15 using Cydia, here are the steps to follow:
Step 1 > First, locate the Cydia app on your Home Screen and open it. You can use any package manager such as Cydia, Sileo, Installer, or Zebra to add the AudioRecorder XS Repository.
Step 2 > Tap on the Sources tab, and then select the Edit button.
Step 3 > Add the following
AudioRecorder XS repository URL: https://limneos.net/repo.
Step 4 > Next, search for AudioRecorder XS and install the package.
Step 5 > After installation, respiring your iPhone to apply all changes.
Step 6 > Finally, you can access the AudioRecorder XS app from your Home Screen.
Running iOS 8 – iOS 11.4.1? Don't miss out on the AudioRecorder 2 tweak! You can easily install it from the Limneos Repository. For those using iOS 7 or below, give AudioRecorder a try to start recording your phone calls and more! 📱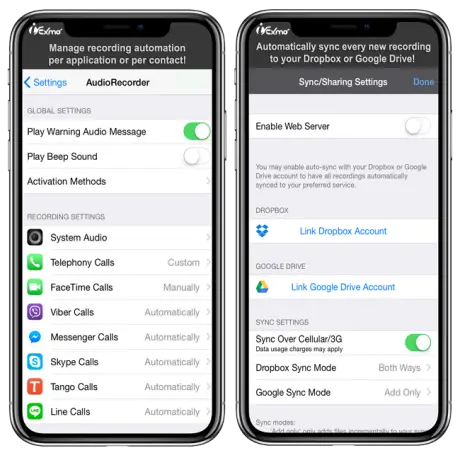 AudioRecorder XS Tweak Support Latest Jailbreaks
AudioRecorder XS 5.0 is now compatible with the latest jailbreaks for iOS 15.
Palera1n Jailbreak running on iOS 15 – iOS 16 is now supported by AudioRecorder XS.
The latest version of XinaA15 Jailbreak released for iOS 15.0 – iOS 15.1.1 on A12-A15 devices can now run AudioRecorder XS.
With AudioRecorder XS 5.0, you can now enjoy seamless audio recording on the latest jailbreaks for iOS 15. Whether you are using Palera1n Jailbreak or XinaA15 Jailbreak, you can take advantage of all the features that AudioRecorder XS has to offer. So, upgrade to the latest version of AudioRecorder XS and start recording high-quality audio on your iOS device today!
AudioRecorder XS For TrollStore
According to Limneos, the developer of AudioRecorder XS, there may be a possibility to run some of his popular tweaks using TrollStore. Although it is unclear if AudioRecorder XS is included in this list, we will have to wait and see. However, as of now, it is not yet possible to do so. This means that users will have to continue using the current version of AudioRecorder XS until there are further updates on this potential development.
AudioRecorder XS Cracked Repo
AudioRecorder XS Cracked is a powerful jailbreak tweak designed for iOS 12 and iOS 13 users. With this AudioRecorder XS tweak, you can easily record phone calls on your iPhone. Experience best call recording performance with AudioRecorder XS Cracked.
🚀 Download AudioRecorder XS [iOS 12 to 16]
AudioRecorder XS: The Ultimate Phone Call Recording Solution For iOS
What Is AudioRecorder XS Powerful Recorder App?
AudioRecorder XS is an innovative jailbreak tweak that simplifies the process of recording phone calls, voice memos, and system audio on iOS devices. With its standout features and impressive capabilities, it has become the preferred recording tool for iOS users. In this article, we'll explore why AudioRecorder XS is the ultimate recording solution for iOS 12 up to iOS 16.
🎧 Record Various Audio Types:
AudioRecorder XS is a game-changing jailbreak tweak that lets you record a wide range of audio types on your iPhone with ease. It allows you to capture high-quality recordings of phone calls, voice memos, and system audio, making it a versatile tool for any recording situation.
🔌 Seamless Integration:
The installation of AudioRecorder XS is seamless and hassle-free, integrating effortlessly with your device. It adds a dedicated preference pane to the Settings app, where you can enable the tweak globally and customize specific configurations according to your preferences.
📱 Wide Range of Compatibility:
One of the most impressive features of AudioRecorder XS is its wide range of compatibility with CallKit services. It supports popular services like Telephony, LINE, FaceTime, WhatsApp, Skype, Viber, Instagram, and Messenger, ensuring that you can record conversations no matter which app you use.
🔊 Warning Voice Message:
To ensure legal compliance in jurisdictions where call recording requires consent from all parties involved, AudioRecorder XS offers a warning voice message feature. This feature automatically sends a message to the remote party, notifying them that the call is being recorded.
🎤 Direct Recording Method:
AudioRecorder XS stands out from other recording tools on the App Store by utilizing a direct recording method, which eliminates the need for a remote server. This results in higher-quality recordings and eliminates potential privacy concerns associated with utilizing a remote server.
🎛️ Flexible Recording Options:
The tweak offers flexible recording options, allowing you to customize your recording experience to fit your needs. You can choose to automatically record all calls or select specific numbers from your contacts list or add them manually. You can also define recording settings on a per-app basis.
💰 Price and Compatibility:
AudioRecorder XS is priced at $3.99 and is compatible with all modern jailbreaks running iOS 12 up to iOS 16, including the latest releases of Palera1n and XinaA15 jailbreaks. It's one of the best commercial tweaks released by Limneos Development for jailbroken devices.
📲 Activating AudioRecorder XS:
To start capturing audio from your iPhone, you need to activate AudioRecorder XS tweak. It comes with a UI Activator Methods module that allows you to select different ways to run the app. You can use 3D Touch to force-touch the status bar, shake the device, use multitouch gestures like four-finger tap, connect with Apple Watch, and many others.
📁 Robust File Management Tool:
In addition to its powerful recording capabilities, AudioRecorder XS comes equipped with a robust file management tool that you can access from the Home Screen. The file management tool offers a seamless way to view, organize, and play your recordings. With the ability to view the audio duration, rename files, and view the size of the MP3, AudioRecorder XS gives you full control over your audio recordings.
🔄 Share Recordings and Backups:
With Audio Recorder XS, you can log all actions and share your recordings with all supported devices on your device. You can run a Web Server in the background or sync your recordings with your Dropbox or Google Drive account. Additionally, the tweak provides options to add backups of recordings to your iCloud account, ensuring that your recordings
🎶 Useful Audio Editor:
And if you need to do some editing, AudioRecorder XS has got you covered. It comes with an audio editor that lets you trim, cut, and add effects to your recordings. You can even import audio files from other apps, making AudioRecorder XS a true all-in-one solution for managing your audio on iOS.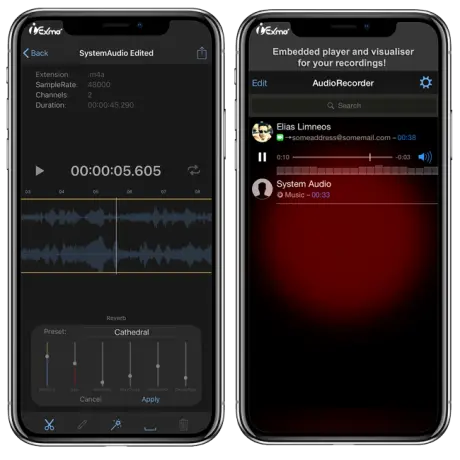 Explore The World Of Elias Limneos Top Tweaks And Apps
Elias Limneos is a prominent iOS developer who has created some of the most popular jailbreak tweaks and apps for iOS devices. Elias Limneos @limneos developed AudioRecorder XS. His tweaks have transformed the way we use our iPhones and iPads, making our lives easier and more convenient. Here are some of his most notable tweaks and apps:
🛡️ DynamicPeninsula: Dynamic Peninsula is a popular iOS tweak developed by Elias Limneos that allows you to add a dynamic island on your device's notch. With the recent update, DynamicPeninsula now supports iOS 15 and 16, making it accessible to even more users. This tweak is perfect for anyone who wants to customize their device and add a unique touch to their user interface.
🛡️ AnsweringMachine: With this tweak, you can turn your iOS device into a smart voicemail system that can record, manage and even transcribe your voicemail messages.
🛡️ BioProtect XS: This tweak lets you protect your apps and folders with Touch ID or Face ID, providing an additional layer of security for your device.
🛡️ CallBar XS: Incoming calls won't interrupt your current activity anymore. The tweak displays a compact call interface, allowing you to answer, decline, or dismiss calls quickly without interrupting your current task.
🛡️ AudioRecorder XS: This tweak is the first and most trusted call recorder for iOS. It allows you to record calls and save them as MP3 or WAV files.
🛡️ NFCWriter X: With this tweak, you can read, write, and even emulate NFC tags on your iOS device. It opens up a whole new world of possibilities, including automating tasks with just a tap.
🛡️ VoiceChanger X: This fun tweak lets you change your voice during phone calls, making for a hilarious and entertaining conversation.
🛡️ SmartTap X: With this tweak, you can tap on the screen to wake up your device, no need to press any buttons.
🛡️ AquaBoard X: Add live water ripple effects to your springboard, making your device look more unique and stylish.
🛡️ AutoAnswer X: This tweak automatically answers incoming calls and video calls, perfect for hands-free conversations.
Elias Limneos is undoubtedly a genius iOS developer who has made significant contributions to the jailbreak community. His tweaks and apps are designed to make our daily lives more comfortable, fun, and secure. So, what are you waiting for? Start exploring the jailbreak tweaks of Elias Limneos today!
What's New In AudioRecorder XS
AudioRecorder XS V5.0-2
AudioRecorder XS now supports iOS 15 and iOS 16.
Dropbox support has been added back.
AudioRecorder XS V4.0-1
Audio editor has been added, allowing users to edit, trim, fade, mute, and apply various effects to recordings.
Importing audio files from other apps is now possible system-wide.
Any recording can now be set as a ringtone.
Sharing of audio files has been made easier with the addition of a share action.
Export options have been added, allowing users to export AudioRecorder recordings to other apps like VoiceMemos and vice versa.
Icons in now playing view at the lock screen have been fixed.
AudioRecorder XS V3.7-41
The Google Drive consent screen that was being blocked has been fixed.
AudioRecorder XS V3.7-40
A crash issue when compressing multiple recordings has been fixed.
The substrate dependency has been removed to overcome a jailbreak crashing issue.
Users can now choose whether to include recordings in iCloud/iTunes backups.
AudioRecorder XS V3.7-2
Google Drive sync has been fixed.
An issue with wrong representation of file times has been fixed.
Recordings can no longer be backed up over iTunes/iCloud backups.
Storing contact names in filenames is now the default option.
Dark mode support has been added.
Deleting records while searching is now possible.
A crash issue when playing recordings and switching to speaker has been fixed.
Spectrum analyzer option has been added.
System audio recording status now shows the correct app that started the audio.
A messenger video recording crash has been fixed.
Play/pause button missing touches and closing the playing cell has been fixed.
Background audio playback and lock screen/ControlCenter controls have been added.
Work on adding an audio file editor is ongoing.
AudioRecorder XS V3.5-112
A crash issue when ending a call on iOS 14.x has been fixed.
Loading recordings when opening the app has been dramatically increased in speed.
An option to disable sound when starting recording a voice memo has been added.
AudioRecorder XS V3.5-81
A potential issue with the latest substitute has been fixed.
Full iOS 14 support has been added.
AudioRecorder XS V3.5-74
iOS 14 support has been added.
AudioRecorder XS V3.5-32
Recording quality and volume have been improved by including the system's built-in audio filters in the recorded audio.
AudioRecorder XS V3.4-2
A state monitoring issue where ending a call might not be caught resulting in joining recording to the next one has been fixed.
An issue with long VoiceMemos not appearing in the AudioRecorder application has been fixed.
AudioRecorder XS V3.3-386
Audio stream manipulation has been improved.
Recordings volume adjustment has been improved.
An issue that may cause a crash during a call, losing a recording has been fixed.
Monitoring methods to resume a recording after a daemon crash have been added.
Whistling issue on some recordings has been fixed.
AudioRecorder XS V3.3-100
Recording while changing audio sources has been unified.
Recordings are no longer split when switching from one audio source to another.
Recordings not being saved when on Bluetooth in services like Skype have been fixed.
Randomly garbled recordings when changing audio sources have been fixed.
Long recordings failing to convert and be saved have been fixed.
Incorrect remaining time in the recording's player has been fixed.