Blobsaver For SHSH Blobs Saver Download On Desktop | Blobsaver For UnJailbroken And Jailbroken Devices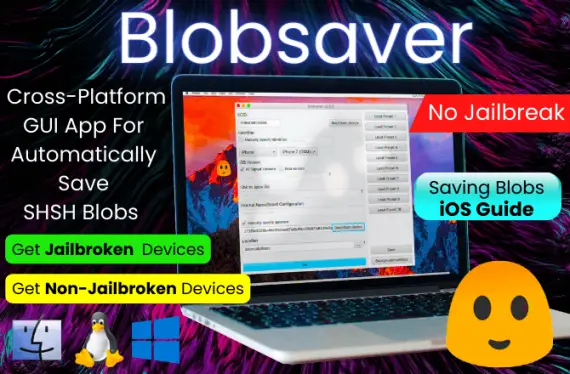 Cross-Platform SHSH Blob-Saving Tool!
Download the latest versions of the cross-platform GUI tool BlobSaver, which magically saves blobs in the background. Blobsaver is used to store SHSH blobs on your iPhone, iPad, iPod, and AppleTV. When you're planning on jailbreaking your device, it's always a smart move to save SHSH blobs that allow users to upgrade and downgrade iOS to an unsigned version using FutureRestore blobsaver tutorial.
Download Blobsaver For Mac Users
MacOS Download Intel [macOS 10.12 Or Higher]
MacOS Apple Silicon Download [MacOS 10.12 And Higher]
Download Blobsaver For Windows Users
Download Blobsaver For Linux Users
Blobsaver Features
Blobsaver online is a cross-platform GUI for saving SHSH blobs using tsschecker.
✅ Blobsaver is a tool that automatically saves blobs.
✅ On both jailbroken and unjailbroken devices, Blobsaver may be read by the APNonce and generator.
✅ Read data from other devices, such as the ECID.
✅ Limitless number of devices can be stored.
✅ Without a URL and in the background, save blobs for beta versions.
✅ It is possible to save iOS 16 SHSH2 Blobs to downgrade no upgrades.
✅ Save blobs to the TSS Saver, the SHSH Host, and more with just one click.
How To Save Blobs From iPhone Via Blobsaver Online
How to use Blobsaver? Blobsaver makes it simple to save blobs to your iPhone. The program completes every task for you, including retrieving the APNonce and collecting your device's ECID. Remember that jailbreaks use the generator 0x1111111111111111 to store blobs. The genuine APNonce on your iDevice may be read using Blobsaver.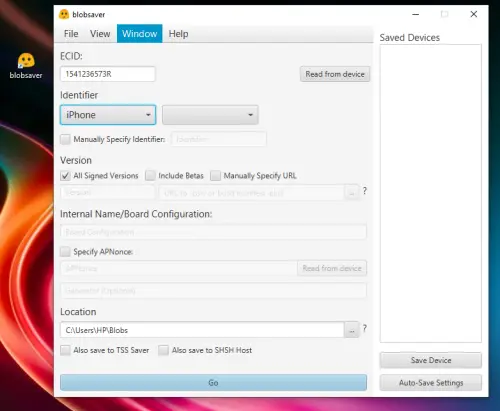 Step 1 > Download Blobsaver on the blobsaver windows download, MacOS, or Linux. From the Download section up top, just download the suitable setup file and install it.
Step 2 > Launch the Blobsaver tool on your desktop.
Step 3 > Connect your unlocked iPhone / iPad with your PC using USB cable.
Step 4 > In order to get ECID, click the Read from device button.
Step 5 > In the section for device identifiers, choose your iPhone, iPad, iPod, or AppleTV.
Step 6 > If necessary, enable the iOS versions to be included in the Blobsaver tool.
Step 7 > For jailbreak or reading from the iOS device, set APNonce. [0x1111111111111111]
Step 8 > Activate the TSS Saver and SHSH Host services that will save blobs.
Step 9 > For any iOS firmware that has been signed, click Save SHSH Blobs.
When everything is finished, blobsaver iPhone will display the SHSH blobs' saving status. Blob files that were created and stored for certain iOS versions will be included in the data.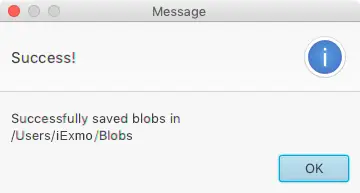 How To Automatically Saving Blobs To Cloud
Although Blobsaver doesn't provide a way to save backups from SHSH blobs throughout the cloud, you can use a simple hack that enables you to transfer the files to something like a cloud service. Follow these steps if you want any saved blobs to be automatically uploaded to the cloud.
Step 1 > To save blobs in the appropriate cloud service, downloading and installing the appropriate client.
» Dropbox
» iCloud is installed by default on Mac
» OneDrive is installed by default on Windows
» Box
Step 2 > Create a folder > By utilizing the service's setup settings, you may automatically upload files to cloud storage service.
Step 3 > Set the path/location to just the folder of each cloud service you wish to utilize when storing a device in blobsaver.
Blobsaver For iOS 16
What Is The Benefit Of Saving iOS SHSH2 Blobs?
When Apple began signing the iOS firmware components, it has been customary to save your iOS SHSH2 and SHSH blobs.
Initially, consumers were able to install each and every firmware version on their device, and Apple in no way signed the upgrades. Apple gained control over the duration of the iOS version's availability after they began signing IPSW files.
You won't be able to install a certain iOS version on your device after Apple stops signing it unless you've stored your SHSH2 blobs/tickets although the iOS version still was verified by Apple. In addition to SEP and Baseband compatibility, every downgrade as well as upgrade to an unsigned iOS version requires on pre-saved SHSH2 blobs.
How To Save iOS SHSH2 Blobs Without Updating The Device
Without upgrading to the version you're wanting to just save your blobs for, it is still feasible to store SHSH2 blobs.
In this method, you may save the blobsaver github blobs with iOS 16.0.2 while using a device that is running iOS 16.0, for example, without needing to upgrade it. When you have the appropriate software and the iPhone linked to the PC, saving the blobs is simple and only takes a couple of seconds.
What Are SHSH2 Blobs?
These are compact files that are packed with customized data for your device that has been Base64-encoded. It is effectively the answer your iPhone receives from Apple's Signing Server (TSS) whenever users attempt to install a certified iOS version.
It is the permission the Apple server grants to user devices for installing any particular iOS version. While Apple stops signing specific iOS versions, the TSS server stops granting those authorizations, therefore your device encounters an issue when attempting to install updated firmware.
You cannot use my or anybody else's SHSH2 blobs since SHSH2 blobs are produced by the TSS server specifically for your phone, iPad, or iPod. Even though the blob would be authenticated by Apple, all data within it incorporates the Unique IDs of multiple devices, making it inoperable. For this reason, you should always backup yours.
The permission signal is saved when the SHSH2 blobs are saved, and the device can replay it at a later time. Wherever the permission arrives, the device doesn't care as long as it fits the device and therefore is digitally authenticated by Apple.
How To Save SHSH2 Blobs For iOS 16 Downgrades No Updating
It's a very simple process, follow the iOS 16 Blobsaver steps below and you will have your blobs saved in no time.
🚀 Save SHSH Blobs For iOS 16 »
Check Saved SHSH Blobs Files Online
TSS Saver SHSH2 Blobs Checker now allows you to see older saved blobs files online. /u/1Conan developed this SHSH2 Blobs Checker. You may examine your previous stored SHSH blobs files online with the assistance of the TSS Saver tutorial below.
Step 1 > Launch the Safari browser and access TSS Saver SHSH2 Blobs Checker.
🚀 TSS Saver SHSH2 Blobs Checker »
Step 2 > Go to the Retrieve area > Enter your iDevice ECID > Tap Submit.
Step 3 > Press the "Open link" button.
Step 4 > Download relevant SHSH files.
How To Save SHSH2 Blobs For iOS 16.6 Beta 1 With BlobSaver
Why iOS 16.6 Beta 1?
With the recent release of the KFD project, featuring two powerful kernel exploits, iOS 16.6 Beta 1 gains significance for jailbreak enthusiasts.
While one of the exploits works on iOS 15.0 to iOS 16.5, it got patched in iOS 16.5.1. However, iOS 16.6 Beta 1 remains vulnerable to this exploit and is still being signed.
This opens up an opportunity to downgrade to a jailbreak-friendly version with the exploit intact.
According to Dopamine jailbreak developer, @opa334, combining the PPL bypass with this new kernel exploit holds the potential to create a jailbreak solution.
💾 Saving SHSH2 blobs for iOS 16.6 Beta 1 becomes crucial as downgrading between iOS versions with a significant gap is challenging due to the new Cryptex1 component. While the process takes just a few seconds, history has shown that having these blobs on hand can prove invaluable when least expected.
Save SHSH2 blobs for iOS 16.6 Beta 1 using BlobSaver with these simple steps.
Step 1: Download BlobSaver
Step 2: Connect Your iOS Device
Use the original USB cable to connect your iPhone or iPad to the computer.
If prompted, tap "Trust" to allow access to your device.
Step 3: Prepare for Saving Blobs
Your iOS version on the device doesn't need to match iOS 16.6 Beta 1.
Download iOS 16.6 Beta 1 SHSH2 blobs without updating your device.
Step 4: Identify Your Device's ECID
To save the blobs correctly, find your device's ECID.
BlobSaver can automatically detect the ECID when you press the "READ FROM DEVICE" button.
Step 5: Save SHSH2 Blobs
In BlobSaver's iOS section, check "Include Betas."
If you have an A12 or newer device, press "READ FROM DEVICE" on the APNONCE field.
BlobSaver will reboot your device into Recovery Mode to get the NONCE.
The process will start once you press the big "GO" button.
Wait for the process to complete.
💡 Important: Remember that you can only save blobs for iOS versions currently signed by Apple. Once Apple stops signing an iOS version, saving SHSH2 blobs for that version is no longer possible. Be sure to do it while the version is still signed to secure future jailbreak possibilities.
Saving SHSH2 blobs on iOS 16.6 Beta 1 using BlobSaver is essential to leverage the recently launched KFD exploit, compatible with iOS 15.0 – 16.5, which also works on 16.6 Beta 1.
What Is Blobsaver For iOS?
You can use tsschecker to just save SHSH blobs on your iPhone or iPad by using a cross-platform PC GUI called Blob Saver. Windows, Linux, and macOS are all supported by this program. Additionally, with just one click, Blobsaver uploads blobs towards the TSS Saver but also SHSH Host services.
Apple creates and employs the digital signature known as SHSH blobs download to customize IPSW firmware. The iOS version users are permitted to install is managed by this technology. You can update and downgrade iOS using unsigned software if you have preserved blob files.
The APTickets will be saved in SHSH2 blobs download format by the Blobsaver program so that you may subsequently downgrade your device through futurerestore or similar applications. SHSH blobs cannot be transferred among several devices. This file is only compatible with only one device for which it was made.
Whenever the iOS is signed can SHSH blobs be preserved. Therefore, make careful to create copies of your APTickets if you require the option to downgrade or update your iOS device or iPad to a non signed IPWS. By using this function, iOS may be downgraded towards jailbroken iPhone versions.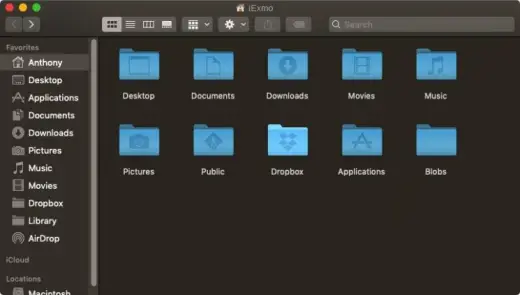 Additionally, you get unrestricted storage for device setups. For all devices running signed iOS versions, Blobsaver can also store blobs in the background. Simply specify the number of days, hours, weeks, even seconds to monitor for new iOS versions.
After reading all the information needed to create a SHSH2 blob for your iPhone or iPad, Blobsaver will indeed be capable of accomplishing this task without requiring you to reconnect your iDevice towards the PC. A developed upgrade configuration, the ability to export and import devices, and the ability to leave recovery mode are all included.
Blobsaver Source Code GitHub
Downloadable from the airsquared/blobsaver GitHub Repository, Blobsaver github was made available under the GNU GPL v3.0 license. JRE for Windows, Mac, as well as Linux is required in order for the program to function. The most popular update was performed on the research work and it is currently in progress.
Due to the fact that this Blobsaver project is open-source, you are permitted to change and/or redistribute it in accordance with the provisions of the GNU General Public License, which was created by the Free Software Foundation. Use the source code as a learning tool to produce your own tweaks or pull requests for fresh updates.
Built-in Blobsaver Tools
☑️ JDK 18
☑️ Gradle
☑️ IntelliJ Idea
☑️ JLink Plugin
☑️ Inno Setup for creating Windows installer
Saving Blobs With TSS Saver
TSS Saver is a free on-device program that lets you store SHSH2 blobs using only the CLI when your device is jailbroken. The platform provides all previous SHSH blob file backups on every device. On iOS 11 / iOS 12 / iOS 13 / iOS 14, the TSS Saver app is compatible.
What's New In Blobsaver | Blobsaver Changelog
Blobsaver v3.4.1
Additional variables for the save path that might be utilized to improve organization.
Does not store new blobs if the directory already contains the same blobs.
For Macs with T2 processors, provide the ability to store blobs.
Fixing a bug that occurred when background saving was enabled on Linux and the configuration folders were missing.
If the ECID began with 0x, correct the issue before saving to TSS Saver.
Refresh tsschecker.
Enhance the error messages.
Blobsaver v3.4.0
Additional variables that can be utilized to improve organization in the save route.
Blobsaver will now swap in the real values when you specify paths like /Users/airsquared/Blobs/$DeviceIdentifier/ $MajorVersion/$FullVersionString.
does not store new blobs if the directory already contains the same blobs.
For Macs with T2 processors, provide the ability to store blobs.
While activating background saving on Linux, fix the issue. when there weren't any configuration folders.
Blobsaver v3.3.0
Support the newest iPads and iPhones.
Permit utilizing an IPSW file or build manifest that has previously been downloaded.
After storing blobs, remove the build manifest to prevent consuming additional disk space.
Refresh dependencies.
Blobsaver v3.2.1
For iOS 15.5, correct the problem of not being able to extract BuildManifest.
Issues with reading from devices on macOS 10.15 and before may be fixed.
Blobsaver v3.2.0
Support automated, URL-free blob storing for beta versions.
Fix difficulties with the build manifest download.
Boost blob saving efficiency.
Blobsaver v3.1.0
If the APNonce is frozen, Read APNonce will immediately recognize this and take the appropriate action.
Save blobs from blobsaver to TSS Saver and SHSH Host.
Support for Apple Silicon is growing.
Add more devices.
Refresh dependencies.
Blobsaver v3.0.4
Include the latest iPad and iPhone devices.
Automatically choose and complete the manual identifier field if the device is not identified.
Update the tsschecker bundle.