Latest Cercube IPA Download For YouTube iOS iPhone, iPad, iPod | Cercube Tweak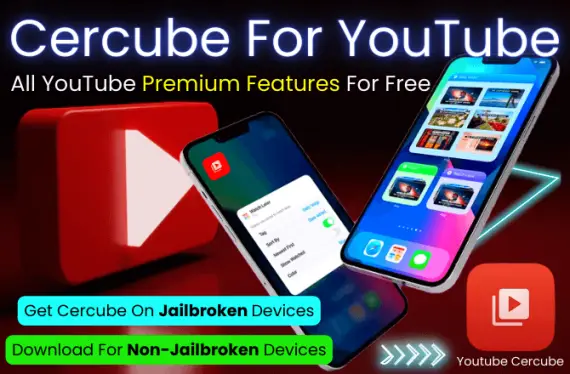 Cercube IPA for YouTube enhances the functionality of the app by including an adblocker, the ability to download videos, PiP mode, an auto-reply tool, and more. Install the most latest versions of YouTube Cercube 5 on your iPhone or iPad by downloading the YouTube Cercube premium for iOS now.
Download YouTube Cercube IPA For iOS
Cercube YouTube Features
✅ Videos in both FHD and 4K resolution can be downloaded to the device.
✅ Cercube allows you to view, share, and manage videos.
✅ All advertisements are blocked – Cercube IPA no ads.
✅ Background playback is enabled in cercube iPA latest version.
✅You may Airdrop and share downloaded videos with other devices.
✅ Both audio and video can be saved in youtube cercube IPA.
✅ Videos can be broadcast in 4K and FHD using Cercube.
✅ The options include fast forward and rewind.
✅ The trending tab can be completely hidden.
✅ You can play YouTube in PiP mode and more.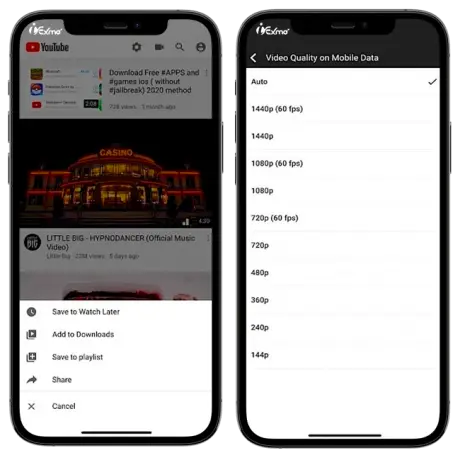 How To Install Cercube IPA For iOS
Youtube cercube IPA download is a tweaked version of the official YouTube app that was made available as a Cercube DEB and Cercube IPA package. Every jailbroken device can simply download the DEB file, install it, and then inject cracked cercube IPA into the YouTube app that was downloaded from the App Store. On any iOS device, cercube pro IPA may be downloaded and installed. There is no need to jailbreak.
You must use a PC to sign the Cercube IPA file yourself. On-device IPA signing capabilities are also provided by just a few Cydia Impactor alternatives.
How To Download Cercube And sign Cercube IPA | No Jailbreak
Cercube pro cracked IPA was made available as an IPA package. The YouTube app also with Cercube already inserted is contained in the download. Cercube max IPA download file must first be signed with just a certificate in order to be installed on an iPhone. iOS 14 as well as Cercube IPA iOS 15 both support installing Cercube 5 without the need for a jailbreak. Also  you can use Cercube IPA Altstore to get Cercube pro IPA.

Install Cercube IPA WIth Sideloadly
Step 1 > Download YouTube Cercube IPA from the above download button.
Step 2 > Open Sideloadly on your PC.
Step 3 > Utilize Wi-Fi or USB to link your iOS device to Sideloadly.
Step 4 > The Cercube IPA file should be dropped into the Sideloadly tool.
Step 5 > Enter your Apple ID
Step 6 > For install this Cercube IPA file onto your iPhone, press the Start button.
Step 7 > To sign the Cercube app, enter the password with your Apple ID.
Step 8 > From your iOS device's home screen, open the Settings app.
Step 9 > Go to General ⮕VPN & Device Management ⮕ Click on the developer app.
Step 10 > Click Trust to enable Cercube so that YouTube will run.
Using your preferred applications like Sideloadly, AltStore, or ReProvision, you may sign and install your YouTube Cercube IPA file in a single step. You must trust it in order to open the YouTube Cercube IPA app on your device because it was signed with your own certificate.
How Install Cercube IPA Without A PC | Cercube Online Installation Method
Cercube IPA download online may be set up without a PC as well. Youtube cercube IPA URLs for a signed version of cercube plus IPA which can be downloaded and installed via Safari are provided below. The internationally accessible certificate which was used to sign the YouTube modification can be revoked.
Step 1 > Tap the Install Cercube button located above it in the Safari browser.
Step 2 > So when "would want to install Cercube" popup appears ⮕ Choose Install.
Step 3 > Your Home Screen will display the icon for the Cercube YouTube app.
Step 4 > Then go to Settings ⮕ General ⮕ Profiles or Profiles & Device Management.
Step 5 > You may see the developer's profile by selecting the Enterprise App section.
Step 6 > Tap the developer profile's name ⮕ Trust.
Step 7 > From the Home Screen, launch Cercube for iOS.
How Install Cercube Tweak Repository
Through the exclusive Alfhaily Repository, the Cercube tweak was made available. The cercube IPA latest version tweak may be installed using jailbroken iDevices. Cercube tweak repo is functional with any iOS 9.0 or later-running devices. Being noted that installing the YouTube app from the App Store is a must for the tweak..
Step 1 > From the Home Screen, open your preferred package manager, such as Saily, Cydia, Sileo, Installer, or Zebra.
Step 2 > Select the Sources tab, then select Edit > Add Cercube repository URL.
🔰 Cercube Repo URL – https://apt.alfhaily.me
Step 3 > The packages that are available in the repository will be automatically refreshed by your package manager.
Step 4 > Searching for Cercube YouTube > Install the package.
Step 5 > For the Cercube tweak installation to be complete, restart the Springboard.
Step 6 > The YouTube app allows you to access Cercube modify options.
Download Cercube++ With IPA Store
The Cercube for YouTube modification has been changed to become Cercube++. The cercube max download hacked version has various more settings and makes premium features available for free. Cercube++ was produced by Laxus and made available via the iOSGods App. Working with iOS 8 and later is Cercube++.
You can enable with Cercube++ background playback, disable all adverts, save videos through hd quality, save videos on audio-only, and create public playlists using the Cercube max IPA download modification. The Cercube hacked IPA is now available for sideloading.
Cercube For YouTube Compatibility
Cercube Support iOS Versions
Cercube For iOS 15 – iOS 15.7.1 / iOS 15.7 / iOS 15.6.1 / iOS 15.6 / iOS 15.5 / iOS 15.4.1 / iOS 15.4 / iOS 15.3.1 / iOS 15.3 / iOS 15.2.1 / iOS 15.2 / iOS 15.1.1 / iOS 15.1 / iOS 15.0.2 / iOS 15.0.1 / iOS 15
Cercube For iOS 14 – iOS 14.0 / iOS 14.1 / iOS 14.2 / iOS 14.3 / iOS 14.4 / iOS 14.5 / iOS 14.6 / iOS 14.7
Cercube For iOS 13 – iOS 13.1 / iOS 13.2 / iOS 13.3 / iOS 13.4 / iOS 13.5 / iOS 13.6 /iOS 13 Beta
Cercube For iOS 12 –  iOS 12 / iOS 12.0.1 / iOS 12.1 / iOS 12.1.1 / iOS 12.1.2 / iOS 12.1.3 / iOS 12.1.4 / iOS 12.2 / iOS 12.3 / iOS 12.3.1 / iOS 12.3.2 / iOS 12.4 / iOS 12.4.1 / iOS 12.4.2 / iOS 12.4.3 / iOS 12.4.4 / iOS 12.4.5 / iOS 12.4.6 / iOS 12.4.7 / iOS 12.4.8 / iOS 12.4.9 / iOS 12.5 / iOS 12.5.1 / iOS 12.5.2 / iOS 12.5.3 / iOS 12.5.4 / iOS 12.5.5 / iOS 12.5.6 / iOS 12.5.6
Cercube For iOS 11 – iOS 11 / iOS 11.0 / iOS 11.0.2 / iOS 11.0.3 / iOS 11.1 / iOS 11.1.1 / iOS 11.1.2 / iOS 11.2 / iOS 11.2.1 / iOS 11.2.2/ iOS 11.2.5 / iOS 11.2.6 / iOS 11.3 / iOS 11.3.1 
Cercube For iOS 10 – iOS 10 / iOS 10.0 / iOS 10.0.1 / iOS 10.0.2 / iOS 10.0.3 / iOS 10.1 / iOS 10.1.1 / iOS 10.2 / iOS 10.2.1 / iOS 10.3 / iOS 10.3.1 / iOS 10.3.2 / iOS 10.3.2
Cercube For iOS 9 – iOS 9 / iOS 9.0 / iOS 9.0.1 / iOS 9.0.2 / iOS 9.1 / iOS 9.2 / iOS 9.2.1 / iOS 9.3 / iOS 9.3.1 / iOS 9.3.2 / iOS 9.3.3 / iOS 9.3.4 / iOS 9.3.5
Cercube For iOS 8 – iOS 8 / iOS 8.0 / iOS 8.0.1 / iOS 8.0.2 / iOS 8.1 / iOS 8.1.1 / iOS 8.1.2 / iOS 8.1.3 / iOS 8.2 / iOS 8.3 / iOS 8.4 / iOS 8.4.1
Cercube For iOS 7 – iOS 7.0 / iOS 7.0.1 / iOS 7.0.2 / iOS 7.0.3 / iOS 7.0.4 / iOS 7.0.5 / iOS 7.0.6 / iOS 7.1 / iOS 7.1.1 / iOS 7.1.2.
Cercube Support iDevices
iPhone X / iPhone XR / iPhone XS / iPhone XS Max / iPhone 11 / iPhone 11 Pro / iPhone 11 Pro Max / iPhone SE / iPhone 8 / iPhone 8 Plus / iPhone X / iPhone 7 / iPhone 7S / iPhone 6S Plus / iPhone 6S / iPhone 6Se / iPhone 6 Plus / iPhone 6 / iPhone 5S / iPhone 4S / iPad Air 2 / iPad Air / iPad Mini 3 / iPad Mini 2 / iPad Mini / iPod Touch.
CercubePlus Add-on For iOS
The Cercube improvement with more functionality is included in CercubePlus. This add-on is available as an IPA file which can be downloaded and installed on any device. It includes all of the functionality supplied by cercube IPA github in addition to having YouPiP, YouTubeHeader, YTUHD, YTSpeed, iSponsorBlock, and YouTube Dislike Return injected. Using iOS 11 and later, CercubePlus is supported.
With the help of Cercube no ads iPA you will be able to use the SponsorBlock engine, activate the VP9 codec, Cercube Plus will skip the intrusive sponsor ads embedded in the videos, empower YouTube's native PiP, effectively enabling 2K and 4K video quality, and restore the dislike counts underneath YouTube videos to use the ReturnYoutubeDislikes API.
What Is Cercube For YouTube?
One of the most famous tweaks for the YouTube app is Cercube. Various useful capabilities are included with Cercube YouTube, together with the ability to block adverts, convert videos to audio, download videos up to 4K resolution, enable background playback, enable Picture-in-Picture mode, auto-reply videos, and add many more premium features on your YouTube app.
Cercube pro cracked IPA can be downloaded and installed on iOS 13, iOS 14, iOS 15, or iOS 16 without jailbreaking. The YouTube app and cracked Cercube IPA are both included in the IPA package. You may install the Youtube Cercube IPA download modification right on the YouTube app from the App Store if your iPhone is jailbroken. 
You may discover a new tool icon in the top nav bar after downloading YouTube Cercube iPA for iOS. Once installed, you will have access to all of Cercube 5's configurations. When listening to music, turning on background playback is helpful. You can also choose the video quality for WiFi and Mobile Data and have videos automatically repeat when they have finished playing.
Enhance your YouTube experience With Cercube 5
The ability to save videos for offline watching is one of the most popular features of the Cercube max IPA app, which aims to improve the user experience overall. You may download videos in up to 4K resolution to the Camera Roll with Cercube 5 and convert it to audio files. You may use Cercube 5 to download YouTube videos to your iPhone by tapping the three dots symbol that appears beside the video and choosing Cercube from the selection of options that appears.
Additionally with Cercube 5 IPA, you may choose to hide the basic download button below the video player and the original cast option also in the top navigation bar whenever you run the YouTube app. You will be asked by the Cercube 5 tweak what type of video and format you want to download. There Cercube pro cracked IPA will be a Downloads area where you can access all audio and video files. In Cercube 5 app's bottom navigation bar allows rapid access to it.
Simply long-pressing any item and dragging it, you may customize the tab visibility toggle on or off and layout in the Cercube 5 app. You can also hide the PiP button just below the video player with Cercube latest IPA app.
If you jailbreak your device and install Cercube 5 from the Repository, you may upgrade the tweak by looking for the package from Cydia and updating cercube max latest IPA directly from there. When an update is available, a notice from Cercube will appear in the YouTube app. If you sideloaded the Cercube IPA for iOS, you must reinstall it by downloading the most recent Cercube IPA file from this website.
You must sign into your Cercube account in order to use Cercube no ads IPA for YouTube, which is only partially free. You must donate $18 in order to utilize some services, like the Downloads and Favorite Videos area, or to use the YouTube video download tool. If you don't already have one, you can make one using the modification. Try uYou or YouTube++ if this seems too expensive at the moment.
What's New In Cercube For YouTube
Cercube was upgraded to version 5.3.10.
Fix crashing issues with video querying.
Cercube and PiP buttons were added to the video overlay.
Enhancements to performance and bug fixes.
The automated quality selection now includes the 2160p option.
When utilizing the Cercube button from the action sheet, the issue was fixed.
Provided help for YouTube version 16.34.7.
Downloading of public playlists has been made possible.
Cercube configuration support for dark mode has been added.