Checkl0ck Tweak FaceID/TouchID Biometric For iOS With Checkm8 Based Jailbreaks | iOS 15 Jailbreak Tweaks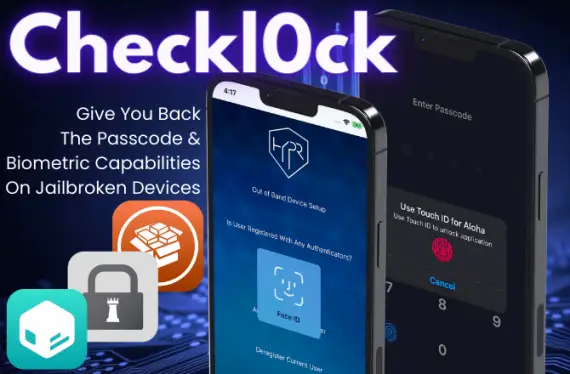 Checkl0ck has officially enabled passcode with biometric on iOS 15 – iOS 16. Disabling your passcode, Face ID, or Touch ID when your iPhone is jailbroken using Palera1n jailbreak or Checkra1n jailbreak on an A10 or A11 SoC is important. Due to easy accessibility to your device by every individual in your home, this could be a problem.
The Checkl0ck tweak has been updated and now supports the latest iOS versions, 16.0 to 16.1.2, giving users access to even more customization options for their devices. This exciting Checkl0ck update makes it possible for users with the latest iOS to take advantage of the powerful features offered by the Checkl0ck tweak.
Checkl0ck Tweak Features
✅ Both numeric and alphabetic passwords can be supported using Setup native passcode.
✅ Use FaceID or TouchID to unlock your iDevice.
✅ Utilize FaceID/TouchID for biometric verification in third-party applications
✅ Using FaceID or TouchID, Safari and compatible applications may autofill passwords.
✅ Works with iOS tweaks which integrate the LAContext api for biometric authentication. (Hidden Album Lock / SafariPlus / A-Shields / FaceID for Hidden Photos etc.)
✅ Use FaceID or TouchID to log in to Apple.
✅ Using FaceID or TouchID, Checkl0ck enables viewing and erasing protected notes.
✅ When incorporating VPN setups, Checkl0ck offers password or TouchID protection.
✅ Download free apps from the App Store with FaceID or TouchID.
✅ When the iPhone is locked, Checkl0ck hides text alerts.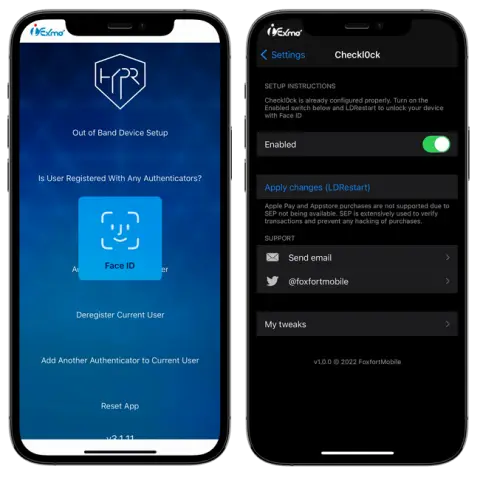 Add Checkl0ck Tweak Repository
The paid package Checkl0ck is now available for $2.99 out via the Havoc Repository. The most recent version 1.3.0 is compatible with checkm8 jailbreaks for iOS 14.3 through iOS 15.7.1. Protection for your device may be enabled by adding the Checkl0ck Repo to your package manager. You may quickly add the Checkl0ck repository with just one tap to your preferred package manager, such as Sileo, Cydia, Installer, or Zebra.
Step 1 > Go to Home Screen > Open the Sileo app.
Step 2 > Sources > Edit > Add the URL for the Checkl0ck tweak repository now.
✅ Checkl0ck Tweak Repo URL – https://havoc.app
Step 3 > Finding the Checkl0ck tweak > Tap to install.
Step 4 > To complete the installation, Sileo will request you to restart the device.
Step 5 > The Checkl0ck tweak may be enabled via the Settings app.
Configuration For Checkl0ck Tweak
Having to make your iPhone's native passcode, Face ID, or Touch ID usable, you must complete a few configuration steps before using the Checkl0ck tweak. They are accessible through the Checkl0ck tweak's setup window inside the Settings app.
Step 1 > Restart the device in unjailbroken mode.
Step 2 > Configure Face ID using the Settings app.
Step 3 > Make your passcode disabled.
Step 4 > Use the Checkra1n jailbreak or the Palera1n jailbreak to jailbreak your iOS device.
In jailbroken mode, add a passcode using the settings app.
Step 5 > Toggle On the Enabled switch.
Step 6 > For Face ID unlocking, use LDRestart.
Within a jailbroken environment can the Checkl0ck modification specifically allow the passcode, Face ID, and Touch ID security. The Checkl0ck tweak, however, will no longer shield your iPhone after a restart.
What Is Checkl0ck Tweak?
For iOS devices, Checkl0ck is a tweak that restores the password and biometric capabilities. After jailbreaking an A10 or A11 iPhone, the tweak checkl0ck enables you to secure your checkm8 iphone with a password and biometric features. Checkl0ck tweak continues to support the iOS 14 Checkra1n jailbreak and the iOS 15 Palera1n jailbreak. Importantly, the Checkl0ck tweak only functions in jailbroken mode.
There is a native passcode setting option in the Checkl0ck tweak. It allows passwords with alphanumeric as well as numeric characters. Once activated, Face ID and Touch ID both allow you to unlock your iPhone and use them to autofill passwords in applications like Safari and others that support them.
The tweak allows to determine the type of security that can be activated based on the model of your device and on whether any biometric data was discovered. Different guidelines are available on the Checkl0ck configuration page based just on the model of your iPhone. When Checkl0ck is installed, the Settings app gains a new preference pane where you may turn the tweak on and off. It's all automatic, and there are no extra setup choices. It supports iPhone X, iPhone 8, iPhone 7, and iPhone 7 Plus.
Utilizing Face ID and Touch ID for biometric identification in third-party apps is possible with Checkl0ck. Applications with a high level of security, like bank apps, could not support this functionality. As well as reading encrypted notes, it allows Apple sign-in via Face ID or Touch ID.
Many jailbreakers will remember a publicly published jailbreak tweak called lockdown beta which empowered native passcode features on identical devices, and even though Checkl0ck takes things one step further because it gives access to the iconic biometric security mechanisms launched by Apple as being safe and practical.
The text of alerts will also be hidden while the device is locked if Checkl0ck is activated. This prevents anyone from looking at the Lock Screen to see the most recent alerts. On iPhones having installed Palera1n iOS 15.0 – iOS 16.2 jailbreak and otherwise Checkra1n jailbreak on iOS 14 – iOS 14.7.1, Checkl0ck is the best way to activate passcode / biometric security. It gives you a feeling of security, however after rebooting the device, this will simply stop operating.
What's New In Checkl0ck Tweak?
Checkl0ck 1.5.0
Support for iOS 16.0–16.1.2 has been expanded; iOS 16.2+ is not supported since the iCloud daemon needs to be fixed, so an upgrade is required.
fixes for apps like Documents that would crash.
Fix for iOS 15 Touch ID status bar lock symbol not showing.
Checkl0ck 1.4.0
Fixed some devices' Touch ID setup issues.
Resolved a few issues with iPads.
Checkl0ck 1.3.1
Corrected incorrect alert while disabling passcode on iOS 15.
Checkl0ck 1.3.0
Compatibility for iOS 15 was added.
Added support for Palera1n on iOS 15 with iPhone 7 and iPhone 7 Plus.
Fix for Yahoo Mail app crash.
Checkl0ck 1.2.0
Updating Checkl0ck extra support with iOS 15.
For Palera1n on iOS 15, there has been added support for the iPhone 7 and iPhone 7+.
If Checkl0ck tweaks Face ID in an app fails, there is now an option to input a passcode.
Repaired Touch ID and Face ID warnings that had failed.
Yahoo Mail's app no longer crashes.