CopyLog Tweak Repo For iOS Powerful Clipboard History Manager Jailbroken iOS Devices | iOS 15 Jailbreak Tweaks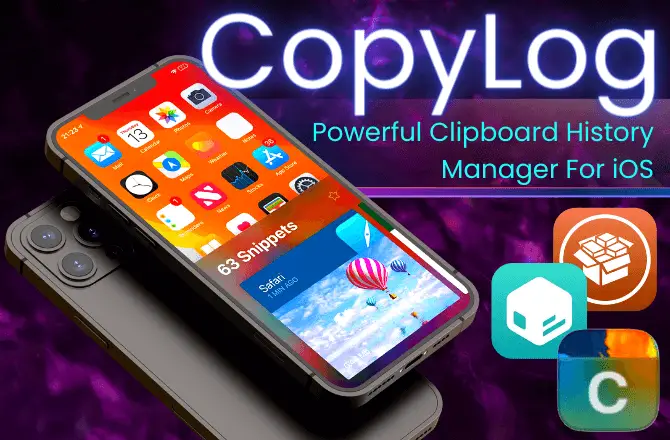 For iOS devices that have been jailbroken, CopyLog is a powerful, complete clipboard management. Only one thing could be stored in the clipboard manager on iOS. There are various tweaks that enable you to better manage the clipboard history once you jailbreak your device. The best quality iOS clipboard manager is CopyLog, which is compatible with Dopamine jailbreak, Fugu15 Max, XinaA15 jailbreak and Palera1n jailbreak for iOS 15.
CopyLog Tweak Features | Your iOS Clipboard History Manager
When you cut or copy some on your iPhone or iPad, the data is recorded in the "Clipboard" so that it may be copied later. The iOS clipboard can only hold one thing at a time by default, but a revolutionary jailbreak tweak known CopyLog developed iOS developer TomT000 transforms this just to enable copying and pasting multiple things significantly simpler.
CopyLog 1.5.6 Getting Ready For XinaA15!
✅ Turn option CopyLog tweak on or off as you like.
✅ CopyLog works on both iPhone and iPad.
✅ You can trace what you've copied on your device with the assistance of the CopyLog tweak.
✅ Swipe-up keyboard gesture switched on.
✅ The selection menu in CopyLog can be toggled.
✅ For external keyboards, switch to a different keyboard command.
✅ Set the maximum amount of history entries.
✅ Increase the number of history records to a maximum.
✅ View the most recent items in your CopyLog history.
✅ Clear your Clipboard of all previous entries in history.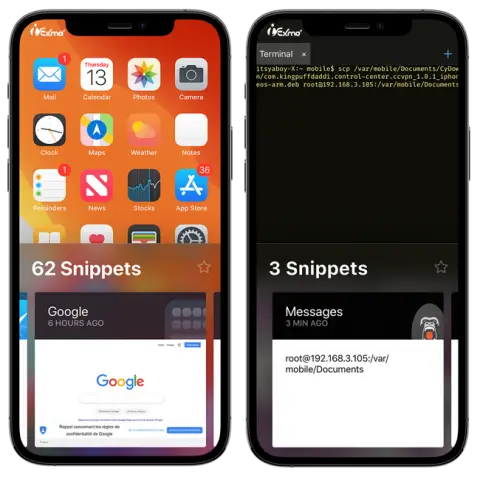 How To Add CopyLog Tweak Repository
Using Havoc Repo, CopyLog tweak repo was made available as a premium bundle. The copylog free tweak costs $3.99, and you may get it. Sync CopyLog Repo with your package manager to maintain record of the files you've copied. The copylog tweak repo modification works with the whole Palera1n jailbreak range as well as the XinaA15 jailbreak version for iOS 15.0 to iOS 15.1.1. The latest update of the tweak has expanded its compatibility to include rootless jailbreaks like Fugu15 Max jailbreak and Dopamine jailbreak.
Your preferred package manager, such as Cydia, Sileo, Installer, or Zebra, may quickly add the repository of CopyLog.
Step 1 > First from your Home Screen, launch the Sileo applications.
Step 2 > Tap Sources, then select Edit.
Step 3 > Add the Repo URL.
🧿 CopyLog Repo URL – https://havoc.app
Step 4 > Search the CopyLog tweak > Install the CopyLog package.
Step 5 > To complete the installation, Sileo will request that you spring the device once more.
Step 6 > Use the CopyLog tweak in the Settings app.
Use a trendy package manager, such as Sileo, Zebra, Saily, or Installer, to purchase the tweak. The ability to purchase tweaks is not available on older Cydia.
CopyLog Tweak For iOS 15 Jailbreak
This CopyLog tweak already works flawlessly with XinaA15 jailbreak on iOS 15.0 and iOS 15.1.1 for A12-A15 compatible devices. There are no issues if you have an earlier device running iOS 15. The CopyLog tweak running iOS 15.0 – iOS 15.7.1 with A9-A11 iPhones and iPads is indeed compatible with the Palera1n jailbreak.
CopyLog clipboard manager for iOS devices that recently received an update to support two popular jailbreak tools Dopamine jailbreak and Fugu15 Max jailbreak.
With CopyLog, you can easily manage and access your copied items, making it the must-have tweak for anyone who frequently uses the clipboard on their iOS device. Experience seamless clipboard management with CopyLog and enjoy the benefits of jailbreaking your iOS device.
What Is CopyLog Tweak?
Available for both the iPhone and iPad, CopyLog is a powerful and effective clipboard manager for iOS 11 to iOS 15.7.1. It offers easy accessibility to text snippets that are instantly added to your history and has a layout with the Paste for Mac software, making it familiar to certain users.
Following installation, the Settings app will get a special preference pane where you may customize all settings. The copylog tweak cracked can be turned on and off, activation methods can be chosen, copy feedback can be enabled, the maximum number of snippets can be defined, and applications may be added to a blacklist.
With this tweak, you may retrieve several text snippets with just a single swipe and can save everything to your clipboard in the background. Plus, the developer included a function that allows you to store snippets to bookmarks so you can access them more frequently and bookmark them for later.
The CopyLog tweak clipboard history manager may be launched via the iPad ToolBar, external keyboard shortcut, selecting menu, or dictation button. You are free to choose which activation options to utilize or to enable all of them simultaneously.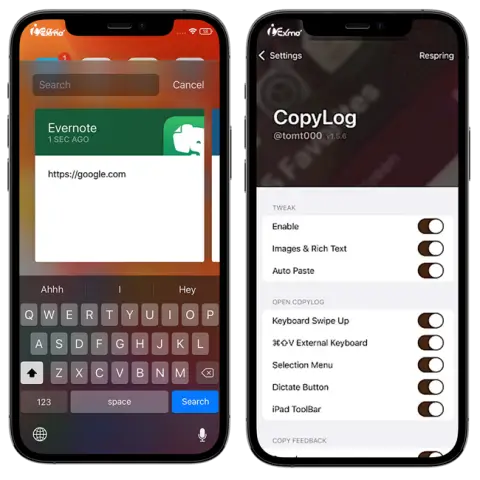 On/off switches for this functionality are available in the CopyLog advanced settings section. You may also explore the snippets interface, adjust the maximum snippet size using a slider, remove the history of any previously used snippets, and erase the history of any previously saved favorites from the Settings panel.
You may transfer clipboard clipboard history manager data across devices with CopyLog's integration with the macOS clipboard manager. If you have a Mac, you may copy a text, and CopyLog will instantly recognize it and add it to the history for simple navigation from your iPhone or iPad. On iOS 11 through iOS 15 jailbreaks, full functionalities work properly.
The CopyLog tweak developer included a toggle for several experimental features, as well as a preset to display the first installation intro. Have used the pasteboard framework for monitor copied things, force PasteD to reload whenever you respring, turn off banners, and deactivate continuity copy detection. Additionally, the iOS clipboard manager enables sharing a snippet using a native iOS feature or evaluating web content for snippets which contain links by swiping gestures on page content.
Who Created The CopyLog Full-Featured Clipboard Manager?
The remarkable CopyLog clipboard manager for iOS was made by developer, UI, and RE enthusiast @tomt000. CopyLog is the model for what a cutting-edge, feature-rich iOS clipboard manager should look like. Unlocking your iOS device for this CopyLog tweak is unquestionably worthwhile. Although it costs money, this CopyLog tweak is really worth it.
What's New In CopyLog
CopyLog added support for Fugu15 Max and Dopamine on iOS 15.
CopyLog support for XinaA15 on iOS 15.0 to 15.1.1
The latest version of CopyLog is 1.5.6.
iOS 15.0 through iOS 15.1.1 were used to test XinaA15.
Added clipboard history manager support for arm64e in iOS 12 and iOS 13.