DarkRa1n iCloud Activation Lock Bypass Tool For iOS 16-iOS 15 Free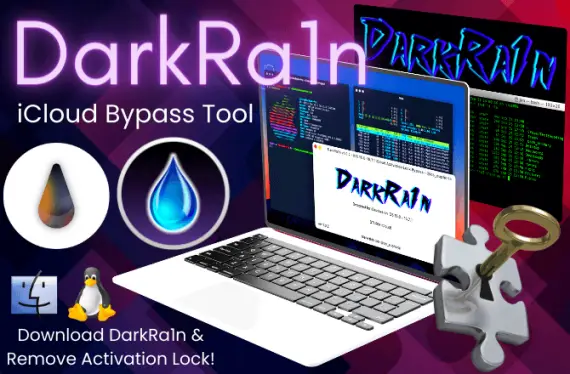 On checkm8 supported iPhones and iPads running iOS 15 / iOS 16 or iOS 16.2, DarkRa1n provides the first free tethered iCloud Bypass utility that can remove the Activation Lock screen. The same iOS developer who developed BlackRa1n iCloud Activation Bypass, ios euphoria, offers you the DarkRa1n tool.
Download DarkRa1n iCloud Bypass Utility iOS 15.0 – iOS 16.2
DarkRa1n iCloud Bypass For MacOS Users »
DarkRa1n iCloud Bypass For Linux Users »
DarkRa1n Tool Compatibility
DarkRa1n Supported iOS Versions
DarkRa1n For iOS 15 – iOS 15.7.1 / iOS 15.7 / iOS 15.6.1 / iOS 15.6 / iOS 15.5 / iOS 15.4.1 / iOS 15.4 / iOS 15.3.1 / iOS 15.3 / iOS 15.2.1 / iOS 15.2 / iOS 15.1.1 / iOS 15.1 / iOS 15.0.2 / iOS 15.0.1 / iOS 15
DarkRa1n For iOS 16 – iOS 16.2 / iOS 16.1.2 / iOS 16.1.1 / iOS 16.1 / iOS 16.0.3 / iOS 16.0.2 / iOS 16.0.1 / iOS 16
DarkRa1n Tool Supported iOS Devices
DarkRa1n supports all A9-A11 systems on a chip (SoC). The range of iPhones and iPads that are compatible with iCloud Bypass is provided below. The bypass was verified to function flawlessly on iOS 15 to iOS 16-compatible iPhone X, iPhone 8, iPhone 7, and iPhone 6S iOS devices.
DarkRa1n iCloud Bypass For iOS 15.0 – iOS 15.7.2
A11 > iPhone 8 / iPhone 8 Plus / iPhone X
A10X > iPad Pro 10.5 (2017) / iPad Pro 12.9 2nd Gen (2017)
A10 > iPhone 7 / iPhone 7 Plus / iPad 2018, 6th generation / iPad 2019, 7th generation
A9X > iPad Pro 12.9 in. 1st generation / iPad Pro 9.7 in.
A9 > iPhone 6S / iPhone 6S Plus / iPhone SE / iPad 2017 5th Generation
DarkRa1n iCloud Bypass For iOS 16.0 – iOS 16.2
A11 > iPhone 8 / iPhone 8 Plus / iPhone X
How To Remove iCloud Bypass Use DarkRa1n iOS 15 – iOS 16
iCloud Bypass may be removed from iPhones and iPads using the free app DarkRa1n, allowing recycled iDevices to be used. It only takes a few easy steps to use our iCloud bypass removal tool, but before you get there, make sure that Python and Homebrew are both installed onto your macOS system.
📌 To use the iCloud Bypass tool DarkRa1n, you should first jailbreak the iPhone using Palera1n Jailbreak. The iCloud remover sometimes doesn't come with this jailbreak for iOS 15 – iOS 16 on iPhones with an A9 to A11 processor. Keep going once the device has been jailbroken and remains on the setup screen.
✅ Tethered or Semi Tethered jailbreaks works.
✅ No Signal, this is free.
✅ Don't use a sim.
✅ No need to change Serial Number.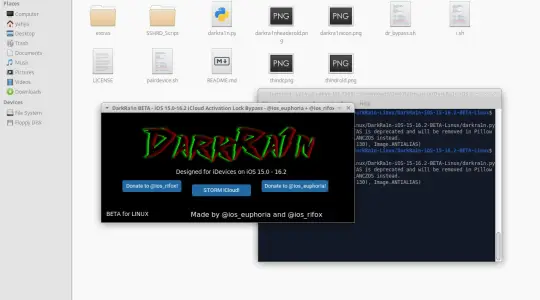 Step 1 > Connect an iOS device that has been jailbroken that works with your macOS.
Step 2 > Open the Mac's terminal and the downloaded DarkRa1n folder.
Step 3 > Type cd_ and drag and drop the DarkRa1n folder.
Step 4 > For the necessary components to be installed, execute the following command within the terminal.
Step 5 > Then go to Settings > Security and Privacy > Grant full disk accessibility to the Terminal and ssh wrapper.
Step 6 > Type the following command in the terminal should install the necessary elements.
Step 7 > Connect your jailbroken iPad or iPhone to the PC at this point.
Step 8 > To get started, click "STORM iCloud" and implement the on-screen steps.
Step 9 > Now that the iCloud Activation Lock is removed, your iOS device will reboot.
Step 10 > Then use Palera1n Jailbreak to re-jailbreak your iPad or iPhone.
📌 If anything isn't functioning, try running the commands.
sudo xattr -rd com.apple.quarantine./
chmod 755./" in the DarkRa1n folder
For your iproxy problem, just run this command:
sudo apt-get install libusbmuxd-tools && sshpass -y.
DarkRa1n Tethered iCloud Bypass With Palera1n Jailbreak
The most effective Palera1n jailbreak must be installed onto your iPhone or iPad in order to use the DarkRa1n tethered iCloud bypass support iOS 15 to iOS 16. In order to install the iOS system, you must utilize a pc each moment you reboot your iphone. If not, the screen immediately defaults to black.
How To Jailbreak iOS 16 – iOS 15 Via Palera1n »
The innovative DarkRa1n iCloud Bypass does not contain Palera1n tools and requires independent jailbreaking before usage, in contrast to BlackRa1n iCloud activation lock bypass on iOS 15 available to Palera1n. However, BlackRa1n only supports iOS 15.0 – iOS 15.7.1. BlackRa1n 1.4 is also still to be downloaded on Linux and Mac.
What Is DarkRa1n iCloud Bypass?
Among iPhones and iPads having the most latest version of iOS 16, iOS 16.2, DarkRa1n is the first iOS tool that can deactivate iCloud Bypass. To disable Find My iPhone without the need for a password or maybe even unlock Apple ID, use the DarkRa1n utility. All checkm8 devices running iOS 15.0 to 15.7.2 and A11 running iOS 16 are supported by the DarkRa1n iCloud Bypass tool.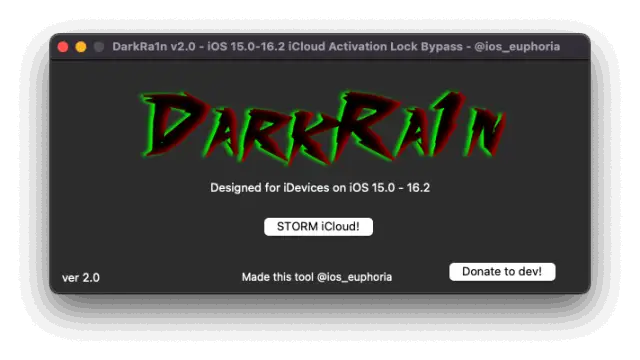 Unauthorized users are restricted from obtaining your device, wiping it clean, and making it their own via Apple's iCloud Activation Lock function. Unfortunately, if a user forgets their password or purchases an iCloud-locked device online, they risk being locked out of their personal device by such a function.
Besides supporting iOS 16, DarkRa1n is the alternative for BlackRa1n's iOS 15 iCloud Activation Lock Bypass. Regarding A9-A11 handsets lacking signal connectivity, this is a free tethered iCloud Bypass running iOS 15 and iOS 16. You will have the system accessible even though your SIM card won't operate.
DarkRa1n's tool has more capabilities, which makes deleting iCloud Bypass a lot simpler. The iCloud Activation Screen may be removed from your jailbroken smartphone by pressing only one button. The DarkRa1n tool shows all specific guidelines. Checkm8 is used by DarkRa1n's iCloud Bypass running iOS 15 and iOS 16, and it only supports older devices. Considering Apple resolved the vulnerability enabling jailbreak, bypass functionality for A12 devices including the iPhone XR, XS, XS Max, iPad Mini 5, iPad Air 3, iPad 8, A13, and A14 won't still be provided.
When your iDevice is deactivated, the Activation Lock function on iPhones and iPads is meant to stop anybody else from accessing it if they don't know your password. You can unlock your iPhone's activation lock with DarkRa1n since it can get around this restriction on A9 – A11 iOS devices running.
Your baseband status doesn't matter to the DarkRa1n function. By simply touching the Setup files while using the DarkRa1n tool, your device's baseband will remain unaltered. Although the signal hasn't yet been activated, if it does, a paid service will be provided for each device. There is an upcoming DarkRa1n Linux version.
DarkRa1n iCloud Bypass Tool Alternatives- iOS 15 – iOS 16 iCloud Bypass Windows
iRemoval PRO For Windows
As a DarkRa1n iCloud Bypass tool alternative, you may use the iRemoval PRO iCloud Bypass program for Windows if you're having trouble removing your iCloud Activation Lock. It uses the Checkra1n jailbreak and is compatible with iOS 12 through iOS 15. In contrast to BlackRa1n, this service is charged per device and includes signal assistance.
➤ Download iRemoval PRO For Windows
Blackw0rm Unlocker Free iCloud Bypass Activation Tool For Windows
Blackw0rm Unlocker is a free tool that can help you unlock iCloud Activation on your iOS device. This tool is an alternative to the popular DarkRa1n iCloud Bypass tool.
Blackw0rm Unlocker is designed to work on Windows PC, making it accessible to a wider audience. With Blackw0rm Unlocker, you can easily remove the iCloud Activation Lock and regain access to your device. The tool is easy to use and comes with simple instructions to guide you through the unlocking process.
➤ Unlock iCloud Activation With Blackw0rm Unlocker
Goldra1n iCloud Bypass: Semi-Tethered Full Bypass for iOS Devices
Goldra1n iCloud Bypass is a reliable tool for bypassing iCloud Activation Lock on iOS devices.
It offers a semi-tethered full bypass solution, which means that you can use your device even without an internet connection.
Goldra1n iCloud bypass is an excellent alternative to DarkRa1n iCloud Bypass tool. The tool is available for free and works on all iOS devices. Goldra1n provides a fast and efficient way to bypass the Activation Lock screen on your iOS device.
➤ Download Goldra1n iCloud Bypass
Get Your iPhone Or iPad iCloud Bypassed With GodsHand Toolkit
GodsHand Toolkit is a reliable iCloud Bypass tool for iPhone or iPad users. GodsHand is a great alternative to DarkRa1n iCloud Bypass download.
With GodsHand Toolkit, you can easily bypass the iCloud activation lock on your device.
It allows you to activate Hello Screen, boot RamDisk, change the SN, bypass GSM, and unlock MDM.
GodsHand is compatible with a wide range of iOS versions and devices. You can download and use GodsHand Toolkit for free.
➤ GodsHand Toolkit – Your iCloud Bypass Solution
GreenSn0w iCloud Bypass Tool – A Powerful Alternative To DarkRa1nv For windows
GreenSn0w is a reliable iCloud Bypass tool that offers a powerful alternative to DarkRa1n iOS 15 iCloud bypass checkra1n.
It is based on the popular jailbreak tool CheckRa1n, making it a secure and trustworthy option. With GreenSn0w, you can easily bypass iCloud activation and gain full access to your iPhone or iPad.
The tool is also capable of performing additional functions such as jailbreaking and unlocking SIM cards. GreenSn0w is user-friendly and easy to use, making it a popular choice among iOS users looking to bypass iCloud.
➤ GreenSn0w Reliable iCloud Bypass Tool
iSkip – The Free iCloud Bypass Tool for iOS 16 – iOS 16.5
iSkip is a free tethered iCloud bypass tool that can be used to remove Activation Lock on iOS 15.0 to 16.5 devices.
To use iSkip, your device must be jailbroken rootful using Palera1n or rootful Palera1n fakefs.
Once your device is jailbroken, simply boot fakefs or have the system jailbroken rootful to use iSkip.
iSkip is developed by the same team who released BlackRa1n iCloud Activation Bypass, so you can trust its effectiveness. It's important to note that iSkip is a tethered bypass, which means you will need to perform the bypass each time your device reboots.
Who Developed The DarkRa1n iCloud Bypass Tool
DarkRa1n is a tethered iCloud Bypass tool on macOS that implements checkm8-susceptible, and DarkRa1n tool was developed by iOS developer @ios euphoria. @ios euphoria was previously recognized for creating the third-party Palera1n jailbreak GUI which the palera1n team officially recommends to use.