Dodo Tweak | The Best Lock Screen Tweak For iOS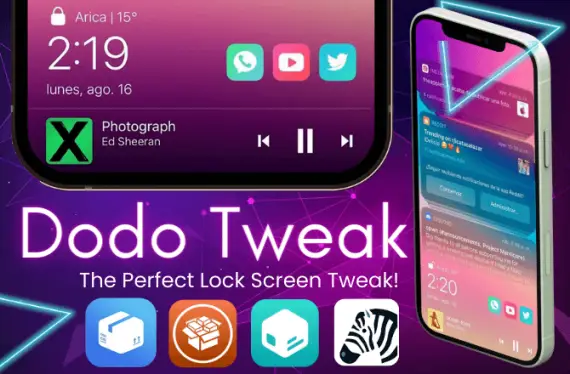 Dodo tweak is a popular jailbreak tweak that allows users to customize the appearance of their iPhone Lock Screen. It's known for its sleek design and added functionalities such as quick access to frequently used apps. The tweak is considered a must-have for those looking to personalize their iOS experience.
Dodo Tweak Features
Dodo is the ultimate Lock Screen personalization tool, featuring a sleek design and a host of convenient features. With Dodo, you can easily access your favorite apps right from the Lock Screen, get personalized music recommendations based on your listening history, and control music playback with a touch. Plus, you can check the weather without ever leaving the Lock Screen. Experience the best of both worlds with Dodo style and functionality in one package.
✅ Quick access to applications: With Dodo Tweak, you can easily add your favorite applications to the Lock Screen for quick access.
✅ Media recommendations: Dodo Tweak also provides media recommendations based on what app was playing music previously, making it easy for you to discover new music.
✅ Media player: The tweak also includes an integrated media player that allows you to control playback of music and other media from the Lock Screen.
✅ Weather: Dodo Tweak also allows you to check the weather from the Lock Screen, giving you a quick and convenient way to stay informed about the weather.
✅ Beautiful, smart, and customizable design: The tweak features a sleek and modern design that can be customized to match your personal style. It also offers a smart layout that makes it easy to navigate and use.
How To Add Dodo Tweak Repository
Dodo tweak is the ultimate way to personalize your iPhone's Lock Screen. Get it now for free through the GinsuDev Repo, compatible with latest jailbreaks such as Palera1n and XinaA15. With Dodo, you can access your favorite apps quickly, get media recommendations, control music playback and check weather, all with a beautiful and smart design.
To install Dodo on your jailbroken iOS device, simply add the GinsuDev Repo to your package manager such as Cydia, Sileo, Installer, Zebra or Saily and enjoy the new look of your Lock Screen.
Step 1 > Open Cydia on your jailbroken iOS device.
Step 2 > Tap on the "Sources" tab.
Step 3 > Click on the "Edit" button in the top right corner.
Step 4 > Tap on the "Add" button in the top left corner.
Step 5 > Enter the URL of the Dodo tweak repository.
⭐ Dodo Tweak Repo – https://ginsudev.github.io/repo/
Step 6 > Click on the "Add Source" button.
Step 7 > Cydia will now verify the repository and add it to your sources list.
Step 8 > Once the Dodo repository is added, you can now search for Dodo tweak within Cydia and install it on your device.
Step 9 > Restart your device to complete Dodo tweak installation.
Step 10 > Enjoy your new custom Lock Screen on your jailbroken iOS device.
Transform Your iPhone With Top Cydia & Sileo Tweaks For iOS
Looking for some cool new tweaks to add to your jailbroken iOS device? Look no further! We've got you covered with the latest and greatest tweaks for iOS 15 and 16.2 that are compatible with the XinaA15 and Palera1n jailbreaks. From customizing your Lock Screen to adding new features to your favorite apps, these tweaks will take your device to the next level. And with the easy-to-use Sileo package manager, installing them has never been easier. So why wait? Browse our collection of top jailbreak tweaks and give your device a whole new look and feel today!
🚀 Best Cydia / Sileo Tweaks Spot »
The Ulitmate Tweaks Repo Sources
If you're looking to customize your jailbroken iPhone or iPad, Cydia and Sileo are the go-to places for finding and installing the latest and greatest tweaks. These tweaks can range from simple cosmetic changes to your device's interface, to more advanced features that can completely transform the way you use your device.
With so many cool and unique tweaks available, you're sure to find something that suits your style and preferences. Whether you're a power user looking to boost your productivity or just want to make your device look and feel more like your own, there's a tweak out there for you.
🚀 Top iOS Tweaks Repo Sources »
What Is Dodo Tweak For iOS?
Dodo is a must-have jailbreak tweak for those looking to customize and personalize their Lock Screen on a jailbroken iOS device. With its sleek design, Dodo displays the time, weather, and quick access to your favorite apps and music controls, all in one convenient location. The tweak also allows for further customization through its dedicated preference in the Settings app, making it easy to tailor the Lock Screen to your specific needs. Compatible with iOS 14 and 15, Dodo is the perfect addition for those looking to elevate the look and functionality of their device.
Classic and Modular modes are offered by this Lock Screen tweak. Moreover, it provides users with a flexible display option, giving them the option to have the media player, the clock, or both widgets displayed on the Lock Screen. You now have the option to customize your Lock Screen experience. So every Dodo component can also have its own unique colors.
Dodo's high level of customization is one of its best features. You can customize the media player widget's appearance by choosing a theme for the playing buttons and changing the time and date font size, type, and color. You can completely individualize and personalize your Lock Screen with this level of customisation. You may have a Lock Screen with Dodo that is not only useful but also aesthetically pleasing.
Dodo is more than just a Lock Screen tweak, it's a personalization tool that gives you full control over the look and functionality of your iPhone's Lock Screen. With its ability to customize time formatting, display seconds, activate 24-hour mode, and set a custom time and date format, you can create a personalized Lock Screen that suits your needs.
The dedicated behavior page in the settings app makes it easy to manage your favorite apps, status indicators, and weather, while the favorite app section on the Lock Screen allows you to access frequently used apps with just a tap. Furthermore, Indicators for various system components such as mute, vibration, alarm, DND, charging, and lock icons are displayed above the clock, allowing you to toggle them on and off, and adjust their color. You can also adjust Lock Screen notifications offset to your liking.
With its impressive design, customizable options, and quick access to frequently used features, it provides a unique and personalized experience for iOS users. Whether you're looking to change the look of your Lock Screen or streamline access to your favorite apps. Dodo tweak that truly allows you to make your Lock Screen your own. So, if you're looking for a tweak that will help you customize your Lock Screen, Dodo is definitely worth checking out.
Frequently Asked Questions (FAQ) About Dodo
Is Dodo compatible with my iOS version?
Dodo is compatible with iOS 14 and iOS 15.
How do I install Dodo tweak?
To install Dodo, you need to add the GinsuDev Repo to your package manager.
Does Dodo have any customization options?
Yes, Dodo provides a lot of customization options. You can personalize the look of the Lock Screen by choosing between two modes, classic and modular, and by adjusting the color of each component. Also, you can customize the media player widget, the time and date formatting, and the favorite apps section.
Can I control the layout of the app's shortcuts on the Lock Screen?
Yes, you can adjust the grid size and number of columns of the favorite apps section on the Lock Screen.
Can I turn off some of the indicators displayed on the Lock Screen?
Yes, you can toggle on and off the indicators for various system components above the clock, such as a mute icon, vibration icon, alarm icon, DND icon, charging icon, and lock icon. You can also adjust the color of their respective icons.
Can I adjust the position of Lock Screen notifications?
Yes, there is a slider to adjust Lock Screen notifications offset.
What's New In Dodo Tweak
Different hooks have been replaced by notifications.
Instead of testing the statuses of various objects from classes, start using SpringBoard UserDefaults values.
Improving memory and thread management.
The color scheme for the charging indicators has been improved.
Enhanced media data retrieval.