Evyrest IPA For iOS Automatic Wallpaper Changer TrollStore And Jailbreak Users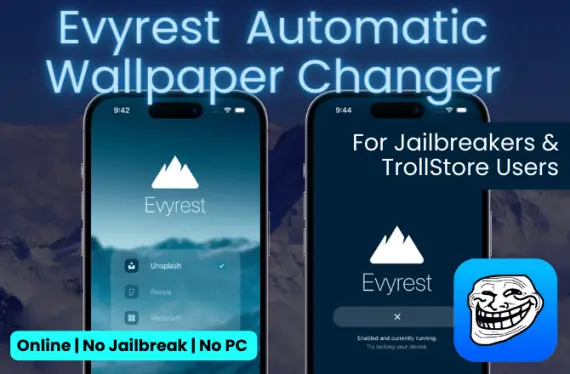 Evyrest for TrollStore is a game-changer for those who want to constantly update and personalize their device's wallpaper. The Evyrest for TrollStore app allows you to automatically search and download stunning wallpapers for your iPhone, based on keywords of your choice. With Evyrest, you'll never have to settle for the same old wallpaper again. Evyrest for TrollStore automatically replaces your wallpaper with a new image on a schedule or even at random intervals. Evyrest is a great tool for those who want to give their device a fresh new look without having to manually search for and set new wallpapers. Not only it's free but also compatible with jailbroken and TrollStore devices, making it accessible for a wide range of users.
Evyrest Automatic Wallpaper Changer for a customized and unique home screen experience!
Download Evyrest IPA For iOS
Benefits Of Evyrest: The Ultimate Automatic Wallpaper Changer for iOS
✅ Constant variety: With Evyrest, your wallpaper will be automatically changed, which means you'll never get bored of looking at the same image every day.
✅ Customizable options: You can search for wallpapers based on keywords, ensuring that you only get the images you want.
✅ Compatibility: The app is compatible with devices running iOS 14 up to iOS 15, including non-jailbreak devices.
✅ Save time: No need to manually search for and set new wallpapers every day, Evyrest takes care of it for you.
✅ Personal touch: A beautiful wallpaper can give a personal touch to your device, and Evyrest makes sure you always have the perfect one.
✅ Easy to use: The installation process is simple and straightforward, even for those who are not tech-savvy.
✅ Free of charge: Evyrest is completely free to download and use.
✅ No Jailbreak needed: Evyrest is compatible with TrollStore, which means no jailbreak is required and it can be installed on non-jailbreak devices running on iOS 14.0 up to iOS 15.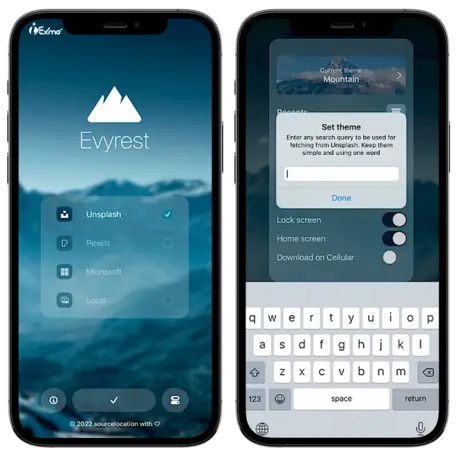 How To Download Evyrest IPA Via TrollStore
Evyrest for TrollStore is an innovative app that allows users to easily customize the look and feel of their iPhone by automatically downloading and changing their wallpaper. The app is specifically designed for devices running on iOS 14 and iOS 15, and it's available as an IPA package that can be installed on non-jailbroken devices using the TrollStore permanent IPA installer. This makes it easy for users to enjoy the benefits of Evyrest without having to go through the hassle of jailbreaking their device. With Evyrest, users can quickly and easily search for and download beautiful wallpapers by keyword, ensuring that they never get tired of looking at the same old wallpaper again.
Installing Evyrest for iOS via TrollStore is a straightforward process that only takes a few steps.. Here's a Evyrest step-by-step guide on how to do it:
Step 1: First, you'll need to have the TrollStore IPA installer for iOS installed on your iPhone. If you haven't already, you can find the installation instructions on the TrollStore.
Step 2: Next, you'll need to download the Evyrest IPA file from the above download button.
Step 3: Once you've located the Evyrest IPA file in the Files app, you'll need to send it to the TrollStore app.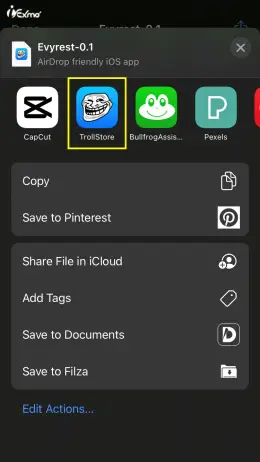 Step 4: After sending the file to TrollStore, the app will begin to install Evyrest on your iPhone.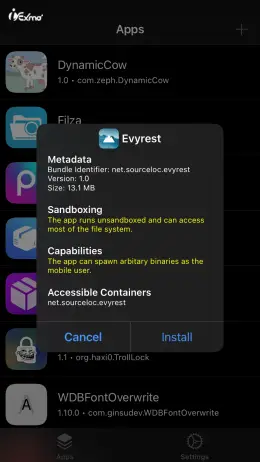 Step 5: Once the installation is complete, you'll be able to access Evyrest from your iPhone's home screen. The app should be fully functional and ready to use.
By following these steps, you'll be able to install Evyrest for iOS on your device via TrollStore, and take advantage of the powerful features this app offers.
Evyrest Compatibility
If you're interested in using Evyrest on your iOS device, it's important to check if it's compatible with your specific version of iOS and device model. Luckily, TrollStore offers a free compatibility checker that makes it easy to determine if Evyrest will work on your device. This way, you can ensure that you'll be able to take full advantage of all the features and benefits that Evyrest has to offer, without any issues or compatibility problems.
Evyrest Support iOS Versions And iOS Devices
Must-Have TrollStore Support Apps For Enhanced iOS Experience
If you're looking to take advantage of all the features and customization options available on your jailbroken iOS device, then you need to check out the best TrollStore support apps. These apps are designed to work seamlessly with the TrollStore app, which allows you to install powerful tools and resources on your iPhone or iPad.
With these TrollStore apps, you'll be able to fully customize your device and make the most of its capabilities. So don't wait any longer, check out the best TrollStore support apps now!
Top TrollStore Support Apps To Try »
What Is Evyrest For iOS?
One of the best things about Evyrest is its ability to automatically change your wallpaper at a set interval. This means you don't have to manually change your wallpaper every day or even every week. Instead, the app will automatically rotate through the wallpapers you've downloaded, giving you a fresh, new look every time you use your device.
Another great feature of Evyrest is the ability to search for wallpapers by keyword. This allows you to easily find wallpapers that match your style or mood. You can search for keywords like "ocean," "sunset," or "city" and Evyrest will return a selection of relevant wallpapers for you to choose from.
Evyrest also allows you to set the wallpapers as your Lock Screen or Home Screen background. This means you can have a different wallpaper on your Lock Screen and Home Screen, giving you even more customization options.
Evyrest app also offers a range of basic features to enhance your wallpaper experience. In the app's settings, you can adjust the cache size, toggle downloads over cellular, and enable the option to change your Lock Screen and Home Screen background. Additionally, you can save your downloaded wallpaper images to the Photos app for easy access.
Overall, Evyrest is an excellent wallpaper app that offers a lot of customization options and the ability to automatically change your wallpaper. If you're looking to spice up your device's look, give Evyrest a try.
Who Developed Evyrest Automatic Wallpaper Changer?
It's clear that Matthew Anisovich @sourcelocation is a talented developer who has made a name for himself in the iOS community. He has created a number of apps that are widely used and respected among users, including Evyrest, TrollTools, DebToIPA, and Appabetical. These apps are all available for download through TrollStore, and they offer a wide range of features and functionality to users.
Evyrest, in particular, is a great example of Matthew's ability to create useful and user-friendly apps. It allows users to automatically change their wallpaper, and it sources its images from Unsplash, with the plan to expand it to Pexels, Microsoft and even user's device's saved images. This makes it an ideal solution for those who want to keep their device looking fresh and new.
Unfortunately, Matthew recently announced that Evyrest for TrollStore is his final project, as he is unsure of what to create next. While it is disappointing to hear that he will not be creating more apps, we are grateful for all the tools and resources he has provided to the iOS community through his work. He may continue to develop jailbreak tweaks, it's not clear yet.
Evyrest Automatic Wallpaper Changer Source Code
Evyrest, developed by Matthew Anisovich, is not just an ordinary app. It's an open-source project, which means that the code is available for anyone to view, modify, and use. This is a great opportunity for anyone who wants to learn iOS programming, as they can take a look at how the app was built and understand the logic behind it. The source code for Evyrest is available on Matthew's private GitHub repository, named sourcelocation/Evyrest, and it's published under the GNU General Public License v3.0. The app was written in Swift programming language, which is a modern and powerful language for developing iOS apps. With the source code available, users can also suggest features, report bugs, and make contributions to the project.
What's New In Evyrest