iNDS IPA Download Nintendo DS Emulator For iOS iPhone, iPad Or iPod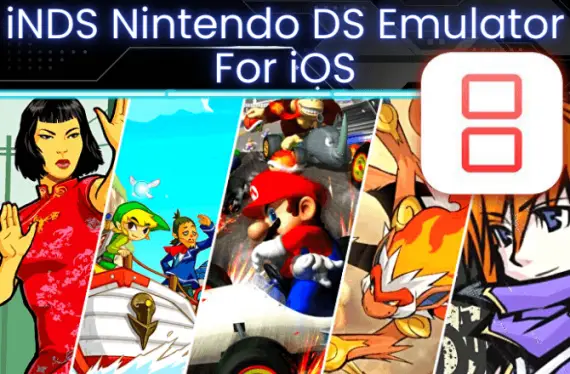 With the iNDS IPA download, you can get the ultimate gaming experience for iOS users on your iPhone, iPad, and iPod touch. The Nintendo DS has been a household name for gamers, with over 154 million units sold worldwide. Its impressive library of over 1790 titles has kept players entertained for years. But now, with the iNDS IPA emulator download, players can relive their favorite Nintendo DS games on their iOS devices. No need to dust off your old console, simply download the iNDS IPA and start playing.
iNDS For iOS: A Game-Changer For Nintendo DS Fans
Latest iNDS Emulator IPA Download
iNDS For Jailbreak DEB Package
iNDS Nintendo DS Emulator Features
✅ Play Your Favorite Nintendo DS Games Anywhere, Anytime: With iNDS IPA file download for iOS, you can play all the games from the Nintendo DS console on your iPhone or iPad, making it easier for you to enjoy your favorite games on the go.
✅ Enhance Your Gaming Experience: iNDS emulator IPA offers a range of customization options, including adjusting the control pad style, controller opacity, haptic feedback, and touch screen, giving you the ultimate gaming experience.
✅ Improve the Visual Quality of Games: The video filtering options available in iNDS latest IPA can improve the sharpness of the picture, making the games look better on your iOS device.
✅ High-Speed Emulation: The iNDS IPA games for iOS uses the DeSmuME threaded ARM interpreter to provide efficient emulation, running at near full speed on newer iOS devices.
✅ Open-Source Project: The source code for iNDS IPA is available through a GitHub repository, allowing developers to contribute to its improvement and growth.
✅ No Jailbreak Required: iNDS IPA can be installed on all iOS versions starting from 9.0, without requiring a jailbreak.
✅ Advanced Settings: The app also has advanced settings that provide additional customization options, such as skipping frames, advanced bus timing, and switching between different emulator engines.
✅ FPS Display: iNDS IPA displays the current frames per second (FPS) for performance measurement, allowing you to monitor the performance of the app.
✅ Full-Screen Gameplay: Enjoy your Nintendo DS games in full-screen mode, giving you an immersive gaming experience.
✅ Accessible on the Home Screen: Once installed, iNDS IPA can be easily accessed from the Home Screen, making it convenient for you to start playing your favorite games.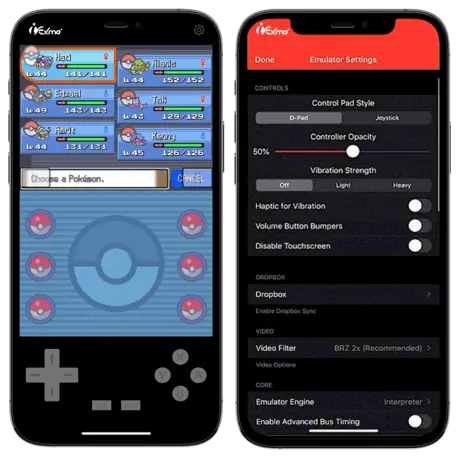 The Best iOS Emulators Collection
The world of iOS emulation is vast and ever-growing, with a variety of options available for those who seek to enjoy the magic of classic gaming or run outdated applications. From Nintendo DS to GameCube and Wii, there's a range of top-notch emulators that will transport you back in time, allowing you to relive the glory days of mobile gaming.
Whether you're seeking an emulator that's tailored for speed, compatibility, or ease-of-use, there's sure to be one that fits your needs. So, let's take a journey into the realm of the best iOS emulators and see what wonders await us.
🚀 Top iOS Emulator IPA Library »
iNDS Emulator iOS Compatibility
The iNDS nintendo DS emulator is innovative software that can be installed on a wide range of iOS devices, stretching from the earliest version of iOS 9 all the way up to the latest release of iOS 16. iNDS Emulator supports iNDS iOS 9, iNDS iOS 10, iNDS iOS 11, iNDS iOS 12, iNDS iOS 13, iNDS iOS 14, iNDS iOS 15, and iNDS iOS 16. Whether you have an older device or the latest iPhone, the iNDS nintendo DS emulator iOS has you covered, making it possible to experience the classic Nintendo DS games on any compatible iOS device.
How To Download iNDS IPA Via AltStore
When it comes to running the iNDS nintendo DS emulator download on an iOS device, there are a few different options available to users. One popular method is to sideload the iNDS IPA using a tool like AltStore, which is compatible with both macOS and Windows. This allows users to install the emulator without needing to jailbreak their device. Another option is to use SideStore, which is an on-device IPA installer that doesn't require a computer. However, if you want to ensure the best performance and run the emulator at full speed, it is recommended to use AltStore and enable AltJIT. This will ensure that the Nintendo DS emulator pokemon games is running at optimal efficiency.
To install the iNDS IPA on your iOS device using AltStore, here is a step-by-step guide to follow:
Step 1: Obtain the iNDS IPA file by downloading it from the above download button provided.
Step 2: Launch the AltServer application on your PC.
Step 3: Connect your iPhone or iPad to the computer using a USB cable.
Step 4: Use the Alt or Option key to click on the system tray icon in order to sideload the IPA.
Step 5: Input your Apple ID and password to sign the iNDS IPA file.
Step 6: Open the Settings app from your device's home screen.
Step 7: Navigate to "General" then "VPN & Device Management".
Step 8: Locate the developer app associated with your email and click on it.
Step 9: Tap "Trust" to authorize the app to run on your device.
Step 10: Click on the AltServer system tray icon and enable JIT.
Step 11: Open the iNDS app and start playing your favorite Nintendo DS games on your iOS device.
How To Install iNDS IPA Via Sideloadly
For those looking to experience the Nintendo DS on their iOS devices, the iNDS emulator is the perfect solution. Unleash the full potential of your iOS device by installing the iNDS IPA through Sideloadly. Follow these easy steps to enjoy your favorite Nintendo DS games on your iPhone or iPad.
Step 1: Obtain the Sideloadly application for Windows or macOS. Launch the program once downloaded.
Step 2: Connect your iOS device to your computer using a USB cable. Drag the iNDS IPA file into the Sideloadly tool. (Download iNDS IPA from above)
Step 3: Enter your Apple ID and password to sign the iNDS IPA file.
Step 4: Complete the verification process, also known as two-factor authentication.
Step 5: Wait for the installation process to complete.
Step 6: Go to your device's Settings, navigate to the "Profiles and devices management" section, and trust the developer.
Step 7: You have successfully installed the iNDS IPA via Sideloadly. Open the iNDS app and start playing your favorite Nintendo DS games on your iOS device. Enjoy!
How To Install iNDS IPA Without PC Online | Nintendo DS Emulator Online
Are you looking for a way to install the iNDS IPA on your iOS device without the need for a computer? Look no further! Here are the simple steps to get nintendo DS emulator online:
Step 1: Download the Appcake or Trollstore app on your iOS device. These apps allow you to install IPA files without the need for a computer.
🚀 How To install IPA App With TrollStore » 
Step 2: Once the Appcake app is downloaded and installed, search for the iNDS IPA file within the app.
Step 3: Click on the iNDS IPA file to begin the installation process.
Step 4: Wait for the installation to complete, and then navigate to the device's settings to trust the developer of the app.
Step 5: And that's it! You can now open the iNDS app and start playing your favorite Nintendo DS games on your iOS device.
By using Appcake or Trollstore, you can easily install the iNDS IPA on your iOS device without the need for a PC. These apps provide a simple and convenient way to sideload apps on your device. Happy gaming!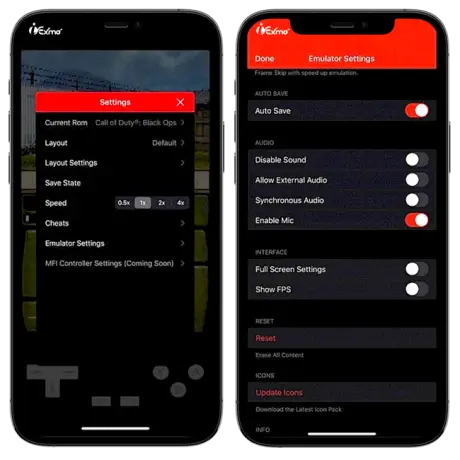 The Best Nintendo DS Games With iNDS DS Emulator
When the Nintendo DS was first introduced, many gamers were skeptical of its potential success. Initially marketed as a "third pillar" alongside the Game Boy Advance and Gamecube, the DS was seen by some as nothing more than a gimmick. However, Nintendo's decision to include a second screen on the device ended up being a stroke of genius, as it went on to become the company's most successful console ever, with a library of games that is considered to be among the best in gaming history.
Despite initial skepticism, the Nintendo DS proved to be a massive hit. Its final sales figures made it the most successful console in the company's history, both in terms of handhelds and traditional consoles. The unique addition of a second screen opened up new possibilities for gameplay and developers quickly took advantage of this, resulting in one of the greatest game libraries of all time.
For anyone looking to relive the glory days of the Nintendo DS, the iNDS emulator is a must-have. These are the games that defined the console and should be at the top of any must-play list for the iNDS emulator.
☑️ Mario Kart DS – Nintendo raises the bar for their beloved racing franchise with their 5th main game. The first game to allow players from all over the world to race against each other, featuring new items and battle mode, 16 brand-new tracks and 16 retro tracks, plus an exclusive Mission Mode.
☑️ Grand Theft Auto: Chinatown Wars – Rockstar takes a bold step in shipping a drug-dealing simulator on the Nintendo DS. The real drive of the game is a well-polished revenge story with memorable missions and excellent use of the DS features, such as using the stylus to break into vehicles or whistle into the mic to hail a cab.
☑️ Osu! Tatakae! Ouendan – A rhythm-action game that stands out among the rest, using the DS stylus to power a cheerleading squad in a unique and entertaining way.
☑️ Advance Wars: Dual Strike – A fantastic strategy game, the first in the series to let you take two Commanding Officers into battle, with a range of new units and COs, and the ability to wage war across both screens during certain battles.
☑️ Mario & Luigi: Bowser's Inside Story – The DS boasts a plethora of great RPGs, but none can match the brilliance of Nintendo's dynamic duo.
☑️ Professor Layton and the Unwound Future – This third game in the popular puzzle series is the best one to date. With over 160 different puzzles to solve, Professor Layton and Luke's new adventure impresses with its cleverness and diversity.
☑️ Castlevania: Dawn of Sorrow – This is the best of the three Castlevania games for the DS. The touchscreen uses are poorly implemented, but everything else is pure Metroidvania and it's a worthy follow-up to the GBA hit, Aria of Sorrow.
☑️ Ghost Trick: Phantom Detective – This excellent adventure game was created by the same developer as the Phoenix Wright games.
☑️ Bangai-O Spirits – This chaotic shoot-em-up game from Treasure is a must-have for DS owners. The game's absurd plot and insane amount of missiles will keep players on their toes with inventive curveballs that ensure no two levels ever feel the same.
☑️ New Super Mario Bros – This 2006 game marked a return to form for the popular plumber. With cleverly constructed levels and new power-ups like the mega mushroom and mini mushroom, players were delighted by the return of traditional side-on Mario adventures. The game sold 30 million copies.
☑️ Pokemon Black & White – A Fresh Take on a Classic – Pokemon Black & White marked a new beginning for the popular franchise, with a radical overhaul that was received well by fans. The game introduced new battle mechanics, including the ability to use three Pokémon at once and rotate battles, which added a new level of strategy.
☑️ Chrono Trigger – A Timeless RPG -Chrono Trigger is one of the best JRPGs of all time and is a must-play for every gamer. The DS version, while rising in price, is still an affordable alternative to the US SNES release and includes many enhancements such as touch screen controls and quality-of-life tweaks.
☑️ Tetris DS – Classic Fun with a Twist – Tetris is known for its timeless gameplay, and the 2006 release of Tetris DS took it to a new level.
☑️ Phoenix Wright: Ace Attorney – A Smug Courtroom Adventure – The original game was chosen for this list as it introduces many characters who appear in later games and offers a solid improvement over the GBA original.
☑️ Kirby: Canvas Curse – A Unique Kirby Adventure – Kirby's first adventure on the DS was a unique take on the popular franchise, with a new control mechanic that made the game stand out. Instead of controlling Kirby directly, players use their stylus to create rainbow paths for him to follow.
☑️ Planet Puzzle League – A must-play puzzle game from Intelligent Systems, known as Panel De Pon in Japan. With a variety of gameplay modes and challenging multiplayer options, you'll be hooked on matching colored tiles into groups of three or more.
☑️ Nine Hours, Nine Persons, Nine Doors – A visual novel adventure from Chunsoft, known for its expertly crafted story, captivating puzzles, and multiple playthroughs. With its twists and turns, it's a slice of brilliance, despite never receiving a European release.
☑️ The World Ends With You – A collaboration from Square Enix and Jupiter, the unique combat system sets this modern-day styled game apart. With combat taking place across the two screens, it's a maddening, but satisfying experience.
☑️ Animal Crossing: Wild World – A cute and customizable world of anthropomorphic critters that works exceptionally well on a handheld. With online aspects and the ability to go fishing or dig up fossils, you'll never waste your spare time.
☑️ WarioWare Touched! – A stylus-based collection of mini-games from Nintendo with a greater sense of style than Project Rub. With a variety of silly games, from prodding cats to controlling remote control cars, you'll be entertained for hours.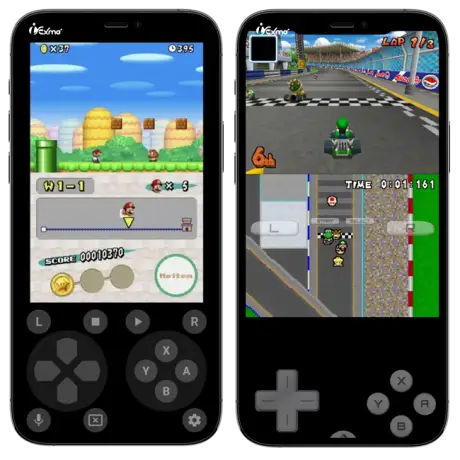 iNDS IPA Package
iNDS for iOS can be found in two forms for jailbroken devices, an IPA package and a DEB package. After you sideload the IPA package on your jailbroken device running iOS 9 to iOS 16, the Nintendo DS emulator is just a tap away on the Home Screen.
What Is iNDS DS Emulator?
Do you remember playing classic games like "New Super Mario Bros" or "Pokémon Diamond and Pearl" on your Nintendo DS? Well, now you can relive those memories on your iPhone or iPad with iNDS, a popular Nintendo DS emulator.
Built on the foundation of previous Nintendo DS emulators like nds4ios and Nitrogen, iNDS offers a seamless gaming experience on iOS devices running iOS 9.0 and up. It leverages the DeSmuME threaded ARM interpreter to provide fast emulation, capable of running games at near full speed on devices like the iPhone 5 and above. Unfortunately, older devices with only 256 MB of RAM are not compatible due to the need to map the entire ROM into memory.
Aside from customizing your gaming experience, iNDS also provides advanced settings for those looking to enhance their emulation experience even further. This includes the ability to speed up emulation by skipping frames, adjust advanced bus timing, and switch between different emulator engines. With the option to display FPS for performance measurement and full-screen support, iNDS truly offers an immersive gaming experience.
iNDS allows you to emulate the Nintendo DS's unique dual display feature on your iOS device's screen. You can customize your gaming experience by adjusting the control pad style, opacity of the controller, enabling vibration and haptic feedback, and disabling the touch screen. The app also provides video filtering options to improve the visual quality of your games, though these may affect performance. These filters range from low to high quality, so you can find the perfect balance between quality and performance.
In conclusion, iNDS for iOS is a must-try for any fan of Nintendo DS games. Its customization options and advanced settings allow you to relive your favorite games in a new and improved way.
iNDS DS Emulator GitHub Source Code
iNDS, the Nintendo DS emulator for iOS, was launched as an open-source initiative, with its source code readily accessible via a GitHub repository. The creators of this emulator, who hail from various backgrounds, utilized a blend of programming languages including Objective-C, C, Objective-C++, and C++ to build it. This mixture of languages opens up opportunities for many developers to chip in and make upgrades to the emulator, making it even better with time.
The Perfect iNDS Nintendo DS Emulator Alternatives
Delta Emulator For iOS
If you're struggling with low frame rates during your Nintendo DS gaming experience on iNDS, the Delta Emulator could be the solution. This emulator operates using JIT mode, offering smoother gameplay and improved performance compared to others. But keep in mind, performance will vary with the device you're using and the game you play. The latest devices are suggested.
Dolphin Emulator For iOS
DolphiniOS is a strong emulator that offers you the chance to enjoy GameCube and Wii games on your iPhone or iPad. It's simple to use, compatible with all iOS versions starting from 12.0, and it doesn't require a jailbreak.
How to install iNDS?
iNDS is distributed as an IPA package that can be sideloaded on jailbroken iOS 9-iOS 16 devices. The package can be installed by downloading it and following the steps for installation.
Is iNDS safe to install?
Yes, iNDS is completely secure to download and install on your iPhone, iPad or iPod Touch. Our team has thoroughly tested the application, making it simple to both download and remove from your device's system.
What devices is iNDS compatible with?
iNDS is compatible with jailbroken iOS 9-iOS 16 devices, including iPhones and iPads.
Is iNDS open-source?
Yes, iNDS was released as an open-source project with its source code made available through a GitHub repository, encouraging contributions and improvements from developers.
Can iNDS work on both jailbroken and non jailbroken iOS devices?
Yes, iNDS is designed to work on both jailbroken and non jailbroken iOS devices, offering users flexibility and convenience.
Can you play Nintendo DS games on an iPhone?
Yes, you can easily enjoy all your favorite Nintendo DS games on your iPhone by downloading a free emulator such as iNDS. In this article, you will find all the necessary information on the app.
Is iNDS only compatible with jailbroken devices?
No, iNDS is not exclusively for jailbroken devices, it can also be used on non jailbroken iOS devices.
Which is better, iNDS or nds4ios?
In our professional opinion, iNDS is the best Nintendo DS emulator available for iOS 13. The app provides all the features required to play console games for free and is unrivaled in its abilities.
Is DolphiniOS a better option compared to iNDS?
DolphiniOS is a powerful emulator that allows you to play GameCube and Wii games on your iDevice, but it doesn't support local multiplayer or netplay. So, it depends on your specific needs and the type of games you want to play.
Is jailbreaking required to use iNDS?
No, jailbreaking is not necessary to use iNDS. The emulator is compatible with both jailbroken and non jailbroken devices.
Are there any compatibility issues with iNDS?
The performance of iNDS may vary based on the device and the game you are playing. It is recommended to use the latest devices for the best experience.
How do I sync iNDS with Dropbox?
To sync iNDS with Dropbox, navigate to the emulator's settings page and find the Dropbox section. Here, you can enable Dropbox synchronization and log in to your Dropbox account to allow iNDS to start uploading your saved games to a folder called "iNDS."
Are there any working DS emulators for iOS?
Yes, there are working Nintendo DS emulators for iOS, one of the most popular being iNDS. It is an open-source emulator that can be installed on jailbroken iOS devices, from 9 to 16.
How do I enable Dropbox sync on my iPhone for iNDS?
To enable Dropbox sync on your iPhone for iNDS, simply allow the emulator access to your Dropbox account. Go to the iNDS settings page, enable Dropbox sync, and log in to your Dropbox account. From then on, all game saves will be automatically synced.
Why are there so few DS emulators on iOS?
Developing an emulator that is compatible with the iOS operating system is a complex and challenging process, which is why there are fewer Nintendo DS emulators available for iOS compared to other platforms.
What is the best DS emulator?
The best Nintendo DS emulator is subjective and can vary depending on personal preferences and requirements. However, iNDS is a popular choice among users due to its stability, compatibility, and ease of use.
Why isn't iNDS working?
It may happen that if you attempt to download iNDS without using a computer, the app may not open due to revoked certificates. In these cases, try again a few hours later or the next day. For reliable results, try sideloading the IPA file.
Can you play Nintendo DS games on iPhone?
Yes, you can play Nintendo DS games on your iPhone using a Nintendo DS emulator, such as iNDS. Once installed, you can access the emulator from the home screen and start playing your favorite DS games on your iPhone.
How do I update the iNDS emulator?
Updating the iNDS emulator to the latest version is easy. If you used Cydia to install the app, you will receive notifications about new releases through the package manager. If you signed the app with IPA files, simply re-install the newest version.
How do I backup iNDS?
iNDS only provides the option to backup your game saves. For a full backup of game files, use desktop software such as Tongbu Assistant or 3uTools.
How to delete iNDS from my device?
If you installed iNDS through AltStore, simply delete the app from your home screen like any other app. If you have a jailbroken device, go to your list of packages in Cydia, open iNDS, and remove it from there.
What's New In iNDS Emulator
iNDS Version 1.10.8
System for fixed cover art.
Corrected compilation issues.
iNDS Version 1.10.7
Fixed compatibility with Dark Mode.
Status bar persistence was fixed.
iOS simulator controls were fixed.
On current iPhones, the landscape design is fixed.
iNDS Version 1.10.6
iOS 13 regression fault while using Simplified Chinese has been fixed.
iNDS Version 1.10.5
Repair iOS emulator crashes on iOS 13.
iNDS Version 1.10.4
The layout editor slider now includes layout limitations.
iOS 13 Dropbox synchronization has been fixed.
iOS 13 compatibility was fixed.
background UI crashes were resolved.
iNDS Version 1.10.3
The Icon Update button was added to the settings.
filtered OpenVGDB such that only NDS games were included.
Advanced Bus Timing has been included as a setting.
Depth Comparison Threshold slider has been added to options.