IPA Ranger For Download IPA Files Directly from the App Store – The First GUI Application For IPATool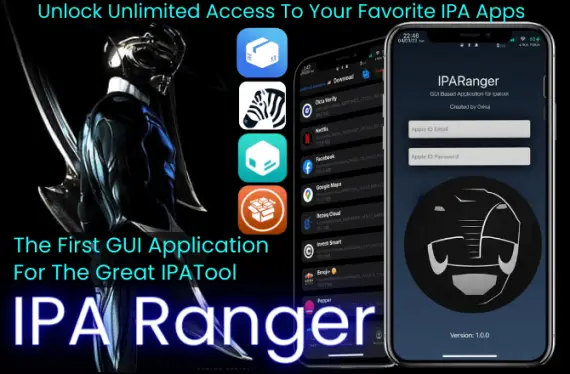 IPARanger is the first GUI application designed for the powerful ipatool. By providing a user-friendly interface, this app enables easy interaction with ipatool. With IPARanger, you can effortlessly download any IPA file from the App Store. Unlike other IPA download tools, IPARanger stands out with its unique approach, allowing users to access and download IPA files directly from the App Store.
Features Of IPA Ranger
🔒 Securely login to any of your Apple accounts
🗺️ Choose and search any country's App Store for apps
🔎 Easily find bundleIDs for apps you want to download
📥 Download IPA files from your account's country
📲 Install IPAs directly on your device (requires appsync)
🚀 Manage downloaded IPA apps
📝 Rename IPA files for easier organization
🤝 Share IPA files with others
🗑️ Delete any unwanted IPA files from your device
IPA Ranger iOS Compatibility
IPA Range is support iOS 13.0 – iOS 15.7.3 (Jailbreak Required)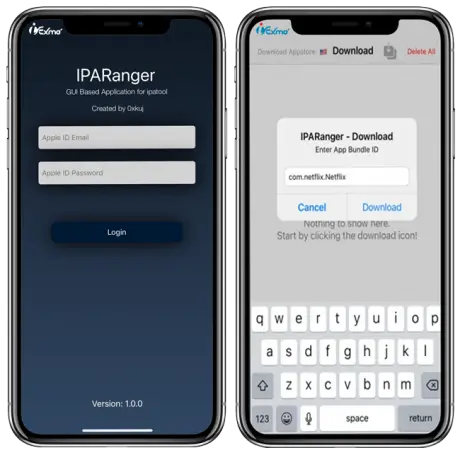 Find The Right Jailbreak Tool With The Best AI-powered Jailbreak Finder
Choosing the right jailbreak tool for your iOS device can be overwhelming, but with The Best AI-powered Jailbreak Finder, it's easy. Simply jailbreak your device and install IPA Range, then let the powerful AI technology analyze your device and recommend the best jailbreak tool for you.
Get started today and enjoy a safe and successful jailbreak experience with The Best AI-powered Jailbreak Finder.
Try The Best AI-powered Jailbreak Finder Now! »
How To Add IPA Ranger Repository
IPA Ranger is a useful package that can be obtained from the Havoc Store for $0.99. However, if you are willing to wait, it will be offered as a free package in the near future. Furthermore, the developer plans to release the source code of IPA Ranger on a GitHub Repository, allowing users to view and modify the code as they see fit. Keep an eye out for this innovative tool and the upcoming changes that will make it even more accessible.
To install IPA Ranger using Sileo, follow these easy steps:
Step 1 > Open the Sileo app from your Home Screen or any other package manager such as Cydia, Installer or Zebra.
Step 2 > Tap on the Sources tab, then select the Edit button.
Step 3 > Add the following repository.
💚 IPA Ranger Repo URL: https://havoc.app
Step 4 > Search for IPA Ranger and tap on the Install button to install the package.
Step 5 > Sileo will ask you to respring your device to complete the installation.
Step 6 > Once the installation is complete, you can find the IPA Ranger app on your Home Screen. Simply tap on it to open and start using it.
Get Latest IPA Files Without Jailbreak Using iExmo IPA Store
iExmo IPA Store is the world's largest library of IPA files that updates on a daily basis. It offers a wide range of IPAs for iOS devices without the need for jailbreak.
Unlike IPA Ranger, iExmo IPA Store is completely free and provides a secure and legal solution for downloading IPAs directly from Apple servers. With iExmo IPA Store, users can access the latest versions of their favorite apps without any compatibility issues.
What Is IPA Ranger Tweak App?
IPA Ranger is an exceptional mobile application designed specifically for jailbroken devices, which is based on the potent IPA downloader, IPATool.
This app is a true game-changer, as it allows users to log into the App Store and download IPA files straight from Apple servers, regardless of whether or not the app is supported for the current iOS version. This incredibly useful feature makes it easy for users to access their purchased apps without being limited by compatibility issues.
The powerful IPATool is a command-line tool that enables users to search for iOS apps on the App Store and download a copy of the app package, which is also known as an IPA file.
This IPA Ranger tool is compatible with Windows, Linux, macOS, and iOS. Once it detects an app, it downloads an encrypted IPA file. Additionally, it can also be used to purchase apps from the App Store that are connected to your Apple ID.
To simplify this process even further, 0xkuj has released the incredibly user-friendly IPA Ranger app, which perfectly complements IPATool for iOS. With this app, users can browse, download, and install IPA files on their jailbroken device without using the command line, making it even easier to access purchased apps quickly and efficiently.
Aside from its powerful search and download capabilities, IPA Ranger also includes a range of helpful features that allow users to manage all downloaded apps. With IPA Ranger, users can install IPA files directly onto their jailbroken device (requires AppSync Unified), eliminating the need for computer-based tools. The app works with all modern jailbreaks running iOS 13 – iOS 15.
It's important to note that IPA Ranger supports 2FA accounts, so it's essential to ensure that a device is connected to the Apple ID that users are trying to connect to in order to get the 2FA prompt.
Moreover, IPA Ranger allows users to rename IPA files, which makes it easy to organize and identify downloaded apps. The IPA Ranger app also includes a sharing function, which enables users to quickly share downloaded IPA files with friends. While IPA Ranger is compatible with the latest iOS 15 operating system, it should be noted that the app does not work with XinaA15 jailbreak.
Unlike other IPA downloading apps such as Panda Helper Lite or iOSGods, IPA Ranger does not allow users to download pirated or cracked IPA files. Instead, the app provides a secure and legal solution by automatically downloading encrypted IPA files directly from the App Store.
By offering IPA Ranger advanced features, IPA Ranger is quickly becoming a must-have tool for iOS enthusiasts who value flexibility and easy access to purchased IPA files. Its innovative design and remarkable features make it an excellent addition to any jailbroken device.
Using IPA Ranger On Jailbroken Devices
If you're planning on using IPA Ranger on your jailbroken iOS device, there are a few important things you need to know. Here are the key points to keep in mind:
✅ IPA Ranger has been tested on a variety of jailbreaks, including Taurine iOS 14, unc0ver iOS 13, unc0ver iOS 14, and palera1n iOS 15.
✅ Your Apple ID password is never saved on your device or anywhere else. It's sent directly to Apple servers for authentication, so you can rest assured that your login credentials are secure.
✅ IPA Ranger supports 2FA accounts, but it's important to note that you need to have a device connected to the Apple ID you're trying to connect to in order to receive the 2FA prompt. SMS is not supported, so make sure you have access to your device before attempting to log in.
✅ Finally, it's worth mentioning that IPA Ranger is not supported on the Xina15 jailbreak. If you're using this jailbreak, you'll need to find an alternative IPA downloader.
IPA Ranger is a powerful tool that makes it easy to download and install IPA files on your jailbroken iOS device. Just be sure to keep these important notes in mind to ensure a smooth and secure experience.
Who Create IPA Ranger Tool
IPA Ranger is a revolutionary app created by 0xkuj @omrkujman, who developed a user-friendly GUI interface for the powerful ipatool. With IPA Ranger, downloading IPAs directly from the AppStore using your Apple ID has never been easier. Get the app now and experience the ultimate convenience!.
What's New In IPA Ranger
IPA Ranger Version 1.8
For rootful first-time users, the issue of the country not changing has been successfully addressed.
In the IPA Ranger rootful version, the dependency on appsync unified has been eliminated. This change is based on the realization that this dependency was unnecessary from the beginning.
IPA Ranger Version 1.7
Fixed the crash related to bold font.
Fixed search commands sometimes fail on rootless jailbreaks.
IPA Ranger Version 1.5
Hopefully fixed all login issues.
This IPA Ranger update is only relevant for rootless jailbreaks. Please use version 1.4 if you have a rootful jailbreak.
IPA Ranger Version 1.4
IPA Ranger support for rootless jailbreaks.
Fixed crash when trying to share certain IPAs on iPads.
Added new dependency – plutil. Easier to manage info related to ipa.
Special thanks to singlekeycap for the suggestion to use posix_spawn.
IPA Ranger Version 1.3
Fixed a crash that occurred when attempting to install or share an app in the downloads section on iPads.
IPA Ranger Version 1.2
Fixed date formatting issues.
Resolved some login issues.
Performed code cleanup for better performance.
IPA Ranger Version 1.1
Added support for passwords with special characters.
Included an "eye" button that allows users to reveal their password while typing, ensuring they entered it correctly.