iPogo Pokemon Go Spoofer Download For iOS 16 / iOS 15 / iOS 14 | Complete Guide Using iPogo For Pokemon Go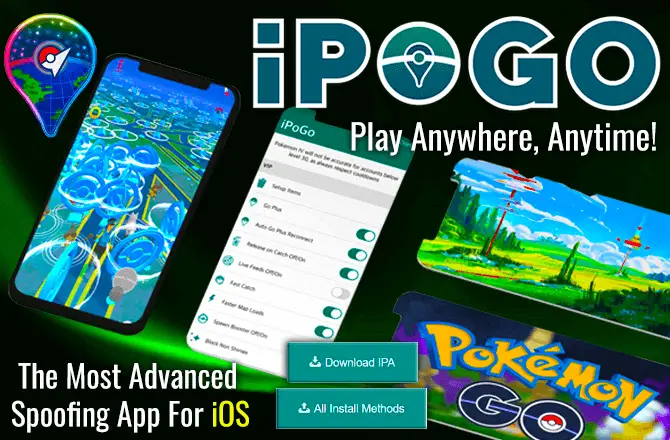 iPogo is the greatest iOS Spoofing solution for the Pokemon Go iOS app. Using Sideload, download the iPogo IPA file and sign pokemon go spoofing, or install the jailbreak tweak on iOS 14. iPogo iOS is a PokemonGO++ mod that allows players to easily modify the GPS location just on a map without having to physically walk to the place. Sniping is a technique for catching a pokemon go spoofers that is far away from your current position by using a teleport.
iPogo Download iOS – The Best Apps For Pokemon Go Spoofing
---
How To Install iPogo Pokemon Go Spoofer – iOS Installation Methods
You can now download the latest iPogo free download iOS, as well as install iOS 13, iPogo iOS 14, and iOS 15 on your iOS device. There are different ways to install iPogo for pokemon go iOS, but follow the most popular steps in 2022 for you to install iPogo on iOS or iPogo for android. You will receive a complete collection of tools from iPogo free download iOS to help you be the greatest version of yourself.
Jailbreak Tweak Method For Jailbroken Devices »
Install Pokemon GO++ For iOS »
iPogo Pokemon Go Spoofer No PC »
iPogo spoofer is the best Pokemon Go hack you can use if you have an iOS device and want to spoof your location in pokemon go iPogo. Although the iPogo download iOS app has become extremely powerful.
Install iPoGo IPA Pokemon GO Spoofer For iOS
How to install pokemon go spoofer iOS? Any iOS device running iOS 13 or higher can download and install the free iPogo IPA. Use a tool like Sideloadly, which needs a computer, to sideload the IPA file onto your iPhone, iPad, or iPod Touch. Install the pokemon go spoof iOS IPA using AltStore or Reprovision Reborn straight on the device if it's jailbroken.
Step 1 > Download iPogo iPA For iOS using Mac or Windows PC. (download)
Step 2 > Launch the Sideloadly app.
A sideloading tool for iOS is called Sideloadly. It is a simple Cydia Impactor alternative with strong advanced capabilities and a modest user interface. You can download here if you do not have Sideloadly.
Step 3 > Use USB to connect your iPhone or iPad to the Computer.
Step 4 > To sign an IPA file, type in your Apple ID.
Step 5 > Drag the iPogo IPA onto Sideloadly.
Step 6 > To sign an IPA file, click Start and provide your AppleID password.
Step 7 > Once finished installation go to Settings > General > Device Management > Trust the installer.
How Install iPogo Pokemon Go For Jailbroken Devices – Jailbreak Tweak Method
If you jailbreak your iOS device using Unc0ver and Checkra1n, those jailbreaks are fully supported by iPogo for pokemon go! Keep in mind that by following these methods, you can easily run iPogo on any jailbroken iPhone, iPad, or iPod Touch.
Step 1 > Install Pokémon Go IPA file using the above method.
Step 2 > Install iPoGo tweak.
Step 3 > Add iPogo Repo to the list of Cydia sources.
Step 4 > Install the vnodebypass tool and launch it from your home screen.
Step 5 > Now install "libkrw" from cydia IF iOS 14 Unc0ver.
Step 6 > Open vnodebypass > Select "Start iPoGo Launcher".
iPogo Pokemon Go for iOS won't launch after being installed on a jailbroken device. The app will launch and shut down instantly if you tap to run it. It happens because the app recognizes that the device is jailbroken. but with the help of Jailbreak Tweak Method, the problem has been resolved.
As of right now, iPogo Pokemon Go will function similarly to any other iOS app. The vnodebypass jailbreak bypass tool will hide the fact that your system is jailbroken from the Pokemon Go app and attempt to change the app.
The most popular update of iOS 14 is compatible with this iPogo jailbreak bypass tweak, but iOS 15 should also be supported soon. Use the Pokémon GO tweak to disable the Launcher once you've finished the game.
iPoGo Repository For Cydia | Pokémon GO Tweak
The Pokémon GO tweak iPoGoRepo is fantastic for play anytime, anywhere! Adding a new repository to Cydia Sources is simple and easy. Add iPogo Repository to your list of Cydia Repos and download iPogo Pokemon Go for iOS. On a jailbroken device it's required to also install a jailbreak detection bypass tweak like vnodebypass.
Step 1 > From your home screen, open the Cydia app.
Step 2 > Go to Sources > Edit > Add > iPoGo Repo URL.
iPoGo Repository – https://ipogo.app/repo
Step 3 > Cydia will now routinely update the packages that are accessible in the repository.
Step 4 > Type iPogo Pokemon GO in the Search Tab.
Step 5 > Then install the package.
How To Install Pokemon GO++ For iOS
iPogo is compatible with any latest iOS devices that aren't jailbroken. Pokemon GO++ is issued with an enterprise certificate that can be easily revoked, just like all other free third-party apps. You can still run this Pokemon GO++ app by using a proxy.
Step 1 > Open the System app > Select your Wifi Network > Configure Proxy > Automatic
Step 2 > Enter "http://ffapple.com" inside the URL box > Save.
Step 3 > Connect to your WiFi network again > Clear Safari history cache.
Step 4 > From your Safari browser, click Install iPogo.
Step 5 > When prompted, "ipogo.app would like to install iPogo for POGO," > Tap Install.
Step 6 > You can see that an icon for the iPogo app will show up on your home screen.
Step 7 > Navigate to Settings > General > Device Management > Verify and trust the recently installed Enterprise App Certificate.
Step 8 > Now use the iPogo for Pokemon GO app to play.
The app may now be used like any other app that is loaded on your iPhone. If the application won't function, Apple's revocation of the certificate may be issued. In fact, it indicates that you must reinstall the application for it to function properly. Bring back each step from the beginning or choose another method.
How To Download iPogo Pokemon Go Without PC For iOS
iPogo Pokemon Go may be downloaded directly from the web onto your iPhone or iPad. You can attempt to install it using direct links even if you don't have a computer. Apple frequently revokes the public certificate that is used to certify the software, making it difficult to install iPogo.
iPoGo Pokemon GO Spoofer No PC | No Jailbreak | Direct Web Link
Step 1 > From the Safari browser, tap Install iPogo.
Step 2 > Would you wish to install iPogo? prompts you to tap Install.
Step 3 > Your Home Screen will have the iPogo app icon.
Step 4 > Settings > General > Device Management > Trust it.
Step 5 > Awesome! Now you can freely use pokemon go spoofer iOS 15.
iPogo Pokemon Go hacks | The Best iOS Spoofing Methods
How Can iPogo Help You Play Pokemon Go Effectively
Step 1 > Download the IPA file and install the iPogo iOS app.
Install pokemon go iOS spoof first using one of the techniques mentioned above. Simply use any freely accessible tool to jailbreak your device and install Cydia Impactor on it. To install pokemon go spoofing iOS downloads on your iOS device, you can alternatively utilize third-party providers like 3uTools, Rickpactor, or Signulous best spoofing app for pokmon go.
Step 2 > Create a Pokemon Go account.
Fantastic! You can run the iPogo iOS app and sign into your Pokemon Go account when it has been loaded. After that, you may "Activate" your account by going to its Settings. You may browse several settings on a floating sidebar of your Pokemon Go screen for access various options.
Step 3 > With iPogo, spoof your location playing Pokemon Go.
There at the top of the iPogo screen, there is a map icon that you may press to modify your location. With the help of the destination location's address or GPS coordinates, you may locate it on a map after clicking this.
You may also move the pin around while using the filter option to look for particular Pokemon on the map. You can capture Pokemon from your house by doing this, which will instantly change your location.
How Do You Teleport In iPogo?
It's important to observe timings when utilizing teleport in iPogo for spoofer app pokemon go. The length of your teleportation and game interaction cooldowns will differ.
The time required to perform an action in-game after each teleport is determined on the distance traveled in spoofing pokemon go. If you use your next in-game action before the cooldown is over, you risk being banned. A safe interval for teleports is two hours in pokemon go spoofing apps.
Another well-liked strategy is "camping," which involves remaining on the catch screen without tossing a ball or berry just at Pokemon so that you can catch it. The distance and length of time since your previous activity also affect this action. You can determine the necessary cooldown period with the use of an iPogo modification. The Pokemon you like to capture will run away if you ignore the cooldown times.
What Is an iPogo App?
iPogo iOS Free – The Best Spoofing App For Pokemon Go iOS
The most powerful best spoofer for pokemon go, with a nearly unbelievable range of capabilities, is iPogo pokemon spoofer. In Pokemon Go, you may teleport or look for hidden Pokemon. For non-jailbroken and jailbroken iOS 13, iOS 14, and iOS 15 devices, iPogo free install tweak operates.
This is a functional iSpoofer for POGO (EOT) alternative that comes with capabilities and tools that are comparable to those in SpooferX. To add incredible capabilities to the best pokemon go spoofer iOS app for free, use iPogo pokemon go spoofer download to teleport and capture Pokemon in other locations. An iPoGo spoofing pokemon go android is also upcoming.
When using a non-jailbroken iPhone, make sure to delete the original Pokemon Go app obtained from the AppStore before downloading the modified version. The modified version of the spoofer pokemon go software for iOS is included in the iPogo IPA package.
iPogo Features – iPogo Will Make Your Life Much Simpler 🖤
The ideal iOS app for playing Pokemon Go remotely from anywhere you choose is called iPogo. It is a customized version of Pokemon Go that has several hacks and cheats that allow you to advance through the game's levels.
✅ You must jailbreak your iPhone in order to install iPogo on an iOS device.
✅ The iOS software for Pokemon Go allows you to change the location of your iPhone to anyplace you like.
✅ With the help of this Pokemon Go cheat, you can teleport to any location on the map, completely change your speed of movement, set up favorite routes, activate enhanced throw, allow Go Plus, iPogo auto catch, iPogo spoof and Stats Inventory, as well as hiding buttons, joysticks, buttons, spoofing, and other elements from the main screen.
✅ You can catch and control spins when iPogo Automatic Catch/Spin is active without being in close proximity to your device.
✅ The greatest combination for this is Random Route & Release on Catch. While you use some spoofer for pokemon go other features, iPogo's Release on Catch feature automatically removes useless Pokemon from your Pokemon storage to keep your bag clean.
✅ The One Click Bag Cleaner function of iPogo pokemon spoofer download for iOS gives you the ability to select how many items you wish to eliminate with a single click.
✅ The Block Non-Shiny function will prevent you from selecting on any pokemon go spoofer iPhone that is not shiny. A separate subset of this feature is also available to prevent you from clicking on any pokemon go spoof download that is not 100IV. More Pokemon are seen on the screen thanks to Spawn Booster, letting you to view Pokemon that are located further away.
✅ On pokemon go spoof app, there is also an option to simulate your iPhone's movement.
✅ Also, switch on dark mode for the UI, show the map and the feed of Pokemon, Raids, and Quests. Additionally, there is a choice for quick import and export hack settings.
✅ The iPogo iOS app also has other features including raid and quest feeds, pokmon go auto walk iOS, pokmon go spoofing, pokmon go auto catch app, pokemon go excellent throw overlay, improved throws, fast catching, and even more.
iPogo Configuration
It is simple to feed Grunts, Pokemon, Items, Stardusts, and Mega Energy points at PokeStops using iPogo.
PokeStop > Choose a PokeStop, same like choosing a Pokemon, to see how far it is from your current position. Tap to teleport or auto-walk to the PokeStop's location. The ability to copy coordinates is also available.
Pokemons locations > You may find over 60 Pokemons in these areas, including Ferroseed, Mantine, Brumasur, Snubbull, Eevee, Squirtle, Pikachu, Spearow, and Vulpix. This is the tweak's most often utilized feature after spoofing. Please respect cooldowns and be careful of Pokemon IV won't be realistic for accounts with less than 30 levels.
Cooldown Timer / Cool Down warnings > The ability to enable the Cooldown Timer and Cool Down warnings is a valuable feature. You may teleport to other places using such features without getting banned.
Enhanced Throw > There will be no disappointments with Enhanced Throw. It improves the throw from Good to Excellent, Great to Excellent, Excellent with Curve, or makes Excellent possible for everyone.
Catch Preview > When activated, the Pokemon within the Pokeball will be seen. By using Tap to Walk, clicking can begin moving.
Disable pokemon go spoofer iOS > It is also possible to turn off the spoofing feature.