iRemoval PRO Download For Windows | iRemoval Pro iCloud ByPass Tool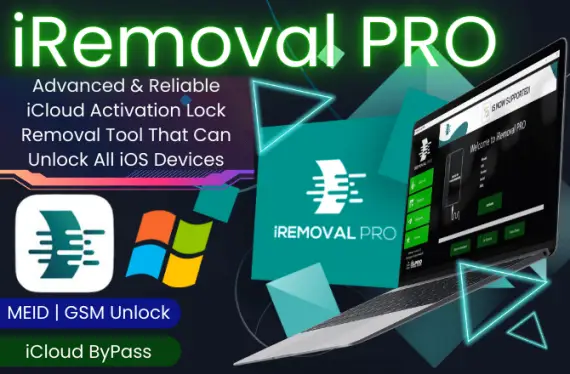 If you want to remove iCloud or disable MEID/GSM on your iPhone or iPad, the iRemoval Pro bypass tool is a great solution. Upwards of 350k vulnerabilities for Apple iDevices are actually running on iPhones and iPads, making iRemoval Pro for windows the most popular platform for unlocking Apple devices. With the help of iRemoval PRO tool, iOS 12, iOS 13, iOS 14, iOS 15, and iOS 16 users can unlock the Hello screen, iPhone Locked and Activation Lock. The iRemoval Pro Tool is user-friendly and has a lot of capabilities.
Download iRemoval PRO For Windows – iRemoval PRO v6.2 (iRa1n v4.0)
iRemoval Pro Tool Features
The iRemoval Pro Tool is a high-quality MEID/GSM unlock and iCloud bypass tool with iRemoval Pro jailbreak. The iPhone, iPad, and iPod touch, as well as other iOS devices, are all compatible with iRemoval Pro. The characteristics apply to the iRemoval Pro Tool.
✅ The iCloud activation lock is bypassed via the iRemoval Pro Tool.
✅ Enables you to utilize any carrier with your iOS device.
✅ iRemoval Pro includes an easy-to-use UI.
✅ Compatible with all iPhone, iPad, and iPod touch models that run iOS.
✅ A money-back guarantee is offered with iRemoval Pro.
Anyone who wants to get over the iCloud activation lock including using their iPhone for any carrier should utilize the iRemoval Pro windows tool. It has a money-back guarantee and is simple to use.
iRemoval Pro Bypass Features
✅ Calls (Signal) Hello Screen iOS 15
✅ iMessage
✅ FaceTime
✅ iCloud
✅ Notifications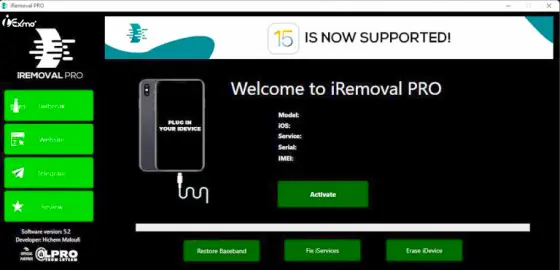 How To Use The iRemoval Pro Tool To Bypass iPhone Activation Lock
The activation lock on the iPhone can be removed using the paid service iRemoval PRO windows, allowing recycled iDevices to be used. Just a few easy steps can be used to complete the iCloud activation bypass.
Only iOS 12 to iOS 14 compatible devices may be jailbroken using the iRa1n software. With the development of the iOS 15 jailbreak and iOS 16 jailbreak tools, the iRa1n app may also bring other iDevices running iOS 15 and iOS 16 into iRa1n mode to enable the bypassing of the activation lock.
Step 1 > For Windows, click the button above to download iRemoval PRO.
Step 2 > Unzip the iRemoval Pro ZIP file you downloaded.
Step 3 > To use the tool, run iRemovalPRO.exe.
Step 4 > With the support of an USB cable, connect your iDevice to Windows PC.
Step 5 > To run the iRa1n app, choose the jailbreak button.
Step 6 > Start the jailbreaking process.
Step 7 > The Recovery mode will be activated on your iDevice.
Step 8 > Following the on-screen guidelines to activate DFU mode.
Step 9 > When finished, the device would also boot into iRa1n or jailbroken mode.
Step 10 > Purchase your iDevice's activation, then select Activate.
iRemoval PRO Compatibility
iRemoval PRO Support Devices
iRemoval PRO is compatible including all A7-A11 processes on a chip (SoC). Lots of Apple devices support checkra1n support. The list of iRemoval PRO supported iPads and iPhones running iOS 12 and higher is listed below. iRemoval PRO may be compatible for newer devices, but there are requirements.
The iPhone 8, iPhone 8 Plus, and iPhone X, which are checkm8 compatible, now have iOS 16 compatibility with iRemoval PRO v5.9.1.
A11 > iPhone 8 / iPhone 8 Plus / iPhone X.
A10X > iPad Pro 10.5 2017 / iPad Pro 12.9 2nd Gen.
A10 > iPhone 7 / iPhone 7 Plus / iPad 2018, 6th gen / iPad 2019, 7th gen.
A9X > iPad Pro 12.9 in 1st gen / iPad Pro 9.7 in.
A9 > iPhone 6S / iPhone 6S Plus / iPhone SE / iPad 2017 5th gen.
A8X > iPad Air 2.
A8 > Phone 6 / iPhone 6 Plus / iPad Mini 4.
A7 > iPhone 5S / iPad Air / iPad Mini 2 / iPad Mini 3.
iRemovalRa1n Checkra1n Windows Tools
All A5-A11 iDevices may be jailbroken for free using the iRemoval PRO jailbreak, which is built-in. The iPhone 5s to the iPhone X may be jailbroken using this Windows version of the checkra1n and checkm8 vulnerability for iOS 12 through iOS 14. In addition to adding support for the most recent firmware, iRemovalRa1n will enable jailbreaking of iOS 15 when checkra1n developers do so.
🚀 Checkra1n Jailbreak For Windows PC »
What Is iRemoval PRO Tool?
iRemoval Pro Tool v5.7 is an excellent choice if you're seeking for a technique to get around your iOS device's iCloud activation lock. The iRemoval pro bypass tool is extremely simple to use and totally secure for your device. For iOS 12 to iOS 15.7, the Hello screen may be unlocked and removed using the paid app iRemoval PRO. The checkm8 vulnerability or accessing Apple servers to get over the iCloud activation barrier are the core of iRemoval PRO. Furthermore, it includes a jailbreak for iOS based on Checkra1n jailbreak for Windows.
If the user doesn't know your password, the iPhone or iPad's Activation Lock function is meant to prevent them from being used on your device after it has been deleted. You can unlock your iPhone's activation lock with iRemoval PRO, which can get around this restriction on earlier iDevices.
You may activate the iOS device and utilize it without sim services thanks to the GSM (No MEID) and CDMA (MEID) capabilities of iRemoval PRO. Having to work functions including banking apps, FaceTime, iMessage, notifications, untethered without SIM pinlock, zero battery waste, and more.
On compatible devices, the most recent version of iRemoval PRO could also execute the entire bypass Hello screen and put your iOS 15 iPhone into iRa1n mode. The test mode feature must be removed in order for the software to function flawlessly with a legitimate Windows license. Although iRemoval PRO connects towards the device using USB cable, be sure you use a genuine Apple cable and turn off the firewall.
iRemoval PRO Packages
When removing this activation lock, the iRemoval PRO program is offered in two pricing categories. One for $9.99 will function without the services signal SIM card not operating and will function on iPhone 7 up to and including iPhone X with iOS 12 and iOS 14.8.1.
The second approach is the iRemoval PRO, which is available for the iPhone 5s up to the X with iOS 12 through to iOS 15.7 with full activation as well as signal compatibility, and costs between $15 and $60. The options to repair iService, delete iDevice, and restore baseband are all included in iRemoval PRO.
Who Developed iRemoval PRO
The iRemoval PRO project was begun in March 2020 by iOS developer Hichem Maloufi, who released the first version in June 2020. Using two iOS vulnerabilities and one server-side vulnerability, iRemoval Pro windows may overcome activation restrictions on devices.
Best iCloud Bypass Tool For iOS 15 – iOS 16 Windows | iRemoval PRO Alternatives
Having trouble accessing your iCloud account on your iOS 15 to iOS 16 device? Check out our top picks for iCloud bypass tools that can help you regain access.
Just use the unlimited DarkRa1n iCloud lock bypass tool for iOS 15–iOS 16, which is provided by @ios_euphoria and is an alternative to iRemoval PRO. It is centered on the Palera1n Jailbreak. With compatibility for iOS 15.0 – iOS 15.7.2, this is a tethered iCloud Bypass program that is just for checkm8 devices.
A comprehensive tool that includes ramdisk options, the ability to change serial numbers, and more. It's compatible with iOS 12 to 16.2 devices and is suitable for more experienced users.
Compatible with iOS 15 to 16.2 devices that use the checkm8 exploit, this semi-tethered iCloud bypass tool is powerful but may require some technical knowledge to use.
Designed specifically for iOS 12 devices, this tethered no-signal iCloud bypass tool may have limited compatibility but is still a useful tool for those with older devices.
A free alternative to the popular DarkRa1n iCloud Bypass tool, Blackw0rm Unlocker is compatible with Windows PCs. With simple step-by-step instructions, it can help you quickly remove the iCloud Activation Lock and regain access to your device.
📱 iSkip Online iCloud Bypass Tool
iSkip is a powerful and reliable iCloud bypass tool that uses the checkm8 exploit to remove the iCloud Activation Lock on iOS 15.0 – 16.5 devices. This tool is a tethered bypass, which means you will need to connect your device to a computer to bypass iCloud.
What's New In iRemoval Pro
Exclusive Full Signal Bypass for iOS 13 to iOS 16 devices for both iPhone and iPad Cellular users.
iRa1n, the jailbreak exploit used by iRemoval PRO, has been updated for faster jailbreaking. It now takes only 10 seconds for the entire process.
Improved performance and various other enhancements have been made, resulting in a better user experience overall.
The first app available anywhere in the world that supports iPad mobile phones for full signal bypassing running iOS 15.5 to 15.7
iRemoval PRO was upgraded to version 5.9.4.
iOS 16 support for iPhone 8, iPhone 8 Plus, and iPhone X is available for the first time.
Major bugs with older iOS versions have been fixed.
Repaired Windows 11 flaws.
compatibility for iPhone 6s through iPhone X devices running iOS 15.5 and 15.6.
For iOS 15.5 and iOS 15.6 there is a new iRa1n mode boot capability.
Missing file "iTunesMobileDevice.dll" problem fixed.
A5-A11 device jailbreak with iRemovalRa1n.
Increased activation speed.
iOS 15.7 complete compatibility with signal bypass and iRa1n 3.0 update.
A complete signal is supported for iOS 15.6.1.
Bypass enhancements in iOS 15.