Latest Jailbreak News
---
CoolStar says the upcoming iOS 15 jailbreak will indeed be her final jailbreak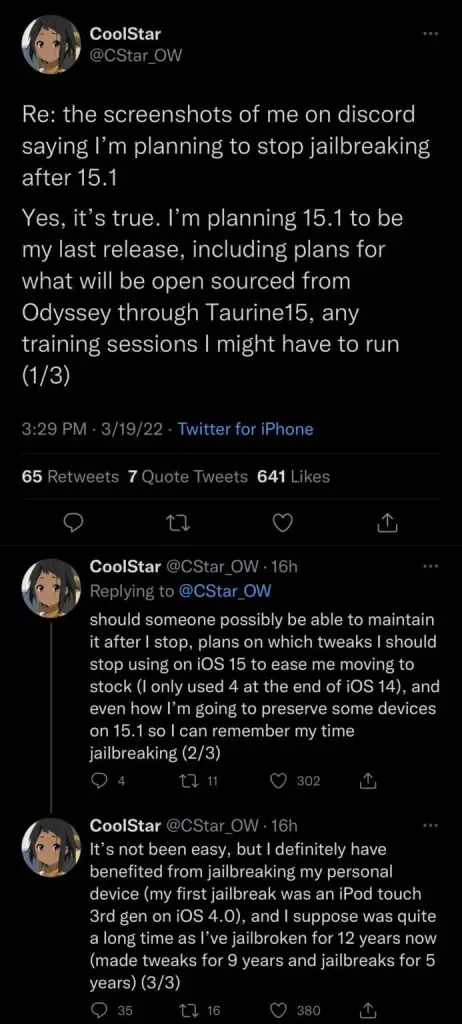 CoolStar, the head of the Odyssey team, told us about their plans for the upcoming iOS and iPadOS 15 jailbreak in the jailbreak section of the Sileo/Taurine/Odyssey Discord channel. She claims it was CoolStar's last jailbreak.
Discord discussed how she created the "Taurine15" jailbreak for iOS and iPadOS 15 to work with all versions of iOS and iPadOS 15.x. @CStar_OW later confirmed those thoughts in a series of tweets, and the Taurine15 jailbreak now supports all versions of iOS & iPadOS 15.x on A8-A11 devices, but only iOS and iPadOS 15.0-15.1.1 and the most recent devices on A12.
She is a jailbreak design giant with five main jailbreak tool developments. CoolStar's direct connection with Electra for iOS 11, Chimera for iOS 12, Odyssey for iOS and iPadOS 13, Taurine for iOS and iPadOS 14, and now Jailbreak for iOS and iPadOS 15 is remarkable. She has been with the jailbreak community for 12 years.
CoolStar stated that she intends to stop developing jailbreaks from now on, which includes plans to launch Odyssey, Taurine, and the impending iOS and iPadOS 15 jailbreak tools, as well as training sessions to assist others in maintaining those jailbreaks once she stops. @CStar_OW stated that she has profited from jailbreaking their personal, at least thanks to different jailbreaks, and that pursuing the final jailbreak would be a learning experience. CoolStar intends to save at least a few iOS 15.1 devices as personal mementos of her time jailbreaking.
Coolstar jailbreak iOS 15 has been incredibly vocal about the difficulties associated with jailbreaking A12 as well as newer-equipped devices on iOS & iPadOS 15, so the news wasn't exactly unexpected. These difficulties are due to hardware mitigations that make jailbreaking iPhones extremely resource-intensive. @CStar_OW, for example, stated in one remark that doing so would need learning new approaches, maybe for each future version of iOS or iPadOS.
The A8-A11 devices lack the same security mitigations, making them relatively easy to jailbreak on even more releases of iOS and iPadOS 15. These devices are also vulnerable to the checkm8 hardware-based bootrom vulnerability, which is used to fuel the Checkra1n jailbreak tool.
#Coolstar twitter #Taurine15 jailbreak #@CStar_OW #iOS 15#iPhone #iPadOS
---
Taurine v1.1.3 is now available for download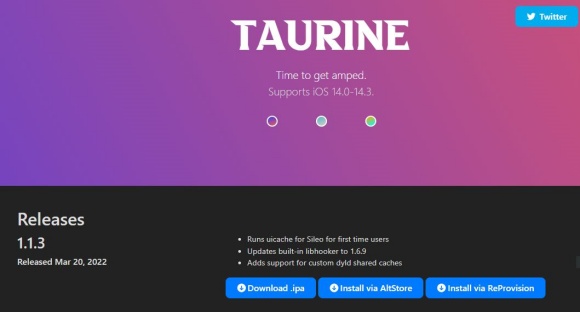 The latest iOS update for Taurine jailbreak, v1.1.3, is now available. The following remarkable changes are included in Taurine v1.1.3
For first-time Sileo users, it executes uicache.
Updates the built-in libhooker to version 1.6.9.
Support for custom dyld shared caches is added.
Taurine jailbreak is a fast, supercharged experience that utilizes libhooker as well as comprehensive testing to provide the perfect jailbreaking experience possible. Taurine is an open-source jailbreak with a few exceptions, enabling everyone else to learn from it and improve it, and this tool has been successfully tested on iOS 14.0-iOS 14.3. more >>
#Taurine #Taurine jailbreak no pc #Taurine jailbreak online #iOS #iOS 14 #iPhone #iPadOS
---
The Odyssey Team is currently working on the sandbox escape required for a jailbreak to operate on A12 and newer iPhones running iOS 15.0-15.1.1.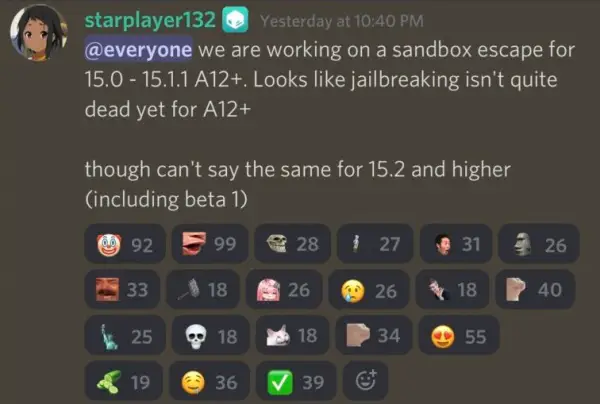 CoolStar, the Odyssey Team's lead developer, explains how jailbreaking A9-A11 devices will really be simpler than jailbreaking A12 and newer-equipped iPhones. Because of the new security mitigations, A12 and higher devices may need unique burn processes, maybe for each compatible firmware version. This requires a sandbox escape supporting iOS 15.0-15.1.1, which CoolStar says the Odyssey team is working on right now.
No matter how difficult it is, use the iPA Store for iOS 15 to successfully personalize your iPhone, iPad, or iPod touch without jailbreaking it.
Although, there is some concern regarding future firmware support, as it appears that Apple has made jailbreaking iOS & iPadOS 15.2 and higher on A12 and newly released devices much more difficult. According to Sileo, Odyssey, Taurine discord channel, the Odyssey Team's upcoming iOS 15.0-15.1.1 supported jailbreak will enable A12 as well as newer iPhones in addition to older A9-A11 equipped iDevices.
The Odyssey team does not have an ETA for the jailbreak, but it will be rootless. The major reason for this is Apple's security system volume (SSV) mitigation in iOS 15/iPadOS 15. Many jailbreak customizations are compatible with this method of jailbreak. However, the most recent iOS 15.4 / iPadOS 15.4 version has just been released. The jailbreak teams are presently working on jailbreak versions for iOS 15.2–15.3 / iOS 15.3.1.
#Coolstar #exploit #iOS #iOS 15 #iOS 15.1.1 #iPhone #iPadOS
---
The latest futurerestore download upgrade for iOS 15 fixes the 'A14 Curse' issue that affects A14 devices.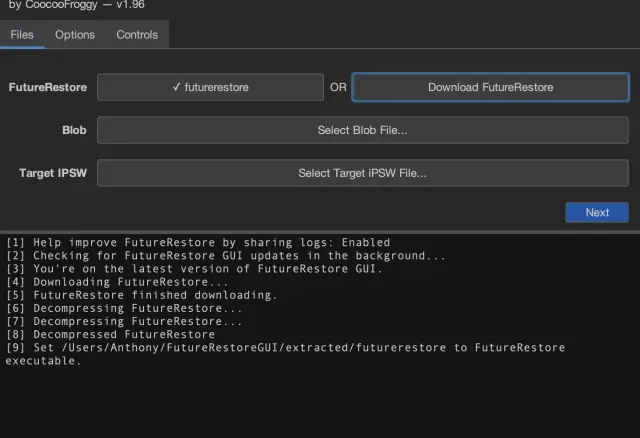 Made the release of an iOS 15.0 and iPadOS 15.0/iOS 15.1.1 and iPadOS 15.1.1 compatible kernel vulnerability, many iPhone and iPad owners who wanted to jailbreak their device began looking for ways to update to iOS /iPadOS 15.1 or iOS /iPadOS 15.1.1 even though they still could. DelayOTA, on the other hand, is a good alternative for somebody who hasn't yet invested. Those who have shsh2 blobs can upgrade to these firmware versions using futurerestore alternatively.
This A14 Curse has been described as a recurring slew of issues impacting A14-equipped devices, specifically with reference to DelayOTA and futurerestore. The majority of A14 users who attempted to use DelayOTA or futurerestore had difficulties.
Luckily, a latest published version of futurerestore tries to cure the so-called A14 Curse, and has already been proven by numerous users to resolve the so-called A14 Curse issues.
Futurerestore is a set of allow users to restore earlier saved files on Mac, futurerestore windows download, and Linux systems. Shsh blobs downgrade or upgrade to unsigned firmware version for your iPhone or iPad. Futurerestore is available as a command-line program or as a graphical user interface (GUI) application, and experts favor the latter based on its simplicity.
This other helpful tip is that using the update command is preferable to backing up your data as well as fully restoring your iPhone or iPad towards the firmware users want trying to restore from your backup. Bootlooping is said to be a possible outcome of the latter.
To be clear, futurerestore requires.shsh blobs, so if you didn't get all those for iOS 15.1 and iPadOS 15.1/iOS 15.1.1 and iPadOS 15.1.1 while they are now being approved, you probably wouldn't be able to use it to get to such firmware versions.
#A14 #Futurerestore #Downgrade #Firmware #iOS #iOS 15 #iPad
---
The Odyssey Team is "looking into" the new kernel exploit for iOS 15.0-15.1.1, according to CoolStar.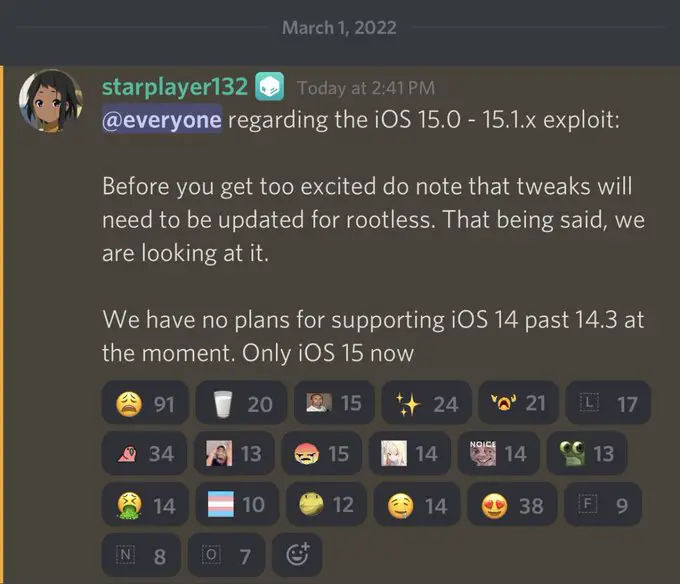 The Odyssey Team is actively looking into the kernel exploit for iOS 15.0-15.1.1 in an attempt to develop and release a jailbreak. @b1n4r1b01, a hacker Brightiup's CVE-2021-30955 kernel bug write-up gained considerable interest Tuesday morning when he published a comprehensive kernel exploit supporting iOS & iPadOS 15.0-15.1.1.
Thankfully, jailbreak programmers are already taking full advantage of the newest exploit. After taking here to Sileo, Taurine, Odyssey Discord chat this afternoon to announce that the team was actively searching into it, Odyssey Team lead developer CoolStar was one of the first to respond.
Because it was a comprehensive exploit, jailbreak developers now everything they required to create working on a new jailbreak targeting compatible devices, but we knew it wouldn't be easy, and it wouldn't develop instantly, due to iOS & iPadOS 15's new secure system volume (SSV) security mitigations.
Because an iOS 15 jailbreak semi-untethered jailbreak will almost certainly be rootless owing to SSV protection, CoolStar warned that many jailbreak tweaks will have to be upgraded to perform. Luckily, the Odyssey Team's libhooker modify injection technique already supports jailbreak iOS 15. The checkra1n team is currently studying iOS & iPadOS 15 support through various techniques, therefore it appears that an iOS & iPadOS 15 supported jailbreak will be released mostly in future.
#coolstar #iOS 15 jailbreak #exploit #hack #ios #ios 15 #iPhone #iPadOS
---
Based on Brightiup's kernel bug, B1n4r1b01 publishes a full iOS 15.0-15.1.1 exploit.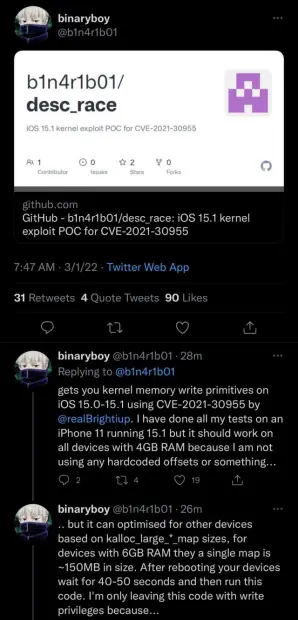 Now you have a functioning kernel exploit for iOS 15.0 – iOS 15.1.1, thanks to skilled hacker b1n4r1b01. Developers of jailbreaks, delight! Brightiup's CVE-2021-30955 kernel bug for iOS/iPadOS15.0 – iOS/iPadOS 15.1.1 has gotten a lot of attention recently after two reputable security researchers, Jake James and @Peterpan980927, each got an interactive to construct proof-of-concepts (PoCs) based on the initial write-up, which didn't come with one.
How this distinguishes @b1n4r1b01's PoC from other two is that it's a complete exploit that, according to @b1n4r1b01, provides the user kernel memory write primitives on handsets operating the targeted firmware versions.
On @b1n4r1b01's GitHub page, the updated PoC exploit is available.
According to hacker Jake James @Jakeashacks, who developed and submitted a PoC for the same @realBrightiup kernel flaw CVE202130955 yesterday, the @b1n4r1b01 exploit should really be sufficient enough to even get jailbroken developers up and running. This is fantastic news for anyone who has been waiting to jailbreak iOS / iPadOS 15 and jailbreak iOS 15.2.
Because of the secure system volume -SSV security feature throughout iOS & iPadOS 15 makes it incredibly difficult to access the root file system, semi-untethered jailbreaks like iOS 15 jailbreak unc0ver would almost certainly have to be rootless, requiring a whole separate bootstrap. But, most jailbreak tweaks should be unaffected through this.
It will be fascinating to see what happens now that we have a publicly available exploit targeting iOS & iPadOS 15.0–15.1.1. After all, obviously, jailbreakers and jailbreak fans will be keeping a careful eye on James' progress since he claims to be working on his own exploit.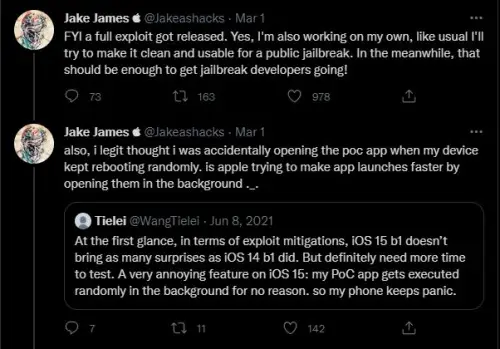 #iOS 15.1.1 #iOS 15 jailbreak #exploit #hack #ios #ios 15 #iPhone #iPadOS
---
Zebra package manager has been upgraded to v1.1.26, which includes a device info copy feature and bug improvements.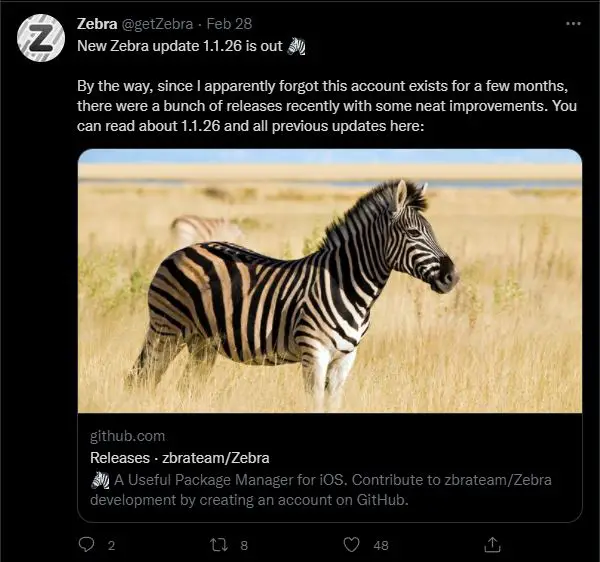 Users may quickly transfer their device info from the home page of the newest release of the Zebra package manager application for jailbroken devices. Zebra on your jailbreak iPhone or iPad to manage their jailbreak add-on installs would be delighted to read that an update for the great alternative to native package management applications such as Cydia and Sileo was available now.
The newest version of Zebra, designated version 1.1.26, purports to include features such as,
On iOS 9 through 13, there was a crash when you tapped the Add Source button now it fixed properly.
The package list export feature's sorting has been improved toward being alphabetically.
By tapping on the device info text now at the bottom of the home page, you may easily copy the device info with the new update.
If you're a Zebra app user, this upgrade is highly recommended because it can improve your user experience. Even if you've never tried Zebra before, now is an amazing time to do so, as it's among the few package manager programs fully supported by the new Havoc repository, which is the successor to Packix.
However, unless you already have a package manager app installed, such as Cydia or Sileo, Zebra will collaborate with it without forcing you to delete what you currently have.
#iOS #iOS 13 #iOS 14 #iPad #iPadOS #iPhone #jailbreak
---
Brightiup's new kernel bug write-up for iOS 15.0-15.1.1 is now released (Useful for Unc0ver)
Those of you who have been waiting for the Unc0ver jailbreak to be updated for iOS 15.0, iOS 15.0.2, iOS 15.1, and iOS 15.1.1 are going to be very happy to hear this. @realBrightiup's, a security researcher, has released an updated kernel bug writeup which explains how to exploit the flaw and get R/W just on Kernel Memory, which users will use to do a jailbreak,
If a security researcher including Pwn20wnd (Unc0ver) as well as Coolstar (Taurine) wants to build an exploit around it, the information in this writeup will be enough for them to do so.
Some smart hackers were able to come up with their own proof of concept (PoC) for the original writeup, and that's just what Alibaba Security Pandora Lab security researcher @Peterpan980927 accomplished.
Brightiup, a security researcher, has published a brand new kernel flaw for iOS 15.1 15.0 and other devices. As you may recall, security researcher @realBrightiup posted a vulnerability a couple of months ago that was apparently patched by Apple in iOS 15.2. As you can see from the image, they basically got colonel reading right, they managed to perform a read and write in the kernel memory, and they even got the slide, so it was a pretty good vulnerability.
Pretty nice, and they even managed to make it more stable. Well, it appears that today they posted this quote from yesterday's zero day, and they posted a link to this website here, which is partially in Chinese and partially in English, and which is basically their vulnerability that they exploited, which is CVE 2021-30955, and you can look it up here in the security content.
You can see that it's a kernel vulnerability, which means that a malicious application might execute arbitrary code with kernel privileges, and it's from Conlon Lab, so that's about it. The information here basically discusses what they did in order to exploit it, what other materials they utilized to learn how to do it, and so on, but there is no proof of concept related to this or exploit.
It's just the vulnerability, the bug itself, so what does this mean for Unc0ver or Taurine jailbreak? It means they can't just drag and drop this onto the cover and expect it to work. It's just a bug, but a bug isn't an exploit. You can exploit a bug or a vulnerability to create an exploit that can be used for jailbreak purposes, but that's not the case here.There's no guarantee that this bug will be used to jailbreak iOS and iPadOS 15.0-15.1.1, but having a PoC is important because it tells jailbreak developers how to use the bug if they want to use it in their tools.
#iOS 15.1.1 #iOS 15 jailbreak #exploit #hack #iOS #iOS 15 #iPhone #iPadOS
---
The iOS 15.2 Beta is no longer signed, and while the OTA Delay technique may function in some cases, the regular OTA Delay approach will not.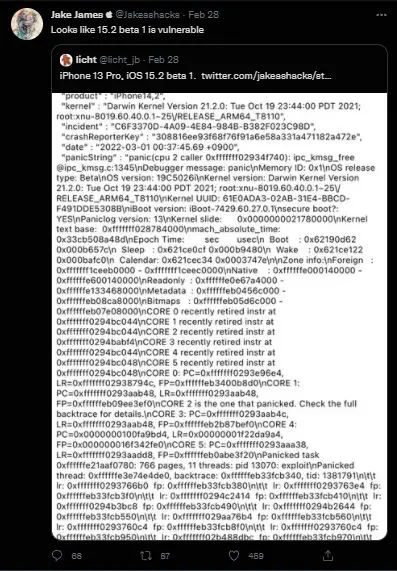 Following the disclosure of information by developer Brightiup regarding a fresh new kernel vulnerability, BinaryBoy created a comprehensive kernel exploit that can be used to upgrade both Unc0ver and Taurine Jailbreak. The exploit is compatible with iOS 15.0 up to iOS 15.1.1 and iOS 15.2 Beta 1, although it may be too late if you missed the opportunity to improve or downgrade.
That's a really wide range, and Jake James @Jakeashacks confirmed that this vulnerability is actually supporting iOS 15.2 beta 1 since it is susceptible. According to current jailbreak experts, iOS 15 jailbreak, jailbreak iOS 15.2.1 will be more secure. As you may know, iOS 15.2 beta1 and beta2 were signed and remained signed for a long time after 15.2 was unsigned, so they actually stopped being signed a couple of days ago, so they stayed signed for a long time. There had a lot of time to go to 15.2 beta.
The OTA Delay technique may or may not work, according to community reports. The usual OTA Delay technique will almost certainly not work to upgrade to iOS 15.1 / 15.1.1, however if you are jailbreaking on a lower version and utilize customizations to conduct the update, it may still be feasible. Apple Configurator is said to function as well, although you'll need macOS to do it.
#iOS 15.1.1 #iOS 15 jailbreak #exploit #hack #iOS #iOS 15 #iPhone #iPadOS
---
Checkra1n jailbreak for iOS 15.0 – iOS 15.4 is coming soon.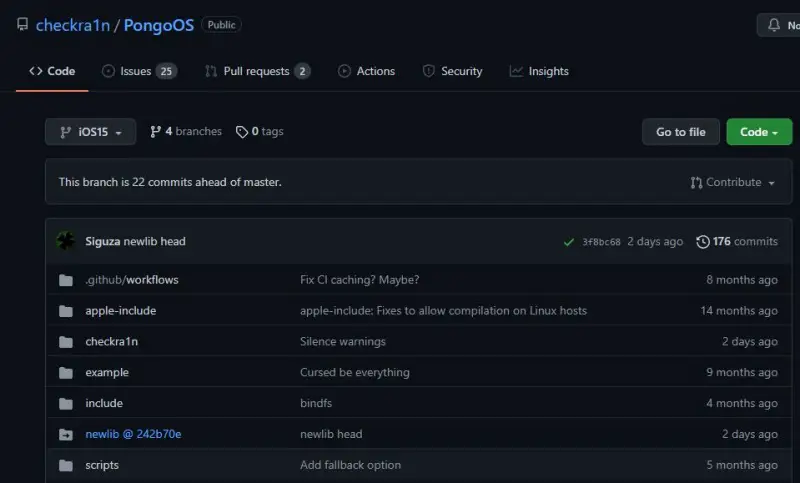 If you're waiting for the Checkra1n jailbreak to really be updated for iOS 15, you'll be thrilled to know that Siguza is working on upgrading various checkra1n components in the background. Siguza updated another component on the CheckRa1n repo now, after some modifications that were open-sourced a few weeks ago on checkra1n/PongoOS GitHub.
The Checkra1n jailbreak is an unpatched jailbreak that has been patched in some way. The bootrom exploit, on the other hand, is still active and may be used to update the jailbreak. However, with iOS 15, Apple introduced the concept of sealed ROOT FS, which slowed down the jailbreak update significantly. So, before we can utilize the check range jailbreak on iOS 15, it needs a huge update in the way it handles ROOT FS remounting. While the number of updates continues to grow.
The major reason checkra1n doesn't really perform on iOS 15 is Apple's inclusion of sealed ROOT FS in iOS 15.0. CheckRa1n is not technically patched, but it must first defeat the sealed ROOT FS before it can function. The checkra1n team appears to be making excellent progress in this direction.

The Checkra1n team has complete control of the bootrom and, of course, the whole boot chain, making them far more powerful than the Uncover or Taurine jailbreaks. As a result, they will undoubtedly be able to develop a rootless jailbreak. Let us hope they do so soon. So, if you're waiting for checkra1n, you're in luck since checkra1n will support newer versions as well, most likely including iOS 15.4.
#Checkra1n #iOS 15.4 #iOS 15 jailbreak #exploit #iOS #iOS 15 #iPhone #iPadOS