The Best LockScreen Tweaks Collection For iOS [2023] Redesign Your Lock screen With Elegance
Unlock the full potential of your iPhone's Lock Screen with the best tweaks and customization options available in iOS 15 – iOS 14. Whether you are running the latest version of the operating system or an older one, jailbreaking allows you to personalize your Lock Screen with widgets, new features, and a variety of options.
Get The Most Out Of Your iOS Lock Screen: Top Tweaks To Try
The Lock Screen, also known as the first line of defense for your iOS device, is the screen that appears when your device is locked. iOS lock screen customization's main function is to protect your device from unauthorized access, while also providing useful information such as time and date, notifications, weather, and battery status. Additionally, it also allows quick access to the camera and flashlight features, making it a convenient and user-friendly interface.
Unlock the full potential of your iOS device with jailbreaking and access a plethora of customization options for your Lock Screen. From altering lock screen tweaks for iOS appearance to adding new features like widgets, always-on display notifications, and quick controls, the possibilities are endless. Discover the top LockScreen tweaks for iOS 14 and 15 that are popular among users and offer the most value with this guide.
How to install Lock Screen tweak on your jailbroken iOS device. Check »
The Best Lock Screen Tweaks For iOS | Customize Your Lock Screen Like Never Before
One of the most appealing aspects of iOS devices is their minimalist design and intuitive interface, but sometimes users may want to add a bit of personalization to make their device more unique or functional. Fortunately, there are a variety of tweaks available that can help enhance the Lock Screen. These iOS lock screen customization apps can provide additional features and options, making it possible to customize the look and feel of the Lock Screen to suit your preferences. Whether you are looking to add widgets, notifications, quick controls, or other features, these lock screen personalization for iOS tweaks can help you get more out of your iOS device.
Waktos Tweak
Waktos is an iOS lock screen theme that allows you to customize the appearance of the time, date, and weather information on your iPhone's Lock Screen. It offers a custom lock screen for iOS unique Android-inspired interface that is highly customizable and compatible with devices running iOS 13 to 14. Even though it officially supports these versions, it can also be installed on jailbroken devices running iOS 15. This tweak provides a fresh take on the Lock Screen and allows for a more personalized experience.
🔰 Waktos Tweak Repo URL – https://havoc.app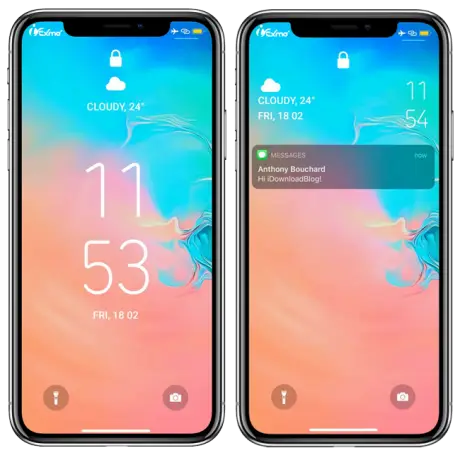 Dodo Tweak
Unlock a new level of customization for your iOS device with Dodo lock screen customization tools for iOS. This jailbreak tweak revamps the Lock Screen, giving it a fresh and modern look with easy access to essential features like time, weather, and shortcuts to your favorite apps. With its two modes, Classic and Modular, and customizable display options, you can personalize your Lock Screen to suit your needs and preferences like never before.
🔰 Dodo Tweak Repo URL – https://ginsudev.github.io/repo/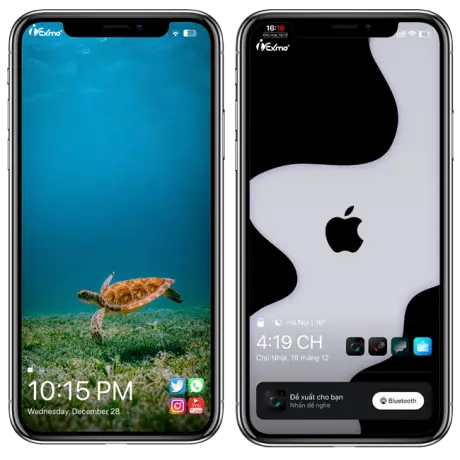 Velvet Tweak
Velvet is a versatile jailbreak tweak that allows you to customize the look of your device's notifications, media player, and banners. Whether you're using an iPhone, iPad, or iPod touch, Velvet is compatible with the latest jailbreaks for iOS 13 to iOS 16. With the release of the latest jailbreaks for iOS 15, Velvet 2 was also released, which offers even more advanced customization options. With Velvet, you can colorize the background, border, message title, message content, and date of your notifications, making them look more personalized and unique. Whether you're looking to match your notifications to your wallpaper or simply want to make your device stand out, Velvet is a great option.
🔰 Velvet Tweak Repo URL – https://repo.chariz.com/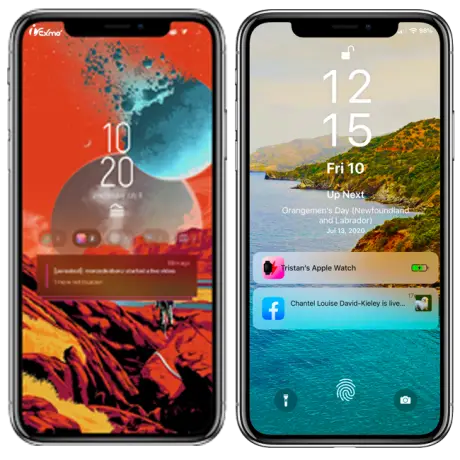 Mitsuha Forever Tweak
Transform your Lock Screen and Home Screen with Mitsuha Forever, an open-source tweak that adds a mesmerizing audio visualization to your iOS device. Compatible with popular music apps such as Apple Music and Spotify, this tweak displays the visualization below the Lock Screen and Home Screen. Upgrade your audio experience with Mitsuha Forever, now available for iOS 13, iOS 14 and iOS 15.
Mitsuha Forever Tweak Repo URL – https://repo.chariz.com Repo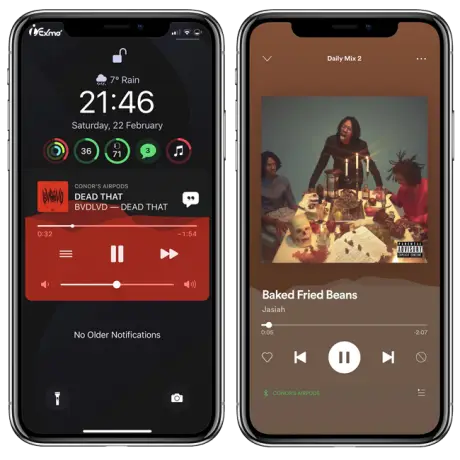 Complications Tweak
Transform your iPhone's Lock Screen into an Apple Watch-inspired interface with Complications – the ultimate jailbreak tweak for iOS 15. This versatile tweak offers 34 beautifully animated widgets that display important information from your favorite apps, making it easy to stay informed without ever having to unlock your device. Whether you're running the latest iOS 15 or an earlier version, Complications is fully compatible with all jailbreaks and devices, making it the perfect choice for customizing your Lock Screen.
Complications Tweak Repo URL – https://havoc.app and https://repo.icrazeios.com Install Complications and ComplicationsFix from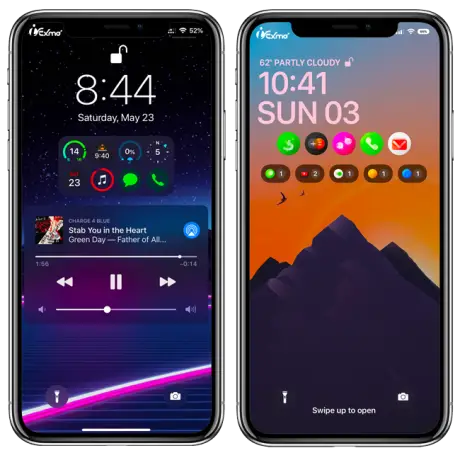 LastLook Tweak
LastLook, the ultimate always-on display tweak for iOS 14. Experience a beautifully designed Lock Screen with enhanced functionality, compatible with the latest jailbreaks including Palera1n and XinaA15, now supporting iOS 15. Get access to two different modes: Short, which shows LastLook for a few seconds after each lock, and AOD, which displays it until you manually hide it or until your configured conditions are met. Upgrade your Lock Screen experience with LastLook, now available for download.
LastLook Tweak Repo URL – https://repo.chariz.com
AIM Tweak
With AIM tweak, you can revolutionize the appearance of your Lock Screen on iOS 14-15, giving it the same sleek and modern design as iOS 16. Not only is it completely free, but it also offers a plethora of options for customizing the time and date display on your Lock Screen. Imagine having the ability to add three fully functional widgets to your Lock Screen, giving you quick access to your favorite apps and information. Plus, you can take control of the time display, adjusting the format, alignment, background and text color, font size and even the type of font from all installed fonts including the highly sought-after iOS 16 Font Time.
AIM Tweak Repo URL – https://havoc.app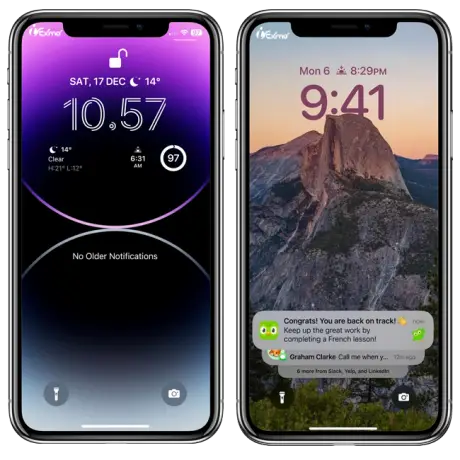 Veza Tweak
Are you tired of unlocking your device just to access basic settings? Veza is the solution! This jailbreak tweak allows you to access frequently used features like Airplane Mode, Wi-Fi, Bluetooth, and more directly from your Lock Screen. No more digging through menus or waiting for your device to unlock. Veza is compatible with all iOS 14 – iOS 15 devices and comes with 16 modules ready to go right out of the box. Upgrade your experience and save time with Veza.
Veza Tweak Repo URL – https://repo.chariz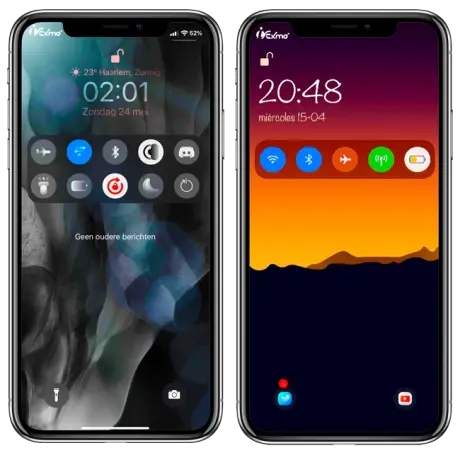 LatchKey Tweak
For iOS 14 and iOS 15 on devices with Face ID, use the LatchKey tweak to turn your Lock Screen into an artistic work. unlocking glyphs to create a unique and beautiful experience. For the iPhone X's unlocking glyph, LatchKey offers 12 distinct themes, including the XinaA15 jailbreak. Imagine unlocking your phone to find a stylish, contemporary glyph that matches your personal taste. But LatchKey gives you even more possibilities to completely individualize your Lock Screen by allowing you to colorize the glyphs.
LatchKey Tweak Repo URL – https://repo.daus.ch/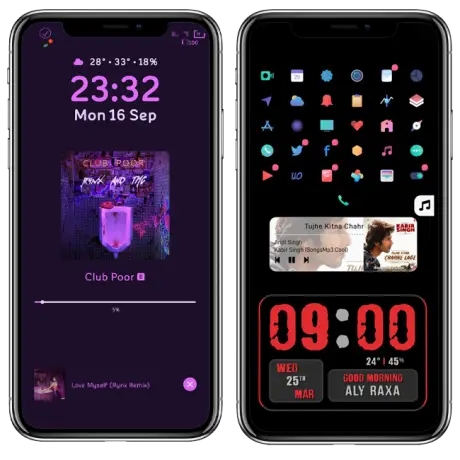 ShortLook Tweak
Imagine having your notifications displayed on the Lock Screen in a full-screen format, even when your phone's display is off. With ShortLook, you can have that and more, all while preserving your iPhone's battery life with its OLED optimization feature. Compatible with the latest jailbreaks, including rootless jailbreaks, on iOS 14 and iOS 15, it's the perfect tweak to customize your lock screen and stay on top of your notifications, all at a glance!
ShortLook Tweak Repo URL – https://repo.dynastic.co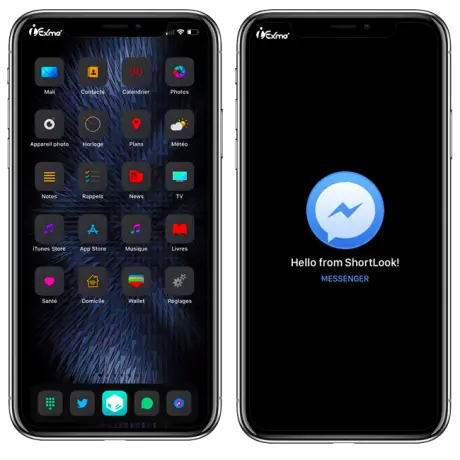 Exiwall Tweak
Exiwall is a game-changer for jailbroken iPhones running iOS 14 and iOS 15. Imagine having the ability to make your Lock Screen come to life with the stunning depth effect, just like the latest iPhones running iOS 16. With Exiwall, you can now add depth to your wallpaper, giving your device a more immersive and dynamic look. For example, you can add a beautiful waterfall wallpaper, with the water appearing to flow behind the clock and date on the Lock Screen. No longer limited to just newer iPhone models, Exiwall brings this visually pleasing feature to all jailbroken iPhone users. Upgrade your Lock Screen experience and stand out from the crowd with Exiwall.
Exiwall Tweak Repo URL – https://havoc.app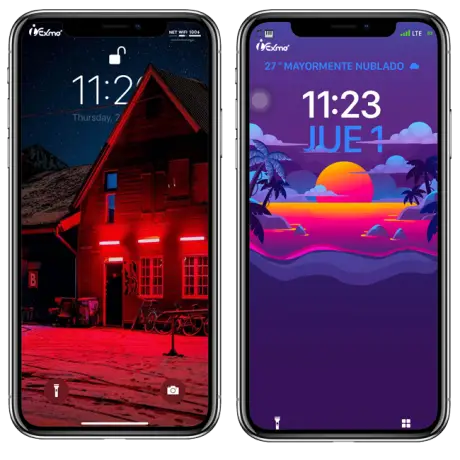 Jellyfish Tweak
Want to add a touch of class to your iOS 14 or iOS 15 device? Look no further than Jellyfish jailbreak tweak! This sleek and stylish tweak, inspired by the watchOS Motion face, adds a unique and visually stunning look to your lock screen. Imagine being greeted by a beautiful, large font displaying the current date, time, and even your local weather conditions – all perfectly blended with the color of your wallpaper or a custom color of your choice. Upgrade your lock screen experience with Jellyfish jailbreak tweak!
Jellyfish Tweak Repo URL – https://repo.chariz.com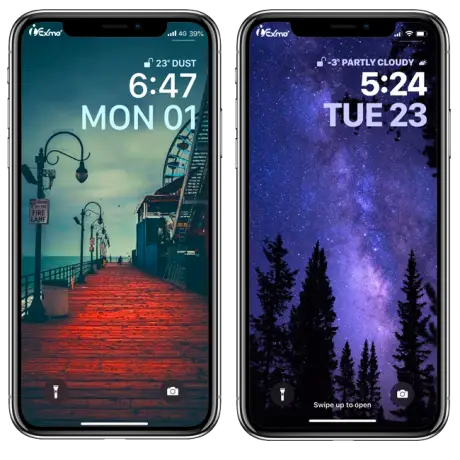 Watermelon Tweak
With Watermelon tweak, stay informed and up-to-date on your iPhone, iPad, and iPod touch, running iOS 12 – iOS 14, without having to unlock your device, even with jailbreaks such as Unc0ver, Checkra1n, or Taurine. The round widgets are placed below the clock on the Lock Screen and it supports up to 20 widgets, but not XinaA15 jailbreak. This tweak brings the popular Apple Watch widgets to your iPhone, giving you the convenience of having all the important information at a glance.
Watermelon Tweak Repo URL – https://repo.chariz.com/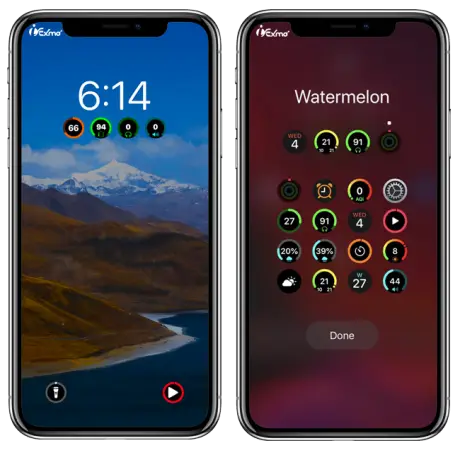 Axon Tweak
A jailbreak tweak that enhances the functionality of the Lock Screen notifications on your iOS device, Axon provides a more organized and visually pleasing display of the notification list. With support for iOS 11 – iOS 14, it also runs on the latest jailbreaks released for iOS 15, such as XinaA15. With the tweak, users can quickly and easily access the most important notifications, making it more efficient to stay informed and in control of your device, all in the style of a Priority Hub.
Axon Tweak Repo URL – http://repo.co.kr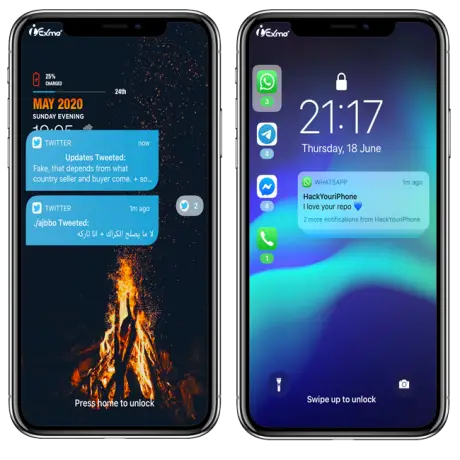 Xen HTML Tweak
Endless possibilities for customizing your device await with Xen HTML, a powerful jailbreak tweak that allows the addition of custom JavaScript and HTML widgets to your Lock Screen. Compatible with popular tweaks such as SBHTML, LockHTML, iWidgets, and Cydget, this versatile widget engine grants access to a vast array of widgets created by the community. Keep in mind, however, that this Lock Screen tweak is not compatible with the latest iOS 15 version.
XenHTML Tweak Repo URL – https://repo.incendo.ws/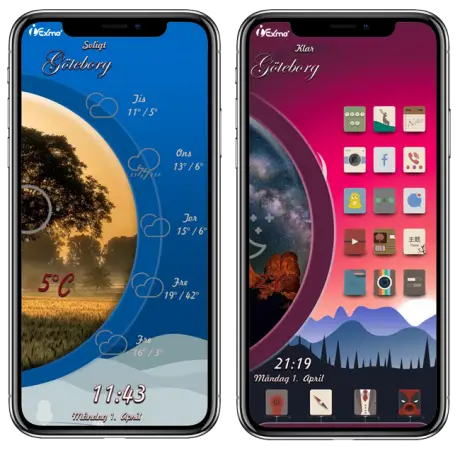 DockLS Tweak
With DockLS, a jailbreak tweak, you can add the Home Screen Dock to your iPhone's Lock Screen, providing easy access to your favorite apps. This DockLS tweak, compatible with all modern jailbreaks such as unc0ver and checkra1n, supports different styles of docks depending on your device. For example, if you have a notched device like iPhone X, you'll get the rounded corner Dock, and if you have a home button device like iPhone 8, you'll get the flat/old-styled Dock. This DockLS tweak is available for jailbroken devices running iOS 13 and iOS 14.
DockLS Tweak Repo URL – https://repo.ginsu.dev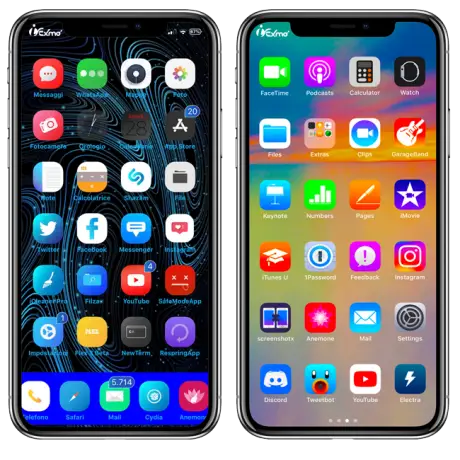 Charge Animations Tweak
Experience unique and fun animations when charging your device with the Charge Animations tweak. Available for purchase at $2.00, this jailbreak tweak works on iOS 11 to iOS 14 jailbroken devices and also comes with a 3-day free trial to test out the feature. Customize the background color and enable the animations on the Springboard, making your charging time more visually appealing.
Charge Animations Tweak Repo URL – https://c1d3r.com/repo/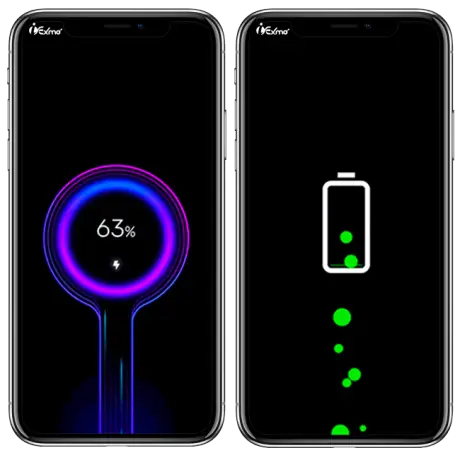 Gradi Tweak
The Gradi jailbreak tweak is a must-have for music lovers who use iOS 14. This tweak brings the sleek and modern player interface of YouTube Music or Google Music to the Lock Screen of your iPhone or iPad. Developed by Ginsu, Gradi is a simple yet powerful tweak that enhances the look and functionality of the Now Playing widget on the Lock Screen. Instead of the plain and boring default interface, Gradi adds a touch of color and style with its album artwork-inspired design. The tweak also includes a subtle motion blur transition that blends the media controls with the album artwork, creating a more immersive and visually pleasing experience. With Gradi, you can easily access your music and control playback without having to unlock your device.
Gradi Tweak Repo URL – https://repo.ginsu.dev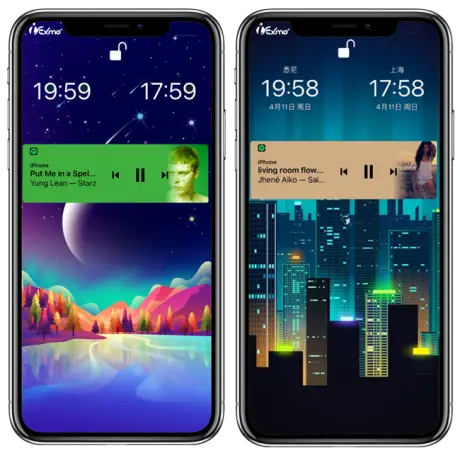 FakePass Tweak
FakePass is a jailbreak tweak that allows you to add an additional layer of security to your device by enabling a passcode on the Lock Screen. This is particularly useful for devices running on A10 and A11 chips that have been jailbroken using Palera1n on iOS 15-16 or checkra1n on iOS 14. Normally, these devices require disabling the passcode in order to jailbreak, but with FakePass, you can still keep your device secure. The tweak adds a preference pane to the Settings app where you can customize the options to your liking. It's important to note that this tweak can only be used on jailbroken devices.
FakePass Tweak Repo URL – https://repo.alexia.lol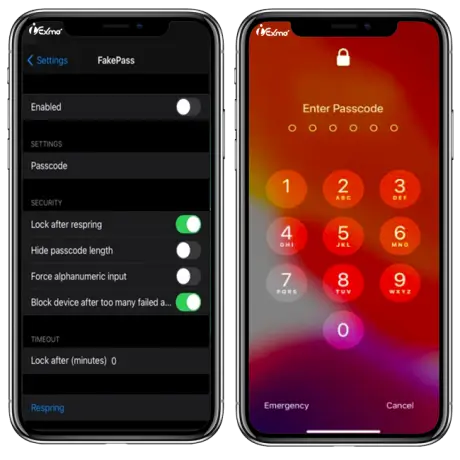 Quick Actions Tweak
QuickActions is a jailbreak tweak that offers a convenient way to access your favorite apps and tools directly from the Lock Screen. Instead of having to unlock your device and navigate to the app, you can simply use the Quick Action buttons to quickly launch them. With this tweak, you can replace the default flashlight and Camera buttons with shortcuts to any app or tool installed on your iPhone. This is particularly useful if you use certain apps or tools frequently and want to be able to access them quickly. The tweak also allows you to pin multiple apps to one button, giving you even more options for customization. However, it's worth noting that this tweak doesn't support shortcuts for other tweaks.
QuickActions Tweak Repo URL – https://repo.chariz.com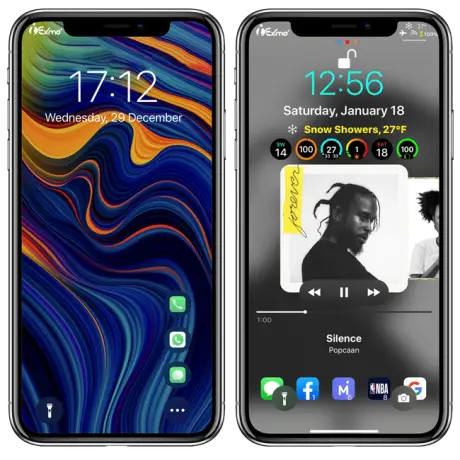 Step-by-Step Guide To Installing Lock Screen Tweaks
Installing a Lock Screen tweak on your jailbroken iOS device can add a personal touch and enhance the functionality of your device. The process of installing a Lock Screen tweak is relatively simple and can be done in a few easy steps.
First, you will need to have a jailbroken device. This can be done by using jailbreak tools.
Check the iOS device jailbreak tool compatibility before installing it.
Step 1 > Open your package manager app, such as Cydia, Sileo, Installer, Saily, or Zebra, from the Home Screen.
Step 2 > Tap on the Sources tab, then select the Edit button.
Step 3 > Add the Lock Screen tweak repository URL of the tweak you wish to install.
Step 4 > Cydia will automatically refresh packages available in the repository.
Step 5 > Search for the Lock Screen tweak name you want to install, and tap on the package to install it.
Step 5 > Restart the Springboard to save the changes.
Step 7 > After restarting, you can enable the Lock Screen tweak from the preference pane in the Settings app. The location of the preference pane will vary depending on the tweak, so refer to the developer's documentation for more information.
Step 8 > Some of the tweaks might require configuring it, so check the settings and configure it to your liking.
The process of installing a Lock Screen tweak on your jailbroken iOS device involves jailbreaking your device, adding a repository to Cydia, searching for the desired tweak and installing it. With a little bit of time and effort, you can personalize and enhance the functionality of your iOS device.