Mugunghwa IPA For TrollStore iOS Customization Tools Without Jailbreak | Mugunghwa Online Install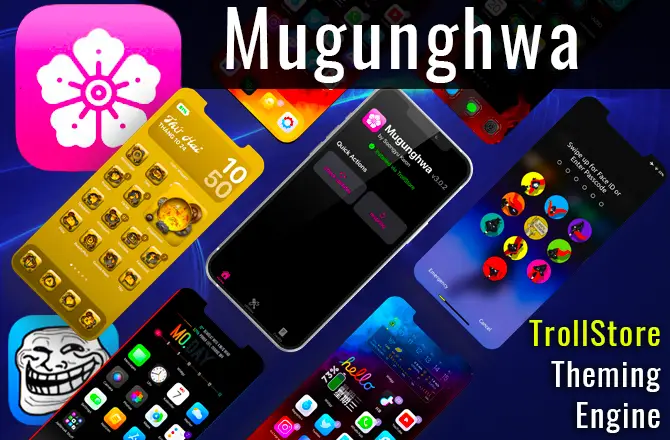 With an iOS theme engine, Mugunghwa IPA is available on TrollStore. For non-jailbroken devices, there are Mugunghwa iOS customization tools. Users can really access most of the restricted iOS capabilities using TrollStore, but the tool can also permanently install IPA files. One feature of the most popular Mugunghwa IPA version is the ability to use transparent photos to theme the iOS 15 default passcode without jailbreaking.
Download Mugunghwa IPA For iOS
---
How To Install Mugunghwa Online With TrollStore
Mugunghwa was made available as an IPA bundle, however you can only sideload it onto your iPhone through TrollStore. Only iOS 15 supports this app. The application won't let you use all of its capabilities if you attempt to install it through Sideloadly for iOS or AltStore.
Step 1 > Install the most latest versions of TrollStore on your iOS device first.
Step 2 > After that, click the above icon to download Mugunghwa and save it onto iCloud.
Step 3 > Share the Mugunghwa IPA file you downloaded with the TrollStore app.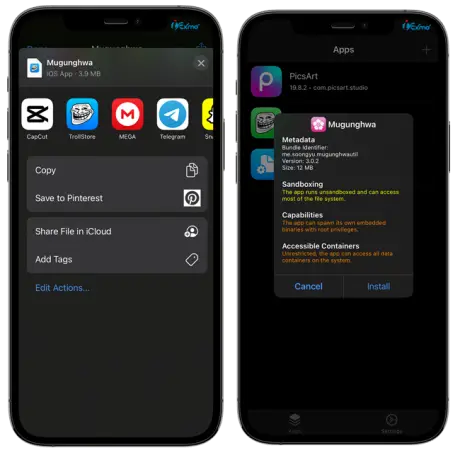 Step 4 > When TrollStore loads, tap the install button, and Mugunghwa will be installed instantly.
Step 5 > Enjoy the Mugunghwa app by opening it from the Home Screen.
📌Theme should be placed at /var/mobile/mugunghwa/Themes/. The text ".theme" is not required before the theme name. You ought to notice a few icons inside the Manage Themes area of Mugunghwa after a successful installation. Web clip theming is required for system apps.
Mugunghwa Compatible iOS/iPadOS Versions
Mugunghwa For iOS 15 – iOS 15.5, iOS 15.4.1, iOS 15.4, iOS 15.1.1, iOS 15.1, iOS 15.0.2 , iOS 15.0.1, iOS 15
Mugunghwa For iOS 14 – iOS 14.8.1, iOS 14.8, iOS 14.7.1, iOS 14.7, iOS 14.6, iOS 14.5.1, iOS 14.5, iOS 14.4.2, iOS 14.4.1, iOS 14.4, iOS 14.3, iOS 14.2, iOS 14.0.1, iOS 14.1, iOS 14
Mugunghwa Compatible iPhone/iPad Models
Mugunghwa Supported iPhone Models – iPhone 14, iPhone 14 Plus, iPhone 13, iPhone 13 Mini, iPhone 13 Pro, iPhone 13 Pro Max, iPhone SE (3rd generation), iPhone 12 Mini, iPhone 12, iPhone 12 and iPhone 12 Pro Max, iPhone11, iPhone 11 pro, iPhone 11 pro max, iPhone XS, XS Max, XR, iPhone X, iPhone 8, iPhone 8 Plus, iPhone 7, iPhone 7 Plus, iPhone 6s, iPhone 6s Plus, iPhone 6, iPhone 6 Plus, iPhone SE.
Mugunghwa iPad Models – Pro 12.9-inch (3rd, 4th & 5th generation), iPad Pro 11-inch (1st, 2nd & 3rd generation), iPad Air (4th generation), iPad Pro 12.9-inch (1st and 2nd generations), iPad Pro 10.5-inch & 9.7-inch, iPad Air (3rd generations), iPad Air 2, iPad (5th, 6th, 7th & 8th generations), iPad mini (5th generation), iPad mini 4.
What Is Mugunghwa Theme Engine?
It is not required to jailbreak your iPhone in order to use the little app Mugunghwa, which makes various tweaks. For iOS customization, Mugunghwa is a fantastic assistant. All TrollStore-compatible devices running iOS 15.0 and iOS 15.5 beta 4 can be equipped with Mugunghwa. There will be no support for additional firmware versions in the feature.
After installation, the Home Screen will offer access to the Mugunghwa app. You may do fast activities like checking new app updates and activating installed customizations and applications by pressing the respring button when the app is opened.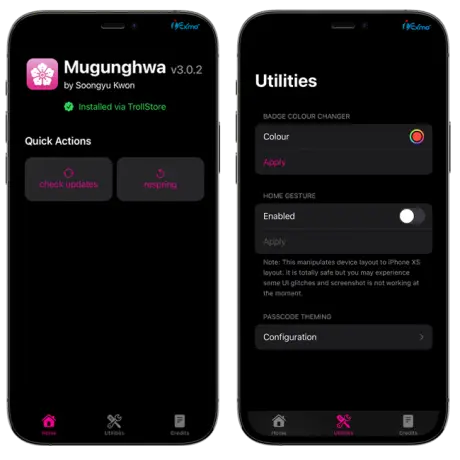 Mugunghwa Theme Engine Features
Features:
✅ Badge color changing
✅ Home Gesture
✅ Passcode theming
Upcoming:
✅ Carrier Changer and more to come
You may enable any modification function offered via Mugunghwa's Utilities panel. The device's layout may be modified to resemble that of the iPhone XS with the ability to modify the badge color as well as enable home gestures.
Mugunghwa trollstore provides a great color picker when you desire to alter the color of the badges that are visible just on Home Screen beside the app icons. You may choose a color from a spectral range or grid, enter a HEX value, or utilize sliders with RGB values.
The ability to modify the carrier name with iOS from a jailbroken device should be added in a future version of Mugunghwa, at least according to the creator. The carrier name may be manually changed on iOS 15 using Filza if you're seeking for this capability right now.
On iOS 15, Mugunghwa iOS 15 has a theming engine that enables you to alter all icons with a single tap. Additionally, SnowBoard themes iOS 15 are now functional and may be used without the need for a jailbreak. Instead of implementing web clips such as BlizzardBoard or Shortcuts, Mugunghwa customization helper actually changes the app bundle and supports icon badges.
The application pauses while applying a theme after you press the apply button. Applying icons might take some time and there is currently no indicator. After applying via TrollStore for iOS, you must additionally rebuild the icon cache, which may need several resprings.
Because it does not have the necessary file system rights, mugunghwa trollstore beta cannot customize system icons like Settings and Messages. Will there be an opportunity to add Web Clips in system programs in a different version, but for now, you must customize it manually via shortcuts.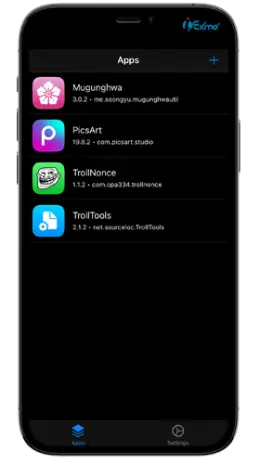 The Exclusive TrollStore Tool Collection
With the advent of TrollStore, you can explore the iOS space without jailbreaking. Trollstore github, trollstore reddit, trollstore iOS 16, trollstore apps, trollstore 2, trollstore ipa, trollstore download, troll store helper, trollstore tweaks, troll store iOS 15.5, appstore++ trollstore, filza trollstore, install trollstore, how to use troll store, mugunghwa trollstore you can know everything about trollstore in one place.
Revolutionary iOS 15 Customization With TrollTools
The permanent Theming Tools for iOS 14 through iOS 15 are available in the TrollTools iOS App. If you want themes, personalized passcode buttons, badge personalization, and other features, you need a long-term solution. The greatest theme tools option to Mugunghwa is TrollTools.
Install TrollTool Through TrollStore »
TrollNonce Boot Nonce Tool For TrollStore
On iOS 15, the free app TrollNonce takes advantage of the flaw and enables nonce modification. Your iOS device's nonce may be quickly adjusted to upgrade or downgrade without any hassle.
How To Get TrollNonce Online »
Who Creates The Mugunghwa App?
The creator of MugunghwaSoongyu Kwon @soongyu_kwon is still working on the project, and as a consequence, you may be using the app to customize the passcode's appearance by substituting your own photos for the digits. Of course, it is possible to immediately undo all modifications that have been made.
Mugunghwa Source Code
The GNU General Public License was used to offer Mugunghwa as an open-source project, and all files were made available through all of the s8ngyu / Mugunghwa GitHub Repository. Swift made up 90.4% of the app's code, followed by Objective-C at 8.4% and other languages at 1.2%. On a macOS computer, you may use Xcode to modify the Mugunghwa project.
What's New In Mugunghwa?
Latest Releases In Mugunghwa
Mugunghwa v3.0.2
Mugunghwa v3.0
Themes for icons.
Fixed small bugs
Mugunghwa v2.0.3
Mugunghwa v2.0.2
Enhanced algorithm for passcode theming.
Mugunghwa v2.0.1
A bug where "0" was not changing was fixed.
Mugunghwa v1.0.1
Minor bug fixes.
iOS 14 supports Mugunghwa.