NiceCaller IPA Download iOS 15 For TrollStore [No Jailbreak] NiceCaller Online Install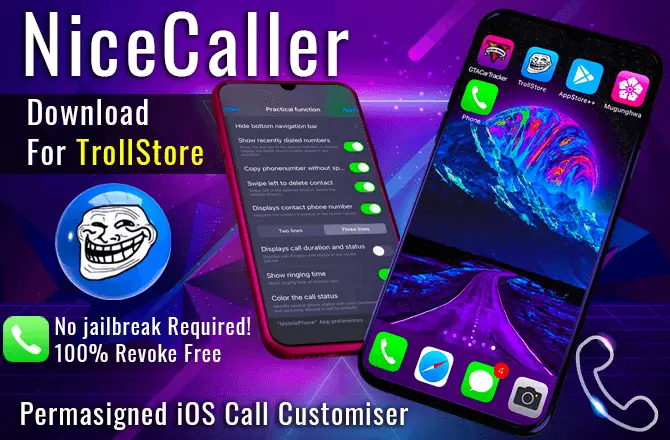 The popular jailbreak tweak NiceCaller supports iOS 15 without requiring you to jailbreak your iPhone. Using the TrollStore IPA installer, you may install NiceCaller for iOS 15 online. The TrollStore IPA installer has the ability to access various restricted system files in addition to installing IPAs.
NiceCaller IPA Download
---
NiceCaller (iOS15) Features
✅ The phone number's city is shown by NiceCaller for TrollStore.
✅ Greek, Russian, Arabic, Traditional Chinese Phonetic, and Simplified Chinese Pinyin are all supported by the NiceCaller T9 dial.
✅ One-touch dial with dial key binding.
✅ Fast dial.
✅ Keyboard vibration.
✅ The dual dial keys on dual-card models are displayed.
✅ Android dial pads are available from NiceCaller.
✅ Answer and end call vibration.
✅ Change the number of recent calls that are shown.
✅ Selecting a dial card using NiceCaller.
✅ A color dual-card identification capability.
✅ The flexibility to hide NiceCaller's SIM card option labels.
✅ Call records are merged, displayed together, and all call records associated with the same contact are combined.
✅ Calls are displayed along with contact information.
✅ Show the incoming call's ringing time and many more.
How To Install NiceCaller IPA For iOS
NiceCaller15 may be easily installed via the web installation technique without a jailbreak. As an IPA package that could be installed on iOS 15, NiceCaller15 for TrollStore was made available. Because of a bug in iOS 15 that allows TrollStore to reach system files that really are typically only accessible in a jailbroken environment, users cannot sideload the program using any other technique.
Install NiceCaller IPA Online With TrollStore
Step 1 > Install the iOS 15 TrollStore app on your iOS device.
Step 2 > Then save the NiceCaller IPA to your device after downloading it.
Step 3 > Now tap the share button and send the NiceCaller IPA file to the TrollStore app.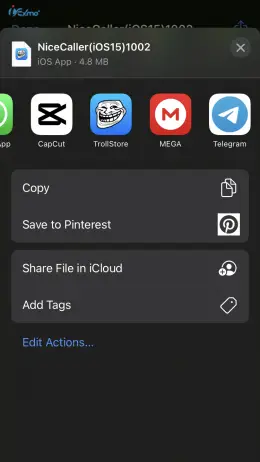 Step 4 > When you tap the "install" button, TrollStore will automatically install the NiceCaller IPA file.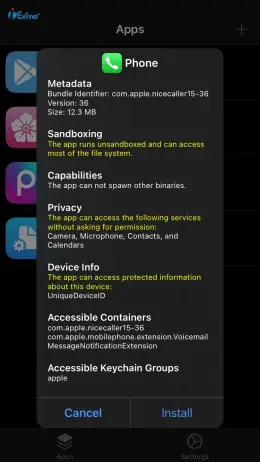 Step 5 > From the Home Screen, open the Phone app. Dial ###### (# – 6 times ) to view the NiceCaller display settings.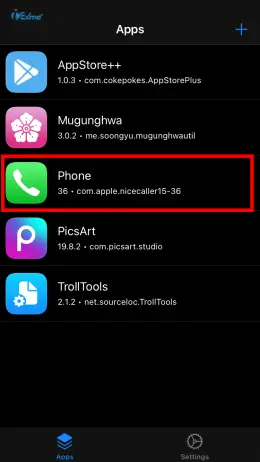 How To Install NiceCaller Repo For iOS
Through the exclusive NiceCaller iOS Repository, the NiceCaller tweak was made available as a trial package. Valuable call functionality can be accessed by adding the NiceCaller Repo to your package manager. Accordingly, the XinaA15 jailbreak for iOS 15 supports Call record, Voice change, and Call background music too. To add the NiceCaller repository, you may also utilize your preferred package manager, such as Zebra, Sileo, or Installer.
Install NiceCaller With Cydia
Step 1 > Just go to Home Screen and launch the Cydia application.
Step 2 > Tap Sources > Go to Edit > Add NiceCaller Repo URL.
NiceCaller Repo URL – https://global.niceios.com
Step 3 > Tap on Search and type NiceCaller.
Step 4 > Tap on the Get button. For the installation to be complete, Cydia may ask you to restart the device.
Step 5 > You may access tweak options from the Settings app.
NiceCaller Compatibility
NiceCaller Supported iPhone Models

iPhone 14 Pro Max, iPhone 14 Pro, iPhone 14 Plus, iPhone 14, iPhone SE
(3rd generation), iPhone 13 Pro Max, iPhone 13 Pro, iPhone 13 Mini, iPhone 13, iPhone 12 Mini, iPhone 12, iPhone 12, iPhone 12 Pro Max, iPhone11, iPhone 11 pro, iPhone 11 pro max, iPhone XS, XS Max, XR, iPhone X, iPhone 8, iPhone 8 Plus, iPhone 7, iPhone 7 Plus, iPhone 6s, iPhone 6s Plus, iPhone 6, iPhone 6 Plus, iPhone SE.
NiceCaller Supported iPad Models
iPad Pro 12.9-inch (3rd, 4th, 5th generation), iPad Pro 11-inch (1st, 2nd, 3rd generation), iPad Air (4th generation), iPad Pro 12.9-inch (1st, 2nd generations), iPad Pro 10.5-inch & 9.7-inch, iPad Air (3rd generations), iPad Air 2, iPad (5th, 6th, 7th, 8th generations), iPad mini (5th generation), iPad mini 4.
NiceCaller Support iOS/iPadOS Versions
NiceCaller For iOS 15 Without Jailbreak – iOS 15.7 / iOS 15.6.1 /iOS 15.6 (Not working properly) / iOS 15.6 beta 1 – 5 / iOS 15.5 beta 1 – 4 / iOS 15.4.1 / iOS 15.4 / iOS 15.3.1 / iOS 15.3 / iOS 15.2.1 / iOS 15.2 / iOS 15.1.1 / iOS 15.1 / iOS 15.0.2 / iOS 15.0.1 / iOS 15
NiceCaller For iOS 14 – iOS 14.8 / iOS 14.7.1 / iOS 14.7 / iOS 14.6 / iOS 14.5 / iOS 14.4.2 / iOS 14.4.1 / iOS 14.4 / iOS 14.3 / iOS 14.2 / iOS 14.1 / iOS 14.0.1 / iOS 14.0
AppStore++ For iOS 13 – iOS 13.7 / iOS 13.6.1 / iOS 13.6 / iOS 13.5.5 / iOS 13.5.1 / iOS 13.5 / iOS 13.4.1 / iOS 13.4 / iOS 13.3.1 / iOS 13.3 / iOS 13.2.3 / iOS 13.2.2 / iOS 13.2 / iOS 13.1.3 / iOS 13.1.2 / iOS 13.1.1 / iOS 13
NiceCaller For iOS 12 – iOS 12 / iOS 12.0.1 / iOS 12.1 / iOS 12.1.1 / iOS 12.1.2 / iOS 12.1.3 / iOS 12.1.4 / iOS 12.2 / iOS 12.3 / iOS 12.3.1 / iOS 12.3.2 / iOS 12.4 / iOS 12.4.1 / iOS 12.4.2 / iOS 12.4.3 / iOS 12.4.4 / iOS 12.4.5 / iOS 12.4.6 / iOS 12.4.7 / iOS 12.4.8 / iOS 12.4.9 / iOS 12.5 / iOS 12.5.1 / iOS 12.5.2 / iOS 12.5.3 / iOS 12.5.4 / iOS 12.5.5 / iOS 12.5.6
What Is NiceCaller For TrollStore?
With NiceCaller iOS 15, managing call customization is being revolutionized. An exclusive version of the well-known jailbreak tweak called NiceCaller iOS 15 (NiceCaller15) for TrollStore was created to function on jailbroken iPhones. NiceCaller for iOS 15 provides several great features for non-jailbroken iPhones and runs on iOS 15.0 – iOS 15.4.1. There are many more helpful features in the NiceCaller tweak with TrollStore.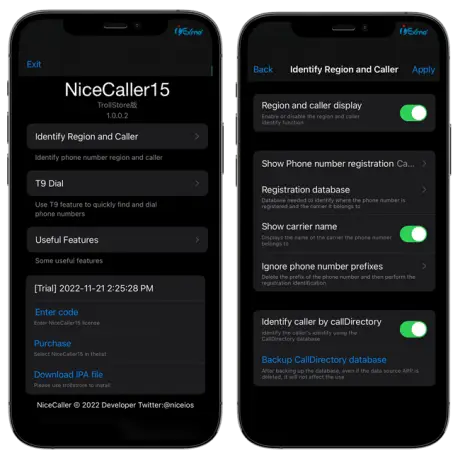 After being installed, NiceCaller creates a Home Screen icon which is perfectly like the stock Phone app. You can reach all of the stock Phone app's functions, such as Recents, Favorites, Contact, Keypad, as well as Voicemail, when you start up the new Phone app.
The recent call history may be customized in NiceCaller15 to store up to 500 calls; by standard, the call history has 100 entries. Prior to dialing, NiceCaller iOS 15 allows you to select your SIM card. You may also use this feature to confirm calls. Additionally, NiceCaller15 modifies the pages in the bottom navigation bar, among other things.
Moreover, NiceCaller offers the options to take a picture of the SIM card before dialing, use a colored dual card label, toggle the SIM card, hide the SIM card preference tab, merge recent call records, display contacts' phone numbers, display recently dialed numbers, make copies phone numbers without spaces, display call duration, show ringing time, as well as color call statuses. In NiceCaller15, all of those functionalities are available.
You may activate the area and caller identification capability by entering the city and phone number in NiceCaller15. Also, you may turn on or off compatibility for T9 dialing. Arabic, Greek, Russian, Simplified Chinese Pinyin, Traditional Chinese Phonetic, or obtain a license. Call Customizer NiceCaller have In terms of practical functions, there are more choices available.
More exciting features are offered by the NiceCaller tweak for jailbroken iPhones. A built-in call recorder hook, a real-time voice change, and a call background music feature let you listen to your favorite tracks while on the iOS device. Both the NiceCaller15 app and the NiceCaller tweak are available in free trial versions. Purchase the tool for $5.01 via PayPal, usable for both platforms. The settings page has a purchase option accessible. Be advised that the jailbroken version offers additional features like a voice recorder and voice changer and more other call customization features.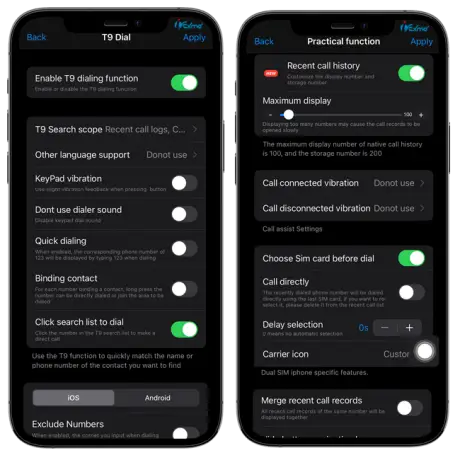 Who Is The NiceCaller's Creator?
NiceCaller for TrollStore and NiceCaller for TrollStore were created by NiceiOS @NiceiOs. The nicecaler (iOS15) -Troll Version has been made available internationally.
NiceBattery For TrollStore
You may download and utilize TrollStore to install the support display battery information, real-time network speed, real-time memory consumption, real-time CPU frequency, and other features.
The Most Useful Free TrollStore Apps For iOS
TrollStore Permasigned Jailed App
Trollstore is an iOS tool that allows you to sideload any software without limitation and use it indefinitely by avoiding AppStore verification. You don't have to re-sign the app with Trollstore every week. Join to know the latest information about trollstore github, trollstore reddit, trollstore iOS 16, trollstore apps, trollstore 2, trollstore ipa, trollstore download, troll store helper, trollstore tweaks, troll store iOS 15.5, appstore++ trollstore, filza trollstore, install trollstore.
AppStore++ For TrollStore
With the TrollStore you can get the latest app store plus trollstore. Let's know about app store productivity apps, appstore++ settings, how to install appstore++, how to download appstore++, appstore++ trollstore, appstore++ ipa trollstore in one place. You may use the App Store downgrade tools with this AppStore++ IPA version without bothering to jailbreak your device.
Mugunghwa Theming Engine For TrollStore
An upgraded version of Mugunghwa, a well-known system modification program for TrollStore users regardless of whether they're jailbroken or not, has been released by iOS developer Soongyu Kwon.Updated Mugunghwa iPA for TrollStore with quicker icon theming, improved security measures, and so more.
Mugunghwa For TrollStore Online »
TrollTools iOS 15 Permasigned Theming Tools
Your iPhone may be customized without jailbreaking with the TrollTools TrollStore enabled app. TrollTools IPA for TrollStore joins the race as many individuals are patiently waiting for an iOS & iPadOS 15 jailbreak by enabling users to modify and replace iOS devices with incredible capabilities.
Important Facts To Know About TrollTools »
What's New In NiceCaller?
NiceCaller v1.0.0.2
1.0.0.2 of the NiceCaller IPA has been updated.
Bug fix update
TrollStore's NiceCaller first release.