ResSet16 IPA For Set Screen Resolution iOS iOS 15.0 – iOS 16.1.2 [Browse MacDirtyCow Apps]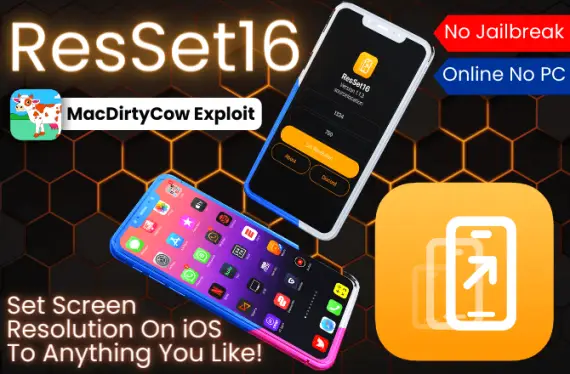 ResSet16 IPA is a revolutionary tool that empowers you to personalize your screen resolution on iOS 15 to 16.1.2. With this ResSet16 MacDirtyCow app, you are no longer limited to the default screen resolution set by your iPhone device, but instead, you can set it to anything that you prefer. Experience a whole new level of MacDirtyCow customization with ResSet16 IPA.
How To Download ResSet16 IPA
ResSet16 is a versatile tool that can be easily installed on your iPhone or iPad, even if it's not jailbroken. This app allows you to alter the screen resolution of your device, giving you a customized viewing experience.
To install ResSet16, you'll need a sideloading tool like TrollStore, Bullfrog Assistant, SideStore, AltStore, or Esign. For the purposes of this guide, we'll be using Sideloadly to install the ResSet16 IPA file. With a few simple steps, you'll be able to transform the look of your device and take control of your viewing experience.
KFD Jailbreak Exploit IPA Apps – iOS 16.0 – 16.6 Jailbreak
KFD introduces a new KFD jailbreak exploit, poised for future jailbreak developments, opening doors to exciting possibilities.
The KFD exploit is all about enhancing iPhone and iPad devices by incorporating various jailbreak functions and features. Currently, the KFD exploit offers support for iOS versions ranging from 15.5 to iOS 16.6 Beta 1.
KFDFontOverwrite, KFD-kanna font destroy, Posi0nKFD tweak IPA, KFDicks16, Taurine Jailbreak, and the KFD exploit, PureKFD (PurityKFD), CarPlay KFD IPA, NekoJB+ KFD exploit, Misaka KFD, SimpleKFD, Cluckabunga KFD, Picasso Jailed toolbox, and many other top KFD IPA apps for customization without jailbreak.
KFD Jailbreak Exploit IPA Apps »
To Installing ResSet16
➤ If you're running iOS 14, use TrollStore for the installation.
➤ For iOS versions 15.0 to 15.4.1, choose between TrollStore, AltStore, or Sideloadly.
➤ For iOS 15.5 to 16.1.2, stick with AltStore or Sideloadly, excluding 15.7.2 & 15.7.3.
Step-by-Step Guide To Installing ResSet16 IPA Using Sideloadly On iOS
Step 1 > Download the ResSet16 IPA file from ablove link.
Step 2 > Launch Sideloadly on your computer and connect your iPhone or iPad to it using a USB cable.
Step 3 > Upload the ResSet16 IPA file to Sideloadly.
Step 4 > Enter your Apple ID to sign the IPA file.
Step 5 > Hit the "Start" button to initiate the ResSet16 installation process.
Step 5 > Type in the password for your Apple ID when prompted.
Step 7 > Open the Settings app from the Home Screen of your iDevice.
Step 8 > Go to General > VPN & Device Management.
Step 9 > Find the developer app linked to your email and click on it.
Step 10 > Tap "Trust" to allow the ResSet16 app to run smoothly on your device.
How To Installing ResSet16 IPA Using TrollStore IPA Installer
Installing ResSet16 IPA on your iOS device has never been easier thanks to TrollStore. This guide outlines the simple steps to follow to get ResSet16 up and running on your device. Here's what you need to do:
Step 1 > Acquire the ResSet16 IPA file. A trustworthy source for the latest ResSet16 IPA is the iExmo IPA library.
Step 2 > Open TrollStore and add the ResSet16 IPA file to the app's list.
Step 3 > Click on the install button for ResSet16 to initiate the installation process.
Step 4 > Once installed, locate the ResSet16 IPA icon on your home screen and tap it, then choose Open.
With these steps, you'll have ResSet16 running smoothly on your iOS device in no time!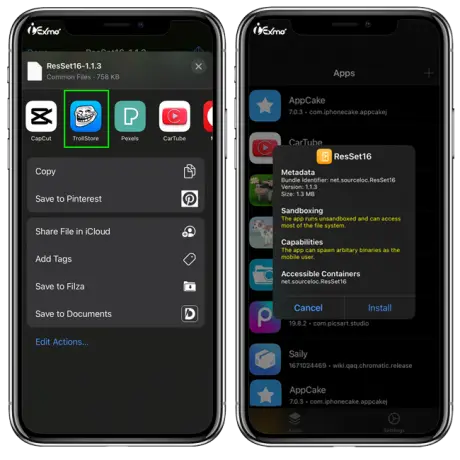 Browse Top MacDirtyCow Apps
Unlock the potential of your iOS device with the help of apps that make use of the MacDirtyCow bug. From DynamicCow to Cardio, you'll find a variety of apps that support iOS 16 to 16.1.2, iOS 15.0 to 15.7.1, and iOS 14.0 to 14.8.1, making them compatible with all devices. Discover the ease of downloading and using popular apps like Santander, Blacklist, and FilzaEscaped, and enhance your device's performance. With a click, transform your device with tools like TrollLock Latest, NoCameraSound, and Status Magic. Upgrade your device with our collection of online-downloadable apps.
🚀 MacDirtyCow With Top iOS Apps – Get Yours Today! »
What Is ResSet16 App?
ResSet16 is a useful tool for iPhone and iPad users who have jailbroken their devices and are running iOS 15 to 16.1.2. To use ResSet16, simply install the IPA on your device and launch the app from the home screen.
The ResSet16 MacDirtyCow app has a user-friendly interface that allows you to easily change your device's screen resolution by using the MacDirtyCow exploit. If you need to undo any changes, simply restart your device. Although Apple discourages altering screen resolution, there may be instances where ResSet16 proves to be helpful.
The ResSet16 app is inspired by ResolutionSetterSwift for TrollStore but leverages the MacDirtyCow exploit for improved compatibility with both devices and iOS versions.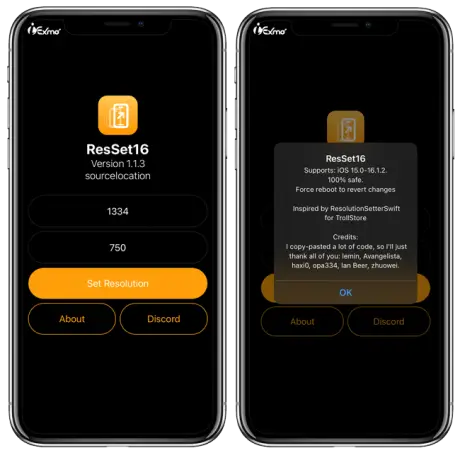 Discover iOS Jailbreak, Tweaks, And Apps Of Customization With IPA Library
At iExmo IPA Library, you can experience the limitless possibilities of your iOS devices. Our library offers you a vast collection of jailbreak IPA, tweaks IPA, and hack game IPA, amongst others, all available for free download for iPhone, iPad, and iPod touch. Unleash the full potential of your device and enjoy a whole new world of customization and personalized experiences with our IPA library. So, say goodbye to restrictions and hello to a whole new world of adventure!
ResSet16 MacDirtyCow iOS Compatibility
☑️ ResSet16 For iOS 16 – iOS 16 / iOS 16.0.1 / iOS 16.0.2 / iOS 16.0.3 / iOS 16.1 / iOS 16.1.1 / iOS 16.1.2 / iOS 16.2 / iOS 16.3
☑️ ResSet16 For iOS 15 – iOS 15 / iOS 15.0.1 / iOS 15.0.2 / iOS 15.1 / iOS 15.1.1 / iOS 15.2 / iOS 15.2.1 / iOS 15.3 / iOS 15.3.1 / iOS 15.4 / iOS 15.4.1 / iOS 15.5 / iOS 15.6 / iOS 15.6.1 / iOS 15.7 / iOS 15.7.1 / iOS 15.7.2 / iOS 15.7.3
iPhone Screen Resolutions With ResSet16
☑️ 2340 x 1080 pixels: iPhone 13 Mini (2021), iPhone 12 mini (2020), iPhone 12 mini (2020)
☑️ 2532 x 1170 pixels: iPhone 13 (2021), iPhone 13 Pro (2021), iPhone 12 pro (2020), iPhone 12 (2020)
☑️ 2778 x 1284 pixels: iPhone 13 Pro Max (2021), iPhone 12 pro max (2020)
☑️2688 x 1242 pixels: iPhone 11 Pro Max (2019), iPhone XS Max (2018)
☑️ 2436 x 1125 pixels: iPhone 11 Pro (2019), iPhone XS (2018)
☑️ 1792 x 828 pixels: iPhone 11 (2019), iPhone XR (2018)
☑️ 1242 x 2688 pixels: iPhone XS, iPhone XS Max, iPhone XR
☑️ 1125 x 2436 pixels: iPhone X
☑️ 1080 x 1920 pixels: iPhone 6 Plus, iPhone 6s Plus, iPhone 7 Plus, iPhone 8 Plus
☑️ 750 x 1334 pixels: iPhone 6, iPhone 6s, iPhone 7, iPhone 8
☑️ 640 x 1136 pixels: iPhone 5, iPhone 5s, iPhone 5c, iPhone SE
☑️ 640 x 960 pixels: iPhone 4s
Benefits Of Using ResSet16
ResSet16 offers a range of benefits to users who jailbreak their iPhones or iPads running iOS 15 to iOS 16.1.2. Here are just a few of the benefits you can expect when using this handy tool:
✅ Increased flexibility: With ResSet16, you can adjust your device's screen resolution to suit your individual needs, providing greater flexibility and customization options.
✅ User-friendly interface: The app boasts a user-friendly interface, making it simple and straightforward to modify your screen resolution.
✅ Compatibility with MacDirtyCow exploit: By leveraging the MacDirtyCow exploit, ResSet16 ensures compatibility with a wide range of devices and iOS versions, providing greater peace of mind.
✅ Easy to undo changes: Should you wish to undo any changes you make to your screen resolution, simply reboot your device, and the changes will be reversed.
✅ Improved resolution options: ResSet16 offers improved resolution options compared to similar tools, ensuring you can get the most out of your device's display.
Overall, ResSet16 provides a powerful and convenient solution for those looking to tweak the screen resolution on their jailed iPhone or iPad.
KFD ResSet16 IPA
The KFD ResSet16 IPA is a valuable tool for those seeking to change the screen resolution on their iOS 16-16.6 devices. This KFD ResSet16 IPA method is particularly helpful for users with jailbroken iPhones or iPads.
By downloading the KFD ResSet16 IPA, you can easily adjust and optimize your device's screen resolution. This process provides greater flexibility and customization for your device's display settings.
Who Developed Innovative ResSet16 Screen Resolution Tool
Matthew Anisovich, the Creator of ResSet16, is a Talented Developer in the Jailbreak Community. He has Developed Numerous Innovative Tools to Revolutionize iOS 15 Customization and Enhance the User Experience. Some of His Most Notable Apps Include:
💙 TrollTools: Transforming the Way You Customize Your iOS 15 Device.
💙 Cardculator: A Practical PiP/Mini Calculator for Jailbroken iOS Devices.
💙 DebToIPA: Conveniently Convert .deb Apps to .ipa Files on Your iOS Device.
💙 VirtualMouseiOS: Control Your Computer with Your iPhone by Using it as a Mouse.
💙Pinanim: Add a Touch of Animation to Your Lock Screen Pin Dots with this Jailbreak Tweak.
💙 AirTroller: Play Pranks on Your Friends with this AirDrop Spammer/Flooder.
Each of these apps showcases Matthew Anisovich's ability to create user-friendly, practical tools that improve the jailbroken iOS experience.
ResSet16 GitHub Source Code
ResSet16 is a transparent project, with its source code accessible through GitHub. This open-source tool operates under the GPL-3.0 license and has been built using a combination of Objective-C, C, and Swift. Users can confidently install ResSet16, knowing that any changes made can be easily undone by restarting their iDevice. The developer is committed to maintaining ResSet16, with frequent updates ensuring the app remains up to date. The most recent version of ResSet16 is available, and future updates are in the works to address any known issues.
What's New In ResSet16
ResSet16 v1.1.3
ResSet16 v1.1.2
If a user is using 16.2 Developer Beta 1, include a button to dismiss the "Unsupported" notice.
ResSet16 v1.1.1
Fresh looking UI.
A keyboard with numbers.
Whenever possible, use authorized file access over MDC.
ResSet16 v1.1
Improved resolution setting.