Satella 2 Tweak Repo And Satella Jailed Modern IAP App Purchase Cracker For iOS | iOS 15 Jailbreak Tweaks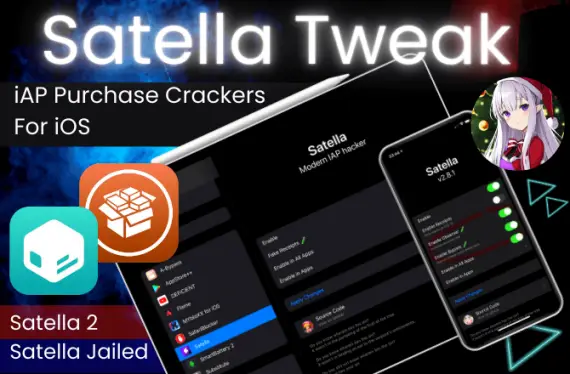 In-app purchase cracker Satella 2 tweak by Paisseon tries to make a purchase in an official App Store app, then fakes the transaction. The most famous creators of the greatest Cydia tweaks as well as iOS app cracking tools were Paisseon and JulioVerne, who developed the Satella 2 tweak repo and SatellaJailed tools. Satella jailbreak tweak is a more advanced and powerful in-app purchase hack for iOS that offers jailbreakers an unbeatable user experience.
Download Satella Jailed App Purchase Cracker
Satella 2 Tweak IAP Hacker Features | LocalIAPStore Alternative!
✅ Satella tweak is secure and open source.
✅ The most recent versions of iOS and arm64e are compatible with Satella tweak.
✅ Works with all applications that are vulnerable to LocalIAPStore.
✅ For iOS jailbreakers, a tool with lightning speed.
✅ All jailbreaks for iOS 12 to iOS 16 and higher are supported.
✅ Adjust the options to enable or disable and many more.
Satella Tweak Compatibility
💠 For Jailbroken Devices ➢ Satella 2 For iOS 12 – iOS 15
💠 For Jailed Devices ➢ SatellaJailed For iOS 12 – iOS 16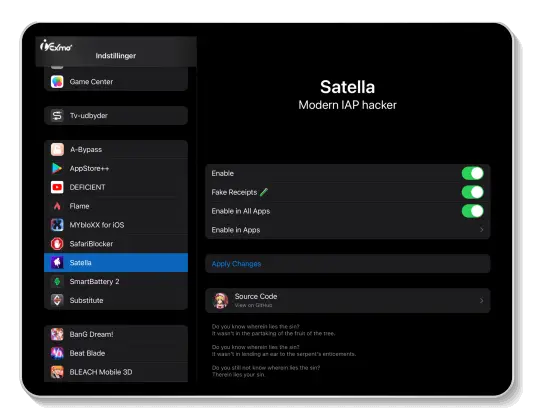 How To Install Satella 2 Tweak Repository For iOS
The most updated version of the well-loved Satella 2 tweak repo in-app purchase spoof for iOS apps can be discovered in the Paisseon Repository. You must add the official Cydia repo in order to install the Satella 2 tweak on your iPhone. Satella Jailed was made publicly available as a separate file, so none of that is included in the Paisseon repository.
Step 1 > From the Home Screen, launch the Cydia application, then select the Sources tab.
Step 2 > Go to Edit ⮞ Add ⮞ Enter the Satella tweak repo URL.
🚀 Satella 2 Tweak Repo URL – https://paisseon.github.io
Step 3 > Install the Satella 2 tweak from the recent update Paisseon repository.
Step 4 > Respiring your iPhone will apply only those modifications.
Step 5 > The Settings app now has a preference pane where you can customize the Satella tweak.
How To Install Satella Jailed IPA With Sideloadly
Using a sideloaded IPA file for your iPhone, you can install Satella Jailed. iOS 12 through iOS 16 are compatible with the Satella Jailed app. The in-app purchase cracker for sideloaded applications, Satella Jailed, is available without a jailbreak. A decrypted Satella Jailed IPA file as well as a tool such Sideloadly are required in order to inject dylib into the application.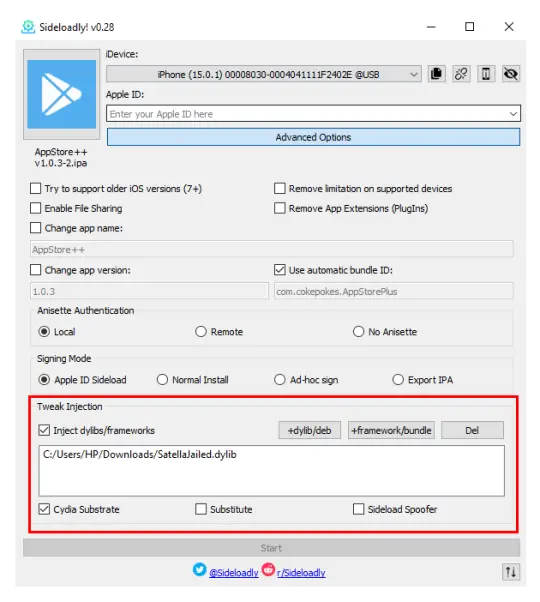 Step 1 > Use the button above to download SatellaJailed.dylib.
Step 2 > The target app's decrypted IPA file should be downloaded.
Step 3 > Launch the Sideloadly tool on your Mac or Windows PC.
Step 4 > Drag and drop the IPA file you just downloaded into Sideloadly.
Step 5 > Go to Advanced options > Tweak injection > SatellaJailed.dylib should be loaded.
Step 6 > Click on start to modify the IPA so that it includes the dylib package.
Step 7 > The patched IPA is now sideloaded to your iPhone.
Step 8 > Make an attempt to complete an in-app purchase, and then close the popup window.
Satella Jailed For Non-jailbroken Devices On iOS 15 – iOS 16
Satella Jailed may be injected into an IPA file when using a non-jailbroken device. The Satella Jailed tweak was specifically built to run across all sideloaded applications without the need for a jailbreak. iOS 15 and iOS 16 are supported by the latest edition of Satella Jailed.
The Best Jailbreak Tweaks For iOS
Then your iPhone has been jailbroken. Cheers! The challenging part is over. Installing and utilizing these changes will now let you customize your iPhone experience.
If you haven't jailbroken your phone yet, find the most suitable jailbreak tool to jailbreak your phone with this AI-powered free jailbreak search tool.
These tweaks are frequently utilized to provide your device new functionality or customization possibilities. The most recent jailbreak modifications and applications are featured below for your iPhone or iPad. By emphasizing only the greatest changes, this fascinating collection of jailbreak tweaks helps you save time.
Top Jailbreak Tweaks You Should Check Out! »
The Best iOS 11- iOS 16 IPA ++Apps, Jailbreak Tools, And Game Hack IPA
Download jailbreak IPA apps for iPhone, iPad, and iPod Touch, as well as TrollStore apps, hacked IPA games, tweaks, and ++ apps. No jailbreak is needed!
IPA Library – Download iOS Tweaks, Apps, and Jailbreak Tools »
Unleash The Power Of Cydia: Get The Best Sources Repos List For iOS
Explore the best sources repos list for your jailbroken iOS device. This ultimate collection curated by iOS Repo Updates brings you a selection of top Cydia repos, providing a wide range of tweaks and enhancements for your iPod, iPad, or iPhone.
📱 Explore the Best Sources Repos List For iOS
Elevate Your iOS Customization: Experience The Best Cydia And Sileo Tweaks
Unleash the full potential of your jailbroken device with the top Cydia and Sileo tweaks. Enhance your iOS experience with these handpicked tweaks, carefully chosen for their functionality and compatibility. Find everything you need to customize and optimize your device.
📲 Discover Top Cydia and Sileo Tweaks
Embrace The Freedom: Find The Best Rootless Repo List For iOS Jailbreak
Dive into the world of rootless tweaks and jailbreak enhancements with the best rootless repo list for iOS. Discover a comprehensive collection of rootless jailbreak tweaks, rootless tweak repo, Fugu15 max repos, rootless repo list, rootless tweaks, iOS 15 rootless tweaks, rootless repos, ellekit repo, tweak rootless,rootless jailbreak repo and much more. Unlock new possibilities and elevate your iOS experience.
🚀 Check out the Rootless Jailbreak Tweaks
What Is Satella 2 Tweak?
A powerful in-app purchase hacker featuring compatibility for iOS 12.2 to iOS 16 being Satella 2, the most recent update. Any app that offers in-app purchases may be simply cracked with this Satella jailbreak tweak, enabling extra functionality for no further cost. Every modern jailbreak is compatible with the Satella IAP hacker.
After installation, the Settings app receives a special preference pane where you may set up every setting. You may allow the Satella tweak repo just to function with particular applications, enable global injection, or turn on the Satella tweak. Satella must be susceptible to in-app purchases in order to break an app.
Try installing the tweak on a trusted program such as Apollo Pro when Satella 2 doesn't function with you. Or else, the app you enjoy breaking could just not be open to local purchases. The Unc0ver or Checkra1n jailbreaks, which are supported by all jailbroken devices, are compatible with the Satella tweak.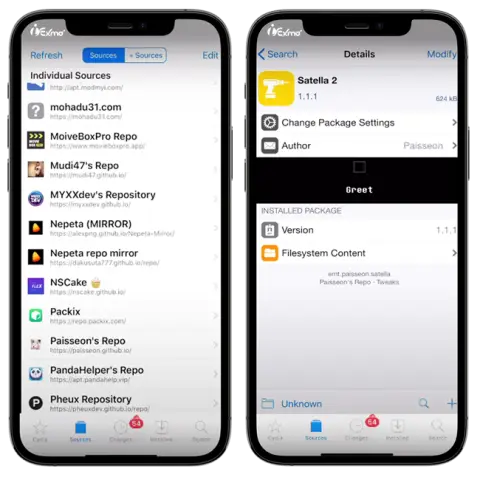 How Does The Satella Tweak Function?
How to use satella tweak? By obtaining the most recent product that was purchased, Satella tweak compels the verification to always return true. Because the transactional information is accurate, the purchase is classified as a restored one rather than a new one. In the case of subscriptions, Satella 2 makes the claim that the product is free while attempting to impose the status of subscribed.
📌 Satella 2 tweak and Satella Jailed are provided for educational purposes only, and only you are responsible for any illegal actions taken with the use of this tool.
By trying to make an in-app purchase and afterwards hitting cancel on the prompt, the revolutionary Satella cracked tool can get it for free. A fantastic solution for LocalIAPStore was Satella tweak.
Satella Tweak Source Code GitHub
Under the AGPL-3.0 License, Satella tweak was made available as an open-source project. The Satella modification was created using the languages Objective-C 60.5%, Logos 36.0%, and Makefile 3.5%. Explore the GitHub Repository if you're interested in learning how the tweak bypasses in-app purchases on iOS. Requirements including Theos and AltList by opa334 are required for compilation.
🚀 Paisseon/SatellaJailed GitHub »
Satella Tweak For iOS 12 – iOS 16
Dopamine jailbreak support has been added in version 1.8.1. This means that users of the Dopamine jailbreak can now enjoy the features of Satella tweak.
Rootless support has been added to Satella tweak. This allows users without jailbreak to use the tweak.
Binary size has been reduced by 40%, making Satella tweak a much lighter app to use.
The preference pane interface has been given a new look, providing a much better user experience.
The Stealth feature has been re-added in version 1.8.1, giving users the ability to hide the app.
Jinx has been updated, adding more features and improvements to the overall functionality of the tweak.
The stealth feature has been added back in, allowing users to hide the app.
The preference reading has been improved, making it easier for users to access the settings of the tweak.
Satella tweak now supports Palera1n jailbreak, which is great news for users of this particular jailbreak.
Change the code to use Jinx rather than Orion.
Satella was upgraded to version 1.4.1, and Satella Jailed to version 1.4.
Add toggles for the 0,00 pricing and stealth.
SatellaObserver was fixed since it was causing issues in apps with numerous observers.
For SatellaJailed, iOS 16 compatibility has been added.
Repair preferences that are not shown on an arm64e device.
Receipt creation has been improved for iOS 14 and iOS 15.
RevenueCat was deleted.
Preferences Respring now supports Shuffle.
Enhance the retention of preferences.
On sideloaded programs, there is now a possibility to hack in-app purchases.
Improved server-side programs that link directly to verifyReceipt