SnowBoard Download iOS – Install iOS Theming Platform With SnowBoard Tweak Repo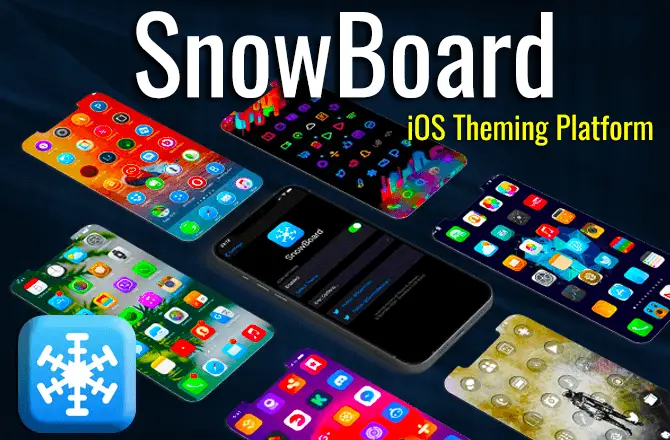 SnowBoard iOS theming Platform is a lightweight tool that comes with the popular WinterBoard theme engine. Make your iPhone, iPad, and iPod touch more unique by installing a free modification of the SnowBoard theme engine. SnowBoard download iOS works with the latest iOS versions and supports formats from all other popular iOS theme engines. SnowBoard tweak repo is an essential free jailbreaking tool.
Download SnowBoard Tweak Repo
Step 1 > On your iPhone, open the Cydia app.
Step 2 > Go to Sources > Edit Add the SnowBoard tweak repo URL
SnowBoard Tweak Repo URl – https://www.sparkdev.me
Step 3 > Navigate to the Search tab, search for the SnowBoard tweak and install SnowBoard package.
Step 4 > Press the Install button.
Step 5 > Go to Settings SnowBoard > Configure the app.
---
SnowBoard Extensions For iOS
If you love applying SnowBoard tweaks, you'll be glad to hear that the official snowboard extensions repo also includes handy extensions which further customize the iOS operating system. The developer offers a variety of SnowBoard extensions, including those for the Dots, Dock, Dots, snowboard game iOS, Labels, snowboard fonts iOS, effects, Procedural Wallpapers, blur, Icon Effects, Settings for Icon, Icon Masks, Presets, StatusBar, and Respring icon extension for the tweak.
SnowBoard Theming Engine For iOS 15
Palera1n jailbreak and iOS 15 are now supported by the SnowBoard theming engine.
It's an exciting benefit for everyone using the checkm8-based jailbreak on A9-A11 devices running iOS or iPadOS 15.0–15.7.1 that iOS developer SparkDev added official support for SnowBoard theme engine in iOS 15.
The most latest update, SnowBoard iOS 15, is distinctively an advanced update with initial support for iOS & iPadOS 15, but it enables Palera1n jailbreak users to personalize the app icons on there own Home Screen and other elements of the iOS or iPadOS user interface using available for download theme packs which can be collected from different repositories via a package manager.
SnowBoard iOS 16 Download
SnowBoard theming engine iOS 16  has recently added support for iOS 16 and the Palera1n jailbreak. The palera1n team's checkm8-based jailbreak is designed for A9-A11 handsets running iOS or iPadOS 16. 
To keep up with the latest developments in the jailbreaking community, iOS developer SparkDev has updated the popular SnowBoard theming engine with official support for palera1n jailbreak. With SnowBoard, users can easily customize the look and feel of their iOS devices by applying themes, icons, and other UI elements.
This makes it a great option for anyone who wants to personalize their iOS 16 device and make it truly unique. If you're interested in trying it out, be sure to check out the SnowBoard iOS 16 theming engine.
SnowBoard Support Fugu15 Max Jailbreak
SnowBoard theming engine is now fully compatible with iOS 15.0 – 15.4.1, thanks to the Fugu15 Max jailbreak and ElleKit. This means you can enjoy customizing your iOS device with SnowBoard themes and icon packs. With SnowBoard, you can even add custom effects to your app icons to give your device a unique look and feel. So if you're looking to personalize your iOS device, SnowBoard is definitely worth checking out.
What is SnowBoard Theming Engine?
One of the most widely used theming tools is SnowBoard tweak, which lets you modify the appearance of your iOS by swapping out the default icons on your device for new ones made by the jailbreak community. All jailbreaks made available since iOS 7 can use the tweak to customize the icon set. It is a potent theming engine that offers a foundation for the installation of many iOS compatible themes.
This iconic Winterboard theming engine's successor is pretty light and allows you to load new themes without having to restart your device. SnowBoard accepts themes from all well-known theming platforms. It was made available as a free modification and supports iOS 7 through iOS 14.
Each iPhone or iPad has to have the SnowBoard tweak installed as a necessary jailbreak option. It provides settings for configuring icons, such as custom corner radius, change notification badge, custom icon scale, dock labels, hide labels, hide label dots, home screen icons, hide icon touch overlays, and force legacy compatibility, and much more. With the help of SnowBoard, a jailbroken iOS hack, you can customize the appearance of your iOS device. The tweak was created to work with all the greatest iPhone theming engines.
SnowBoard Tweak
How to use snowboard iOS? You can manage downloaded extensions, enable the tweak, choose an iPhone theme, and modify icon settings from snowboard repo iOS. Also, Checkra1n jailbreak is supported. A unique preference pane being enabled to the Settings app when the tweak is installed. From here, you may choose and load a theme, activate or disable a tweak, and customize various icon settings. Use the free Atria tweak for iOS to have more control over the icon layout and location.
Access to different icons may be provided by installed SnowBoard themes. You can choose a theme-provided icon version from the theme choices. Designers frequently provide at least two alternatives for both dark and light settings. The icons will work better with iOS in this style.
Cydia Repositories With SnowBoard
So many thousands of premium and free themes that work with SnowBoard are available in Cydia Repositories. You may choose any theme from the "Select Theme" button once it has been downloaded. Themes can provide custom badges, status bar icons, masks, and other items in addition to various icon packs for the screen.
How To Install Themes On iOS With SnowBoard Theming Platform
Step 1 > Open Cydia.
Step 2 > If you wish to install a snowboard theme, tap Search and type its name. Browse the list of suggested popular and top snowboard themes below.
Step 3 > Simply hit Install after downloading any SnowBoard theme you prefer.
Step 4 > Open the SnowBoard settings and enable and apply your downloaded theme.
Best Free SnowBoard Themes iOS | Best Jailbreak Theme
With all these top-rated and popular snowboard themes for iOS, enjoy the fresh appearance of your iPhone. Install the gorgeously designed free jailbreak tweak HomePlus to have greater control over the icon layout on the home screen. you may create a snowboard new offset, hide icon labels and badges, adjust the vertical and horizontal padding, and more. Snowboard iOS 15, snowboard iOS 14, snowboard themes iOS 12 are now offered. Here is a list of the top iOS SnowBoard themes / snowboard tweak repo that you should check out.
Felicity Theme
The intensely joyful Felicity theme for iOS 7 and later includes more than 150 perfectly detailed icons. The standard design of each icon in this theme has been greatly enhanced. The color combination of the Felicity snowboard themes iOS has enhanced the existing design by making all hues and gradients more vibrant and aesthetically pleasing.
Ace El Cap Theme
Ace El Cap is a free theme which adds iOS 9 compatibility, over 250+ redesigned icons, the OS X El Capitan interface, and beautiful design to your iPhone. The theme is accessible through the standard Cydia repository. As of iOS 13, this SnowBoard theme is supported.
Daeva Theme
The iPhone theme for Daeva is a great illustration of how to make themes that look fantastic. It is advised to additionally disable icon labels when using the theme. The package features more than 290+ system icons in addition to its own fonts and icon mask. All versions of iOS that SnowBoard supports and Daeva function perfectly.
Soft Remix 4 Theme
Every iOS version supported by the Snowboard theme engine, including iOS 13, is entirely compatible with Soft Remix 4. This theme has a stylish look and really stunning icons.
Mirage Theme
Featuring 540+ icons, fully themed settings, modern badges for iOS, Wallpapers, and an animated respiring logo, Mirage combines flawless gradients and seamless effects to offer a stunning visual experience.
Twisted Theme
The free online Snowboard theme for iOS 13 is Twisted, a theme that is incredibly colorful and has a unique twist on each symbol. Including more than 200 icons, a breathing logo, two icon masks, and other features, the twisted theme is available.
DubDub Theme
This double-line graphic iOS theme is available for ios 10.0 and above and comes with 315+ icons and distinctive badges at the moment. The finest dark snowboard theme out there is this free version. Furthermore, it has fantastic options and is compatible with iOS versions.
Samsung Theme
The Samsung Experience icon set for iOS devices is called iOSamsung. Only a few simple system icons are included in this package, which may be used on iPhone, iPod, and iPad devices using the SnowBoard teaming engine. If you want to convert an Apple device to an Android device, here is an awesome place to start.
Oreo Theme
Oreo theme for SnowBoar tweak offers over 299 new icons for your iOS device allowing you to completely change the look and feel of your iOS system. Every icon was designed on a white canvas background, and for the best effect, it's recommended to use dark wallpaper.
MacOS Catalina Theme
Catania is a distinctive style with over 330 icons for the operating system and third-party apps. The theme works with SnowBoard and is compatible with any device 7 to iOS 13. Your system appears more like an Android clone thanks to the circular icons. You will be pleased if you are seeking this style of appearance. Over 330 icons, contemporary settings, distinctive badges, and fast and easy icon updates.
Alternative For SnowBoard | Theming Engines For Jailbroken Devices
If SnowBoard isn't functioning, you can always try other jailbroken device theming tools like Show Live, NeonBoard, IconOmatic, Anemone, Winterboard, iThemer, or AppCon for iOS.
ShowCuts (ShowLive)
The ultimate free custom homescreen and lockscreen for iPhones running iOS 16 and iOS 15 features an incredible icon collection. It is called ShowLive Shortcut. You can use these interesting features without jailbreak for snowboard alternative iOS.
What's New In SnowBoard?
SnowBoard 1.4.7-Beta4
Fix a bug where the calendar icon may not apply.
Update the alt icon picker's exclude list.
To localize the new preset extension update, add English translations.
Slight compatibility upgrades.
Significant performance enhancements and bug fixes