TrollNonce For iOS 15 – Boot Nonce Setter Utility For TrollStore On iOS 15 With TrollStore Tool Collection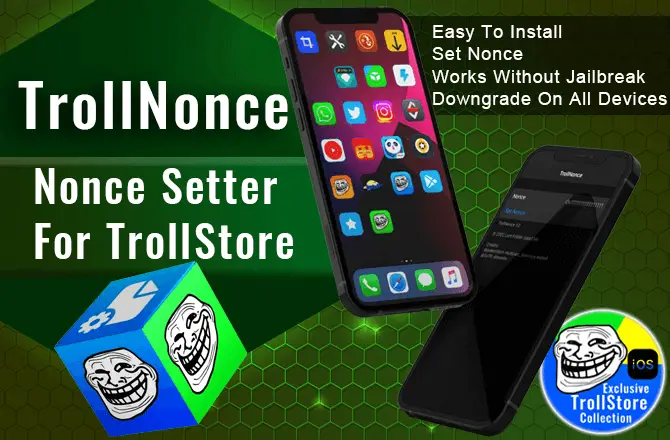 With the permanent IPA installer's release by TrollStore for iOS 14 and iOS 15, Lars Fröder also unveiled the TrollNonce nonce setter iOS 15. TrollNonce is a boot nonce utility for TrollStore. TrollNonce Nonce Setter is the first open-source tool on iOS 15 to set a nonce. A nonce is needed to downgrade iOS. TrollNonce tool will help you to downgrade and upgrade iOS versions to unsigned iOS versions. With the most powerful TrollStore tool collection, TrollStore is the newest Permasigned jailed app for iOS 15. On iOS 15, the TrollStore uses the TrollNonce setter iPA, which offers more useful features.
TrollNonce For iOS | Install TrollNonce iOS 15 & Set Nonce Without Jailbreak
You can find out everything about setting a nonce and installing TrollNonce on iOS 15 without jailbreaking any devices. The TrollNonce and TrollStore apps are totally free.
Download TrollNonce IPA
✅ No Revoke
✅ No Jailbreak
✅ Set Nonce On iOS 15
✅ For iOS Devices
TrollNonce IPA

---
What Is TrollNonce For iOS?
TrollNonce is a boot nonce utility for TrollStore. TrollNonce is a powerful and effective iOS tool that allows you to set nonce on iOS 15 for all A10-A15 iOS devices. You must use the TrollStore app to install TrollNonce for iOS. You can downgrade or upgrade to an unsigned version of iOS using the once produced from blobs in your iDevice. TrollNonce is the first widely used feature that is incredibly helpful for iOS 15 on A10-A15 devices.
What Is Set Nonce On iOS?
How to set a nonce generator without jailbreak? With the base band signing ticket, the APTicket, and SEP (Secure Enclave), Apple uses the Nonce signing method, which randomizes the SHSH blobs used to generate its cryptographic signatures . This is a Nonce guide for TrollNonce on checkm8 devices for downgrading (or upgrading) towards unsigned versions. The version you wish to switch to requires blobs, and the degree of SEP/BB compatibility may determine how far you may progress. A unique string of letters and numbers is produced each time the device is restored.
When you wish to obtain an APTicket for such firmware you would like to restore, you send Apple a nonce (for example, 0x123ac11xd15k30). You can restore even an IPSW that hasn't been signed in a while if the device's nonce and the APTicket match. To return with jailbreak vulnerable iOS is the ideal solution.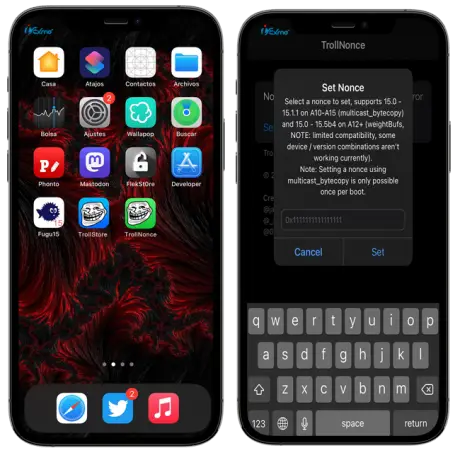 TrollNonce Features
On iOS 15 devices that are not jailbroken, TrollNonce may configure the nonce. With theos libraries, the tool may be built. It was made available as an open source project on GitHub. Despite using a John Kerblom exploit and a dimentio by 0x7ff patch, TrollNonce was also released under the MIT license.
TrollNonce Nonce setter without jailbreak most latest version sets nonce on A12+ devices running iOS 15.0 through iOS 15.5 beta 4 by utilizing the weightBufs vulnerability by Mohamed Ghannam (an iOS kernel r/w attack). You may downgrade iOS to a version that is not signed and may one day be jailbroken by using this type of program, correctly preserved blob files, and a tool like futurerestore.
To have the option to downgrade iOS at any time, please ensure to save blobs whenever a new version is published. The nonce just on device is preconfigured to 0x1111111111111111 on more modern jailbreaks like Unc0ver or Taurine.
How To Install TrollNonce IPA | Install TrollNonce With TrollStore Online Method
Here is a free IPA package available for iOS 15 that supports TrollNonce. The TrollStore app is the only place where you can install the TrollNonce iPA; other IPA signing tools will not function with it. When installed using TrollStore 1.0.9 or higher, the TrollNonce utility is only functional.
Try out TrollNonce iPA for iOS 15 right away and enjoy the free Boot nonce solution for TrollStore.
Step 1 > Using your favorite method, install the most latest release of the TrollStore app for iOS 15.
Step 2 > Using the Safari mobile browser, download TrollNonce IPA from the link above.
Step 3 > When you click the IPA file in the Downloads area, a sheet with the option to share it will appear. You can then find the TrollStore icon and select it to import the IPA to the TrollStore.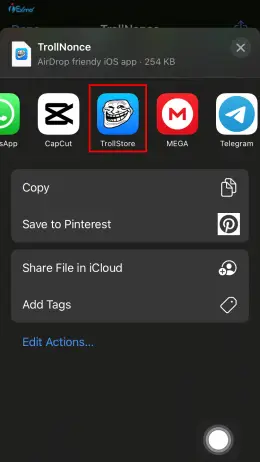 Step 4 > Your device will now be installed with TrollNonce. You'll see IPAs loaded on your device when the TrollStore app opens.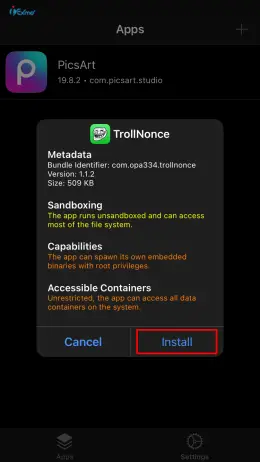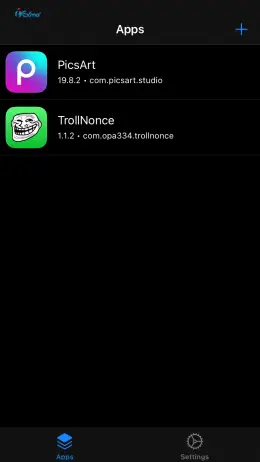 Step 5 > The installed TrollNoncee IPA icon will be available for use when you return to the home screen.
How To Set Nonce With TrollNonce Nonce Setter
How to set nonce without jailbreak? Here, we'll walk you through the process of installing TrollNonce and configuring a nonce on iOS 15 without jailbreaking so that you may downgrade to Futurerestore on all of your iDevices.
Within this app you can set your nonce to your blob. Now let me show you how to find your blob and then find your nonce from the blob and set it.
Step 1 > So first of all, open iTunes and connect your device.
Step 2 > Just tap the serial number and you will find the ECID > Right click and and copy.
Step 3 > Now open the TSS Saver – SHSH Blobs Saver > Click Retrieve > Right click paste and submit. When you click the link, you'll see all of the blobs for the iOS versions you've saved.
Let's say that you want to downgrade to 15.0. You will just download the blob from here. Now that you have downloaded the blob, simply right-click it and open it in Notepad.
Step 4 > Now Ctrl + f > Find generator > Now simply use this generator key to set your nonce for this blob.
Step 5 > Simply launch the Troll nonce app you installed and select the generator from the blob.
Click set nonce > 0x1111111111111111 (0 multiplied by 16 times 1) > Click set.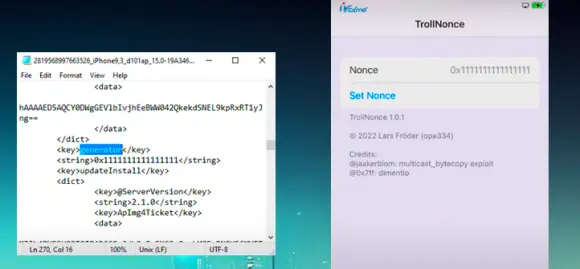 Step 6 > Finally, you will see the TrollNonce Nonce Setter success message, and the nonce is now set to the blog that you have selected. Now you can finally downgrade using future restore.
Best Available App Collection With TrollStore
The IPA Store provides all of the top IPA apps that work with TrollStore. Amazing customizations, repos, hacked games, jailbreak applications, and many more. Explore the TrollStore online installation collection right now to enjoy the TrollStore uniqueness.
TrollTools
BlizzaBoard
Filza
AppStore ++
u0Launcher
Red Dot
Mugunghwa
UTM
ControlCenter ++
Jaility
Weather
BHTwitter
NetworkManager
Youtube
DebtoIPA
Bullfrog Assistant
Fake GPS
Wallpaper Setter
iMenScan
OldOS
PostBox
NiceBattery
Power phone clean
Instapring
Jitterbug
Mobile TSS
TrollNonce Compatibility
TrollNonce and the TrollStore do not need a jailbreak like the Permasigner tool. TrollNonce works with both jailbroken and non-jailbroken devices.
TrollNonce Support iOS Versions
TrollNonce For iOS 15 – iOS 15 / iOS 15.0.1 / iOS 15.0.2 / iOS 15.1 / iOS 15.1.1 / iOS 15.2 / iOS 15.2.1 / iOS 15.3 / iOS 15.3.1 / iOS 15.4 / iOS 15.4.1/ iOS 15.5 Beta 1 / iOS 15.5 Beta 2 / iOS 15.5 Beta 3 / iOS 15.5 Beta 4
TrollNonce Supported iPhone/iPad Models
TrollStore 1.0.9 or newer is required in order to install TrollNonce Nonce Setter for 15.0 – 15.1.1 (A10-A15) and 15.2-15.5b4 (A12+; note that all device/version combinations are not fully supported).
TrollNonce Supported iPhone Models
A15 > iPhone 14 / iPhone 14 Plus / iPhone 13 / iPhone 13 Mini / iPhone 13 Pro / iPhone 13 Pro Max / iPhone SE (3rd generation)
A14 > iPhone 12 / iPhone 12 Mini / iPhone 12 Pro / iPhone 12 Pro Max
A13 > iPhone 11 / iPhone 11 Pro / iPhone 11 Pro Max / iPhone SE (2nd generation)
A12 > iPhone XS / iPhone XS Max / iPhone XR
A11 > iPhone 8 / iPhone 8 Plus / iPhone X
A10 > iPhone 7 / iPhone 7 Plus
TrollNonce Supported iPad Models
A15 > iPad mini (6th generation)
A14 > iPad (10th generation) / iPad Air (4th generation)
A13 > iPad (9th generation)
A12 > iPad Mini (5th generation) / iPad Air (3rd generation) / iPad (8th generation)
A10 > iPad (6th generation) and iPad (7th generation)
iPod touch (7th generation)
TrollTools For TrollStore – iOS 15 Theming Tools
You may modify your iPhone/home iPad's screen, badges, and the buttons on the passcode screen using TrollTool, an iPhone customiser app that you can use permanently once you've loaded it through TrollStore.
It is now possible to customize and personalize your iPhone home screen without jailbreaking because of TrollTool, which was created by @sourcelocation.
How Can Uninstall TrollNonce Application
The TrollNonce tool cannot be removed by just uninstalling it from the home screen.
Open TrollStore and long-press the TrollNonce app name from the lists of installed applications. A red Uninstall App button will now appear; click on it to delete the TrollNonce application from your iPhone or iPad.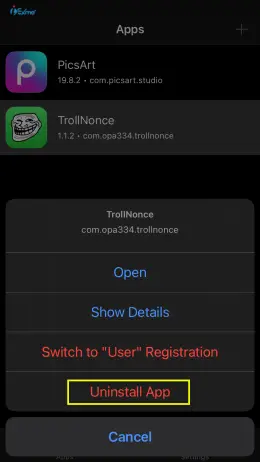 TrollNonce Support Kernel Exploit For iOS 15
✅ Multicast_bytecopy For iOS 15
The spiritual successor of multipath kfree is @jaakerblom's multicast bytecopy, a kernel read/write vulnerability for iOS 15.0 through 15.1.1.
On older iOS versions, the exploit may be modified to obtain kernel read/write access. For iOS 15.0 to 15.1.1, this implementation is used. iOS 15.2 contains a fix for the exploited flaw, CVE-2021-30937. iokit.h by @s1guza and a few IOSurface definitions by @bazad are used in the code.
✅ weightBufs For iOS 15
WeightBufs is just a kernel read/write exploit for all Apple products that utilize the Neural Engine. Slides from the presentation "Bugs and Exploit" by @simo36 at POC include further information on the vulnerabilities and exploitation methods.
The exploit will operate AS IS on macOS 12 up to 12.4 and *OS 15 up to 15.5, as it doesn't rely on any hardcoded addresses or offsets.
All iOS 15 releases (up to 16.0) are vulnerable to the kernel flaws, although iOS 15.6 fixes the sandbox escape bug. It is thus necessary to stop the exploit chain and perform another sandbox escape in order to restore functionality on iOS 15.6/15.7. I'm not sure if the kernel attack approaches are still applicable on iOS 15.6+, even though they currently have an alternative sandbox escape that operates up to iOS 16.1.
✅ Dimentio For iOS 15
To just get and set a nonce without triggering KPP/KTRR/PAC, use the dimentio tool.
AP Nonce And Generator
What is an AP Nonce?
Your iPhone determines its AP Nonce while deciding whether to update, restore, or downgrade. Mathematical model, it's highly uncommon but theoretically feasible to obtain the same AP Nonce after retrying for billions of years. This nonce is intended to be randomized every time.
How Is AP Nonce Used?
The device then gives Apple its generated random AP Nonce in its request for a SHSH signature. If you reset your device, you will need to create a new AP Nonce because the signature is only valid for this particular AP Nonce. This implies that since your AP Nonce will change, you cannot store a SHSH for later.
How Is AP Derived?
As restoration mode cannot connect to the internet on its own, your iOS device requires a mechanism to maintain its AP Node after a reboot. This is necessary for OTA updates from the phone to interact with Tatsu's servers before the restore process. and is required to maintain its current AP No.
TrollNonce Developers Credits
TrollStore Main Developer – Lars Fröder @opa334dev
Multicast_bytecopy which kernel r/w exploit for iOS 15.0 – 15.1. – John Åkerblom @potmdehex
WeightBufs ANE kernel r/w exploit for iOS 15 and macOS 12
Dimentio – Tool for getting and setting nonce without triggering KPP/KTRR/PAC.
What's New In TrollNonce Nonce Setter?
Latest Update In TrollNonce
TrollNonce Version 1.1.2
In some devices, fix error number 1. (e.g. iPhone Xr)
TrollNonce Version 1.1.1
Correct the incorrect assert that causes various device/version combinations of noncehelper to crash.
TrollNonce Version 1.1
On 15.2 through 15.5b4, provide compatibility for a few A12+ devices.
Device support on 15.2+ is restricted; for instance, the iPhone 13 (Pro) doesn't appear to be operating right now, and other version combinations also don't work. It's also possible that the weightBufs kernel exploit has to be enhanced.
TrollNonce Version 1.0.3
Fix pasting into nonce text field
TrollNonce Version 1.0.2
Providing TrollNonce access to Metal will prevent app crashes when bold text is enabled.
TrollNonce Version 1.0.1
When the nonce should have displayed "error," TrollNonce fixes uninitialized variables by making it 0x2.