TrollTools IPA With TrollStore For iOS 15 – iOS 16 Customization Theming Tools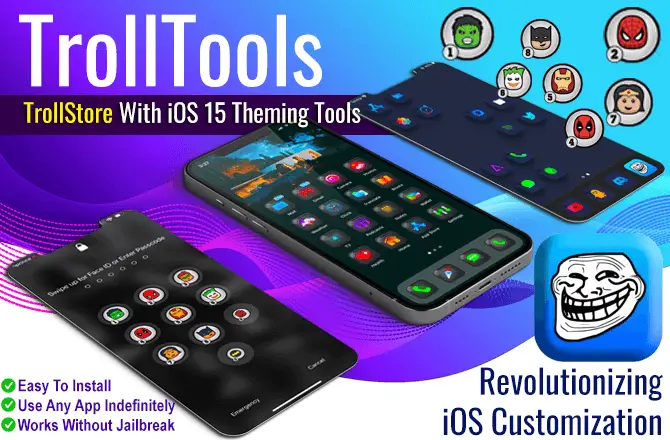 TrollTools for iOS 15 provides users of the TrollStore the ability to customize their iOS 15 badges, iOS 15 icons, passcode buttons, iOS themes, and more. TrollStore was created to allow users to sideload IPAs without being revoked on iOS devices with firmware, but it appears to be capable of much more, including allowing programs access towards the system root. Let's download the TrollTools IPA for TrollStore, which includes tools for iOS 15 theming.
TrollStore Theme With Revolutionizing TrollTools IPA
You can now completely customize and create unique looks for your iPhone or iPad with the TrollStore Theme Engine. Explore a wide range of themes on TrollStore, or create your favorite for free!
Download TrollTools IPA For iOS
TrollStore Checker For iOS
You can discover if your device is TrollStore supported using TrollStore Checker. The most recent version of TrollStore can be used to install TrollTools IPA files. Also, iOS 16.2 and higher beta versions are supported with this advanced TrollChecker.
You can check whether your iPhone or iPad is compatible with TrollStore using the AI-based TrollStore Checker tool.
---
TrollTools Features
You can control things like with the latest TrollTools app for TrollStore from iOS developer SourceLocation.
TrollTools is an all-in-one app solution for TrollStore users 🚀
✅ Customize iOS 15 even more with amazing import, combination, clear, iOS icon themes with TrollTools help and reset functions.
✅ Modify app icons without impacting app launches with the pop-up like Shortcuts.
TrollTools' user-friendly UI and more advanced settings let you customize the passcode key faces.
✅ TrollTools provides a variety of badge colors. With TrollTools revolutionized iOS 15, the platform enables personalization. There's no need to deal with system files only to change a single little red circle and has much more fascinating features.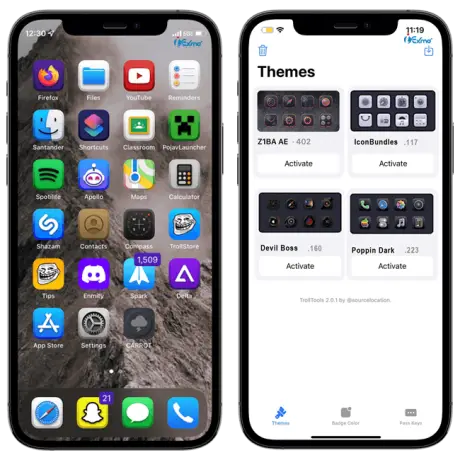 TrollTools Compatibility – Does TrollTools Support Your iOS Device?
TrollTools Support iOS Version
TrollTools For iOS 14 – iOS 14 / iOS 14.0.1 / iOS 14.1 / iOS 14.2 / iOS 14.2.1 / iOS 14.3 / iOS 14.4 / iOS 14.4.1 / iOS 14.4.2 / iOS 14.5 / iOS 14.5.1 / iOS 14.6 / iOS 14.7 / iOS 14.7.1 / iOS 14.8 / iOS 14.8.1
TrollTools For iOS 15 – iOS 15 / iOS 15.0.1 / iOS 15.0.2 / iOS 15.1 / iOS 15.1.1 / iOS 15.2 / iOS 15.2.1 / iOS 15.3 / iOS 15.3.1 / iOS 15.4 / iOS 15.4.1 / iOS 15.5 / iOS 15.5 beta 1 / iOS 15.5 beta 4 / iOS 15.6 beta 1 / 15.6 beta 5
TrollTools Support Devices
TrollTools Supported iPhone – iPhone 13 Pro Max / iPhone 13 Pro / iPhone 13 /iPhone 13 mini / iPhone 12 / iPhone 12 mini / iPhone 12 Pro / iPhone 12 Pro Max / iPhone 11 / iPhone 11 Pro / iPhone 11 Pro Max / iPhone X / iPhone XR / iPhone XS / iPhone XS Max / iPhone 8 / iPhone 8 Plus / iPhone 7 / iPhone 7 Plus / iPhone 6s / iPhone 6s Plus / iPhone SE (2020) / iPhone SE (2016)
TrollTools Supported iPad – iPad Pro 12.9-inch (1st through 5th generations) / iPad Pro 11-inch (1st through 3rd generations) / iPad Pro 10.5-inch / iPad Pro 9.7-inch / iPad Air (3rd and 4th generations) / iPad Air 2 / iPad mini (5th generation) / iPad mini 4 / iPad (5th through 8th generations)
How To Install TrollTools For iOS
Trollstore theme with Troll Tools was made available like an IPA package that is only set up through the TrollStore on iOS 14 and iOS 15 supported devices. TrollTools iOS 15 theming tool leverages a system flaw to change various iOS settings, therefore you can't install it with other sideloading apps.
Step 1 > Install TrollStore supports firmware versions of iOS 15 through iOS 15.4.1.
Step 2 > Save the TrollTools IPA file to iCloud after downloading it.
Step 3 > Now share the TrollTools IPA file that you downloaded also with the TrollStore application.
Step 4 > TrollTools will be automatically installed when TrollStore is loaded.
Step 5 > From the Home Screen, open the TrollTools app. Fantastic! Explore the innovative iOS 15 personalization with the newest TrollTools right now.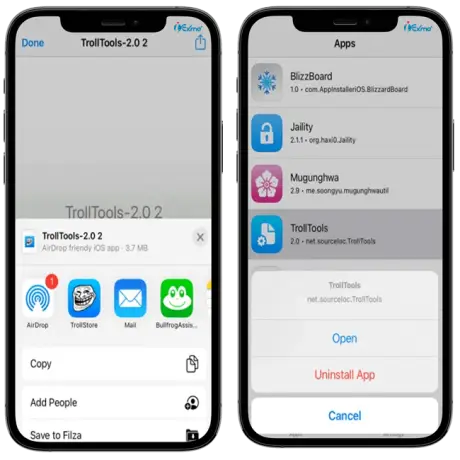 TrollTools Install Themes Method 1 [Folder With Icons]
Step 1 > Choose any repository and download a non-jailbroken theme there. (like havoc.app for example) The theme must be contained in a folder that also contains app icons.
Step 2 > Launch TrollTools > Go to the icon folder > Its "Activate" button should be tapped.
Step 3 > Web clips also will copy system applications.
Step 4 > You might also rebuild your icon cache by using the TrollStore app.
TrollTools Install Themes Method 2 [.deb]
How To Install .deb Theme With TrollTools
The TrollStore app makes it incredibly simple to install certain themes that arrive in the format of .deb files.
Step 1 > A .deb theme can be downloaded and extracted too.
Step 2 > Extract data.<type>.<type>
Step 3 > Go to Library/Themes/<ThemeName>.theme
Step 4 > IconBundles should be renamed to indicate the theme. <ThemeName>
Step 5 > Then, using iOS 15 without a jailbreak, you may complete all of the processes to import and enable an icon theme.
Trollstore Passcode Theme With Troll Tools
On iOS 15, the theming engine provided by TrollStore for iOS enables you to customize all of the Passcode icons with a single press.
What Is TrollTools For iOS?
Personalization For Everybody TrollTools 🖤
TrollStore theme's increased capabilities allow you to use it to permanently sign programs however on non-jailbroken iOS & iPadOS 15.0 – iOS 15.4.1 and select 15.5 beta devices. A program for customizing iOS 15 that lets you utilize jailbroken themes on vanilla iOS is called TrollTools with TrollStore. The operating system could be customized through the installation of apps in ways that would normally need a jailbreak.
With Troll Installer native icon replacement and support for web clips for system apps, TrollStore is perhaps the most powerful theming engine for iOS. TrollStore's theming technology is also compatible with iOS 14.
This Trollstore theme with the Troll Tools app icon would be loaded to your Home Screen after installation. The 3 main categories on the app's layout were well developed. Themes for iOS that import and load SpringBoard themes Pass Keys have extra unique abilities, and Badge Color lets you transform the border radius and color of the badge icon.
To analyze and evaluate how the theme appears, TrollTools will showcase some icons when users load a SnowBoard theme for iOS. Also included is an activation button, which when pressed would then apply the iOS icon theme and lead the stock app icons on your device to be updated.
TrollTools Troll Installer provides functionality comparable to those of the Mugunghwa icon theming tool, although TrollTools is believed to be perfectly safe and the app interface is pleasant. TrollTools installs themes approximately 25% speedier than Mugunghwa. Contrary to BlizzardBoard as well as Shortcuts, it really doesn't produce web clips for all app icons.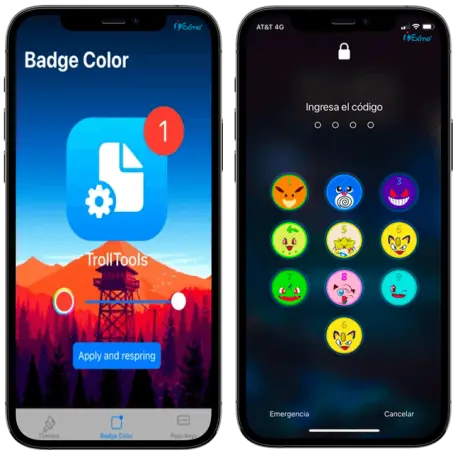 ☑️ App Icon Customization In TrollTools
With the help of TrollTools' iOS theming engine, you can change app icons without having the Shortcuts pop-up interfere with app launches, personalize the layout of your passcode buttons, even keep changing the color and border radius of the app icon badges across your Home Screen.
☑️ Passcode Face Editor In TrollTools
The Passcode Face Editor facilitates quick modification of certain keys with custom pictures. The creator has provided an option to reset faces and delete all faces in case you mix up the design.
☑️ Badge Color Offers In TrollTools
TrollTools has added many new features to customize badge color. To modify the icon badge color, Badge Color provides a fantastic color picker. The backdrop color may be changed using sliders, a grid color picker, a spectrum, or a HEX value. Additionally, you may add your favorite settings to bookmarks or adjust the opacity of a chosen hue with the cooler color combination you like.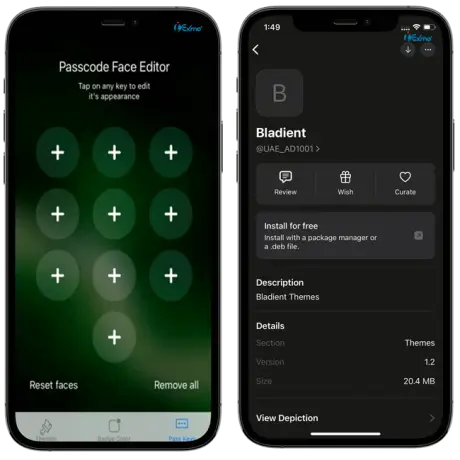 TrollTools Source Code
Developer Matthew Anisovich's TrollTools being made available as an open source project via GitHub Repository behind the GPL-3 License. Although most of this TrollTools app's code was developed in Objective-C, most of it was. The sourcelocation/TrollTools project must be compiled using Xcode and theos libraries.
If you are using a TrollStore installation for your iOS or iPadOS 15 device, TrollTools is absolutely worth checking over given that it is a free download and a secure all-in-one solution.
What's New In TrollTools Tool?
Latest Update In TrollTools
TrollTools Version 3.0
UI Redesign.
Passcode keys come in different sizes.
Passcode keys can be exported and imported.
Customizable calculator error message.
Based on the carrier, the carrier changer might not function.
Changes footnotes on Lock Screen.
Newly introduced test features.
TrollTools Version 2.1.2
TrollTools reinstate the automatic Icon Cache Rebuild feature, so users who have problems may still reload through TrollHelper (GTA Car Tracker, Tips etc.)
TrollTools Version 2.1.1
When choosing different icons, the TrollTools create changes button no longer obscures the content.
The problem with duplicating icons inside a theme has been resolved in TrollTools for iOS 15.
Auto cache rebuild was eliminated since it proved problematic for some users.
TrollTools Version 2.1
Alternative Icons have been added to TrollTools.
"Apply changes" button and a quicker theme selection.
Gradient Badges are offered by TrollTools.
Occasionally, faster applies.
The size of the passcode buttons has been updated (a button to choose between big and small sizes is there).
TrollTools Version 2.0.1
TrollTools also will automatically reload the icon cache after applying themes.
TrollStore programs that are sideloaded may now be customized.
TrollTools Version 2.0
TrollTools is no longer using WebClips! They were disliked by everybody, and now they are virtually gone.
On iOS 15, TrollTools system applications cannot be changed, therefore only specifically for them are WebClips produced.
TrollTools improved the app's predictability by adding helpful error messages and notifications.
Many safety checks have now been performed by TrollTools to guarantee the security of your device.
TrollTools Version 1.2
Many issues were solved by TrollTools.
With TrollTools, there is a new, much easier method of installing themes.
TrollTools Version 1.1.1
Compatible for iOS 14 TrollTools.
Themes that are just folders with icons are now supported by TrollTools themes.
Support for .deb files was added by TrollTools themes. Themes for TrollTools will import all of them and remove those that are unwanted.
The TrollTools badge color problem made it such that corner radius settings wouldn't take effect.