Ultrasound Tweak For iOS 15 – iOS 11 Brings The Best Volume HUD Replacement To iOS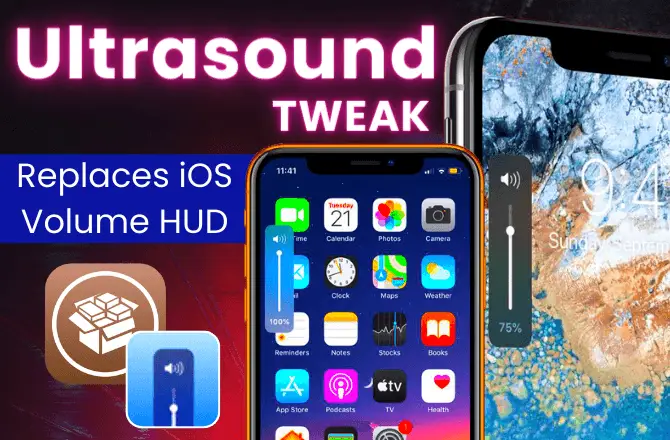 The fantastic Ultrasound tweak for jailbroken iPhones works with iOS 11 and iOS 15 and replaces the iOS Volume HUD. Ultrasound tweak repo With the help of this incredible jailbreak tweak, you can modify nearly all characteristics of the volume HUD. iPhone X and newer are perfect for using the volume HUD.
Ultrasound Tweak Features
The world of iOS jailbreak tweaks may have never seen something as attractive as Ultrasound's volume HUD replacement. After downloading Ultrasound, the majority of users will be delighted with the default settings; but, if you enjoy tweaking, go over to the tweak's preference pane, where you'll discover inside the App settings.
✅ Turn the tweak on or off as needed.
✅ The experience of adjusting your volume is now pleasurable.
✅ Select the Dark, Light, and Transparent themes you want to apply to the volume HUD.
✅ By choosing a lovely, blurred, dark design that precisely matches the hardware buttons with your device
✅ Set a timer for when the volume HUD should be auto turned off.
✅ Using iPhone X and newer, enable OLED mode.
✅ Once the volume hits 0% or 100%, turn on haptic feedback.
✅ On the volume HUD, display the numerical volume %.
Display the volume HUD's icon for the volume.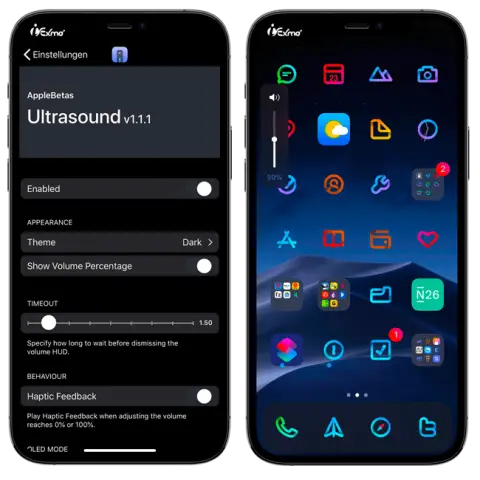 Ultrasound Tweak Repository
When Ultrasound first played, the animations' flexibility and the design of the loudness HUD itself completely impressed. The iOS ultrasound tweak proved definitely worthwhile. The Dynastic Repo offers an ultrasound tweak. Install the free volume HUD iOS tweak by adding the official Ultrasound repo to your collection of Cydia repos. On jailbroken iPhones, this is among the coolest tweaks for the volume HUD.
☑️ With the release of the Xina Jailbreak, Ultrasound Tweak support for iOS 15.
☑️ Ultrasound Tweak can be installed through Cydia, Sileo, Zebra, and the Installer package manager for iOS.
Step 1 > Open the Cydia app from your home screen.
Step 2 > Go to Sources tab > Edit > Add the Repo URL.
Step 3 > Ultrasound Tweak Repo URL – https://repo.dynastic.co
Step 4 > Find Ultrasound tweak, then install the file.
Step 5 > To make the system change effectively, restart the Springboard.
Step 6 > Now to set up the application, go to Ultrasound Settings.
Ultrasound Tweak Support iOS Versions
Ultrasound Tweak For iOS 15 – iOS / iPadOS 15.0, iOS / iPadOS 15.1, iOS / iPadOS 15.2, iOS / iPadOS 15.3, iOS / iPadOS 15.4, iOS / iPadOS 15.5, iOS / iPadOS 15.6, iOS / iPadOS 15.7
Ultrasound Tweak For iOS 14 – iOS / iPadOS 14.0, iOS / iPadOS 14.1, iOS / iPadOS 14.2, iOS / iPadOS 14.3, iOS / iPadOS 14.4, iOS / iPadOS 14.5, iOS / iPadOS 14.6, iOS / iPadOS 14.7, iOS / iPadOS 14.8
Ultrasound Tweak For iOS 13 – iOS 13.0, iOS / iPadOS 13.1, iOS / iPadOS 13.2, iOS / iPadOS 13.3, iOS / iPadOS 13.4, iOS / iPadOS 13.5, iOS / iPadOS 13.6, iOS / iPadOS 13.7
Ultrasound Tweak For iOS 12 – iOS 12.0 / iOS 12.1 / iOS 12.2 / iOS 12.3 / iOS 12.4 / iOS 12.5
Ultrasound Tweak For iOS 11 – iOS 11.0 / iOS 11.1 / iOS 11.2 / iOS 11.3 / iOS 11.4
What Is Ultrasound Tweak?
A stunning iOS volume HUD designed for iPhone X and higher devices is Ultrasound tweak. Officially, Ultrasound tweak supports iOS 11.0 to 13.7, however as of testing, it also supports iOS 14 and iOS 15. On older iOS devices, this HUD tweak's numerous look as well as theme appearances look fantastic.
After applying the change, a simple volume HUD will show up in the upper left corner of the screen. When shown prior to iOS 14, it takes the place of the outdated smack-dab obstructing a sizable amount of the screen. Using ultrasound adjustment, you can see the volume and %.
Once installed, the volume HUD replacement functions right away. The Parameters app has a new preference window as well, where you may set up the tweak and modify various settings. From this point, you may disable the tweak, activate OLED mode, which allows you see your volume at a glance while you adjust it when the device's screen is off, set a timer to conceal the HUD, play haptic feedback needs iPhone 6 or newer, and modify the Ultrasound tweak's aesthetic.
Choosing your device's volume is now a pleasurable experience thanks to a lovely dark as well as blurred design that is precisely positioned next to the hardware buttons. You can quickly see more details with the Ultrasound hack for iOS 15's live-updating volume indicator and percentage.
Ultrasound tweak's tiny form and swift, smooth motions make sure that it occupies the smallest amount of screen real estate while maintaining stunning visuals. Customize Ultrasound to to match your setup with a variety of themes and styles.
Utilizing the buttons or gliding the slider on the new volume HUD, you may change the volume level. When paired with OLED's genuine black pixels, ultrasound modification smoothly transitions across into OLED Mode as soon as your iPhone is activated, saving battery life.
Who Developed Ultrasound Tweak
The ultimate volume HUD Ultrasound tweak iOS alternative was developed by Ayden Panhuyzen. This fix was formerly a premium one that cost $1.99, but it's now free. The Ultrasound modification is a favorite of jailbreak enthusiasts everywhere and is one of the first tweaks installed after any jailbreak, including Checkra1n and Unc0ver.
Ultrasound Tweak GitHub Source Code
A GitHub Repository is where you can access all of the files for the open-source project ultrasound tweak. Construct the project on a Mac. On 24 February 2020, new code changes were introduced. Just one dependency you require is Theos provided you have the built – in functions for Xcode 12 projects.
Obj-C makes up 81% of all software code. MIT License applies to the source code. It is unlikely that ultrasound will get any updates going forward because it has reached its end of life. When newer jailbreaks for iOS 15 or iOS 16 are released, Ultrasound will let you know if the tweak is still functional with those.