Velvet Tweak For Customize Notifications Alerts And Widgets On iOS | iOS 15 Jailbreak Tweaks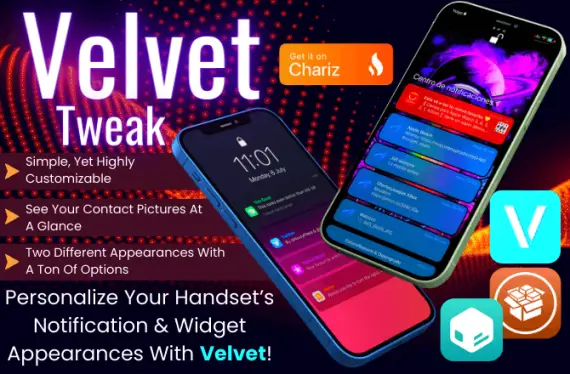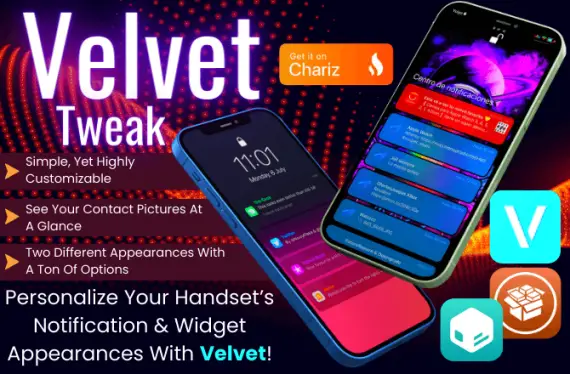 With the Velvet tweak, you change the color of the media player that appears on the Lock Screen as well as widgets, alerts, and banners. For iOS 14 iOS 15 and iOS 16, install the fantastic and very configurable Velvet tweak. In compatible apps, you can use Velvet tweak to change the app icon to a photo of your contact.
Velvet Tweak Features
On your iPhone, you can significantly change the visual style of the currently playing media player data banner, lock-screen notifications, and notification banners for notifications. This is done using the Velvet jailbreak tweak. Both the Velvet and the original iOS appearance are supported by the tweak. Due to the fact that Velvet does away with the header entirely, it is a wholly contemporary strategy. The stock look is maintained and we can customize it on the initial iOS version. Let's take a closer look at the functions and capabilities of Velvet jailbreak tweak.
✅ Easy to use but incredibly customizable.
Velvet offers you a set if you prefer to personally adjust each and every feature or simply want a clean appearance instantly after installation. Each option is simple to use and may be combined with practically almost any setting that creates a distinctive appearance.
✅ With two alternative styles and a lot of possibilities.
While the original iOS style preserves it and allows you personalize it, the contemporary Velvet appearance eliminates the notification header to create a more simple appearance. Both interfaces provide you a wide range of choices for tailoring your notifications to match your configuration.
✅ Amazing color customization.
Looking to add some color to your journey? The background, borders, indicators, and more are all customizable in Velvet to match the color of both the app icons! The perfect arrangement that blends in seamlessly with the rest of your iPhone may be made if you dislike the automated color or if you manually choose a color for each piece.
✅ Change the app icon with a photo of a contact.
With the most recent Velvet update, you may choose to display an additional mini version of the app icon along with the possibility to replace your app icon with such a photo of a contact.
How Do Velvet Tweak Customize Notification Banners Work?
The Velvet jailbreak tweak offers a wide range of customizability options, highlighting, including borders, personalized coloring, notification styles, and so more. The iPhone's Settings app has a special preference window that appears when the tweak has been successfully installed, allowing you to customize the available settings. The extensive list of options is shown here.
✅ Turn on or off Velvet Tweak.
✅ Configure the Lock Screen notification banner settings.
✅ Configure the preferences for the floating notification banner.
✅ Setup Immediately Notification banner choices for media players playing.
✅ Make all settings default.
Velvet Tweak Floating / Lock Screen Notification Banners
✅ You may choose between traditional and innovative banner notification styles.
✅ Select a type of indicator – App Icon / Triangle / Dot / Line / None
✅ Choose the size of the indicator – Small / Medium / Large / Huge
✅ Can customize the title of the banner notification's color.
✅ The background of the banner can be colored with Velvet Tweak.
✅ Customize the notification banner's color.
✅ You can designate the banner notification border – None / All / Top / Right / Bottom / Left
✅ Pick the option for rounded corners – None / Stock / Custom
Velvet Tweak Now-Playing Media Player Banner
✅ Help hide the backdrop of the media player.
✅ It is possible to colorize the background of a media player.
✅ Pick the Media Player border and the option for rounded corners.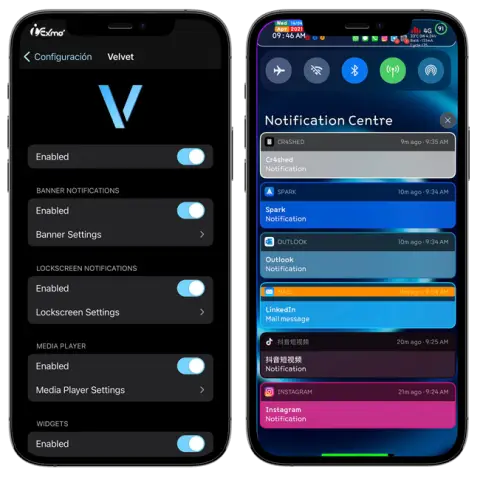 Velvet 2 Tweak For iOS 15
For iOS 15 jailbroken devices, Velvet 2 adds extensive banner notification colorization choices. The iOS app Velvet by NoisyFlake allows you to customize your phone's alerts with distinctive color sensations that will impress even the most unassuming iPhone user. The most recent version of their fantastic UI modification tweak for hacked iOS & iPadOS 15 devices, Velvet 2, has just been released.
How To Add Velvet Repository
The Chariz Repository is where Velvet tweak repo can be installed. Install the tweak from the official Velvet Repository on your list of Cydia repos to customize the notification and widget themes on your jailbroken iOS device.
Step 1 > Cydia should be opened from the home screen.
Step 2 > Access Sources and choose Edit. Add the Velvet Repo URL next.
🚀 Velvet Repo URL – https://repo.chariz.com/
Step 3 > Search for Velvet Tweak in the Search tab.
Step 4 > To download the tweak to your jailbroken iPhone or iPad, tap the Install button.
Step 5 > From the Settings app's preference panel, customize the Velvet tweak.
Velvet Tweak iOS Compatibility
Velvet 2 Tweak For iOS 16 – iOS 16, iOS 16.0.1, iOS 16.0.2, iOS 16.0.3, iOS 16.1, iOS 16.1.1, iOS 16.1.2, iOS 16.2
Velvet 2 Tweak For iOS 15 – iOS 15.7.2, iOS 15.7.1, iOS 15.7, iOS 15.6.1, iOS 15.6, iOS 15.5, iOS 15.4.1, iOS 15.4, iOS 15.3.1, iOS 15.3, iOS 15.2.1, iOS 15.2, iOS 15.1.1, iOS 15.1, iOS 15.0.2, iOS 15.0.1, iOS 15
Velvet Tweak For iOS 14 – iOS 14.8.1, iOS 14.8, iOS 14.7.1, iOS 14.7, iOS 14.6, iOS 14.5.1, iOS 14.5, iOS 14.4.2, iOS 14.4.1, iOS 14.4, iOS 14.3, iOS 14.2.1, iOS 14.2, iOS 14.1, iOS 14.0.1, iOS 14
Velvet Tweak For iOS 13 – iOS 13.7, iOS 13.6.1, iOS 13.6, iOS 13.5.1, iOS 13.5, iOS 13.4.1, iOS 13.4, iOS 13.3.1, iOS 13.3, iOS 13.2.3, iOS 13.2.2, iOS 13.2, iOS 13.1.3, iOS 13.1.2, iOS 13.1.1, iOS 13.1, iOS 13
Velvet 2 Tweak For iOS 16
Velvet 2 changes now offer compatibility for iOS 16 thanks to the Palera1n jailbreak, which added support for iOS 16. Try out Velvet 2 for iOS 16 for customization or to make crucial alerts stand out. The iOS app Velvet 2 by NoisyFlake for iOS 16 allows you to customize your phone's alerts with distinctive color experiences, which would make anyone other iPhone users over your set-up right now.
Velvet Tweak Support Jailbreaks
The latest version of Velvet Tweak includes support for enabling colored notifications for Palera1n jailbreak iOS 15.0 – iOS 15.7.1 on A9 through A11 jailbroken devices. The Velvet tweak for iOS 15.0 – iOS 15.1.1 for A12-A15 runs flawlessly with XinaA15 jailbreak. By utilizing the Velvet 2 hack, you may divide notification settings by app.
Although iOS and iPadOS 13.3.x are not supported by Velvet 1.5.1, you may quickly downgrade towards the tweak's previous 1.4 version. All current jailbreaks, including the Unc0ver jailbreak, Checkra1n jailbreak, and Taurine jailbreaks, are excellent with Velvet. It enhances the colors on your screen and has good design.
If you are using iOS 15's most recent jailbreaks, NoisyFlake published Velvet 2. Furthermore, the backdrop, border, message title, message content, plus date of alerts may all be colored. When experimenting with the configuration choices, you can observe all changes thanks to the live preview.
What Is Velvet Tweak?
On your jailbroken iphone, you may use the tweak Velvet to personally modify banners, lock screen notification, as well as the media player. The modification works with iOS 13.0 through iOS 15.7.1 when operating on an iPhone, iPad, or iPod touch that has the most recent jailbreak.
After being installed, the Velvet tweak gives the Settings app a special preference pane that has a number of settings you may modify to alter the way widgets, the lock screen, banners, and media players look. Naturally, you can also turn Velvet on or off at any time and clear all of the settings.
Each section's look may be customized using its own options. You must first choose between a traditional and modern point of view. There will be several alternatives depending on your pick. A more improved appearance now supports, for instance, the display of contact images in notifications.
There are only a few configuration choices, but combining them will result in several layouts with completely diverse looks. Change the automated default color for the background, header, title as well as message indicators, and border to your preferred color with transparent.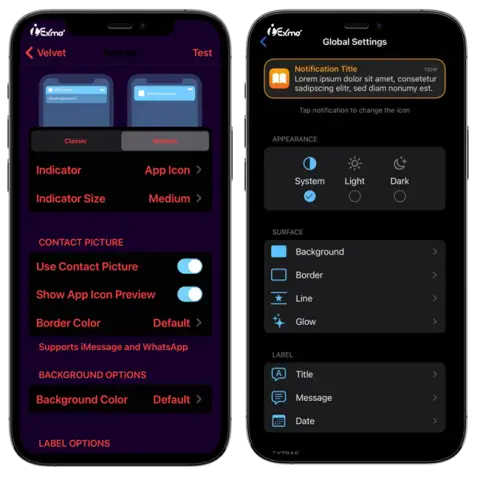 In successfully managing like Discord, Twitter, iMessage single chats, Instagram, as well as WhatsApp single and group chats, you will be capable of showing an app icon preview when you choose the modern look view. You will also be able to choose the indicator size, use contact pictures, enable compact mode, and change the indicator size. Additionally, you may enable the tweak to active light or dark mode, modify the tweak's light or dark mode indication, and change the app icon's rounded corners from standard to none, rounded, even customized. The indicator can now be changed from the app icon to a triangle, none, or dot. Providing multiple possibilities accompany the modern aesthetic.
The style of banners and notifications just on the lock screen could be changed using all of those settings. Moreover, the media player's look may be changed using velvet tweaks. Change the color of the background and border, choose the radius of the corners, and make it function in bright or dark mode.
Additionally, Velvet adjustment may be included into the appearance of widgets. The widget container's header and color scheme can be changed to be automated or custom, and you can even provide your own border color and custom-made rounded corners.
The developer has a test button that allows you to examine all findings instantly. To see if you like the customized settings you've put up, it will generate more notifications via installed apps. Your device doesn't need to be reset in order for any modifications to take effect. Everything functions instantly.
Who Developed Velvet Tweak?
Introducing the latest iOS tweak from iOS developer NoisyFlake and HiMyNameisUbik. Velvet is not a free modification. You can get it from the Chariz Repository for $2.99 if you want to install it on your iphone and customize the appearance of the alerts on your phone. There are two variations of the adjustment. iOS 13 – iOS 14 users may use Velvet, while iOS 15 users can use Velvet 2.
What's New In Velvet Tweak?
Velvet was updated to version 2.0.1.
Velvet tweak now supports iOS 16 jailbreaking.
The iOS 15.7.1 modification for iOS 15 has been added.
The loading of contact images for banners that are no longer active should no longer crash.
When utilizing the automatic color with a manual backdrop color, fix the title as well as message color not being appropriately colored.
Add a trendy corner radius customization option for app icons.
provide a choice to colorize the app name and date.
Correct the summary label's incorrect coloration.
Improve RTL languages' DND labels and thumbnails.
Fix the transparent background's failure to colorize the headline.
Give users of iMessage and WhatsApp the choice to display the contact's photo instead of an app icon.
Email subject text color adjustment.