Veza Tweak Repo For Lock Screen Toggle Customization On iOS  | iOS 15 Jailbreak Tweaks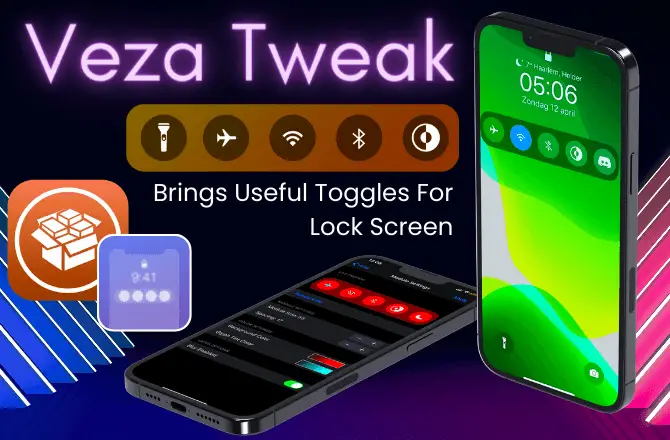 Veza tweak is really a visually beautiful Lock screen toggle and shortcut interface. Veza tweak for iOS makes it simpler to make contact with your device by updating a wide range of useful functions fascinated by Control Center shortcuts and toggles right to your Lock screen.
Veza Tweak Features
Whatever iOS may become always comes as a surprise with jailbreak tweaks. Fortunately again for the jailbreak community, Veza and other incredible jailbreak tweaks are available to users. It serves as a toggle as well as shortcut interface from the Lock Screen to important system modules.
✅ Veza delivers Instant Controls at your fingertips!
✅ Veza tweak supports iOS 15 modules.
✅ Customize Veza's appearance and style.
✅ The view and module blur can be enabled and disabled.
✅ Allows create custom views, buttons, and the glyphs.
✅ Live Preview is available in the Preferences, allowing you to completely personalize Veza.
✅ Layout, spacing, and sizing choices enable you to create stunning effects.
✅ Customized Modules using CCModules and CCSupport Pro.
✅ Aion custom widget is accessible via Veza tweak repository.
✅ Also, there will be a bunch of new features introduced in upcoming Veza updates!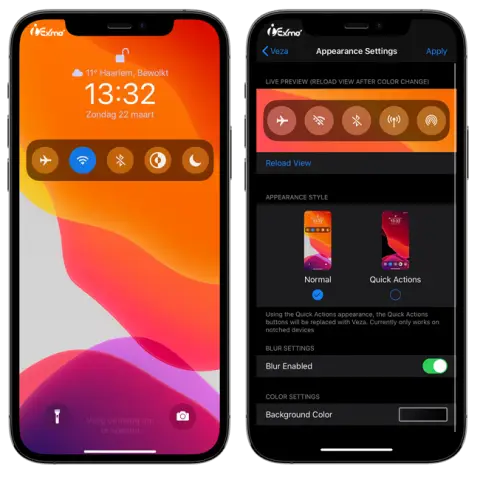 Veza Tweak Repository
The Chariz Repository allows for the installation of Veza tweak. Install the tweak onto your iOS device by adding the latest Veza Repo into Cydia Sources. On iOS 11 and beyond, including the most popular XinaA15 jailbreak supporting iOS 15, the modification adds helpful toggles to the Lock Screen.
Step 1 > Open the Cydia application and tap the Sources tab.
Step 2 > Then tap "Edit" in the upper right corner.
Step 3 > Now tap "Add" and enter the Veza repo URL.
✅ Veza Repo URL –  https://repo.chariz.com
Step 4 > Tap "Add Source"
Step 5 > Install Veza using the recently updated repository. As soon as the installation is finished, restart the device.
Step 6 > The Settings app now includes the Configure Veza tweak.
Veza Tweak For iOS 15
Many famous jailbreak extensions, such as CCSupport and CCModules for support of custom modules, are also supported by the Veza tweak. On iOS 14, the Veza improvement looks fantastic, and the latest updated Veza version also supports the iOS 15.1.1 XinaA15 jailbreak.
Free Jailbreak Tool Checker
Check to see whether you can jailbreak your iPhone to add Veza tweak. This AI-powered free tool makes it simple to find the best Jailbreak tool for your iOS version and iPhone model.
Flamingo Tweak For Your Personal Veza Customization
Everyone who utilizes the Veza tweak and likes customizing their interface should use this Flamingo layout. You can utilize the CC icons that are currently present in your theme by using this modification, which gives you complete control over which icons are displayed on Veza. Simply copy the icons you desire to use and place them in the Flamingo folder. You can then rename the icons by following the instructions in the README file that is also included in the folder. Just make sure you select the correct resolution for your device.
These Flamingo tweaks rely on the SnowBoard UI. If you switch it on and restart, the Flamingo snowboard theme will appear immediately.
Flamingo Repo URL – https://bioh424rd.github.io/zephyr/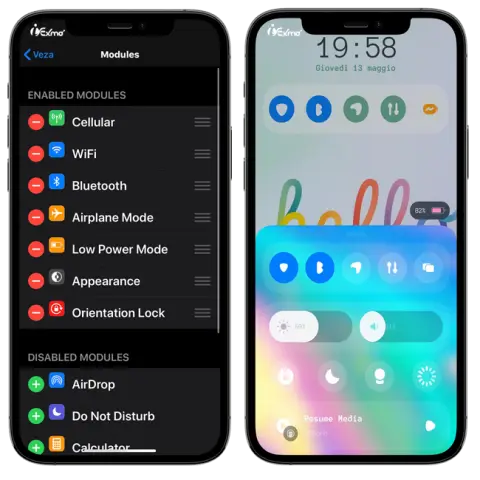 What Is Veza Tweak ?
Free jailbreak tweak Veza tweak repo brings Control Center toggles and shortcuts right to the Lock Screen. The tweak enables 16 modules immediately out of the box, and they may be activated without respringing. supports iOS 11 through iOS 15 with iPhone, iPad, and iPod touches.
The Quick Actions buttons accessible from the Lock Screen are greatly enhanced by the Veza tweak repo.
Veza Tweak Access Modules – AirDrop / Bluetooth / Airplane Mode / Wi-Fi / Camera / Hotspot / Flashlight / Low Power Mode / Alarms / VPN / Calculator / Timer / Do Not Disturb / Orientation Lock and more.
When Veza tweak is installed, the Settings app has a special preference pane where you may customize all tweak parameters. The makers have included incredible customization options that let you alter practically every part of the modification design and layout.
The Veza tweak's look style may be modified from this Settings. The Quick Actions buttons would be swapped out for Veza modules that use the Quick Actions look. Veza tweak will still add Quick Actions buttons if your device does not allow it.
Customization options for the modification are essentially endless. On a Live Preview, any modification made in the Preferences is shown. As you adjust the parameters, you can see precisely what's happening with the tweaked aesthetic. Additionally, there is an option to dynamically center modules if there is still capacity.
Veza Customization – Height / Background color / Edge insets / Change icons size / Custom corner radius / Icon offset / offset / Icon animation / Reachability view / Enable square modules / Blur effect / glyph tint color and many more cool modifications.
Change the way Veza displays on the Lock Screen and how modules and icon layout look. Also, Veza tweak offers haptics and gesture functionality. Rotation gestures, movement gestures, including haptic feedback when tapping may all be enabled or disabled via a separate settings page. In order to match the backdrop color of Veza with the color of your active wallpaper, the patch supports KalmAPI. Additionally supported and capable of functioning when the change is running are other Lock Screen adjustments.
Veza Compatible Popular Tweaks – Aion tweaks / Complications tweaks / Kalm tweaks / Jellyfish tweaks / LockWidgets tweaks, and so on.
Apex Tweaks create the shortcut interface and toggle for the Veza Lock screen. While Veza is a feature that any imprisoned user will love, there are few helpful Locks Screen changes. Veza was once made available as a paid modification, but it is totally free. Most widely used iOS tweaks are supported with Veza!
What's New In Veza Tweak Repo
Veza was upgraded to version 1.2.0.
DRM protection was removed.
Fix sizing problems.
Veza is also now freely available as a tweak.
Resolve module problems.