Download FlekSt0re App For iOS iPhone/iPad No Jailbreak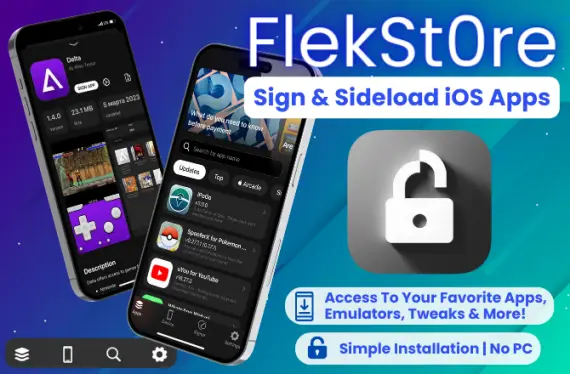 FlekStore simplifies installing 3rd-party apps on your iPhone, iPad without jailbreaking. Access your favorite apps, emulators, tweaks, and more through FlekStore's user-friendly platform. Get the new FlekStore app for seamless app signing and sideloading.
Install FlekSt0re App Store For iOS
FlekStore App Store Features
Discover the seamless iOS code signing solution with FlekSt0re. Access a rich app library or sign your own apps effortlessly, including favorites, emulators, tweaks, and more.
📱 Access Your Favorites: Explore a diverse range of Apps, Emulators, Tweaks, and beyond, tailored to your preferences.
🚀 Effortless Installation: Using FlekSt0re ensures a smooth and easy installation.
⏱️ Real-Time App Signing: Experience real-time app signing, reducing wait times and enhancing your workflow.
🔐 Self-Signing Made Simple: Securely sign your apps with a personal developer certificate, giving you full control.
🚫 Ad-Free Experience: Enjoy apps without intrusive ads, providing a clean and focused interaction.
🎨 Intuitive User Design: Navigate through FlekSt0re's user-friendly interface for an intuitive and smooth experience.
💡 Enhanced Stability: Benefit from increased app stability, resulting in a more reliable performance.
🔍 Convenient Search: Easily find what you need with a convenient and efficient search option.
🔒 Personalized Certification: Customize your app signing process with your own developer certificate.
✨ Streamlined Installation: Simplify the installation process and enjoy an enhanced app journey.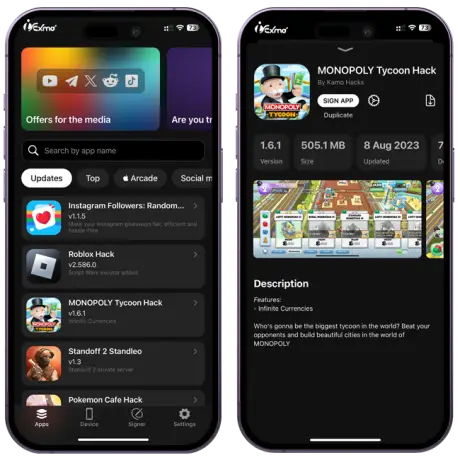 How To Download FlekStore App
Step 1: Tap the FlekStore install button above using the Safari browser on your iPhone or iPad.
Step 2: Click the "Share" button.
Step 3: Select "Add to Home Screen."
Step 4: Navigate to your home screen and tap the Flekstore app.
How To Use FlekStore App
Learn how to effortlessly use FlekStore to explore and install your desired iOS apps. Follow these steps to tap into a diverse selection of apps tailored to your preferences.
Step 1: Open FlekStore: Tap the FlekStore app icon on your home screen.
Step 2: Browse Categories: Pick a category you like and start looking through apps.
Step 3: Discover Apps: Explore apps within the category to find what you want.
Step 4: Quick Search: Use the app name to quickly find specific apps.
Step 5: Install App: Tap the app, then choose "SIGN APP."
Step 6: Ready to Go: Your chosen app is now installed and ready for use.
What Makes The FlekStore App Special?
Sideloading apps on iOS is a challenge due to the absence of an official method for third-party installations.
Unlike Android, iOS lacks a simple toggle to enable installations from untrusted sources, leaving users with no choice but the Apple App Store.
Flekstore.com, a renowned platform, provides reliable app signing services, offering a solution to iOS sideloading woes.
With Flekstore.com, you can sideload apps effortlessly, eliminating the need for complex macOS or Windows programs.
Connecting your device to the same WiFi as your laptop and dealing with frequent expirations are hassles of traditional sideloading, which Flekstore.com eliminates.
Discover a seamless app signing process through Flekstore.com, from understanding code signing fundamentals to leveraging its benefits for iOS app distribution.
FlekStore stands as a game-changer, transforming the way you sideload apps on iOS with unparalleled convenience.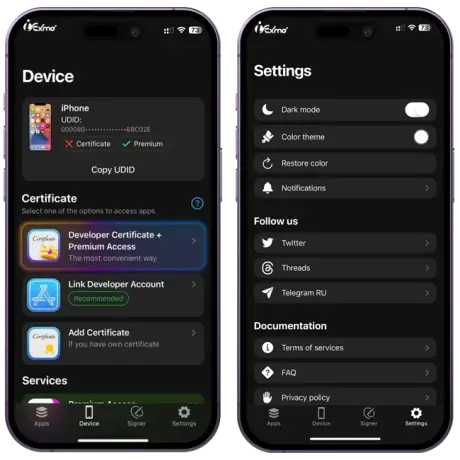 How Does FlekStore Work?
Uncover the world of FlekStore.com and its user-friendly approach to iOS apps. Learn about subscription options that enhance your app experience.
📲 Account Creation and Provisioning Profile:
Start by creating an account on flekstore.com.
Install their provisioning profile on your device.
This profile is your gateway to FlekStore's features.
📲 App Catalog and Personal Apps:
Upon installation, their app catalog becomes accessible.
Browse through a wide range of iOS apps.
Alternatively, upload your own iOS apps in .IPA format.
📲 App Signing and Installation:
FlekSt0re application enables you to sign and install apps.
Seamlessly add apps to your device using their service.
Subscription Options:
FlekSt0re offers two subscription choices for enhanced benefits.
Developer Certificate for 12 months of unrestricted app signing.
Premium tier for advanced features and faster processes.
🛠️ Developer Certificate Tier:
Gain access to their comprehensive App Library.
Use their IPA Signer to sign your own IPA files.
Enjoy a developer certificate valid for 12 months without revokes.
No need for 7-day re-signing hassles.
A safety net: 1 free recovery if Apple revokes your certificate.
⭐ Premium Tier Advantages:
All benefits from the Developer Certificate tier.
Added advantage of app-signing configurations.
Experience 2x faster file uploading and signing.
🌐 Free Access Tier:
FlekSt0re also offers a Free Access tier for newcomers.
Explore their offerings without any cost.
What Is FlekStore?
FlekStore is a useful third-party app store that hosts a variety of unofficial apps, tweaks, and third-party content, including some Cydia tweaks. The best part? You don't need to jailbreak your device, and everything is available for free.
Inside FlekStore, you'll find a collection of over 500 unique apps, web apps, and handy shortcuts. If you're looking for extra stability and smoother usage, there's an option for premium access. FlekStore goes the extra mile by signing applications specifically for your device.
FlekStore offers an ad-free experience, focusing on providing a hassle-free interface for your convenience.
Skip the hassle of cables, computers, or jailbreaking. FlekStore lets you access everything right from your device. It's easy to navigate with a simple menu at the bottom, organized by categories.
FlekStore gives you the freedom to customize app names and install duplicates using its app configuration menu. You can also use your own certificates or developer accounts for free.
FlekStore equips you with signature tools, enabling you to effortlessly sign and install applications beyond the confines of its catalog. Furthermore, elevate your experience by personalizing the app's aesthetics to reflect your unique style through UI customization, offering an array of color settings and themes.
FlekStore offers a range of impressive features, waiting for you to explore. Dive into the world of unofficial apps, unique tweaks, and more. Experience the potential FlekStore holds and open up your device to a world of possibilities.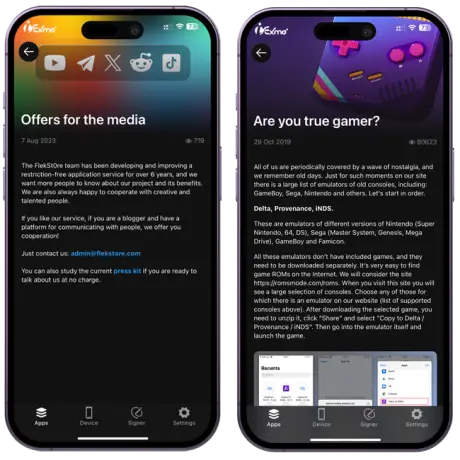 Frequently Asked Questions About FlekStore
Is FlekStore Safe?
A: Absolutely, FlekStore is a secure platform that doesn't require jailbreaking, ensuring your iOS device stays protected.
What is App Signing on iOS?
App Signing is a security measure on iOS, attaching a digital signature to validate an app's origin and integrity.
Is FlekStore App Free?
Yes, the FlekStore app is free to use, and there's an optional PRO version with premium features.
Can I Use FlekStore on Android?
No, FlekStore is exclusively for iOS devices, and there are no plans for an Android version.
Can I Download Hacked Games via FlekStore?
FlekStore offers options for hacked games, featuring a premium collection of the best games with the latest updates.
Can I Trust FlekStore for App Downloads?
Yes, FlekStore offers a safe environment for app downloads. Its curated catalog and secure signing process ensure reliable and trustworthy apps.
How Do I Install FlekStore on My Device?
Installing FlekStore is easy. Follow the provided instructions, and you'll have access to FlekStore's app catalog.
Are There Regular Updates for FlekStore Apps?
Yes, FlekStore keeps its app catalog updated regularly, ensuring you have access to the latest apps and versions.
What Are the Benefits of Premium Subscription?
FlekStore's Premium subscription offers faster signings, advanced configurations, and additional features for an enhanced app experience.
Can I Remove FlekStore if I Don't Need It?
Yes, you can uninstall FlekStore from your device just like any other app. However, it's a gateway to unique app options.
What's New In FlekSt0re
FlekSt0re v2.0
Notifications: Stay updated with the latest iOS app arrivals and news.
Direct IPA Downloads: Easily access IPA files for catalog apps.
Third-Party Certificates: Import your certificates for seamless app signing.
Larger Upload Limit: Enjoy 2000 MB for hassle-free file uploads.
Sleek UI Update: Experience a fresh and stylish user interface.
Light and Dark Modes: Choose your preferred theme for a personalized touch.
Effortless Certificate Management: Keep track of expiration and manage certificates effortlessly.
Improved Activation: Enjoy a smoother activation process.
Lightning-Fast App Signing: Get apps signed at double speed.
Fresh App Catalog: Explore a host of new apps and games.
Ad-Free for Pro Users: Enjoy an uninterrupted experience within apps.