LowerInstall Tweak – How To Download Unsupported Apps On iOS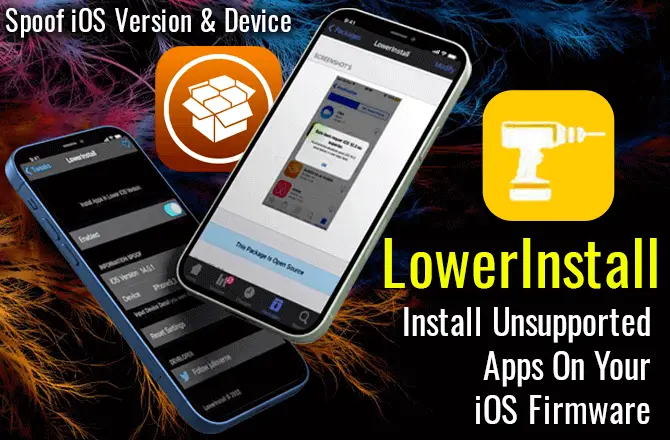 The LowerInstall tweak lets you simulate an iOS device and version. Even when it should function, developers often include firmware restrictions to their applications that prevent consumers from downloading them on earlier iOS versions. Unsupported apps may be installed on your current firmware version with the LowerInstall tweak.
Download LowerInstall Tweak For iOS
Every jailbreaker needs this tweak because at some point they will experience an unsupported app.
---
How To Install Unsupported Apps on your iOS Firmware With LowerInstall
A free package named LowerInstall tweak was made available from the official Julioverne repository. Install the greatest tweak to install applications in earlier iOS versions by adding LowerInstall Repo in your package manager. Restart your iOS device after applying the tweak.
Step 1 > Open the Cydia app > Tap on Sources tab.
You can also use your preferred package manager, such as Cydia, Sileo, Installer, or Zebra.
Step 2 > Tap on Edit > Add > enter http://julioverne.github.io (Lowerinstall repo URL)
Step 3 > Install the LowerInstall tweak now from the new repository.
Step 4 > You must manually reboot your device to make it functional after installation.
Step 5 > Go to the Settings app > Access the LowerInstall preference pane.
What Is LowerInstall Tweak?
Admit it, you frequently run into apps that no longer support the firmware you are using. While most users won't have a problem with this, jailbreakers must make due with the firmware they have because they can't update. Here's where the new LowerInstall tweak takes place.
A free jailbreak tweak called LowerInstall enables you to install apps on unsupported iOS versions. The solution enables you to bypass the lowest iOS version limitations that prevent you from downloading apps by changing your current iOS version to any other.
It does so by spoofing the iOS firmware version you are currently using. This makes the App Store think you are using that firmware rather than your actual older firmware by tricking it into thinking you are running it.
Once the LowerInstall tweak is loaded, the Settings app gains a separate preference pane where you may customize all settings to your preferences, such as altering the iOS version as well as the device type. Resetting all settings to their default system values is another option.
How LowerInstall Tweak Works – Bypass Minimum iOS Requirements
From Settings, configure the options. To fake the iOS version and device type, use this tweak. When a notice like that appears, "iOS 10.0 or later is required for this application. For this software to be downloaded and used, you must update to iOS 10.0 "Utilize LowerInstall to get around this restriction.
By using LowerInstall jailbreak tweak, you can trick the App Store into thinking that your iphone is actually running that firmware rather than an older version. To get LowerInstall to function on your iPhone, remember to restart it and re-jailbreak it. The system settings won't change after respring.
LowerInstall Tweak Support iOS Versions
This tweak will function on any device running iPhone OS 3 or later and the most recent iOS versions, but it will mostly function on those running iOS 5, iOS 6, iOS 7, iOS 8, iOS 9, iOS 10, and iOS 11 as well as iOS 12, where the support for older app versions will be decreasing. With this tweak, called Checkmate, Store, unsupported iOS applications will be a thing of the past.
LowerInstall Tweak Support iOS Devices
This method also applies to iPads, including the iPad 2. The iPad 2 is fantastic, but iOS 9 is a dated operating system, and apps are starting to stop supporting it. To utilize current applications with the iPad 2s OS, developers advise using CheckmateStore. Any compatible apps on the iPad 2 function well. Install Checkmate, Store on your iPad 2 if you want it to continue receiving support in 2020. The iPad 2 is over ten years old, so you should probably install Checkmate Store on it if you want it to still work.
Who Developed the LowerInstall Cydia Tweak?
You may install unsupported applications on your current firmware version thanks to the LowerInstall Cydia tweak. It is created by famous tweak creator Julioverne. He is also the developer behind CyDown, BLightAlert, 3Edgy5Me, CrackTool4, and Spotilife.