MagicCFG Windows Download: Change iPhone Serial Number [Purple Mode Diagnostic Tool]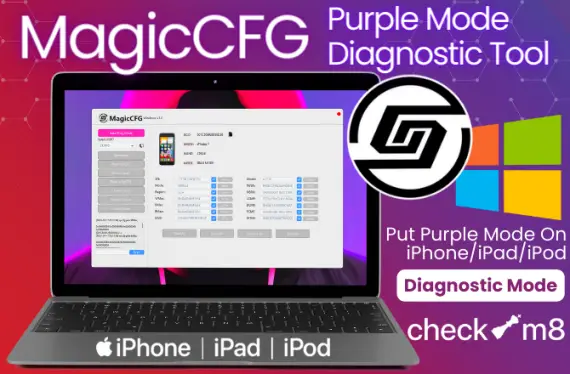 MagicCFG for Windows purple mode diagnostic tool, developed by iAldaz Activator, is a revolutionary SysCFG Editor designed specifically for PC users. This latest MagicCFG purple mode tool empowers you to enter Diagnostic Mode on your iPhone or iPad seamlessly, allowing you to modify crucial NAND data with ease. MagicCFG download provides the flexibility to make changes to vital identifiers such as the serial number, model, region, and more, making it an indispensable solution for various scenarios.
Download MagicCFG For Windows On iPhone/iPad/iPod
MagicCFG Windows Features – World First Purple Mode Diagnostic Tool
🔧 Seamlessly Change iPhone S/N: MagicCFG windows download empowers you to effortlessly modify your iPhone's serial number, model, region, and more, catering to your unique needs.
💾 Backup and Restore: Safeguard your vital configuration data with ease, allowing you to restore your device to its previous state if needed.
🔄 Enter Diagnostic Mode: Unlock the Diagnostic Mode (Purple Mode) without the hassle of running Purple Pro, making the process smoother and more convenient.
🛠️ Repair Drivers: Fix issues with your device's drivers effortlessly, enhancing its overall performance and stability.
☁️ iCloud Unlock: MagicCFG iCloud bypass and MagicCFG iCloud unlock helps bypass iCloud activation, offering an effective solution for iCloud-locked devices.
🔄 Device Reboot: Restart your device swiftly, resolving minor glitches and optimizing its performance.
🔄 Factory Reset: Easily perform a factory reset on your iPhone, wiping data for a fresh start.
📝 Edit NAND Data: Seamlessly read and write crucial NAND data for customization and personalization.
🔄 Display Device's ECID: Get essential device information, including the ECID, for various purposes.
🖇️ Modify Various Identifiers: Customize your iPhone's mode, WMac, BMac, EMac, MLB, NVSN, NSRN, LCM#, BCMS, FCMS, and MTSN for a tailored experience.
💻 Windows Compatibility: Specifically designed for Windows users, ensuring seamless compatibility and ease of use.
📂 Simple Installation: Easy-to-follow MagicCFG installation process, getting you up and running in no time.
💡 User-Friendly Interface: Intuitive and user-friendly design for hassle-free navigation and operation.
💸 Cost-Effective Solution: Save on additional accessories with MagicCFG windows download, making it a cost-effective alternative.
📈 Accelerated Process: Speed up the modification process, minimizing wait times and increasing efficiency.
📱 Device Compatibility: Works with checkm8 devices running Apple A5 – A11 SoC, supporting iPhone 5S, iPhone 6S, iPhone SE, iPhone 7, iPhone 8, and iPhone X.
Experience the full potential of your iPhone with MagicCFG for Windows, the ultimate SysCFG Writing Utility. Unlocking Diagnostic Mode, MagicCFG change serial number, modifying crucial identifiers, and performing essential functions has never been easier! Download MagicCFG Windows now and take control of your iPhone like never before!
How To Change iPhone S/N On Windows Using MagicCFG Windows Tool
To change your iPhone's serial number on Windows, you'll require a dedicated tool like MagicCFG Windows. Unlock Purple Mode in your iPhone/iPad and change the serial number effortlessly with MagicCFG iOS 16 / iOS 15, no DCSD cable required! This MagicCFG download windows process is often necessary for certain iCloud bypass tools to perform activation, and MagicCFG can also restore the original serial number if needed.
Follow these simple MagicCFG-Windows steps to proceed:
Step 1: Download the MagicCFG latest version for Windows.
Step 2: Extract the ZIP file to your desktop for easy access.
Step 3: Put your iPhone or iPad in DFU mode.
Step 4: Connect your device to your Windows PC.
Note: All devices require a DCSD cable, except for A10 to A11 processors where it is not necessary.
Step 5: Open MagicCFGWin.exe and click on "Enter Diag Mode."
Step 6: Backup all your device data to avoid any loss.
Step 7: Enter the new iPhone serial number (S/N) and click "Write" to complete the process.
MagicCFG Windows – The Ultimate Tool For Putting Your iPhone/iPad/iPod In Purple Mode [Diagnostic Mode]
Developed based on the Macbook developer j4nf4b3's Swift code, iAldaz Activator skillfully adapted and enhanced it for Windows compatibility, ensuring seamless functionality.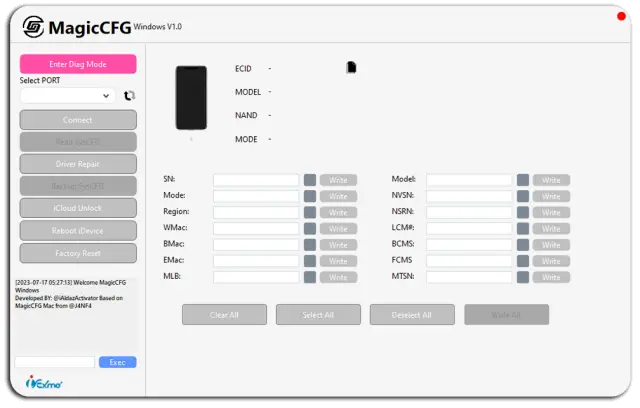 MagicCFG is provided as a free tool, resolving driver and pwndfu issues, guaranteeing a smooth experience without any complications.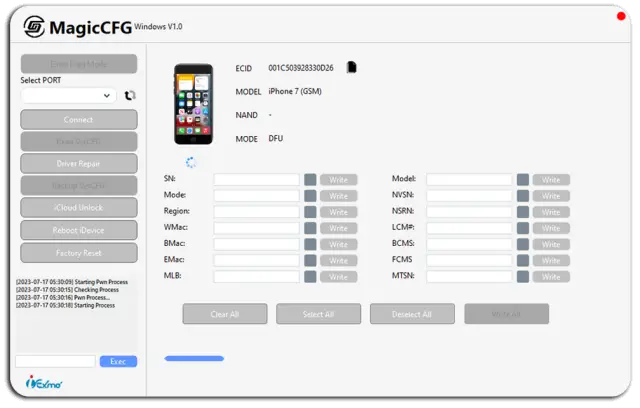 With its user-friendly interface, MagicCFG offers effortless and swift usage. A remarkable feature is its compatibility with A10 – A11 Processors, eliminating the need for a DCSD cable (for A9 and below).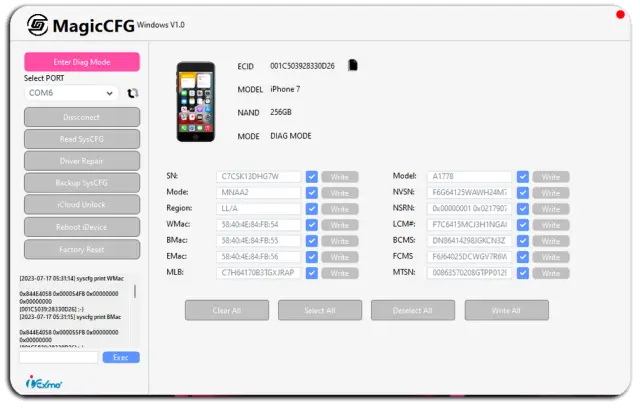 MagicCFG iCloud Unlock Solution: Beyond its Purple Mode capabilities, MagicCFG also features an iCloud Unlock Form, providing additional support to unlock WiFi devices associated with iCloud.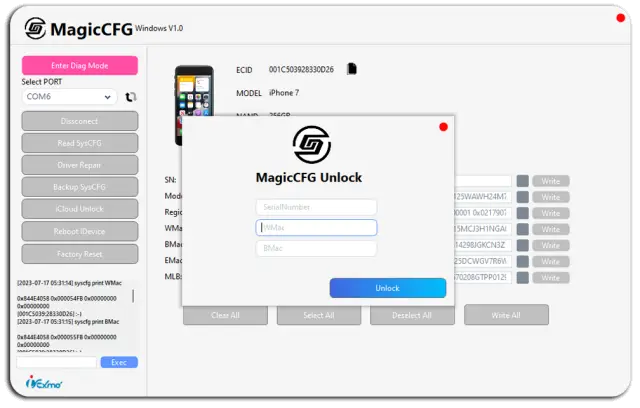 Experience the Magic of MagicCFG, a powerful and hassle-free tool that simplifies Purple Mode access on Windows, ensuring smooth diagnostics and effortless MagicCFG iCloud unlocking.
What Is MagicCFG Windows?
MagicCFG Windows represents an enhanced version of the MagicCFG Reloaded utility, initially developed by j4nf4b3l. This download MagicCFG windows iteration has been specifically tailored for Windows users, ensuring seamless compatibility and an intuitive interface. As a SysCFG Writing Utility, MagicCFG for purple pro download empowers users to effortlessly read, write, and restore vital configuration data on their iDevices.
Cost-effective and efficient, MagicCFG Windows minimizes the need for additional accessories, except for a DCSD cable. This MagicCFG for purple pro windows approach not only saves expenses but also expedites the process. Notably, MagicCFG Windows stands out by enabling Purple Mode (Diagnostic Mode) on iDevices without requiring Purple Pro, offering added convenience and versatility.
MagicCFG Windows Functionality:
MagicCFG for Windows provides a diverse range of functionalities that elevate the iPhone experience. MagicCFG for purple pro powerful tool enables users to enter Diagnostic Mode, access and read SysCFG, repair drivers, back up SysCFG, unlock iCloud, perform device reboots, execute factory resets, and even display the device's ECID.
Activating Diag Mode allows users to read and write certain data effortlessly. By connecting the device in DFU mode and clicking a button, users can enter this mode and edit NAND data without relying on any hardware programmer, ensuring a seamless and user-friendly experience.
Modification Options with MagicCFG Windows:
MagicCFG Windows offers a broad array of modification options, allowing users to customize various aspects of their iPhone. Alongside changing the iPhone's Serial Number (SN), users can also modify the mode, region, WMac, BMac, EMac, MLB, model, NVSN, NSRN, LCM#, BCMS, FCMS, and MTSN.
MagicCFG Windows Diagnostic Tool Compatibility:
It's important to note that MagicCFG supported devices for Windows is compatible with checkm8 devices running Apple A5 – A11 SoC. As a result, users can confidently use this tool with iPhone 5S, iPhone 6S, iPhone SE, iPhone 7, iPhone 8, and iPhone X. However, devices newer than iPhone X are not supported with MagicCFG Windows.
MagicCFG for Windows presents a powerful and user-friendly utility that offers extensive functionalities to modify and optimize your iPhone experience. With its compatibility, ease of use, and versatile features, MagicCFG iPhone is an essential tool for anyone seeking to change their iPhone's serial number or perform other essential modifications.
MagicCFG: The World's First Purple Mode Diagnostic Tool – A Free Utility!
🧿 Creator: MagicCFG is developed by the talented software developer iAldaz Activator, known for their expertise in iOS utilities.
🧿 World's First: MagicCFG free holds the distinction of being the first Purple Mode Diagnostic Tool of its kind, setting a new standard in iOS diagnostics.
🧿 Purple Mode Diagnostic: With MagicCFG, you gain access to the powerful Purple Mode, enabling comprehensive diagnostic capabilities on your iOS device.
🧿 Free Utility: MagicCFG all versions offered as a free utility, making it accessible to all iOS enthusiasts without any cost.
🧿 Empowering iOS Users: This cutting-edge tool empowers iOS users to diagnose and troubleshoot their devices efficiently, enhancing the overall iOS experience.
Best iCloud Bypass Tools | MagicCFG Windows Alternatives
Are you struggling with an Activation Lock on your iOS device? These iCloud bypass tools provide a safe and efficient solution to unlock your device.
If you're looking for alternatives to MagicCFG Windows, particularly for Purple Mode Diagnostic, you're in the right place. These tools are reliable and effective. Unlock your iCloud-locked devices effortlessly and securely with these trusted solutions. Get started now!
The Ultimate iCloud Bypass Tools »
MagicCFG iDevice Nand Programming Software Download
MagicCFG is a versatile solution for iCloud-locked iPads and those looking to back up their iPhones. It offers a range of functionalities to address various iOS needs. With MagicCFG, you can easily change the booting color of your iPhones and iPads, personalizing your device to your liking.
DCSD Cable: It's essential to note that MagicCFG requires a DCSD cable to function. Without this cable, you won't be able to perform any operations with the software. MagicCFG also works seamlessly with JC DFUBox C2, expanding its usability and compatibility with a broader range of devices.
MagicCFG has the capability to read and write the SysCFG, a critical part of NAND chips that stores device information. This functionality can be immensely useful in various scenarios. MagicCFG is a free software developed by Jan Fabel and Shen Zao, originally based on the "purple" tool by @1nsane_dev. Their dedication to the iCloud bypass community is evident through their range of apps.
MagicCFG Windows GitHub Source Code
MagicCFG Windows is conveniently available on MagicCFG GitHub, ensuring accessibility and transparency for users. MagicCFG Windows tool is a straightforward SysCFG Editor developed in C#. This MagicCFG diagnostics powerful tool focuses solely on editing, allowing users to enter Purple/Diagnostic mode effortlessly.
The app serves as a valuable asset for both hobbyists and professional repair stores by enabling the reading, writing, and restoration of crucial configuration data on iDevices. Its C# implementation and interaction with the syscfg partition demand cautious usage, ensuring users fully comprehend their actions.
What's New In MagicCFG Windows Tool
MagicCFG Windows V1.2.3
Experience smoother device detection, making your interactions with iOS devices more seamless.
With this new addition, you gain more control and flexibility in your flashing operations.
Now, iPhone 6Splus N66 devices can boot into Purple Mode without any hassles.
Get a sneak peek into temperature and voltage with the new demo preview feature.
The inclusion of alternate diagnostics for iPad Air 1 ensures comprehensive diagnostic capabilities.
Users of J71ap devices can benefit from the NAND downgrading feature, expanding their device functionality.
Enhance your user experience with an updated Chinese translation package, making MagicCFG more accessible to a broader audience.
MagicCFG Windows V1.2.1 (Global Version)
This new method provides more flexibility in selecting serials, enhancing the overall user experience.
Devices with 30pin connectors, such as iPad 2/3/mini 1 and iPhone 4/4S, are now fully supported.
A convenient auto-detection mechanism is added, simplifying the usage of DCSD cables.
A minor bug related to flashing backup files to iDevices has been resolved, ensuring smooth operations.
Diagitizer is now integrated as a native Diags-Booting-Utility (DBU), enhancing diagnostics capabilities.
MagicCFG Windows 1.1
MagicCFG for Windows upgraded to version 1.1.
Fixed 0x8003 CPID boot diag issue.
Added UNBIND Wi-Fi feature.
Introduced a fix for USB Modem Port.
The initial release of MagicCFG for Windows has been launched.