Instagram Rocket IPA Download For iOS Free – Latest Version 2022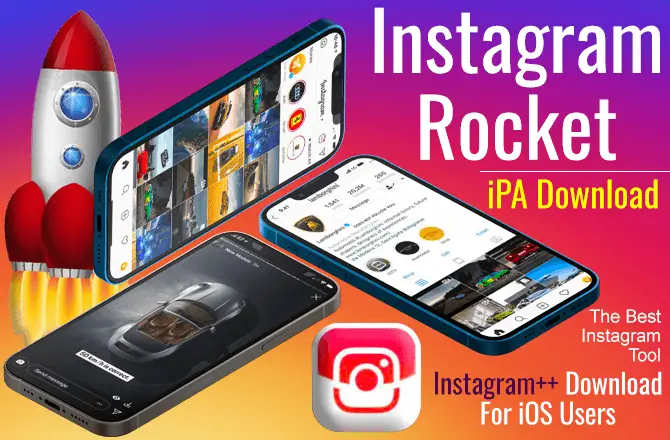 Use the Rocket tweak to have total control over the Instagram app. You may download stories and posts, take down sponsor posts, hide comments, confirm button clicks, and many other things. Use Rocket for Instagram, the best tweak for the social network for posting photos.
The Best Instagram Rocket IPA For iOS 15 – iOS 16
You can now get Instagram Rocket IPA for iOS 15 and iOS 16. On the most recent OS version-equipped iPhone, iPad, or iPod, you can install it. As you are aware, an actual jailbreak for the iPhone is currently just a wish. So, thanks to the developers for creating these tweaked applications that provide us extra functions while significantly lowering the need for a jailbreak.
Instagram Rocket 2022 – All-In-One Instagram Tool For iOS Users
Instagram Rocket IPA is a fantastic iOS tweak that enhances your standard Instagram account with a number of extra features. Instagram enthusiasts look for techniques that will enable them to grab interest and rapidly grow their following. Instagram Rocket 2022 aims to specifically solve these issues.
Download Rocket For Instagram
Instagram Rocket's latest version, which is now compatible with iOS 15 – iOS 16 devices, may be downloaded and installed here. You may use the Rocket for Instagram modification tool to add new features and utilize the largest photo-sharing platform in the world in more ways than you can with the native Instagram app for iPhone, iPad, or iPod touch. The upgraded Instagram Rocket v3.7.20, which is now compatible with Instagram versions 178.0 and higher, was made available by developer Majd Alfhaily.
The stock Instagram app has been customized for the iOS 16 platform by Instagram Rocket. Installing it will give you access to additional functions that the default Instagram iOS app does not offer. For instance, you can see the sender's messages without marking them as read, keeping the sender in the dark about whether you have read or not. Similar to that, there are more features that make Instagram Rocket iOS superior to the standard version.
---
Instagram Rocket iOS IPA Features | Best Instagram Tools For 2022
💙 Any picture or video can be downloaded or saved.
💙 Using a long tap, view photos in high resolution.
💙 With Instagram Rocket iOS, you can view any account's profile photo in high resolution and full screen.
💙 In Instagram Rocket iOS, ads could also be hidden.
💙 It's simple to Mute and Unmute followers from the feed.
💙 Mark stories as seen with the Instagram Rocket iOS app.
💙 You can view the post's date and time.
💙 Rocket for Instagram IPA allows users to view their home feed in grid format.
💙 Stories from users can be downloaded instantly.
💙 With Instagram reads messages without marking as seen.
💙 View stories on Instagram without marking them as viewed.
💙 The ipa version of Instagram Profile will display the following status.
💙 Using Instagram Rocket, you may download posts from your newsfeed.
💙 To zoom, long press on posts.
💙 Utilizing the Instagram Rocket IPA for iOS Download, repost any post from your feed.
💙 Instagram Rocket IPA makes it simple to copy post captions from your feed.
💙 Download Instagram Rocket IPA for iOS to save videos from IGTV.
💙 High-quality mobile data gaming.
💙 Stories in your feed can be easily hidden.
💙 Watch Stories without notifying anybody.
💙 Instagram Rocket allows you to mute and unmute stories.
💙 Read receipts can be disabled in DM.
💙 Disable the DM notifications for screenshots.
💙 DM read receipts will be disabled.
💙 iPA Instagram Rocket utilizing the download, disables Auto-Advance in stories.
💙 Long press on the profile photo to zoom in and many more features are available in Instagram Rocket.
Instagram Rocket Support iOS Versions
iOS 9, iOS 10, iOS 11, iOS 12, iOS 13, iOS 14, iOS 15, and iOS 16.
How To Download And Install Instagram Rocket For iOS
Instagram Rocket was made available as a jailbreak modification and IPA bundle. You may use an IPA installer or direct web links to install the greatest fully – featured Instagram tweak on a non-jailbroken device. It is necessary to use a computer in order to sign and install the program yourself.
Installing a specific Rocket tweak for jailbroken devices necessitates having the official Instagram app downloaded from the App Store. The instagram rocket iPA download for iOS iPhone/iPod will be effective working forever without revokes.
How To Install Instagram Rocket iPA iOS On iPhone, iPad, iPod
Without a jailbreak, Instagram Rocket can be installed on any iOS 14 and iOS 15 compatible devices. You can using Sideloadly here as IPA installation tool. Both Windows and macOS support it. The AltStore app functions as an IPA installer for Linux users.
Step 1 > Download Instagram Rocket IPA for iOS using the above button.
Step 2 > Open the Sideloadly tool by going to the installation folder.
How to install apps via Sideloadly on iPhone, iPad, Windows and Mac
Step 3 > With Sideloadly, connect your iPhone via a USB cable or Wi-Fi.
Step 4 > Now Instagram Rocket IPA can be chosen from the Open dialog box by clicking the IPA icon.
Step 5 > Then enter in your Apple ID, which is necessary to sign the Instagram Rocket IPA file.
Step 6 > So, to begin installing the IPA file on your iPhone, click the Start button > Please enter your Apple ID password.
Step 7 > Open the Settings > Navigate to General > VPN & Device Management > select the developer app > Tap on Trust.
Step 8 > Everything has been done. Instagram Rocket can be launched from the home screen.
So that's all. Your phone has just finished installing Instagram Rocket IPA iOS 16. Enjoy the powerful functions it includes.
Step To Install Instagram Rocket IPA Without A PC
You can try installing the Instagram Rocket tweak using direct web links if you don't have a computer. A globally accessible certificate used to sign the app is often canceled by Apple. When a link doesn't work right away, try it again later because specialists regularly update links.
Step 1 > From the Safari browser, tap the "Install Instagram Rocket" button.
Step 2 > When the "would you like to install Instagram Rocket" popup appears, choose Install.
Step 3 > On your Home Screen, the Instagram app icon will display. No errors will show up if the app is downloaded properly.
Step 4 > Open the Rocket settings when running Instagram for iOS.
Step 5> Trusting the newly added certificate from the Settings app is also necessary if the installation goes smoothly. beginning with Step 7, adhere to the instructions in the previous installation guide.
Instagram Rocket Repo Download
The Instagram Rocket tweak may be added on top of the Instagram app that was obtained from the App Store while you are operating in a jailbroken environment. Install the iOS Instagram tweak by adding the secret Instagram Rocket repository into your package manager. Installing tweaks from Cydia sources is now possible. The method to add Instagram Rocket Repo to your list of Cydia Sources is explained below.
Step 1 > On your iOS device, open the Cydia app.
Step 2 > Sources tab > Edit > Add the official Instagram Rocket Repo link
Instagram Rocket Repository URL – https://apt.alfhaily.me
Step 3 > Type Instagram Rocket in the Search field and install the Instagram Rocket tweak.
Step 4 > To apply all modifications, restart the Springboard.
Step 5 > That's it! From the Instagram app, you can now access and modify Rocket preferences.
Download Instagram++ Free For iOS
You may also download and install several Instagram app changes if you don't like Instagram Rocket. For instance, Instagram No Adverts and Instagram++ provide a variety of helpful additional capabilities to Instagram, including the ability to save pictures and videos, watch stories anonymously, hide ads, and more.
Prerequisites For Instagram Rocket
iPhone/iPad/iPod touch
USB Lightning Cable
Cydia Impactor tool
A Computer With Windows/Mac/Linux
What Is Instagram Rocket Tweak?
The most popular social network for sharing photos and videos, Instagram Rocket is an exclusive tweak. The tweak may be installed on both jailbroken and non-jailbroken smartphones that are running iOS 9.0 or later. It gives the Instagram app the most requested features.
Although everyone refers to the project as Instagram Rocket, its official name is Rocket for Instagram. The tweak is inserted into the Instagram app for non-jailbroken smartphones. You will have access to customize Instagram's feed, stories, IGTV, chats, and profile after it has been installed.
Besides that, Rocket for Instagram has a built-in local-only spoofer. You may fake followers and follower counts, fake following and following counts, fake posts and posts counts with this tool. Only you will see the data, for your benefit.
You may activate Grid Layout in Rocket's Feed Options, change the default appearance between list and grid, specify the number of grid columns, and also include Instagram stories in the grid layout. You may also switch on tap and hold to magnify photographs and profile pictures, hide the download or repost buttons, and prevent background app refresh.
The developer also included settings to delete sponsored content, hide comments, modify the date format, play music by default, and confirm actions when prompted by double-tap or via the like button in this area.
You should value what Rocket has to offer on Instagram Stories if you like this feature. You can first read tales anonymously. By choosing this option, Instagram will not inform the story's owner of your viewing status. By touching on the eye icon, the user may also choose to be manually alerted.
Additionally, Instagram Rocket may turn off auto-advance, delete sponsored stories, modify the time format, choose the video and photo quality automatically, and activate the search story viewer. To material being streamed on IGTV, it may also include a download button.
Instagram Rocket Download manager
Including a comprehensive Download manager is Rocket for Instagram. You may keep the context on your device by turning on the download button on Instagram images, stories, or videos. To see files from the Download area, tap the download icon, choose your preferred quality, and then tap the icon.
The resolution, contained tags, and the origin of every file that is downloaded are all extra details. The primary Instagram interface also allows you to choose the download destination, filter all downloads for media type and media source, and display the gallery button.
Instagram Rocket Privacy Features
Instagram Rocket spikes the level of privacy you experience. You may activate features like disabling tipping notifications, individually marking messages as viewed, and manually marking articles as seen from the Messages Options section. Also available for download from Instagram Messages are files. This is absolutely the finest Instagram customization overall.
Instagram Rocket Pro
Instagram Rocket is a free add-on, but you may buy the Pro version to help the creator out. With Rocket Pro, you may get rid of the app's adverts and improve your entire experience. The "Unlock full version!" the banner that is displayed at the bottom will also be removed.
Instagram Rocket improves the experience by removing adverts and offering a wide range of customization options. Even in third-party apps, you may save, store, and share screenshots, captions, and other content. With the help of this effective plugin, you can customize your profile's color and make it stand out from the crowd.