Saily IPA Package Manager For iOS | Saily Modern APT Package Manager On iPhone/iPad [Latest]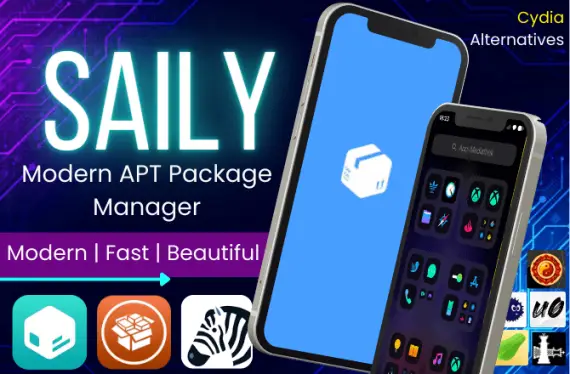 The Saily Modern APT Package Manager on the iPhone was created to provide a simple and powerful alternative package manager that was distinctive from Sileo and Cydia in a number of brand-new and innovative features. Saily IPA of the Package Manager for iOS wanted to create something that jailbreakers could use because there was no good package manager for RootlessJB users at the time.
Download Saily IPA For iOS [XinaA15 On iOS 15]

Saily Package Manager Features
Modern Package Manager – Saily was created entirely from scratch, which means that no code was taken from previous, obsolete, or deprecated package managers. Saily performs much better as a result, there are fewer issues, and it is now possible to employ newer, safer technologies. Saily supports online representations for developers who choose not to utilize native depictions but urges them to do so. Saily's built-in depiction architecture then allows it to present such online portrayals as native depictions. Saily exclusively accepts payments over secure networks, making it impossible for modifications like CyDown to download premium programs for free.
Fast – Saily can update sources and install packages at hyper speed without affecting the security of your device since it uses current, up-to-date tools and code. Even the first version of Saily's beta could refresh repos holding a total of 21,403 packages in less than 3 seconds. Think about what it is capable of right now.
Beautiful – Use of Saily is meant to be enjoyable and gratifying. From the start, the Saily team saw that many package managers lacked a creative, original, and amusing design. In order to avoid users from having problems or confusion, they created Saily with a layout that retains a native-feel while being distinctive in this approach.
✅ All jailbreaks are supported by Saily.
✅ Saily has the ability to import any source you have from Cydia, Sileo, Zebra, and Installer.
✅ Developed to work with your existing package managers.
✅ Saily can add and manage repositories with no limits.
✅ Both native and web depictions are supported.
✅ Using CI Machines, Saily APT Package Manager provides fast and smooth packaging.
✅ Saily offers a unique, secure payment platform that accepts paid packages.
✅ Records of your repository and packages are kept for up to two weeks.
✅ The capability of randomizing device data for free bundles.
✅ Use Saily to background-refresh repos automatically.
✅ Under the terms of the MIT License, Saily Package Manager is completely open-sourced.
✅ Quick Actions through the Settings panel, plus a great deal more.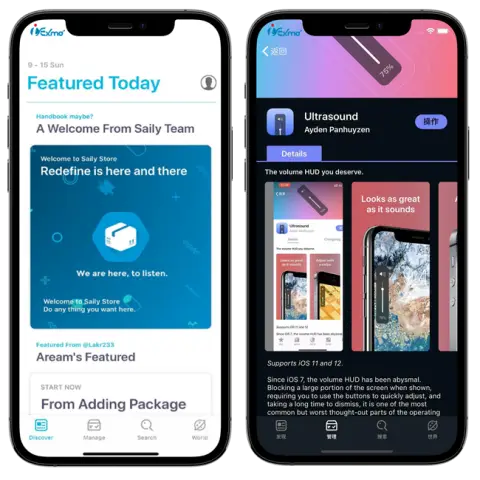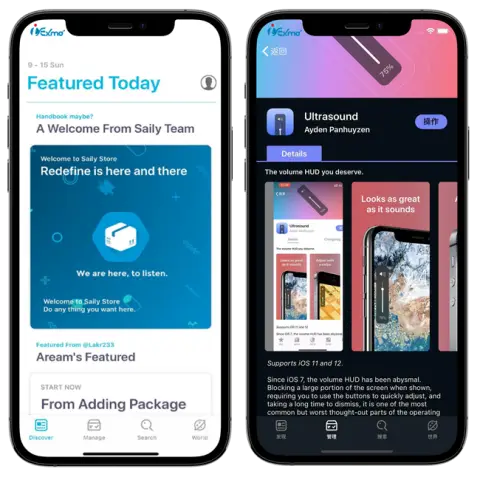 Saily Package Manager Repository
How to get Saily package manager? The official Saily Repository has to be added to Cydia Sources in order to be used to install Saily onto your iPhone or iPad. Install the package manager and the Saily Repo on your device. Use this repository to access the Saily Package Manager beta. Utilize Saily to explore remarkable advanced functionality. Moreover, you may use your preferred package manager, such as Cydia, Sileo, Installer, or Zebra, to add the Saily Package Manager repository.
Step 1 > From your homescreen, access the Cydia app's Sources tab.
Step 2 > Choose Edit ➤ Add ➤ Enter the Saily package Repo URL.
✅ Saily Package Manager Repo URL – https://sailyteam.github.io
Step 3 > Find the Saily package, then install it.
Step 4 > Respiring in your iPhone will make changes.
Step 5 > The Home Screen will now have an icon for the Saily app. Enjoying the distinctive UI on the iPhone and iPad.
How To Install Saily IPA Package Manager For XinaA15 Jailbreak iOS 15
The effective jailbreak for iOS 15 is XinaA15. As of right now, Saily for XinaA15 Jailbreak is available as an IPA package which can be loaded through TrollStore on supported iOS 15 – iOS 15.1.1 devices. Since the Saily app needs root access to function, you cannot install Saily for XinaA15 iOS 15 package manager using typical sideloading tools.
Step 1 > TrollStore should be installed on iOS 15 version.
🚀 How To TrollStore Permanently Sideload IPA For Free »
Step 2 > Use the button above to download the Saily IPA and save it in your iCloud.
Step 4 > Tap the downloaded Saily TIPA file ➤ Share with the TrollStore IPA Installer app.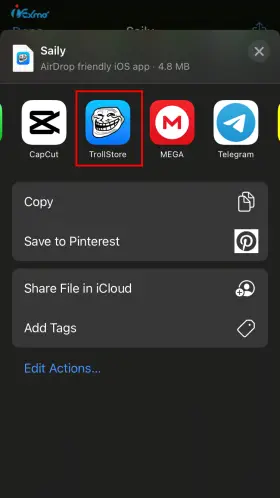 Step 5 > Saily will be set up instantly when TrollStore is imported.
Step 6 > The Saily app can be opened from your home screen.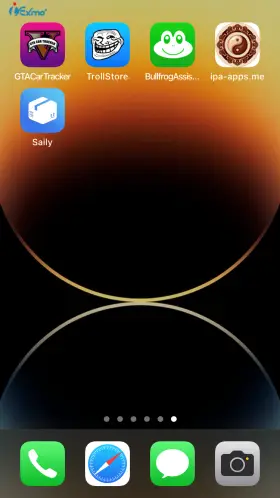 Saily Package Manager iOS Version Compatibility
Saily Download For iOS 15 – iOS 15, iOS 15.0.1, iOS 15.0.2, iOS 15.1, iOS 15.1.1, iOS 15.2,iOS 15.2.1, iOS 15.3, iOS 15.3.1, iOS 15.4, iOS 15.4.1, iOS 15.5
Saily Download For iOS 14 – iOS 14.8, iOS 14.8.1, iOS 14.7, iOS 14.7.1, iOS 14.6, iOS 14.5, iOS 14.5.1, iOS 14.4, iOS 14.4.1, iOS 14.4.2, iOS 14.3, iOS 14.2, iOS 14.2 v2, iOS 14.2.1, iOS 14.0.1, iOS 14.1, iOS 14.0
Saily Download For iOS 15 – iOS 13.0, iOS 13.1, iOS 13.1.1, iOS 13.1.2, iOS 13.1.3, iOS 13.2, iOS 13.2.2, iOS 13.2.3, iOS 13.3, iOS 13.3.1, iOS 13.4, iOS 13.4.1, iOS 13.4.5 Beta, iOS 13.5, iOS 13.5.1, iOS 13.5.5 beta, iOS 13.6, iOS 13.6.1, iOS 13.7
Saily Package Manager Device Compatibility
Saily Package Manager Support iPhones – iPhone 6s, iPhone 6s Plus, iPhone SE (1st Gen), iPhone SE (2nd Gen), iPhone 7, iPhone 7 Plus, iPhone 8, iPhone 8 Plus, iPhone X, iPhone XR, iPhone XS, iPhone XS Max, iPhone 11, iPhone 11 Pro, iPhone 11 Pro Max, iPhone 11 Mini, iPhone 12, iPhone 12 Pro, iPhone 12 Pro Max, iPhone 12 Mini
Saily Package Manager Support iPads – iPod Touch 7, iPad 5, iPad 6, iPad 7, iPad Air 2, iPad Air 3, iPad Mini 4, iPad Mini 5, iPad Pro (9.7 inch), iPad Pro (10.5 inch), iPad Pro (11 inch, 1st Gen), iPad Pro (11 inch, 2nd Gen), iPad Pro (12.9 inch, 1st Gen), iPad Pro (12.9 inch, 2nd Gen), iPad Pro (12.9 inch, 3rd Gen), iPad Pro (12.9 inch, 4th Gen)
Saily Package Manager For XinaA15 Jailbreak
Recently, the Saily Team published Saily Beta, which supports the rootless XinaA15 jailbreak running iOS 15.0 – iOS 15.1.1 for A12-A15 devices. This Saily for iOS 15 version supports Havoc Repo and other Cydia tweak shops in addition to enabling the download and installation of DEB packages on the XinaA15.
On iOS 15, the XinaA15 jailbreak installs Sileo as the default manager. Although login into repositories from Sileo and Zebra is presently separated, it is still possible to install packages and see repositories. There is no problem on the part of the tweak developers with this. Saily can install the tweaks you've ordered and effectively treat this situation.
Also, the XinaA15 jailbreak includes several helpful tools that let you do a DEB installation or perform a Dry Run, as well as reload your home screen with icon cache after installing customizations and applications. Any rootless jailbreak made available for iOS 15 will function with the Saily tool.
Saily is a fantastic Cydia alternative which experts encourage installing for everyone who appreciates simplicity. The tool is lightning quick and won't overload new users with many capabilities. It provides the ideal balance among Cydia as well as a sophisticated iOS package manager.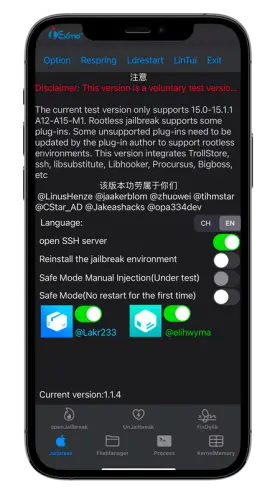 What Is Saily APT Package Manager?
Saily is a perfect open-source package manager and a great replacement for Cydia, which has been discontinued. Since it doesn't require them, it doesn't provide as many functions as Zebra or Installer do. Saily is an excellent tool for managing your installed packages and repositories since it is straightforward.
The Saily app offers compatibility for all jailbreaks using iOS 13 and higher because it is a contemporary package manager. When moving to the new package manager, it may import all sources through Cydia, Sileo, Zebra, and Installer, saving time. Also, it can function with other APTs.
Saily originally made with a preference for simplicity. A list of recently installed packages, current updates, and highlighted packages from repositories are all displayed on the home page. By pressing just the symbol in the top right corner, you may easily access the settings page from this spot.
Saily comes with few easy setting options. You can refresh the Home Screen, go into safe mode, manage blocked updated information for packages, disable history, change the user agent name, set network timeout, add accounts for stores, randomize device information, and many more options.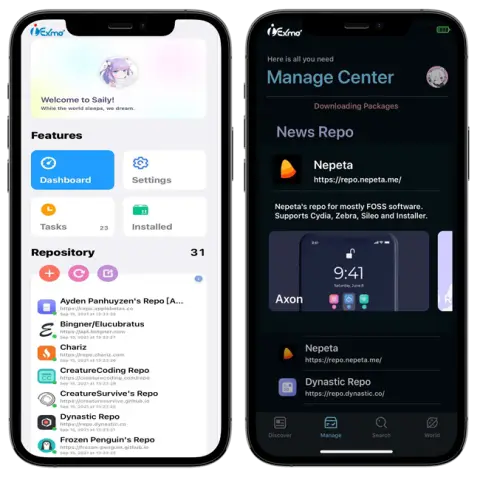 Multiple sources can be added fast on the Saily repository page, malfunctioning repositories may be cleaned up using the clean button, and the list of sources can be copied to the clipboard. Saily allows users to edit all repositories in the background and offers limitless repository management.
The list of installed packages is plain and arranged by date. Packages can be filtered by last modification or name. A search engine is available as well for finding packages and adjustments fast. In your absolute favorite selections, do a search. By URL or description, look up repositories as well as packages.
Version Control is included in Saily Package Manager. After a package is installed, you may examine all of the possible versions of the package using installed repositories from the tweak page. Another choice is to prevent upgrades for the chosen package.
Saily APT Package Manager Source Code
Completely open-sourced and distributed under the MIT License, Saily package management is a project. GitHub Repository used to provide the source code for this contemporary package management. Swift made up 44.0% of the app's code, Objective-C made up 35.6%, and C made up 16.6%.
Everything has to be configured for Xcode debugging; simply open the working space and select execute. In order to do genuine device debugging, certifications and bundle identification must be modified. The code continues to be actively developed, and tweaks have been made.
Who Create Saily APT Package Manager
Jailbreak users are pleased to appreciate and respect everyone who contributed to this project. Without your contributions, we would not have progressed as far as we have. Despite not being recorded in the git history, several contributors nonetheless made a contribution to Saily's development. Open the app, and you can discover a thorough license comprising all of the framework packages on the settings page. Software created by the Sileo Team is a component through this package.
Saily Project Leader – @Lakr233
Marketing Director – @BreckenLusk
Code Level Contributors – @Lakr233 / @Sou1ghost / @jkpang2 / @mx_yolande / @u0x01 / @BreckenLusk
Translators – @BreckenLusk / @Litteeen / @fahlnbg / @lamtaodotstore / @Amachik / @Minazuki_dev / @powen00hsiao / @t0mi
What's New In Saily Package Manager
Rootless Support Public Beta 1671024469
Initial support for rootless jailbreak is included on this release. TrollStore may be used to install the IPA. Except for convenience, files are the same.
Refresh Repo now disregards all caches.
Include Package Location Support in Query Parameters.
Fix the Permissions Problem.
Swift 5.6 has been updated for Foundation.
Unavailable Package Inspector was fixed.
Rarely Occurring Document Dir Permission Issue Fixed.
The iOS 16 crash was fixed.
Generic Release 1654050540
Repair crashes caused by CoreImage and Share Sheet, if possible.
Updated SDK for iOS 15.
Release 2.1
There is now stuff in the reveal package.
It is now supported to install package payloads without the.deb path extension.
When opened using Safari, the URL scheme can be broken.
Improvements in reliability.
Preferred option for the depiction setting.
Task option for script copy and dry run.
Option for downloading attractive bundles.
Resolved Height discrepancy in the representation.
Fixed Broken dark mode in the web representation.