SideStore IPA Installer For iOS – SideStore Install IPA File & Renew Certificates Without [No Jailbreak]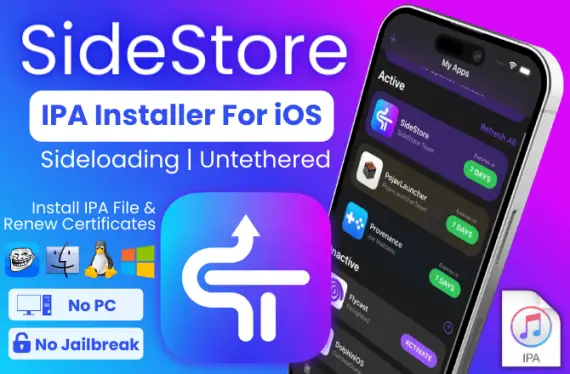 SideStore iOS IPA Installer enables sideloading apps on non-jailbroken iPhone, iPad, or iPod. If you're looking for a way to install and sign IPA files without using AltServer, SideStore provides a solution.
SideStore untethered sideloading is an open-source fork of AltStore, designed to allow you to sign and install IPA files directly on your device without a computer. You can easily download the latest version of SideStore IPA for iOS 14, iOS 15, and iOS 16, providing compatibility with a wide range of iOS versions.
Download SideStore IPA For iOS 17 – iOS 14
How To Install SideStore IPA Installer | AltStore Alternative Without AltServer
Sideloading | Untethered!
SideStore enables direct installation of IPA files on your iOS device without the need for a computer, making it a convenient sideloading store. Install SideStore on your device using a computer for the initial setup, and afterwards, enjoy SideStore without the need for a local computer.
To install the SideStore IPA on your iPhone or iPad, certain preparations are required. SideStore utilizes your personal development certificate to resign apps.
SideStore utilizes a specially designed VPN to trick iOS into installing the apps. SideStore must be installed in conjunction with either AltStore or SideServer.
SideStore Installation Guides
🔍 Install via AltServer [Windows/Mac] »
🔍 Install via SideServer [Mac] »
🔍 Install via AltServer [Linux] »
🔍 Install via TrollStore [MacDirtyCow iOS 14 – iOS 16.1.2] »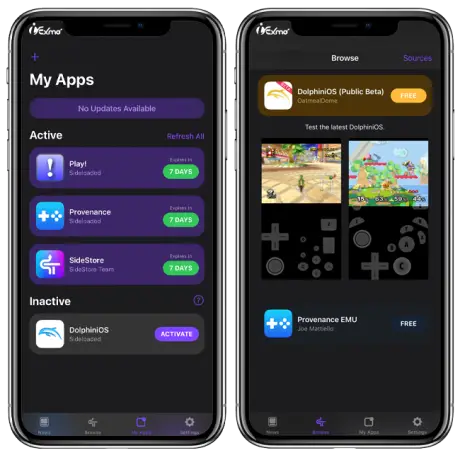 SideStore Install Requirements
Before you start, make sure you have the following:
– A personal computer running Windows, macOS, or Linux.
– An Apple device running iOS or iPadOS 14 or higher.
– An Apple ID (a separate one for using Anisette servers created by others is recommended)
– WireGuard installed on your iPhone, iPad, or iPod.
– If you are running iOS or iPadOS 16 or higher, you must enable Developer Mode on your device. To do this, go to Settings > Privacy & Security > Developer Mode and turn it on.
Set Up WireGuard For SideStore On iOS
Step 1: Download the WireGuard app.
Step 2: Download the WireGuard config file to your iDevice.
Step 3: Launch the WireGuard app and tap on the "Add a tunnel" or "+" icon.
Step 4: Select "Create from file": Choose the option to create a tunnel from a file or archive.
Step 5: Locate and select the SideStore.conf file you downloaded.
Step 6: If prompted, Allow WireGuard permission to add VPN configurations.
Step 7: Toggle the switch to turn on the SideStore tunnel within the WireGuard app.
If your iOS device restarts, remember to toggle the SideStore's VPN on again.
How To Install SideStore Via AltServer On Windows/Mac
This SideStore iOS step-by-step guide will walk you through the process of installing SideStore using AltServer on Windows or Mac. By following these instructions, you will be able to generate a pairing file and install SideStore successfully. Install non-Microsoft Store versions of iCloud and iTunes.
Step 1: Download and launch AltServer from the AltStore.
Set up Mail Plugin (Mac only): If you are using macOS, you need to set up the Mail Plugin for AltServer to function properly.
Step 2: Download SideStore IPA for iOS iPhone, iPad or iPod.
🚀 Latest Stable SideStore IPA »
🚀 Latest Nightly SideStore IPA »
Step 3: Sideload the SideStore IPA:
macOS: Hold the option/alt key and click on the AltServer menu bar icon. From the menu, select "Sideload .ipa" and then choose the SideStore IPA file.
Windows: Hold the shift key and click on the AltServer tray icon. From the options that appear, select "Sideload .ipa" and then choose the SideStore IPA file.
Step 4: Go to your device's Settings and navigate to "General".
Step 5: Tap on "VPN & Device Management".
Step 6: Look for the "Developer App" and approve it using your Apple ID's email.
Step 7: Launch the SideStore app on your device. Select the pairing file you generated earlier and sign in using your Apple ID.
By following these steps, you will successfully install SideStore via AltServer on your Windows or Mac system. Enjoy using SideStore for all your iOS needs!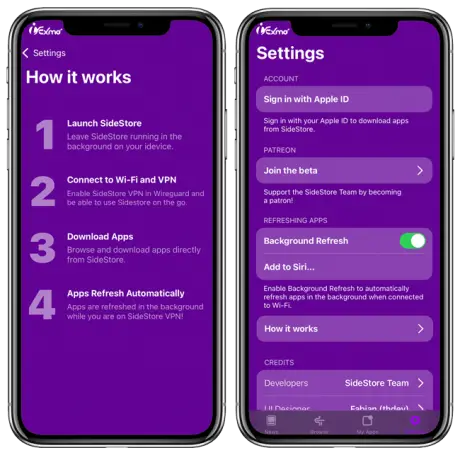 How To Install SideStore Via SideServer On Mac
Learn how to effortlessly install SideStore on your iOS device using SideServer for macOS. Follow these simple steps to set up SideStore and enjoy a seamless iOS experience.
Step 1: Download SideServer for macOS and install it on your Mac.
Step 2: Connect your iOS device to your Mac using a cable or Wi-Fi.
Step 3: Open SideServer and click "Install SideStore" from the menu bar or System Tray.
Step 4: Complete the installation process as guided by SideServer.
Step 5: In your iOS device's Settings, go to "General" > "VPN & Device Management" and approve the "Developer App."
Step 6: Open SideStore app on your iOS device and sign in with your Apple ID.
How To Install SideStore Via AltServer (Linux)
Follow these simple steps to install SideStore on your SideStore for iPhone, iPad, or iPod using AltServer on Linux.
Step 1: Download the docker-compose file using the command:
wget
https://raw.githubusercontent .com/Macleykun/Altcon/main/ docker-compose.yml
Step 2: Execute the docker-compose file:
docker-compose run –rm altcon
Set Up Anisette: Anisette will be set up automatically. Use the host IP with port 6969 as your custom Anisette server for SideStore.
Pair Your Device: Connect your iOS device and trust it when prompted. Enter your passcode if required.
Step 3: Install SideStore using your desired Apple ID:
./AltServer -u thiswillbeyourUUID -a myemail@mail.com -p myapplepass SideStore.ipa
Step 4: Press CTRL+D or type "exit" to exit AltServer once SideStore is installed.
Note that the Anisette server will continue running in the background.
How To Install SideStore Via TrollStore [No Jailbreak / No PC]
SideStore is available as an IPA file and SideStore MDC IPA app, and you can easily install it on your iPhone device using the TrollStore IPA Installer. With SideStore TrollStore IPA, you can enjoy its functionality on iOS and iPadOS versions 14 to iOS 15.4.1 without the need for jailbreaking. Follow these simple steps to install SideStore IPA and SideStore MDC IPA on your iOS device using the TrollStore app:
Step 1: Download and install the TrollStore app on your device. [Make sure your iPhone is running a firmware between iOS 14 and iOS 15.4.1]
Step 2: Download the SideStore IPA file. Save the IPA file on your iCloud storage.
Step 3: Open the Files app on your iPhone and navigate to the location where you saved the SideStore IPA file. Tap on the file, and then tap on the Share button.
Step 4: In the Share menu, scroll down and find the TrollStore app. Tap on it to share the SideStore IPA file with TrollStore.
Step 5: Once the SideStore IPA file is loaded in TrollStore, the app will automatically begin the installation process. Wait for the installation to complete.
Step 6: After the installation, you can find the SideStore app icon on your device's Home Screen. Tap on it to launch SideStore.
Step 7: Inside the SideStore app, you will be prompted to select the pairing file. Choose the pairing file that you previously generated during the installation process.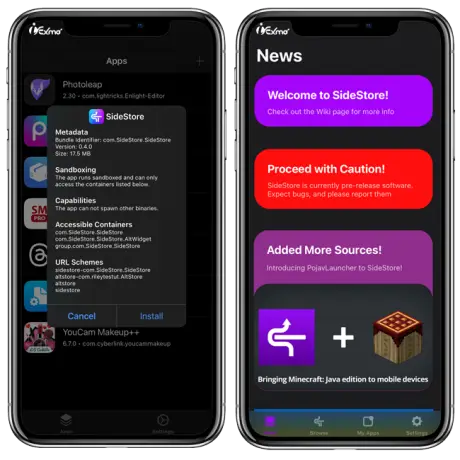 SideStore Pairing File: Creating A Pairing File For SideStore With Jitterbugpair
Pairing file using Jitterbugpair, enabling programs like SideStore to communicate with your device. To create a SideStore pairing file for SideStore, download Jitterbugpair for your operating system. Choose the appropriate version for Windows (64-bit), macOS, or Linux.
🚀 Download Jitterbugpair For Windows »
🚀 Download Jitterbugpair For macOS »
🚀 Download Jitterbugpair For Linux »
Pairing Instructions With Jitterbugpair For iOS
Follow these quick steps to pair your iOS device using Jitterbugpair, enabling smooth communication with programs like SideStore.
Step 1: Unzip the downloaded Jitterbugpair file.
Step 2: Connect your iOS device into your computer and open it to the home screen. Then, run the Jitterbugpair program.
If prompted, trust your computer to proceed with the pairing process.
Step 3: After completing the process, you will receive a file ending with .mobiledevicepairing.

Step 4: Transfer this file to your device using iTunes or another method.
Note that using cloud storage might alter the file extension (possibly turning it into a .txt file), so be cautious. For older SideStore versions like 0.1.1, you can change the extension to .plist.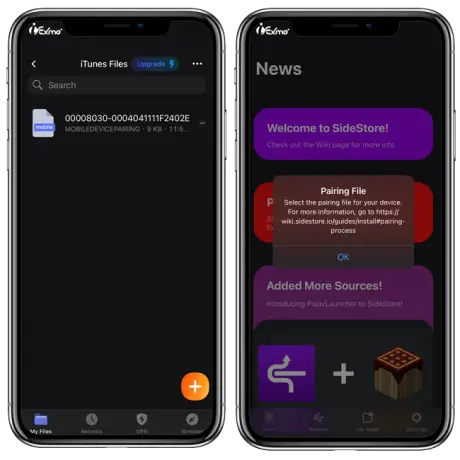 Windows Users: On Windows, if double-clicking the .exe file doesn't work, open Command Prompt or PowerShell instead.
Step 1: In File Explorer, navigate to the Jitterbugpair folder.
Step 2: In the navigation bar, type "powershell" and press Enter.
Step 3: Then, with your device plugged in, type "./jitterbugpair.exe" and press Enter.
Create Your Own Anisette Server For iOS
Learn how to create your own Anisette server to avoid issues with the built-in server and ensure a smooth Apple ID login experience. Follow these simple steps to set up your own Anisette server for free using Render.
Step 1: Visit https://dashboard.render.com/register and create an account.
Step 2: Click on the "New Web Service" button on the Render dashboard.
Step 3: In the "Public Git Repository" field, enter the URL: https://github.com/Dadoum/Provision.git
Step 4: Click "Continue" and follow the on-screen instructions.
Step 5: Provide a name for your service and select a region.
Step 6: Scroll to the bottom and click "Create Web Service."
Step 7: Allow some time for the build process to finish.
Step 8: Click the "Manual Deploy" button at the top right and choose "Deploy latest commit."
Step 9: Once the build is complete, check if your service is working properly.
Avoid Account Lockouts: If you encounter the error message "Failed to Log in. Unable to sign you in to your Apple ID. Try again later. (-36607)" while using the built-in Anisette server, you can prevent this issue by hosting your own server.
What Is SideStore?
SideStore is an innovative iOS application designed to streamline the sideloading process, allowing users to install apps directly onto their devices. With support for all devices running iOS 14 to iOS 16, SideStore offers a seamless experience for app enthusiasts.
Features and Functionality
Similar to its predecessor AltStore, SideStore replicates the same features and functionality. If you are familiar with AltStore, navigating SideStore will be a breeze. The online IPA installer encompasses a variety of features, including a news section, support for sideloading third-party apps with IPAs, IPA sources, certificate management for sideloaded apps, background refresh, and an error log.
🔒 If your main Apple account gets locked, you may be forced to reset its password to regain access. To prevent this, it's crucial to use an alternate account or create a new one specifically for the installation process.
Easy Installation and Re-signing Apps
With SideStore, installing IPA files on your iPhone becomes effortless. Simply use your Apple ID over a Wi-Fi connection to easily install the desired apps. Moreover, SideStore enables you to re-sign apps in the background, ensuring they don't expire and maintaining uninterrupted app access.
The Power of EM-Proxy
EM-Proxy lies at the core of SideStore, leveraging an App Store app with additional entitlements, such as WireGuard, to create a VPN tunnel. This unique approach allows SideStore to make use of Jitterbug's loopback method without requiring a paid developer account.
Open-Source Project and Development Requirements
SideStore is an open-source project released under the AGPL-3.0 license. The source code is available on GitHub, allowing developers to contribute and enhance its functionalities. To compile the project, you'll need Xcode 14, iOS 14+, and Rustup.
Recent SideStore Enhancements
The latest release of SideStore, version 0.4.0, introduces significant improvements to enhance functionality and address various issues. Notably, an improved process tackles early expiration problems by seamlessly opening Safari to complete SideStore refreshes, resulting in a smoother user experience.
Anisette V3 Upgrade
SideStore has undergone an upgrade to Anisette V3, delivering substantial improvements over its predecessor. This upgrade brings enhanced locking prevention and resolves various Anisette-related issues, ensuring a more reliable and secure experience.
Resolved Issues and Enhanced Performance
SideStore has addressed the "no provisioning profile with the requested identifier" error, providing a seamless provisioning profile experience. Additionally, the store check mechanism has been enhanced to detect AltServer or SideServer installations accurately. The minimizer has undergone swift-bridge refactoring, resulting in optimized performance and smoother operation. The default Anisette server has also been modified to improve overall functionality and enhance the user experience.
Streamlined User Experience and Enhanced Security
Various improvements have been implemented, including fixing the 'The name for this app is invalid' error and removing app groups that contained AltStore. These enhancements streamline the user experience and eliminate conflicts or confusion. Furthermore, the SideStore Anisette server URL now utilizes secure HTTPS connections, prioritizing the security and privacy of user data and transactions.
Get SideStore Now!
Secure Your SideStore Experience With A Custom Anisette Server
Learn how to enhance the security of your SideStore usage by setting up a custom Anisette server. Follow these step-by-step instructions to avoid locked accounts and enjoy a safe sideloading experience.
SideStore 0.4.0 introduced anisette-v3 servers, providing improved security and eliminating the risk of locked accounts associated with older servers. This allows you to safely use SideStore without the need for a custom Anisette server.
Understanding Anisette Data
Anisette data is crucial for the app signing process, generated each time you install or refresh apps. SideStore retrieves this data from a server that emulates a Mac, ensuring a secure transfer without sending any account information.
Avoiding Account Locks
Using a separate burner Apple ID instead of your main account is recommended to prevent locked accounts when multiple users access the same Anisette server. However, the new anisette-v3 implementation significantly reduces the likelihood of account locks.
Deploying a Custom Anisette Server on Render
To create your custom Anisette server, you can use Render, a service that simplifies server creation. Follow these steps:
Step 1: Register for a GitHub account (if you don't have one).
Step 2: Open the Git repository you want to deploy and click the "Fork" button in the top right corner. This will create a copy of the repository in your GitHub account.
Step 3: After forking the repository, click the green "Code" dropdown and copy the .git URL. Keep this URL handy for the next steps.
Step 4: Sign up for a Render account.
In Render, create a new web service.
Scroll down to the "Public Git repository" field and paste the .git URL you copied earlier.
Fill in the necessary details like:
Name (can be anything), region (choose the one closest to you), branch (usually "main"), root directory (leave it blank), environment (default to Docker), and instance type (choose the Free tier).
Step 5: Wait for the server build process to complete. You will see a message saying "Machine requires provisioning… done!" once it's ready.
Congratulations, your server is live!
Configure SideStore To Use Your Custom Anisette Server
Learn how to set up SideStore to use your newly created custom Anisette server, ensuring a smooth and secure experience.
Step 1: On your iOS device, navigate to the Settings app.
Step 2: Scroll through the settings options and locate the SideStore app. Tap on it to access its specific settings.
Step 3: Within the SideStore settings, find the "Use Preferred Servers" option. Toggle it off to disable the use of default servers.
Step 4: Locate the "Anisette URL" field and enter the URL of your custom Anisette server that you created earlier.
Step 5: After entering the server URL, tap on the "Done" or "Save" button to save the changes.
That's it! SideStore will now utilize your custom Anisette server, ensuring a seamless app installation process and preventing any potential account lockouts.
SideStore IPA MDC Version – Bypass 3-App Limit
The MDC version of SideStore provides a workaround to the SideStore app 3 limit, allowing you to install and use more than three apps simultaneously on your iOS device.
SideStore MDC IPA offers enhanced flexibility and expands the possibilities of app sideloading beyond the usual limitations.
However, it's important to note that the MDC version is specifically designed for iOS 15.0-16.1.2. It may not work optimally on other iOS versions.
SideServer For Windows / Linux
At present, SideServer is not accessible for Windows or Linux operating systems, limiting its availability to other platforms.
To install SideStore on your Windows or Linux device, we recommend utilizing AltServer, which provides a reliable installation method.
AltServer offers comprehensive instructions for installing and using SideStore on Windows and Linux systems, ensuring a smooth sideloading experience.
SideStore GitHub Source Code
SideStore is a fork of AltStore that eliminates the need for an AltServer, making it more convenient for users. It serves as an untethered solution, providing a diverse range of apps for non-jailbroken iOS devices.
The SideStore GitHub source code is primarily written in Swift (96.3%) and Objective-C (3.2%), with a small percentage attributed to other languages.
If you're interested in contributing to the development of SideStore, your contributions are highly encouraged! Join the community and help shape the future of this innovative app store.
What Is The Difference Between AltStore And SideStore [AltStore Vs SideStore]
| | |
| --- | --- |
| AltStore | SideStore |
| Requires AltServer to be installed on a computer | Does not require AltServer or computer for installation |
| Requires a computer for app installation and refreshing | Untethered – app installation and refreshing without a computer |
| Can be used on both jailbroken and non-jailbroken devices | Designed for both jailbroken and non-jailbroken iOS devices |
| Supports iOS 12 and above | Compatible with iOS 14 and above |
| Requires manual installation of apps | Simplified app installation process |
SideStore Frequently Asked Questions (FAQ): Your Questions Answered!
SideStore FAQ section provides answers to the most commonly asked questions regarding SideStore IPA installer for iOS. We have compiled a comprehensive list of inquiries based on feedback received during the development of SideStore.
Can I activate JIT?
Yes! You can activate JIT through the SideStore app. Simply navigate to the "My Apps" tab, tap and hold on the desired app, and select "Enable JIT".
When will SideStore release?
SideStore will be releasing soon and will feature popular apps like Deltroid and Clippy in the SideStore Community Store.
Can I sideload apps using SideStore?
Absolutely! Just like AltStore, you can easily sideload apps using SideStore.
Does SideStore include AltStore beta features?
Yes, SideStore incorporates AltStore beta features. However, please note that it may not always have the latest updates. We strive to stay up-to-date or implement them in our own unique way when necessary.
I cannot connect to the internet when the VPN is on?
Ensure that you don't have an alternate DNS set up in both your Wi-Fi and WireGuard configurations. If you have a DNS IP address that you know works, try removing it from your Wi-Fi settings and adding it into the WireGuard configuration under DNS.
Will having the VPN on drain my battery?
No, it won't. The VPN feature in SideStore only connects to your own device and doesn't use any remote servers. This means there are no external connections that could cause additional battery drain.
Updating SideStore hangs towards the end?
If this occurs, simply go to your device's home screen and let the update process finish. While we're not certain why this happens, it could be related to using a VPN to direct installd, which triggers a refresh of SideStore itself.
Will the VPN track my online activities?
No, it won't. Since SideStore doesn't use any remote servers, the VPN feature does not track your online activities.
Do I need to update my app to support SideStore?
No, there's no need to update your app specifically for SideStore. It functions similarly to AltStore when it comes to app signing.
Can I sign more than three apps to be active?
No, you cannot. This limitation is set by iOS and your developer account.
I have a problem, bug, or feature request. How can I report it?
Please visit the SideStore GitHub page and create a new issue. Use the appropriate labels to indicate whether it's a bug report or a feature request. We appreciate your contribution!
As a user, I'm encountering login issues in SideStore. What should I do?
Login errors can occur due to various reasons. One common issue is related to the default Anisette server, Sideloady, which may experience intermittent login problems. However, since it is one of the largest servers, the issue is well-known. To address this, you can change the Anisette server by going to your device's Settings app within SideStore and navigating to "Anisette URL."
I am a developer. How does this affect me?
SideStore doesn't have a direct impact on you as a developer, except for the potential future updates to AltKit when/if we integrate our own additions.
Will SideStore have a Storefront?
SideStore currently offers a Community Source for apps! You can access it using the source.
Why does my app have an update called "pacer test"?
The "pacer test" update was a test release aimed at identifying any potential issues between major versions. Normally, it should not appear during regular usage. If you encounter this update after the official release, we recommend reinstalling SideStore or reporting it as a bug.
Why don't my JIT-based apps automatically activate JIT in SideStore?
Currently, SideStore does not have an automatic JIT activation feature. If such a feature is implemented in the future, you would need to have the SideStore VPN enabled for it to work.
I want to test a SideStore version, and I want my data to stay when switching to a test version. Do I remove my app or sideload the test version via SideStore?
You can sideload the test version via SideStore, and your data should remain intact. We currently do not have an enrollment toggle to switch between versions. However, please note that when testing unofficial or nightly builds, we cannot guarantee the transfer of your data.
Does SideStore have an iPadOS UI?
Absolutely! SideStore offers a dedicated UI designed specifically for iPadOS users.
I saw an iMac or MacBook Pro added to my account. Is it safe, and is it a real Mac?
These added Macs are not real devices. They are automatically generated by the Anisette server for login assistance. Rest assured, no private data is sent to the Anisette server, and the data provided by the server is used exclusively within SideStore.
Why is my account getting locked when I use SideStore?
Account locks can occur when the Anisette server has too many accounts associated with its fake Mac. This issue is currently being investigated to find a resolution. It's important to note that the account locking is performed by Apple, not SideStore. You can solve this problem by changing Anisette servers or self-hosting one temporarily. Unlocking your account is as simple as resetting the password.
I'm unable to select my pairing file with any file type?
Apple's file system can be finicky at times, and it may prevent you from selecting files from within apps. In such cases, try moving the pairing file to the root directory of the SideStore folder in the Files app under "On My iDevice." Ensure that you name the file as "ALTPairingFile.mobiledevicepairing" (note the case sensitivity).
Why do I get an error -36607?
Error -36607 is a login issue related to the Anisette server. Unfortunately, there is limited information available about this specific error. However, changing Anisette servers or attempting multiple login attempts may help resolve the issue.
My apps disappeared, and I don't know what to do?
Stay calm! To resolve this, resideload the apps without removing them from your device, and your data should be preserved. It is possible that your deactivated apps may no longer be available. To confirm, simply refresh SideStore and check if they reappear.
Can I transfer my AltStore/Sideloady apps to SideStore?
Yes, you can transfer your AltStore/Sideloady apps. To do so, ensure that you do not remove the original app from your device. In SideStore, sideload the same or updated IPA file, and it will be added to your app list within SideStore while retaining your data.
Why do I need to refresh SideStore after logging in?
The need to refresh SideStore after logging in arises from the fact that AltServer or other programs sideload SideStore with their own app groupID, while SideStore uses its own. Refreshing SideStore changes the groupID to the one used by SideStore, ensuring proper app visibility. It's recommended to refrain from sideloading anything before refreshing SideStore on a clean installation. Installing via SideServer, which we recommend, avoids this issue altogether.
Can I perform OTA updates with SideStore?
Absolutely! Simply click the update button within SideStore to initiate OTA (Over-The-Air) updates for your installed apps.
What's New In SideStore
SideStore 0.5.2
Fixed issues for better performance.
Updated dependencies for stability.
Enhanced security by removing "emuthreeds."
Improved app limit handling with provisioning profiles.
SideStore 0.5.0
SideStore IPA has been updated to version 0.5.0 with new improvements and features.
Widget fixed for Github Actions builds.
Improved app installation and refreshing stability.
Reintroduced notification system for refreshing.
Added JIT enabling retries for better stability.
Default anisette server changed for enhanced security.
Updated Patreon screen with SideStore IPA social media links.
Fixed deprecation warnings.
Resolved "Open in.." file dialog issue.
Optimized UI for better performance.
SideStore v0.4.0
Fixed early app expiration issue with improved refreshing process.
Upgraded to Anisette V3 for better account security and resolution of Anisette-related problems.
Resolved "no provisioning profile" error for seamless provisioning.
Removed jkcoxson Anisette server from preferred servers.
Enhanced store check for AltServer or SideServer installations.
Optimized minimuxer with swift-bridge refactor for improved performance.
Changed default Anisette server for enhanced functionality.
Fixed "The name for this app is invalid" error.
Streamlined user experience by removing app groups containing AltStore.
Improved security with SideStore Anisette server URL now using HTTPS.
SideStore v0.3.1
Fixed issue with beta apps not refreshing.
Resolved problem with beta apps in the "My Apps" view.
Fixed deactivating/activating apps functionality.
Merged Riley's new error handling improvements.
Added easy Anisette server selector in the iOS Settings app.
Introduced toggle for custom Anisette server.
Changed the default Anisette server.
Enhanced logging throughout the signing process for better issue identification.
Improved file selection for .mobiledevicepairing and .plist files.
Attempted to fix AltWidget issues.
Added analytics to gather user demographic data and identify version-specific bugs.
Updated app icon.
Made Sidestore directory accessible in Files app.
Added reset pairing file button.
Introduced advanced settings button.
Updated browse icon.
Adjusted credits.
Fixed background color issues.
Added more permission types for sources.
Resolved crash issue with the Join Patreon button.
Turned off background notification refreshes.
Added Sidestore Logger.
Added Minimuxer logger.
Included additional logging for troubleshooting the Minimuxer in Sidestore.
Replaced Placeholder video for pairing instructions.
Fixed BundleId issues in certain parts of Sidestore.
Fixed trusted sources so that one problematic app does not affect the entire list.