Zetsu Tweak Adds Multitasking Capabilities To iOS Jailbroken iPhones And iPads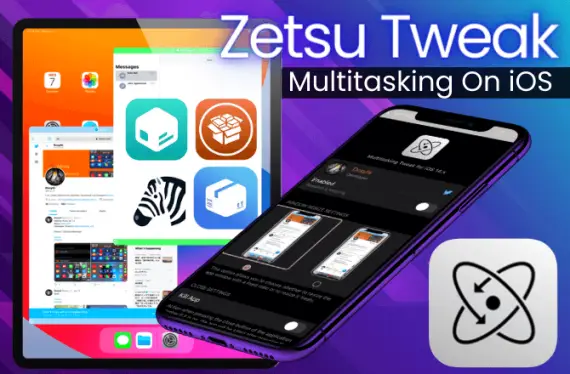 Upgrade your multitasking capabilities with Zetsu tweak! This performantly optimized tweak allows you to enhance multitasking on any jailbroken iPhone or iPad running iOS or iPadOS 14. You can now run multiple apps simultaneously and open any app in a new window on the Home Screen. Zetsu works with all jailbroken devices running iOS 14 and newer, and the latest release of Zetsu rootless even supports Fugu15 Max Jailbreak.
Zetsu Tweak Features
✅ Enables multitasking by allowing users to operate multiple apps from the Home Screen.
✅ Introduces a game-changing option to the 3D Touch / Haptic Touch gesture, enabling users to open an app in a window.
✅ Supports auto-landscape mode and full-screen video playback for YouTube.
✅ Provides the ability to close, kill, move, refresh, and minimize opened windows.
✅ Adds a new preference pane in the Settings app, where users can configure all available options.
✅ Offers options to choose between fixed or free window resizing and range of movement.
✅ Allows users to manage the tweak with various activation modes, including 3D Touch, Home Button, Motion (shake), and more.
✅ Features auto-landscape mode without compression, closing animation, unfixed ratio, kill the app when a window is closed, and out of screen protection.
Advantages Of The Zetsu Jailbreak Tweak: Zetsu vs MilkyWay3
Zetsu, created by iOS developer Dcsyhi, has several advantages over its competitors, including MilkyWay3. Here are some key advantages of Zetsu:
🔰 Unfixed Ratio: Zetsu allows you to multitask with unfixed ratios, which means you can adjust the ratio of the split screen to your preference. Additionally, Zetsu does not compress the contents of the app, so you can enjoy the app without any loss of quality.
🔰 Easy-to-Reach Control Bar: Zetsu has a control bar at the bottom of the screen that is easy to reach and use. This allows you to quickly and easily adjust the ratio of the split screen or switch between apps.
🔰 Colorful Minimum Button: Zetsu's minimum button is colorful and easy to spot, making it convenient to minimize the app without losing track of it.
🔰 Auto-Landscape Mode Without Compression: Zetsu automatically switches to landscape mode when you multitask, without compressing the contents of the app. This means you can enjoy the app in full screen without any loss of quality.
🔰 Full Screen Video Support: Zetsu supports full screen video for popular apps like YouTube and Netflix, allowing you to watch your favorite shows or movies without any distractions.
🔰 Out of Screen Protection: Zetsu includes an out of screen protection feature that prevents accidental touches outside of the app. This ensures a seamless multitasking experience without any interruptions.
🔰 App Kills When Window is Closed: When you close the Zetsu window, the app is automatically killed to prevent it from running in the background and slowing down your device.
🔰 Custom Ratio Memory: Zetsu remembers your custom ratio before minimizing, so you can quickly return to your preferred multitasking layout.
🔰 Cute Closing Animation: Zetsu includes a cute closing animation that adds a touch of personality to the app.
🔰 Independent App Orientation: Zetsu allows for independent app orientation, so you can use two apps in any orientation you prefer.
🔰 Frequent Updates: Zetsu is regularly updated with new features and bug fixes, ensuring that it stays up-to-date and runs smoothly on your device.
🔰 Totally Free: Zetsu is completely free to use, but donations are welcome to support the developer.
While there are some disadvantages to Zetsu, such as the lack of a full size button inside the window, these drawbacks are minor in comparison to the many benefits that Zetsu offers. If you want a seamless multitasking experience on your iOS device, Zetsu is the app for you.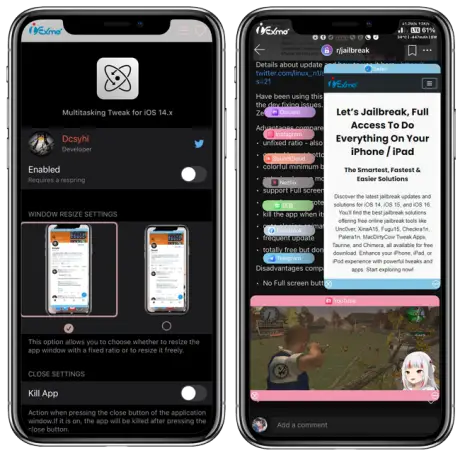 How To Add Zetsu Tweak Repository
Download the Zetsu tweak for free from the private dcsyhi repository and add it to your package manager to enjoy real multitasking on your jailbroken iPhone or iPad running iOS 14 or 15. Plus, there's a separate Zetsu tweak package for rootless jailbreaks like Fugu15 Max for iOS 15.
If you want to install Zetsu tweak on your iOS device using Sileo, here's a step-by-step guide:
Step 1: First, open the Sileo app from your Home Screen.
Easily add the repository to your preferred package managers such as Cydia, Sileo, Installer, or Zebra.
Step 2: Tap on the Sources tab, and then select Edit.
Step 3: Add the following repository URL.
Zetsu Tweak Repo URL: https://dcsyhi1998. github.io/
Step 4: Once you've added the repository, search for Zetsu tweak and install it.
Step 5: After the installation is complete, restart the Springboard when required.
Step 6: Finally, tweak preferences are available via the Settings app.
By following these simple steps, you can easily download and install Zetsu tweak on your iOS device and enjoy its real multitasking feature on iOS 14 and iOS 15.
Zetsu Tweak iOS Compatibility
✅ iOS 14.x and iOS15 (Rootless)
✅ arm64 & arm64e
✅ iPhone device and iPad device
Enhance iPhone Multitasking With Zetsu Jailbreak Tweak
If you're an iPhone or iPad user, you know how limited the multitasking experience can be compared to windowed apps on desktop computers. The good news is that you can enhance your iOS 14 or iOS 15 multitasking capabilities with a free jailbreak tweak called Zetsu.
What Is Zetsu Jailbreak Tweak?
Zetsu was originally developed for iOS 14, but the developer has recently introduced a rootless package that is compatible with Fugu15 Max jailbreak on iOS 15 – iOS 15.4.1. It offers exceptional features and functionalities that can significantly enhance your productivity and convenience while using your device.
Zetsu is a jailbreak tweak that enables you to concurrently operate multiple apps from the Home Screen. Unlike the standard iOS experience where applications run in full screen mode, Zetsu introduces a game-changing option to the 3D Touch / Haptic Touch gesture, enabling users to open an app in a window.
With this innovative feature, you can utilize multiple application windows simultaneously, enhancing productivity and convenience while running iOS 14 and iOS 15.
What makes Zetsu stand out is that it's completely free, unlike many paid tweaks, such as MilkyWay3. Additionally, Zetsu supports auto-landscape mode and full-screen video playback for YouTube, making it an exceptional tool for watching videos.
How Zetsu Works
Zetsu works in two ways: by using a 3D Touch/Haptic Touch gesture on an app icon from the Home Screen and tapping the Zetsu option or tapping and holding on an app's dedicated card in the App Switcher interface. Once you have some Zetsu windows available, you can tap anywhere inside of them to interact with the apps' interfaces.
You can also drag on the app's topmost bar to move them around and tap or drag on the app's lowermost bar to resize the interface. Two buttons along the lowermost bar allow the user to either minimize or close the app that the window represents.
Zetsu Tweak Preference Pane
After installing the tweak, a new preference pane is added to the Settings app, from where you can enable and disable Zetsu globally and configure all available options. This includes changing window resize settings and selecting activation modes for creating, showing, and hiding windows.
Compared to other jailbreak tweaks that provide windowed multitasking for iPhones and iPads, Zetsu offers an arguably better user experience with fewer snags. It competes with jailbreak tweaks like MilkyWay 3 but is entirely free to download.
MilkyWay 2 Jailbreak Tweak
If you want to open and use multiple apps in a macOS-styled window interface, you can try the free MilkyWay 2 tweak that works on iOS 14 and iOS 13.
If you're looking for a way to enhance your iPhone or iPad's multitasking capabilities, Zetsu is an excellent option to consider. With its exceptional features and functionalities, you can utilize multiple application windows simultaneously, enhancing productivity and convenience while running iOS 14 and iOS 15.
With a completely free price tag and a great user experience, Zetsu is worth checking out for any iOS jailbreak enthusiast. Give it a try and see how it can transform the way you use your device.
Who Created The Zetsu iOS Multitasking Tweak
Zetsu is an exceptional iOS jailbreak tweak created by the renowned iOS developer, Dcsyhi. Known for developing innovative tweaks, Dcsyhi has created Zetsu to enhance the multitasking capabilities of iOS devices. With Zetsu, users can easily multitask and operate multiple apps concurrently on their iPhone or iPad. To start using Zetsu, simply select the tweak from the 3D Touch shortcuts for the app you want to multitask. Get ready to experience the ultimate iOS multitasking like never before!
Aside from Zetsu, Dcsyhi has also developed Airaw, a tweak that provides extensions to CarPlay. With Dcsyhi's exceptional projects, users can enjoy a more enhanced and personalized iOS experience.
What's New In Zetsu Tweak
Zetsu Tweak Rootless v1.1
Added support for rootless jailbreaks.
Compatible with Fugu15 Max Jailbreak.
Fixed the screen orientation issue.
Resolved the crashes caused by taking screenshots, receiving calls, Face ID authentication, and connecting to Bluetooth.
Zetsu Tweak v1.3.0.1
Now supports previously incompatible apps like Facebook Messenger.
Added a setting to fix the window resizing ratio.
Integrated Activator extension.
Fixed a keyboard bug.
Smoothed out the switcher scrolling issue.
Added the ability to open an application window by pressing and holding the Switcher.
Fixed a crash issue specific to iOS 14.