ByteBurst iCloud Activation Lock Bypass Tool For iOS 13 – iOS 16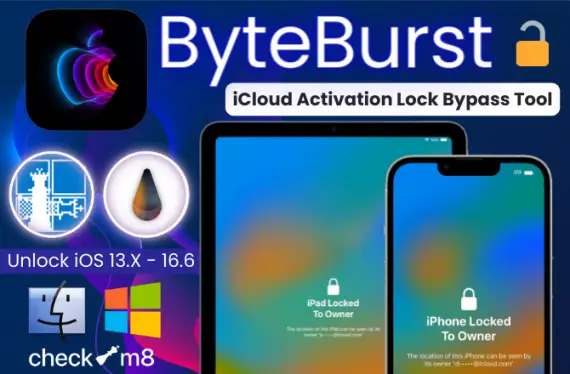 Unlocking iCloud on iOS devices just got simpler with ByteBurst, the untethered iCloud Bypass Tool designed for iOS 13.X through iOS 16.5.1 on Cellular checkm8 devices. This iPhone activation lock removal tool operates seamlessly on macOS Catalina or any newer versions. It's a revolutionary creation by Mr. Creator, ensuring a smooth and reliable bypass process. Experience hassle-free iCloud bypass like never before.
Download ByteBurst 2.0 For Windows
Download ByteBurst 2.0 For MacOS Catalina or Newer
ByteBurst Untethered iCloud Bypass Tool Features
Experience the freedom of a fully unlocked iOS device with ByteBurst iCloud bypass! Easily bypass the iCloud Activation Lock on iOS versions 13, iOS 14, iOS 15, and iOS 16, and take control of your device without restrictions.
✅ Unlocked: Effortlessly remove the iCloud Activation Lock, enabling you to fully access your device without limitations.
✅ Untethered (reboot!): Unlike other solutions, ByteBurst's untethered feature ensures you can reboot your device without losing your unlocked status.
✅ iCloud Sign-In: Seamlessly sign in to your iCloud account and sync your data across devices, enhancing your user experience.
✅ AppStore Sign-In: Gain full access to the App Store and explore a vast collection of apps and services without any restrictions.
✅ Notifications: Stay in the loop with push notifications for apps, emails, messages, and more, keeping you connected and informed.
✅ iMessage: Engage in iMessage conversations with friends and family, sharing texts, photos, videos, and more, just like before.
✅ FaceTime: Connect face-to-face with loved ones using FaceTime, no longer hindered by activation barriers.
🚫 No Signal Support! (Only for Cellular checkm8 devices): ByteBurst exclusively supports cellular checkm8 devices, ensuring compatibility while highlighting that signal functionality isn't available.
✅ Tailored for checkm8 devices: ByteBurst is intricately designed to work exclusively with checkm8-enabled devices, ensuring a precise and reliable bypass solution.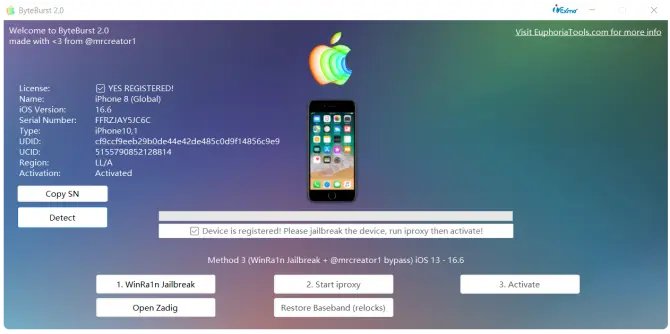 ByteBurst Supported Devices
Unlock the potential of your device with ByteBurst's iCloud activation lock bypass tool, compatible with a range of iPhones and iPads.
iPhone Series:
iPhone 6S /iPhone 6S Plus / iPhone SE 1st gen / iPhone 7 / iPhone 7 Plus / iPhone 8 / iPhone 8 Plus / iPhone X
iPad Lineup:
iPad 5th gen (Cellular Model) / iPad 6th gen (Cellular Model) / iPad 7th gen (Cellular Model) / iPad Air 1st gen (Cellular Model) / iPad Air 2nd gen (Cellular Model) / iPad Mini 4th gen (Cellular Model) / iPad Pro (12.9-inch) 1st gen (Cellular Model) / iPad Pro (12.9-inch) 2nd gen (Cellular Model) / iPad Pro (10.5-inch) 1st gen (Cellular Model)
How To Install ByteBurst iCloud Bypass Tool
Unlocking iCloud Activation is a breeze with ByteBurst's intuitive interface. This iCloud bypass user-friendly graphical tool seamlessly handles the background bypass process. You don't need advanced skills – it's tailored for everyone. To get started with ByteBurst iCloud bypass on macOS Catalina or newer, follow these straightforward steps:
Step 1: Extract ZIP Archive: After downloading ByteBurst, unzip the archive to reveal the contents.
Step 2: Move ByteBurst to /Applications: Drag and drop the ByteBurst.app file into the /Applications folder on your Mac.
Step 3: Ensure brew and curl are Installed: Make sure you have both brew and curl installed on your system.
Step 4: Trust ByteBurst: Execute the following commands in the terminal to add ByteBurst to trusted apps:
sudo xattr -r /Applications/ByteBurst.app
sudo xattr -rd com.apple.quarantine /Applications/ByteBurst.app
sudo xattr -d com.apple.quarantine /Applications/ByteBurst.app
sudo xattr -r com.apple.quarantine /Applications/ByteBurst.app
chmod 755 /Applications/ByteBurst.app
Step 5: Launch ByteBurst: Open ByteBurst from the Applications folder.
Step 6: Connect Your Device: Plug in your checkm8 device to your Mac via USB.
Step 7: Enter DFU Mode: Initiate DFU mode on your device to proceed.
Step 8: Select Exploit Method: Choose the appropriate exploit method based on your iOS version.
Step 9: Create Ramdisk and Boot Ramdisk: Follow the prompts to create and boot the necessary Ramdisks.
Step 10: Activate Your Device: Complete the process by activating your iPhone as instructed.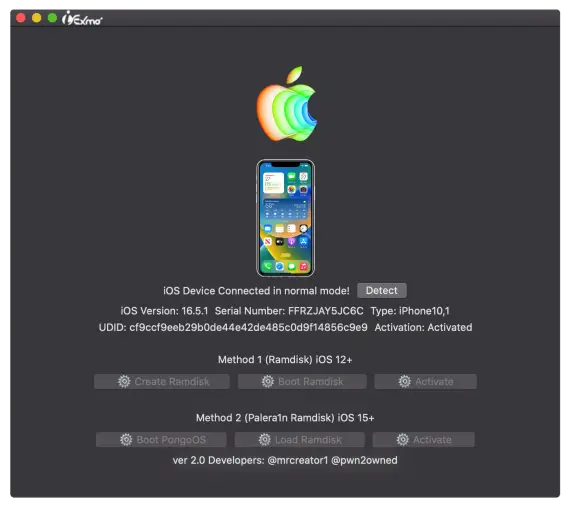 ByteBurst: The Ultimate iCloud Bypass Solution
Unlocking your iCloud-locked device has never been easier with ByteBurst activation lock removal. Designed for both Windows and macOS users, ByteBurst activation lock removal empowers you to bypass iCloud on iOS 13 to iOS 16.6 devices using the checkm8 exploit. Let's dive into the specifics of ByteBurst iCloud bypass and how you can utilize it.
What Is ByteBurst?
ByteBurst is an effortless iCloud bypass for devices compatible with the checkm8 exploit, covering iOS 13 to iOS 16.6. Although it lacks signal support, it offers a straightforward way to access your device even after reboots. Built on the foundations of palera1n and checkra1n jailbreaks, ByteBurst ensures all system features remain functional, except for signal connectivity.
Smooth Device Access:
The ByteBurst iCloud bypass software includes essential tools that grant you easy access to your device's file system. You can activate your device using one of two methods based on your device's iOS firmware. The first method applies to iOS 13 through iOS 14, while the second is for iOS 15 and iOS 16.
ByteBurst iCloud bypass operates by generating a ramdisk and executing the bypass procedure. Once activated, your device gains unrestricted access to iCloud and App Store services, iMessages, FaceTime, and notifications. Keep in mind that ByteBurst does not support signal bypass.
User-Friendly Interface:
Navigating ByteBurst iCloud bypass is intuitive, and the main interface not only features the core iCloud Activation Lock Bypass function but also displays essential information. This includes your iDevice connection mode, installed iOS version, iPhone serial number (needed for registration), device type, UDID, and activation status.
Powered by checkm8:
ByteBurst iCloud bypass exclusively caters to arm64 devices, leveraging the power of the checkm8 exploit. While it may not immediately extend support to newer devices, ByteBurst remains a formidable solution for its designated devices.
Exploring the Mr. Creator's iCloud Bypass Tools:
Within Mr. Creator's toolkit, ByteBurst, shines alongside the iSkip iCloud bypass tool that efficiently eliminates activation screens on checkm8 devices. iSkip is free on both macOS and Windows PC platforms, tailored to each platform's specific requirements.
⚡ Get Instant Access to the Latest iCloud Bypass Tools!
Understanding the Limits:
ByteBurst activation lock removal is your answer for unlocking checkm8 devices running iOS 13 through iOS 16. However, note that it does not support SIM bypass, meaning no service availability. While the activation lock removal process is straightforward, it requires some basic knowledge of executing Palera1n-c jailbreak or WinRa1n jailbreak for device jailbreaking, along with entering DFU mode.
ByteBurst activation lock removal offers a powerful solution for bypassing iCloud on a range of iOS devices. While it lacks signal support, its straightforward process and feature set make it a compelling choice for users seeking to regain access to their devices and take control of their iOS experience.
What's New In ByteBurst iCloud Activation Lock Bypass Tool
ByteBurst 2.0 for Windows
Initial release, fully packaged with installer.
Requires iTunes installation.
ByteBurst 2.0 for macOS
Tailored for macOS, compatible with Catalina or newer.
Revamped layout with a cleaner UI.
Introduced Dark/Light Mode support.
Expanded user options with Method 1 and Method 2 exploit selections.
ByteBurst 1.9
Resolved iPhone X iOS 16 bypass failure.
Unofficially extended support for iOS 12 (testers only).
Enhanced Create iOS 15/16 with a customized SSHRD branch for fixed read/write permissions.
ByteBurst 1.8
Added support for iOS 13 and 14.
Improved overall program execution.
ByteBurst 1.7.5
Incorporated built-in libraries for improved efficiency.
Addressed programs hang during ticket generation.
Fixed boot failures caused by valid file presence.
ByteBurst 1.6
Initial release, required pre-installed libraries.