iKey Prime Download For Windows – Bypass Activation Lock Screen iOS12 – iOS 16 With Signal [Latest]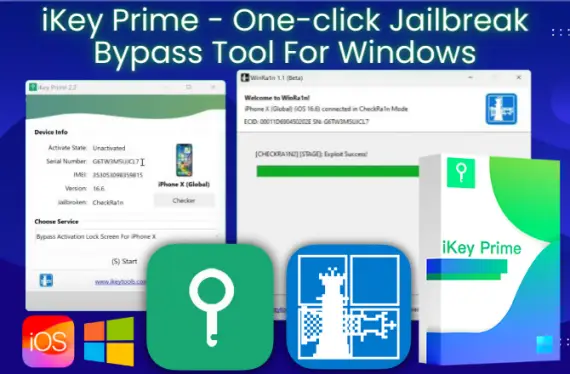 Download the powerful iKey Prime iCloud bypass v2.4 – the ultimate solution for bypassing the Activation Lock Screen on iOS devices. Renowned for its creation of the widely-used WinRa1n iOS 12 to iOS 16 jailbreak tool for Windows, iKey Prime activation lock removal leverages the capabilities of checkra1n and palera1n. Now, introducing the iKey Prime iCloud bypass for PC, a groundbreaking tool that offers a comprehensive one-click solution for various checkm8 devices, from iPhone 5S to iPhone X MEID + GSM. With iKey Prime iPhone activation lock removal, you can effortlessly activate all devices with enabled SIM card signals.
Download iKey Prime 2.4 For Windows – One-click Jailbreak Bypass Tool
Download Winra1n Jailbreak iOS 12 – iOS 16 For Windows
Components: Checkra1n 0.1337.2, Palera1n 2.0.0 beta7. This Winra1n jailbreak toolset is lifetime-free.
iKey Prime iCloud Bypass Features: Unlocking iCloud Activation Lock Made Simple
Key Prime Windows utility designed for hassle-free iCloud bypass. With a single click, navigate through intricate iCloud bypass procedures effortlessly. This innovative iCloud unlock tool builds upon the success of WinRa1n, offering a seamless journey for iOS device jailbreaking. Available for Windows PC, iKey Prime streamlines iCloud Activation Lock removal.
🔒 Simple Activation: Execute complex iCloud bypass with a click.
🔗 Jailbreak Integration: Seamlessly interface with jailbreaks like checkra1n and palera1n.
📡 Signal Support: Equipped with signal support for reliable circumvention.
🌐 Global Languages: Accessible in 11 languages for a diverse user base.
📱 Device Compatibility: Compatible with iPhone 5S to iPhone X (MEID and GSM).
📺 iPad Support: Covers select iPad models with WiFi + Cellular capabilities.
🔒 Carrier Unlock: Unlock carrier-locked devices with extra UnlockChip hardware.
iKey Prime iCloud Bypass Device Compatibility
Take control of your iPhone or iPad's Activation Lock Screen with iKey Prime iCloud Bypass. This powerful iPhone activation lock removal solution allows you to remove the Activation Lock from your device, giving you full access.
Keep in mind that iKey Prime iCloud activation lock removal is a commercial software, requiring you to activate your device through a designated service. The iCloud bypass tool pricing varies based on the device type and signal support, while a single price is set for devices without signal support. Discover the freedom of iKey Prime iCloud activation lock removal and explore the pricing options below for all supported devices.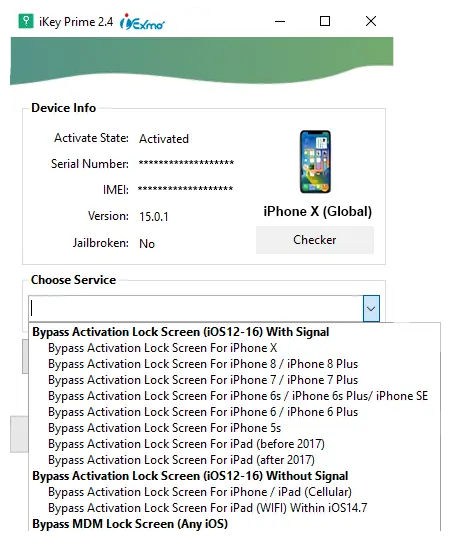 iKey Prime Bypass Activation Lock Screen Supported Devices For iOS 12 – iOS 16 With Signal
Bypass activation lock screen for iPhone X
Bypass activation lock screen for iPhone 8, iPhone 8 Plus
Bypass activation lock screen for iPhone 7, iPhone 7 Plus
Bypass activation lock screen for iPhone 6S, iPhone 6s Plus, iPhone SE
Bypass activation lock screen for iPhone 6, iPhone 6 Plus
Bypass activation lock screen for iPhone 5S
Bypass activation lock screen for iPad [before 2017]
Bypass activation lock screen for iPad [after 2017]
iKey Prime Bypass Activation Lock Screen Supported Devices For iOS 12 – iOS 16 Without Signal
Bypass activation lock screen for iPhone / iPad [Cellular]
Bypass activation lock screen for iPad [Wifi] within iOS 14.7
Bypass MDM lock screen [Any iOS]
Explore The Latest iCloud Bypass Tools Collection
The bypass activation lock screen iOS tools collection offers ease of use, speed, and efficiency, making it a favored option for both seasoned and new iOS users alike.
Discover the comprehensive lineup of iCloud Bypass tools gathered in one convenient location, ensuring a smoother iCloud bypass experience for users.
Download Best iCloud Bypass Tools »
How To Install iKey Prime iCloud Bypass For iOS 12 – iOS 16
Experience the seamless journey to device liberation with iKey Prime bypass iCloud activation lock. Designed with user-friendliness in mind, iKey Prime for Windows simplifies iCloud Bypass, welcoming users of all levels of expertise. Without the need for specialized skills or hardware, achieving device freedom is now just a few steps away. Follow this iCloud activation unlocker guide to unleash your iOS device's potential with ease.
Jailbreak And Unlock iPhone/iPad On Windows iOS 12 – iOS 16
Step 1: Download iKey Prime: Access iKey Prime from the provided link at the top of this page.
Step 2: Connect Your Device: Use the original USB cable to connect your iPhone or iPad to your PC.
Step 3: Jailbreak Your Device: Utilize tools like WinRa1n to jailbreak your device, following on-screen instructions.
Step 4: Follow WinRa1n Instructions: Adhere to the guidelines provided by WinRa1n during the jailbreak process.
Step 5: Enter DFU Mode: Put your iPhone into DFU mode to proceed with the jailbreak.
Step 6: Complete Jailbreak: Carry out the jailbreak process and ensure your device stays connected to the PC.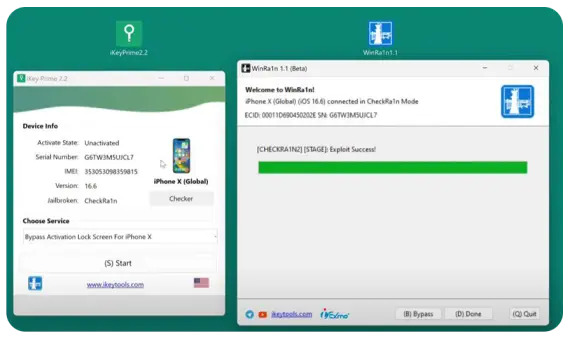 Step 7: Purchase Service: Provide your device's serial number to acquire the service.
🔑 Tip: You can find your device's serial number in the main iKey Prime window.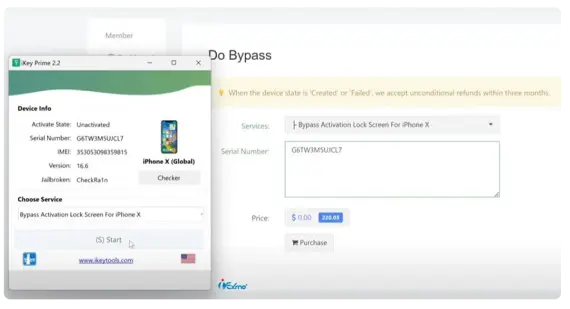 Step 8: Open iKey Prime: Launch iKey Prime and click the "Start" button to initiate the bypass.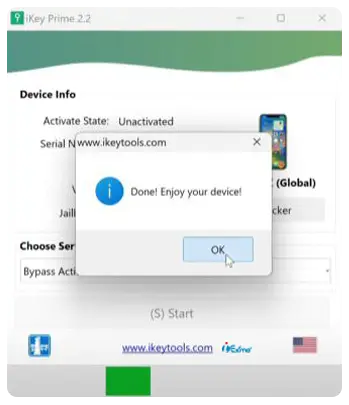 WinRa1n Jailbreak
The dedicated WinRa1n team remains committed to continuous enhancement, diligently crafting the latest updates for an even better experience.
Keep your anticipation high as the impending launch of the WinRa1n Jailbreak promises to deliver cutting-edge features and advancements.
iKey Prime: Your One-click Jailbreak Bypass Tool For Windows
If you've been searching for an efficient way to navigate the complexities of iCloud bypass procedures, iKey Prime iCloud bypasser is here to simplify the process. Designed with user-friendliness in mind, this Windows utility allows you to execute intricate iCloud bypass operations with just a single click. Let's delve into the world of iKey Prime iCloud bypasser download and its capabilities.
What Is iKey Prime?
iKey Prime unlock iCloud activation lock streamlines the iCloud bypass process, but it's important to note that it requires a prior jailbreak of your compatible iPhone or iPad. The journey is made smoother by iKey's previous innovation, WinRa1n, a powerful jailbreak tool tailored to expedite the process. This iCloud unlock bypass utility is compatible with Windows PCs, making it accessible to a wide range of users.
Unlocking the Potential with Signal Support:
Powered by the iTunes API, iKey Prime iCloud bypass tool for windows comes with built-in signal support, making it a reliable solution for circumventing activation locks. This iPhone iCloud bypass tool seamlessly integrates with various jailbreaks like Checkra1n jailbreak and Palera1n jailbreak. It's particularly useful when working with macOS or Linux systems for jailbreaking, enhancing its versatility.
Breaking Through Activation Locks:
iKey Prime iCloud bypass tool for windows is designed to navigate past the iCloud Activation Lock Screen on compatible iPhones and iPads running iOS 12 through iOS 16.6. While it's often mentioned that the process can be completed in a single click, it's essential to acknowledge the need for preliminary steps, including jailbreaking and potentially utilizing an online activation service. Despite these requirements, the overall process remains straightforward.
Compatibility and Features:
iKey Prime iCloud activation unlock compatibility is limited to devices utilizing the checkm8 exploit, spanning from iPhone 5S to iPhone X, including both MEID and GSM versions. Notably, the tool has been enhanced to include search iPads from 2013 to 2019 with WiFi + Cellular capabilities.
Signal and Beyond:
Setting itself apart from other iCloud bypass tools, iKey Prime iCloud activation lock bypass tool offers an exceptional advantage. It not only provides signal-less bypass capabilities but also extends its support to scenarios with signal availability, enabling essential features like making calls.
Global Accessibility and Additional Services:
iKey Prime unlock iCloud locked iPhone is accessible in 11 languages, catering to a diverse user base. Furthermore, the activation lock removal software extends its compatibility to carrier-locked devices. For unlocking these devices, an extra UnlockChip hardware component is required for the bypass process.
Unveiling Device Information:
The developer of iKey Prime iCloud unlock online offers a complimentary service to verify your iPhone's warranty status, coverage, iCloud activation status, and carrier lock status, providing valuable insights into your device.
Exploring Best iKey Prime iCloud Bypass Alternatives:
For those seeking to activate SIM-paid services, a range of distinct tools is available. Options such as iRemoval Pro download, Checkm8, iRemove Tool, HFZ Ramdisk Universal, and Mina Ramdisk offer unique approaches to fulfill this requirement.
iKey Prime iCloud bypass tool for windows emerges as a user-friendly and efficient solution for iCloud bypass, offering a plethora of features to enhance your iOS device experience.
What's New In iKey Prime iCloud Bypass
iKeyPrime v2.5
Now works smoothly with older Windows versions, thanks to a .Net Framework Runtime downgrade to 4.6.
Experience quicker launch times with iKeyPrime v2.5 improved startup speed.
KeyPrime v2.4
Achieve full compatibility across every minor version from iOS 12 to iOS 16.
Resolve issues concerning iPads and iPhones running iOS 15.7.8 to 16.6.
Enhance user experience by introducing support for the Turkish language.
iKeyPrime v2.3
Address the challenge faced by certain countries where the software couldn't be accessed.
iKeyPrime v2.2
Carrier locked devices with added support, though an UnlockChip is required.
Extend bypass services to iPad (Wifi) devices with iOS 15 and below.
Streamline the bypass process, now completing within 5 seconds.
Adapt DPI settings for software on 8K displays.
Rectify all known bugs, ensuring a smoother operation.
Present software interface in 11 languages for enhanced accessibility.