Threads App IPA Download For iOS | Popular ++ Non Jailbreak IPA Thread [Twitter Alternative Latest]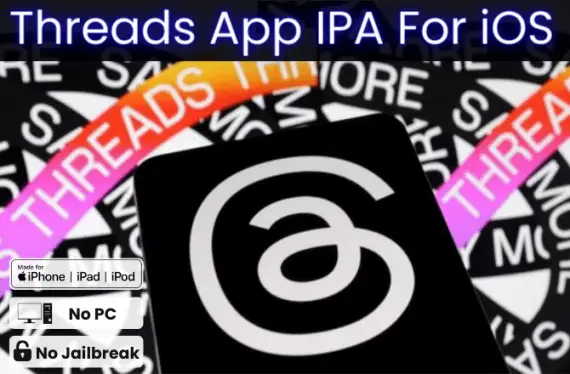 Download Threads IPA App for iOS and enjoy it. Threads non-jailbreak IPA app brings you Threads, Instagram's text-based conversation app similar to Twitter, allowing you to say more with your friends and followers. Download Threads IPA twitter app now and enjoy seamless conversations on your iPhone, iPad, or iPod touch.
Download Threads IPA App For iOS
Threads: Share Text Updates And Join Conversations
Threads App Features:
💬 Share text updates: With Threads, you can easily share your thoughts and updates with others using text posts.
📷 Add links, photos, and videos: Enhance your posts by including links, photos, and videos up to 5 minutes long.
🔗 Seamless integration with Instagram: Log in to Threads using your Instagram account, making it convenient to access and share content with your existing Instagram network.
🌍 Future compatibility: The Threads team is actively working on making the app compatible with open and interoperable social networks, envisioning a future where Threads can connect with various platforms and shape the internet.
How To Install Threads App IPA On iOS iPhone, iPad, And iPod Touch
📱 iOS 14: Install the Threads app IPA with TrollStore
📱 iOS 15.0 – 15.4.1: Install the Threads app IPA with TrollStore [recommended], AltStore, or Sideloadly
📱 iOS 15.5 – 16.1.2: Install the Threads app IPA with AltStore or Sideloadly [excludes iOS 15.7.2 and 15.7.3]
📱 iOS 16.2+ – iOS 17: Install the Threads app IPA with AltStore or Sideloadly
What Is Threads App iOS?
Threads is an iOS app that resembles Twitter in its format, allowing users to share short text posts, engage with content through liking and reposting, and reply to posts. While it doesn't have direct messaging capabilities, Instagram Threads app download offers a space for users to express themselves using up to 500 characters. Additionally, users can include links, photos, and videos up to five minutes long in their posts.
The instagram Threads app iOS seamlessly integrates with Instagram, as users can log in using their Instagram credentials and follow the same accounts. With a massive user base of over two billion monthly active users, Threads provides a familiar experience for Instagram users. As of now, the app does not display any advertisements.
Threads IPA app for iOS has gained popularity and is often referred to as the "Twitter-killer app" and "Twitter's standalone rival". It is available for download as Threads App IPA in over 100 countries, providing users worldwide with access to this Twitter-like platform.
How To Use Threads IPA App On Your iPhone, iPad
Join the Conversation from Instagram with Threads: An Interoperable Social Networking App
Are you looking for a new way to connect and engage with like-minded individuals? Threads app IPA download, a powerful app developed by Meta, allows you to join the conversation from Instagram and be part of a diverse and interconnected network. In this article, we'll explore the features of Threads and its compatibility with open social networking protocols.
Getting Started with Threads
Getting started with the Threads app IPA download is a breeze. Simply log in using your Instagram account, and your username and verification will seamlessly carry over. You even have the option to customize your profile specifically for Threads from Instagram for iPhone, giving you a personalized touch.
Enhanced Accessibility and Familiar Features
Threads app IPA download iOS ensures that everyone can be part of the conversation. For users under 16 (or under 18 in certain countries), a private profile is automatically enabled upon joining Threads. Moreover, the core accessibility features available on Instagram, such as screen reader support and AI-generated image descriptions, are also incorporated into Threads.
Engaging Content and Seamless Sharing
Threads IPA app download offers a vibrant feed that includes posts from people you follow on Instagram, as well as recommended content from new creators. You have the freedom to express yourself through posts that can be up to 500 characters long, allowing you to share your thoughts, links, photos, and videos up to 5 minutes in duration. You can even easily share Threads posts to your Instagram story or share them as links on other platforms.
Control and Safety
Threads IPA app download for iOS empower you to tune out the noise and have meaningful conversations. You have control over who can mention you or reply to you within the app. Similar to Instagram, you can add hidden words to filter out unwanted replies. Managing your interactions is also made simple – you can unfollow, block, restrict, or report a profile with just a few taps. As with all Meta products, strict enforcement of Instagram's Community Guidelines ensures a safe and respectful environment.
Compatibility with Interoperable Networks
Threads is not just limited to its own ecosystem. Meta has plans to make Threads IPA app download compatible with ActivityPub, an open social networking protocol established by the World Wide Web Consortium (W3C). This compatibility would allow instagram Threads app iOS to seamlessly interact with other apps supporting the ActivityPub protocol, such as Mastodon and WordPress. Imagine a world where diverse and interconnected networks enable new types of connections and conversations.
More Control over Your Audience
Meta's commitment to user empowerment extends to Threads app IPA download. They are actively working with ActivityPub to provide users with the option to transfer their content from Threads to another service. This vision embraces a decentralized approach, where people using compatible apps can follow and interact with Threads users, even without a Threads account. Whether you have a public or private profile, Threads allows you to reach new audiences effortlessly or maintain a curated community, similar to your Instagram experience.
Embracing the Benefits of Open Social Networking Protocols
By supporting open social networking protocols like ActivityPub, instagram Threads app iOS is paving the way for a new era of online platforms. The advantages go beyond simple user interactions. Developers can create innovative features and user experiences that seamlessly integrate with other open social networks, fostering a vibrant ecosystem of possibilities. Each compatible app can set its own community standards and content moderation policies, giving individuals the freedom to choose spaces that align with their values.
Threads: Embrace an Interconnected Future
Instagram Threads IPA app iOS marks Meta's entry into the realm of open social networking protocols. By joining this fast-growing ecosystem of interoperable services, Threads aims to help people find their community, regardless of the app they use. It envisions a future where diverse platforms connect seamlessly, enabling vibrant conversations and limitless connections.
Don't miss out on this exciting opportunity to join the conversation from Instagram. Download Threads now and embark on a journey of discovery and engagement!