Apps Manager iOS 15 Backup, Wipe, & Restore App Data On iPhone, iPad, & iPod Touch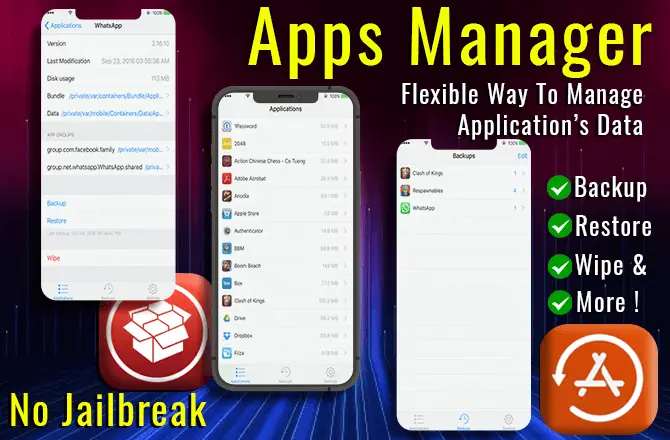 For iOS devices, there are a number of apps to backup and restore AppData, but only a few allow you to do so straight on your iPhone or iPad. To backup and restore AppData, use the Apps Manager iOS download tool. It may now be installed on iOS 15 without the need of a jailbreak too.
Apps Manager iOS | Flexible Way To Manage An Application's Data
The easiest method to delete, backup, and restore AppData from installed apps on your iOS devices is with the Apps Manager tool. Without requiring an iTunes or iCloud backup and any account connection, using this app to move your AppData saves, settings, and stored data across devices is very easy and much simpler than other complicated ways.
Apps Manager IPA Download For iOS 15
How To Install Apps Manager On iOS 15 Without Jailbreak
App manager iOS download is intended for jailbroken iOS 6 to apps manager iOS 14 download devices. With the help of the TrollStore permanent IPA installer, the developer has made available apps manager repo IPA package that allows users to install the application on non-jailbroken iOS 15.0 up to iOS 15.5 devices.
Step 1 > On your iPhone, you must install TrollStore for iOS 15. For your iPhone, iPad, or iPod, follow these steps to download TrollStore.
Step 2 > With mobile Safari, download the Apps Manager IPA for iOS 15.
Step 3 > Open the downloaded Apps Manager file using a file manager app like FilzaEscaped15 without jailbreaking.
Step 4 > Just sent the App Manager iOS IPA to the TrollStore app.
Step 5 > That is it! Your installed Apps Manager for iOS 15 can now be opened from the Home Screen.
Apps Manager iOS 15 Repository
Install the app on jailbroken devices by adding the official Apps Manager Repo to your package manager.
Step 1 > From the Home Screen, open the Cydia app and select the Sources tab.
Instead, you can use your preferred package manager, such as Sileo, Installer, or Zebra.
Step 2 > Edit > Add buttons > Enter the Repo URL.
Step 3 > The newly added repository will be used to install the Apps Manager package.
Step 4 > Applying any modifications requires respiring into your iPhone.Step 5 > Superb! From the Home Screen, you can now easily access the Apps Manager Installer.
Apps Manager Cydia Tweaks – Tool To Wipe, Backup, Restore AppData For Installed Apps
✅ Required – download only Mac
---
Features Of Apps Manager
✅ Backup AppData > Download App Manager for iOS to back up all of the application's saved files, settings, and keychain data.
✅ Restore AppData > With the help of apps manager iOS 14/iOS 15 download, you can restore application data.
✅ Wipe AppData > Wipe application data, include all files, settings.
✅ Using this file app manager iOS Quick Open application container, document container, or app groups
✅ Import/Export backup > Apps Manager has the potential to move application data from one device to another.
Apps Manager Support iOS Versions
All jailbreaks for iOS 7, iOS 8, iOS 9, iOS 10, iOS 11, iOS 12, iOS 13, and iOS 14 are compatible with the app. Apps Manager may now be installed on iOS 15 without a jailbreak as of version 1.7.
Apps Manager Support For TrollStore On iOS 15
Apps manager updated to support the TrollStore perma-signing tool for jailbroken iOS & iPadOS 15.0–15.1.1 devices was made available by TIGI Software.
How to download TrollStore for iOS & iPadOS 15 No jailbreak »
Top Jailbreak Tools For iOS Devices
If you want to jailbreak your iPhone and customize it to your liking, there are many tools available that can make the process easier for you. Here are some of the most popular and reliable jailbreak tools that you can use on your iOS device:
What Is Apps Manager iOS?
You can start using the apps manager app on your Home Screen after installation. A list of all installed games and apps is shown on the home screen, along with their installation sizes. When you are running low on available space, this is helpful. Use the built-in search function or swipe to locate an app.
When you touch on an app, Apps Manager will show you some further details about it, like its identifier, version, most recent changes, size, documents and data size, bundle, and location of the data. Also, you may backup, restore, and delete the program from your iOS device from here without any difficulties.
For easy access, all app backups have been placed to a single tab. App manager iOS download may create an infinite number of backups for apps and games, but you can choose the maximum number of backups per program from the tool's options. The file manager app for the iPhone backup tool is simple to use.
Additionally, apps manager iOS no jailbreak provides a choice to easily open app groups, document containers, or application containers. Utilize it to move application data between your device and other devices. When you utilize third-party App Stores that are frequently suspended, this apps manager Cydia tool might be really helpful.
Who developed Apps Manager?
The inventor of application app manager iPhone, Tigi Software, is widely recognized in the jailbreak community for another application. It's hardly surprising that Filza, the most widely used file manager for iOS devices, interfaces with Apps Manager since they also make it.
Apps Manager Version 1.8.1
Only sandboxed user programs supported by TrollStore are installed.
Apps Manager to support iOS 15 TrollStore (install via TrollStore)
Bug fixes and improvements.
New feature: App's Preference Editor.
Complete iOS 14 support for Apps Manager (iOS 7 – iOS 14)
Supported iOS 11.
Filza File Manager and Apps Manager now work with rootlessJB3 (iOS 12 – iOS 12.1.2)
Added more app features.
The backup date was added by Apps Manager to the backup file name.
App manager Cydia supports more with the Odyssey jailbreak.
App manager iOS download on iOS 13.5, keychain access issues were resolved.