BHTikTok IPA Download – TikTok Tweak For iOS 15 – iOS 16 iPhone, iPad, iPod [Updated]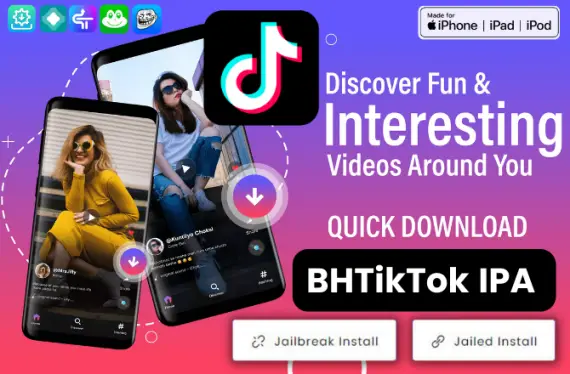 BHTikTok IPA is a remarkable modification designed to enhance the TikTok experience. TikTok is a prominent social media app known for its short-form video content and widespread popularity. With BHTikTok tweak, users can unlock advanced features within the TikTok framework. The BHTikTok IPA no jailbreak is skillfully developed by dayanch96, offering a fresh perspective to the TikTok platform.
Download BHTikTok IPA For iOS
BHTikTok IPA Features
Elevate your TikTok journey with BHTikTok IPA app, an extraordinary tweak that revolutionizes your TikTok encounters.
🚫 No Ads: Say goodbye to annoying ads that disrupt your TikTok experience and enjoy seamless content browsing.
🎥 Download Videos: Capture your favorite moments by downloading videos directly to your device.
🎵 Download Music: Groove to your preferred tunes offline by downloading TikTok music.
👁️ Show/Hide UI Button: Seamlessly toggle the user interface for an unobstructed view.
📋 Copy Video Description: Effortlessly copy video descriptions for sharing or reference.
🔗 Copy Video Link: Instantly copy video links for easy sharing with friends.
🎶 Copy Music Link: Share your beloved TikTok tracks by copying music links.
▶️ Auto Play Next Video: Dive into a seamless viewing experience with auto-play for the next video.
📊 Show Progress Bar: Keep track of your video progress with an informative progress bar.
👍 Confirm Like: Prevent accidental likes with a confirmation step.
💬 Confirm Comment Like: Ensure deliberate comment likes through a confirmation prompt.
👎 Confirm Comment Dislike: Confirm before disliking comments with ease.
➕ Confirm Follow: Avoid unintentional follows with a follow confirmation feature.
💾 Save Profile Image: Securely save profile images of TikTok users.
📄 Copy Profile Information: Easily copy user profile information for sharing or analysis.
📝 Extend Bio: Exceed character limits and express yourself with an extended bio.
💬 Extend Comment: Elongate your comments to convey your thoughts comprehensively.
🌐 Always Open in Safari: Seamlessly open TikTok links in Safari for a consistent experience.
🌍 Changing Region: Explore TikTok content from different regions by changing your location.
✔️ Fake Verify Blue Mark: Playfully add a fake verification blue mark to your profile.
👤 Fake Follower Count: Showcase a customized follower count on your profile.
👥 Fake Following Count: Curate your following count with a personalized touch.
🔒 Padlock: Safeguard your settings with a secure padlock feature.
Explore a new dimension of TikTok with BHTikTok and unlock a realm of possibilities for your entertainment!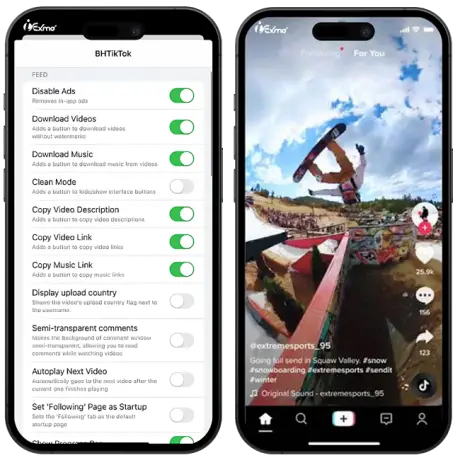 How To Install BHTikTok IPA For iOS
Install BHTikTok IPA on your iOS device using popular sideload tools like Sideloadly, Esign, or TrollStore IPA installers. Get your hands on the BHTikTok IPA file and prepare to inject it with transformative enhancements.
Utilize your preferred sideload tool to seamlessly inject the BHTikTok tweak into the official TikTok app. Once sideloaded, BHTikTok IPA elevates TikTok's capabilities, adding a range of exciting features to your TikTok usage.
Enjoy the perks of BHTikTok IPA on both jailbroken and non-jailbroken iOS devices. BHTikTok IPA is designed to work seamlessly in rootless environments, ensuring optimal performance.
How To Install BHTikTok IPA On iOS Using Sideloadly
Elevate your TikTok experience by adding the BHTikTok IPA to your iOS device. Learn the step-by-step process of installing this powerful tweak using Sideloadly.
Step 1: Get started by downloading the BHTikTok IPA file from the button provided above.
Step 2: Launch the Sideloadly IPA installer on your PC or Mac, getting ready for the installation process.
Step 3: Use a USB cable to connect your iPhone or iPad to your computer.
Step 4: Load the previously downloaded BHTikTok IPA file into the Sideloadly app to initiate the installation process.
Step 5: Sign in with your Apple ID within the Sideloadly app to verify the BHTikTok IPA file.
Step 6: Click the "Start" button to begin sideloading the IPA file onto your iOS device.
Step 7: If prompted, enter your Apple ID password to proceed with the sideloading process.
Step 8: From your Home Screen, open the Settings app.
Step 9: Within Settings, navigate to the "General" section.
Step 10: Scroll down and select "VPN & Device Management.
Step 11: Locate the developer app associated with your email and tap on it.
Step 12: Tap on "Trust" to grant permission for the BHTikTok app to run on your device.
Unlock an enhanced TikTok experience on your iOS device with BHTikTok IPA, elevating your interaction and engagement with the platform's features.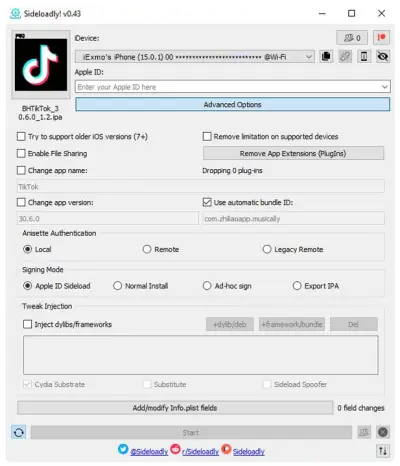 How To Install BHTikTok IPA On iOS Using TrollStore | No PC
Unlock the power of BHTikTok on your iOS device without the need for a PC. Follow this simple guide to install BHTikTok IPA using the convenient TrollStore IPA Installer.
Step 1: Install TrollStore IPA Installer on your iOS device. This method works for iOS versions ranging from 14 to 15.4.1.
Step 2: Download the BHTikTok IPA and save it to your iCloud storage.
Step 3: Utilize your device's sharing function to send the BHTikTok IPA file to TrollStore.
Step 4: Once TrollStore receives the BHTikTok IPA file, let the installer manage the installation process.
Step 5: After successful installation, easily access the BHTikTok IPA app directly from your device's Home Screen.
Experience the enhanced features of BHTikTok IPA hassle-free using the TrollStore IPA Installer, bringing a new level of TikTok enjoyment to your iOS device.
How To Add BHTikTok Repository
BHTikTok is available as a DEB package, simplifying the installation process. Whether you're on iOS 15 or iOS 16, you can seamlessly download and install the BHTikTok tweak.
For those utilizing rootless jailbreaks, BHTikTok offers a preinstalled version within BHTikTok IPA files. Experience the tweak's benefits on your iOS device with ease.
While BHTikTok brings enhanced features to TikTok, it's important to note that the tweak has not been released in any repositories. Directly download and install the tweak for a customized TikTok experience.
Install BHTikTok DEB Using Sileo
Step 1: Begin by launching the Sileo app directly from your Home Screen.
Step 2: Download BHTikTok tweak repository.
Step 3: Once the DEB file is downloaded, share it with the Sileo app using the sharing function on your device.
Step 4: Inside Sileo, locate the shared DEB file and tap on "GET" to initiate the installation of the BHTikTok package.
With the BHTikTok package successfully installed, head over to the TikTok app's Settings. Here, you'll find the newly added BHTikTok tweak, ready to enhance your TikTok experience.
What Is BHTikTok?
The world of iOS has just been introduced to a game-changing enhancement for the TikTok app – BHTikTok IPA. This innovative jailbreak tweak revolutionizes your TikTok experience, delivering a wide range of impressive features that elevate your usage to new heights. From video downloads to ad removal, from profile image saving to seamless content sharing, BHTikTok has it all. Let's delve into the incredible capabilities of this tweak and discover how it can transform your TikTok journey.
Ad-Free Enjoyment:
Bid farewell to intrusive ads and welcome uninterrupted TikTok enjoyment. BHTikTok creates an ad-free environment, allowing you to immerse yourself in the content you love without any disruptions.
Effortless Video Downloads:
With BHTikTok, the power to download videos and music is at your fingertips. Build your personal collection effortlessly and enjoy your favorite content even when offline.
Customizable User Interface:
Tailor your visual experience with the option to display or conceal the user interface button. Enjoy a seamless and personalized interface that suits your preferences.
Easy Sharing and Engagement:
Copy video descriptions, links, and music links effortlessly, making sharing and engagement with your favorite content a breeze.
Streamlined Viewing Experience:
Experience a smoother viewing journey with BHTikTok's automatic progression to the subsequent video. A progress bar visually represents your journey through the content.
Enhanced Interaction Safeguards:
Engage with content confidently, knowing that interactions like liking, disliking comments, following, and engaging with content require your confirmation to avoid accidental actions.
Efficient Networking:
BHTikTok enables you to save profile images and replicate profile information, making networking more efficient and effective.
Extended Bio and Comment Length:
Express yourself freely with extended bio and comment length limits, allowing you to share more about yourself and engage meaningfully with others.
Geographical Preferences:
Modify regions to cater your TikTok experience to your geographical preferences, ensuring the content aligns with your interests.
Boosting Engagement:
Take your TikTok profile to the next level by feigning the coveted blue verification badge and inflating followers and following counts.
Comprehensive Update:
The recent update to BHTikTok version 1.2 brings a multitude of enriching enhancements. Discover the origin of uploads through flags or country codes and showcase upload dates on profiles for deeper context.
Unblur Sensitive Content:
Unblur sensitive content and eliminate associated warnings, enhancing your browsing experience.
Enhanced UI and Startup Options:
Enjoy a refined user interface with semi-transparent comment sections, customizable startup views, and improved 'Following' page options.
Illusion of Engagement:
Influence Likes counts to create an illusion of engagement and clear cache for optimized performance.
Global Inclusivity:
BHTikTok expands its reach to include regions like Belarus, Kazakhstan, and Ukraine, showcasing a commitment to inclusivity.
Localization Support and Animated Profile Pictures:
Download animated profile pictures and experience localization support for a more tailored and engaging TikTok experience.
Streamlined Media Downloading:
Save media directly to Photos or share instantly through the share sheet post-download. Enjoy a seamless download experience with the new gesture-based download button.
Accurate User Statistics:
Benefit from notable bug fixes that enhance the accuracy of user statistics, ensuring a more authentic experience.
Compatible and Versatile:
Whether you're jailbroken or not, BHTikTok is your go-to enhancement. It's compatible with all iOS 14 and later devices, making it a versatile choice for all TikTok enthusiasts.
BHTikTok is a game-changer for TikTok users on iOS. With its array of features, enhancements, and bug fixes, it's a must-have for anyone looking to take their TikTok experience to the next level. From ad-free enjoyment to streamlined interactions and global inclusivity, BHTikTok has something for everyone. Embrace the power of BHTikTok and unlock a whole new world of TikTok possibilities on your iOS device.
BHTikTok GitHub Source Code
BHTikTok for TikTok emerged as an open source project, offering transparency and collaboration through BHTikTok GitHub Repository and dayanch96/BHTikTok. The BHTikTok tweak's source code incorporates the powerful Objective-C language, known for its robust capabilities in iOS app development.
What's New In BHTikTok 
BHTikTok Plus v2.3
Disable live broadcasts.
Group menu items for a cleaner look.
Compact download progress bar.
Disable pull-to-refresh in your feed.
No more warning messages under video descriptions.
Fix interactions with a dedicated button.
Download 'unavailable/removed' media from Favorites.
Added Japanese localization.
Improved pure mode.
Enhanced skip friends recommendations.
Beta iPad support for region changing.
Other improvements and bug fixes.
BHTikTok Plus v2.2.1
Fixed app crashing when changing comment and description colors.
BHTikTok Plus v2.2
Download videos with watermarks.
Poland and Czech Republic regions.
Turkish localization support.
Corrected description copying from the compact menu.
BHTikTok Plus v2.1
Remove watermarks for downloads.
Download static profile pictures.
Netherlands region.
French and Vietnamese localization.
Relocated navbar settings icon.
Improved Right-To-Left UI.
Passlock with FaceID support (for IPA only).
BHTikTok Plus v2.0
Redesigned tweak settings.
Choose Compact/TikTok styles.
Display region flags/country codes.
Download videos from private accounts.
Webp support for profile pictures.
Clear links and skip recommendations.
Customize video player behavior.
Show video counts in profiles.
Force uploading in HD.
Added new regions.
Apply shadows to app elements.
Tweak settings button placement.
Improved cache functions.
Removed 'Always open in Safari' option.
BHTikTok v1.4
Added the ability to download HD videos for higher quality.
Introduced an option to skip live broadcasts for quicker browsing.
Provided color customization for nicknames, comments, and video descriptions.
Expanded support to include regions like Senegal, Switzerland, Albania, Moldova, Croatia, and Morocco.
Included a new 'Special thanks' section within the tweak settings.
Added Spanish and Traditional Chinese localizations for a broader user base.
Enhanced video downloading process, ensuring the best quality (H.264 format).
Fixed confirmation support for Like, Like and Dislike Comments on the latest TikTok versions.
Switched to a more compact context menu for the Download button.
BHTikTok v1.3
Added an option to display video like count on user profiles.
Introduced the choice to display @username instead of nickname as seen in older versions.
Supported Simplified Chinese localization.
BHTikTok v1.2
Provided an option to show the upload region using flags or country codes.
Included the ability to show media upload date on user profiles.
Added an option to display follow status on user profiles.
Introduced an option to unblur sensitive content and remove warnings.
Offered an option to remove the 'Just watched' mark for a cleaner interface.
Allowed comments to be made semi-transparent for improved readability.
Added an option to set the 'Following' page as the default startup page.
Provided the option to fake Likes count for a customizable experience.
Introduced an option to clear cache for smoother performance.
Expanded regions list to include Belarus, Kazakhstan, and Ukraine.
Supported localization (Currently available in English, Russian, and Arabic).
Enabled downloading of animated profile pictures.
Improved media downloading process, offering direct saving to Photos or sharing via the share sheet.
Switched the long tap gesture to the Download button in the Feed to prevent overriding original menus.
Enhanced user interface for a more user-friendly experience.
Fixed fake counts and checkmark functionality, now only fakes personal statistics.
Addressed authorization and captcha issues in the sideloaded version.
BHTikTok v1
BHTikTok now supports TikTok version 30.6.0.
Long tap gesture upgraded for easy video saving.
Enjoy a more intuitive user interface for effortless navigation.
Simply long tap in the Feed to download videos instantly.
Explore new customization options to tailor your TikTok experience.
Fake counts and checkmarks now reflect only your stats.
Login issues and captchas resolved for hassle-free access.