Scarlet App IPA Installer iOS Download For Install Favorite Apps On iPhone & iPad [No Jailbreak]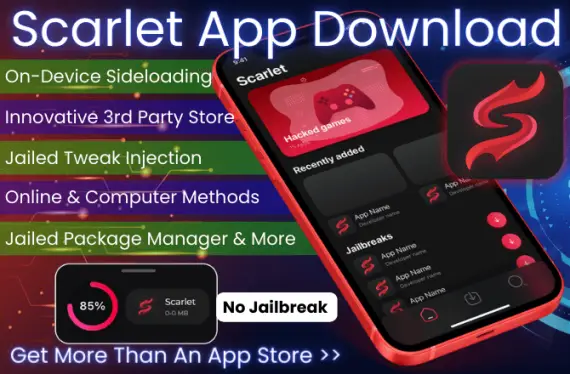 Scarlet IPA library is a revolutionary 3rd party app store that allows you to install jailbroken apps without having to jailbreak your device. With the Scarlet IPA Installer tool, you can easily add jailbroken repos and install your favorite apps hassle-free.
Scarlet IPA Installer for iOS 13 – iOS 16 provides a true repo system for all users, making it easier to find and install the apps you want. Download scarlet app for iOS is a game-changer for iOS users who previously had limited options when it comes to installing jailbroken apps.
Download Scarlet App For iOS Direct Install | Latest Scarlet IPA Library
Scarlet IPA Installer For TrollStore Users
Online Install Scarlet | No PC
Online Install Scarlet | No PC
Scarlet Computer (No-Revokes) For Windows, Linux & MacOS
Scarlet App IPA Installer Features
Scarlet IPA download is the ultimate solution for anyone looking for a reliable third-party app store on iOS. With download scarlet app for iOS, you can easily download and install tweaked apps and IPA games just like AppCake. Get ready to unlock a world of new possibilities with powerful IPA installer features.
This Scarlet app IPA installer offers a wide range of capabilities, from on-device sideloading and tweak injection to a powerful package manager and much more.
💉 Jailed Tweak Injection: With Scarlet's repo system, you can seamlessly inject tweaks into any IPA file. Plus, you can import debs or dylibs to install or tweak as well.
📲 IPA Sideloading: Sideload any IPA file with scarlet IPA download lightning-fast and stable app signer. There's no limit on size or speed, and it's all completely free.
📊 App Management: Stay on top of new app updates and view all currently installed apps in one place. Updating won't cause data loss or require a complete reinstallation. And you can even backup and restore your apps.
🔍 Repo System: Add jailbroken repos that work on any jailed device, allowing for seamless app installs and tweaking. Plus, it have scarlet app store own native repo system for expanding the Scarlet library with tweak injection and customizations.
💻 Computer Method: Want even more from scarlet tweaked apps? Our computer method is perfect for you. It's free from revokes and Apple blacklistings, and you can use it anytime you want.
🎨 Modern GUI: Scarlet was designed to fit perfectly with the Apple ecosystem while also incorporating innovation, color, and movement throughout the app.
🔑 Certificate Management: Import your own certificate or view the active one used for installs directly from the app. Stay in control of your certificates with Scarlet.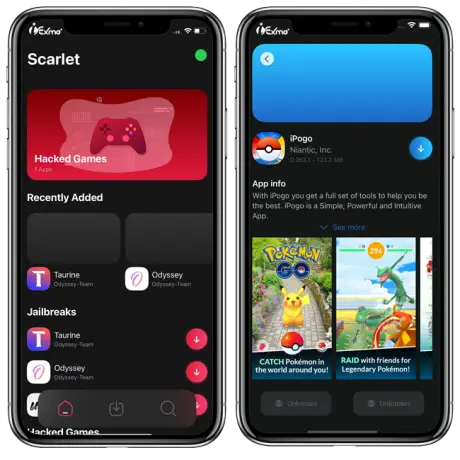 Scarlet IPA Installer Compatibility
Scarlet App Support iOS Versions
Scarlet download iOS 16 – iOS 16 / iOS 16.0.1 / iOS 16.0.2 / iOS 16.0.3 / iOS 16.1 / iOS 16.1.1 / iOS 16.1.2 / iOS 16.2 / iOS 16.3 / iOS 16.4
Scarlet iOS 15 download – iOS 15 / iOS 15.0.1 / iOS 15.0.2 / iOS 15.1 / iOS 15.1.1 / iOS 15.2 / iOS 15.2.1 / iOS 15.3 / iOS 15.3.1 / iOS 15.4 / iOS 15.4.1 / iOS 15.5 / iOS 15.6 / iOS 15.6.1 / iOS 15.7 / iOS 15.7.1 / iOS 15.7.2 / iOS 15.7.3
Scarlet iOS 14 download – iOS 14.8 / iOS 14.7.1 / iOS 14.7 / iOS 14.6 / iOS 14.5.1 / iOS 14.5 / iOS 14.4.2 / iOS 14.4.1 / iOS 14.4 / iOS 14.3 /iOS 14.2.1 /iOS 14.2 / iOS 14.1 / iOS 14.0.1 / iOS 14
Scarlet iOS 13 download – iOS 13.6.1, iOS 13.6, iOS 13.5.1, iOS 13.5, iOS 13.4.1, iOS 13.4, iOS 13.3.1, iOS 13.3, iOS 13.2.3, iOS 13.2.2, iOS 13.2, iOS 13.1.3, iOS 13.1.2, iOS 13.1.1, iOS 13.1, iOS 13
How To Install Scarlet IPA No Computer Method [No Jailbreak]
To install Scarlet iOS using the No Computer Method, simply follow these steps:
Step 1 > Tap on the Scarlet Direct Install download button.
Step 2 > Click on "Install" and the installation process of Scarlet app will start.
You can see the app installation process has started and also successfully installed on your iOS device.
Step 3 > Once you try to launch the application, it will show a pop-up about an untrusted Enterprise developer.
Step 4 > To solve this issue, launch the Settings > navigate to General option > VPN and device management > Trust the Enterprise app and you are good to go.
Step 5 > Now you will be able to successfully launch the Scarlet application without any error. Let's go back to the home screen.
Step 6 > Launch the Scarlet application and you can find a variety of jailbreaking tools, third-party applications, emulators, and many more. You can even sideload IPA files and use them.
These simple and easy steps will help you install Scarlet iOS using the No Computer Method without any hassle.
How To Install Scarlet IPA On Your iPhone Or iPad
Installing the download scarlet app for iOS on your device using ScarletCloud for Desktop is a simple process, but requires some setup beforehand. Scarlet uses your personal development certificate to sign apps and a unique VPN to bypass iOS security measures. Additionally, the Scarlet IPA comes equipped with a custom certificate and Developer login option, ensuring a smooth and secure installation experience.
Here is a step-by-step guide to install the scarlet IPA download on your iPhone using ScarletCloud:
Step 1 > First, open ScarletCloud and download and install the Scarlet app onto your device.
You can choose from several options like:
Step 2 > Once you have installed Scarlet, it will appear on your Home Screen. You can now proceed to the next step.
Step 3 > Go to the App Store and download and install the WireGuard VPN Tunnel app.
Step 4 > Import the Scarlet Configuration File to the WireGuard app. This file can be found in ScarletCloud.
Step 5 > Connect your iPhone or iPad to your computer using a USB cable.
Step 6 > Open ScarletCloud and select your device from the list of available devices.
Step 7 > Enable the Scarlet Configuration File in the WireGuard app.
Step 8 > Finally, open the Scarlet app from your Home Screen.
You can now import an IPA or install available apps from the repo. The process is now complete, and you can start enjoying your favorite apps and games.
How To Install Scarlet iOS Sideload With Windows PC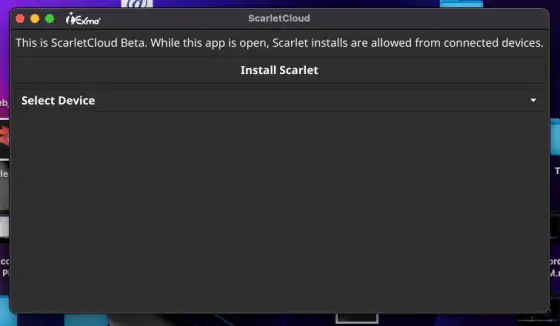 How to sideload Scarlet Cloud? Here is a step-by-step guide on how to install Scarlet iOS Sideload with Windows PC:
Step 1 > First, download and install iTunes and iCloud on your Windows PC.
Step 2 > Once iTunes is installed, launch the app and sign in with your Apple ID and password.
Step 3 > Authorize the computer by clicking on Account > Authorization > Authorize This Computer. Enter your Apple ID and password again and click on authorize.
Step 4 > Install iCloud and sign in with your Apple ID and password. Click on Apply.
Step 5 > Download ScarletCloud for Windows.
Step 6 > Locate the Scarlet Cloud exe file in your download folder, right-click on the file and select Run as Administrator.
If you get a pop-up, click on More Info and then click on Run Anyway.
Step 7 > Connect your iPhone or iPad to the computer.
Once the computer detects your device, it will show up under the Select Device drop-down menu in ScarletCloud. Select the device and click on Install Scarlet.
Step 8 > Provide your Apple ID and password and click on Submit. The installation process of the Scarlet app will begin shortly.
Step 9 > Once the Scarlet app is installed on your iOS device, launch the Settings app and go to General > VPN and Device Management. Trust the developer by clicking on the Trust option.
Step 10 > Next, enable Developer Mode by going to the Security app under Privacy and Security. Tap on Developer Mode and toggle the switch to enable it. Restart the device.
Congratulations, Scarlet iOS Sideload is now successfully installed on your iOS device!
Best IPA App Installers For iOS | Alternative For Scarlet iOS 16
Are you looking for the best IPA app installers for your iOS device without the need for a PC? Look no further, as we've got you covered! Here are some of the top options available:
✅ TrollStore IPA Installer – This app installer offers a vast selection of IPA files and is frequently updated with the latest releases. It's easy to navigate and doesn't require a PC.
✅ AltStore IPA Installer – This is another popular app installer that allows you to sideload apps onto your device without a PC. It's known for its user-friendly interface and reliable performance.
✅ Sideloadly IPA Installer – With Sideloadly, you can install unsigned IPA files directly onto your iOS device. It also offers advanced customization options, making it a great choice for power users.
✅ ReProvision Reborn – This app installer is a great choice for those looking for an alternative to Cydia Impactor. It allows you to sign and install IPA files directly from your device, without the need for a PC.
✅ Bullfrog IPA Signer – Bullfrog Assistant is a free iOS app that enables you to sign IPA files directly onto your iPhone or iPad. It's easy to use and offers a fast and reliable way to install IPA files.
Each of these app installers offers its own unique set of features and benefits. Be sure to check them out and find the one that works best for you!
Scarlet IPA For iOS 16: Top Features
🔐 Enhanced Security: Scarlet IPA with Two-Factor Authentication (2FA) support, adding an extra layer of protection to your account.
🛠️ Stability Improvements: Say goodbye to Anisette reset freezes that used to frustrate some users. We've fixed this issue for a smoother experience.
🚀 Streamlined Installation: Installing Scarlet is now a breeze. Scarlet IPA resolved Mail Plugin installation problems, ensuring a hassle-free setup.
📱 App Limit Expansion: Need more apps by Scarlet? You got it! Scarlet IPA introduced a workaround that allows you to add up to three additional apps, offering greater flexibility.
⚡ Speed Boost: Scarlet now boasts significantly faster deb decompression, making app installations lightning-fast.
🖌️ Visual Polish: Scarlet IPA tidied up various visual glitches and fine-tuned performance to provide a more polished user experience.
🧰 Tweaks Injection Fixed: Installing tweaks from the navigation menu is now trouble-free. We've resolved the issue where tweaks wouldn't inject properly.
🧪 Experimental Feature: Dive into the future with Scarlet IPA new experimental sideloader. It's tailor-made for users seeking cutting-edge functionality.
Scarlet Repos For iOS 16
To effortlessly install IPA files on your iPhone, both iOS 16 and iOS 15 users need a designated repository. CyPwn stands out as a top-choice platform, granting access to a diverse library of tweaked, hacked, and pirated IPA files.
CyPwn goes the extra mile by providing a dedicated repository specifically tailored for Scarlet iOS, ensuring an optimized experience for IPA file installation.
Official Scarlet iOS Repo URL »
Streamer App Scarlet Repo URL »
How To Install IPA Files With Scarlet App
Signing IPA Files: To sign IPA files using your Apple ID and a free developer account, ensure that ScarletCloud Beta is running. This allows connected devices to authorize Scarlet installs, ensuring proper signing and installation.
Looking ahead, Scarlet iOS has the potential to incorporate the capability of signing IPA files over Wi-Fi or without the need for a PC. While SideStore already offers this feature, its integration into Scarlet's suite of tools would provide users with added flexibility and convenience when installing and using their preferred apps on iOS devices.
ScarletCloud IPA Installer | No Revokes Using A PC
ScarletCloud is an experimental build of ScarletCloud that features a user-friendly GUI. It currently provides support for Windows, Linux, and MacOS.
ScarletCloud stands out as the first genuine alternative to AltStore, and it takes a unique approach by not relying on corecrypto. Most tasks, except app installations, can be accomplished directly within Scarlet, making it one of the fastest solutions available.
This ScarletCloud build offers a device selector, allowing you to choose where to install Scarlet. Once the app is active, it enables ALL connected devices to install apps from the ScarletCloud Scarlet app.
To ensure smooth operation, ScarletCloud employs different methods for generating anisette data. On Windows, it utilizes iCloud and iTunes, while on Mac, it relies on a MailPlugin. In cases where native anisette retrieval is not possible, Scarlet or ScarletCloud accesses an anisette server.
What Is Scarlet IPA Installer?
Scarlet, an IPA installer designed specifically for iOS devices, is a top-of-the-line app that utilizes the advanced technologies of AltStore and SideStore to allow you to sign and install IPA files using your Apple ID and password.
However, while the installation process for scarlet tweaked apps is generally straightforward, it is important to note that there are certain preparation steps that must be taken in order to ensure a smooth installation experience, particularly when using the app on jailed devices without a PC.
Fortunately, there are a variety of options available for installing the scarlet app store, including via IPA, TrollStore, weblink, and the ScarletCloud installer for Desktop.
One of scarlet tweaked apps most notable features is its ability to support a wide range of source lists. With a preinstalled list that includes jailbreak tools, ++ apps, and emulators, the app makes it simple for users to download and install these items on their devices. However, it is crucial to avoid using your primary Apple account during this process, as it may be locked, requiring a password reset to reactivate it.
Scarlet app download has been developed with simplicity in mind, resulting in a user-friendly interface that is easy to navigate. The app offers only essential features and options, allowing users to easily download and install apps.
Upon opening the scarlet IPA signer, users will see a list of default Scarlet Repo apps that are available for download. To download an app, simply click on the download button, and the app will be automatically downloaded, signed, and installed.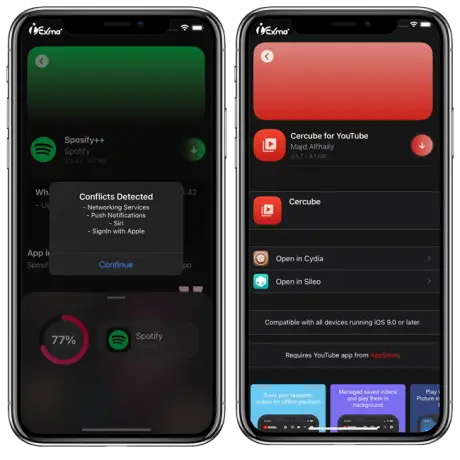 Scarlet also supports JIT mode for certain apps, which allows Just-In-Time compilation on the device, resulting in full-speed performance. For example, Delta JIT compilation can double the Fast Forward speed from 1.5x to 3x, providing lightning-fast speeds with no lag.
If you install Scarlet via the web link, it will include an enterprise certificate that allows you to sign IPA files and install apps without needing to refresh them every seven days. However, this certificate can be easily revoked by Apple. In some cases, you can reverse this state by enabling "Disable Anti-Blacklist" from the Scarlet preference pane in the Settings app.
If none of the aforementioned methods work for you, there is always the option of ScarletCloud. This desktop tool, which is compatible with Windows, Linux, and macOS, allows you to install Scarlet on your iPhone or iPad and sign IPA files and install apps using your Apple ID.
However, note that a cable connection to the PC is required to sign files, which can be a disadvantage. Nonetheless, ScarletCloud is a helpful alternative for when the regular installation method is not feasible. It supports all devices running iOS 13 to iOS 16.
Scarlet is an innovative IPA installer that simplifies the process of signing and installing IPA files on iOS devices. Its user-friendly interface and support for source lists make it an excellent option for anyone looking to install third-party apps on their device.
While there are certain steps to follow during installation, they are relatively easy to complete, and there are multiple options available to users. Scarlet's support for JIT mode and its prebuilt enterprise certificate are just a few of the features that set it apart from other IPA installers on the market.
💡 Scarlet App Tip: Scarlet has a really cool feature that allows it to access Cydia Repositories, which is a huge bonus for users. By doing so, it offers a wider range of available packages to install on your iOS device without the need for tweak injection or an active jailbreak. This feature is really efficient and can help you easily install certain apps that you may not have been able to access before.
DebProvision – An Alternative To Cydia Impactor And AltServer
DebProvision is your go-to solution, offering a powerful alternative to Cydia Impactor and AltServer that works seamlessly across all computer platforms.
DebProvision Benefits
🌐 Cross-Platform Compatibility: DebProvision works seamlessly across all major operating systems, including Windows, macOS, Linux, ensuring accessibility for a wide range of users.
🔐 Enhanced Security: Enjoy a secure provisioning process with DebProvision, as it is entirely independent from Apple Frameworks, making it less vulnerable to security risks.
📦 CLI and GUI Options: Whether you prefer a command-line interface (CLI) or a user-friendly graphical user interface (GUI), DebProvision caters to your needs with both versions.
💻 No Computer Needed: Once Scarlet is installed, users with paid developer accounts can manage their iOS devices without the need for a computer, saving time and effort.
🔏 Stable Code Signing: DebProvision uses a different codesigner, offering greater stability compared to ldid/AltStore, ensuring successful app installations.
🧠 Intelligent Anisette Handling: The intelligent logic of DebProvision understands when adi resets instantly, providing a hassle-free experience.
🔗 Certificate Re-Use: DebProvision optimizes certificate usage. Certificates are shared between the computer and the phone if they have a matching teamID(account) and are still valid, reducing certificate-related issues.
🔍 Revocation Status Check: Certificates are directly checked with Apple's signing servers to ensure their revocation status, preventing issues related to revoked certificates.
📱 Revokeless AppStore Installations: Enjoy 100% working revoke less AppStore app installations with DebProvision, ensuring your favorite apps remain accessible.
Scarlet GitHub Source Code
Scarlet sideload GitHubis an amazing tool that makes it possible to add jailbroken repos and install jailbroken apps, all without needing to go through the jailbreaking process. It comes with a sleek and stylish design and offers lightning-fast app sideloading capabilities. If you're interested in exploring the source code for Scarlet, you can find it on Scarlet IPA GitHub. DebianArch64/DebProvision is an alternative to Cydia Impactor and AltServer that works on all computers, providing even more flexibility for your jailbreaking needs.
What's New In Scarlet App?
Scarlet Cloud Installer Updated
You can now sideload apps without any size limitations.
Achieve a 100% success rate with Wireguard.
Dynamic Colors is now enabled by default, featuring new improvements.
Enjoy faster deb speeds, support for iGameGod deb files, and a new progress indicator.
The update brings support for Snapchat without the risk of bans.
Now compatible with AltStore repo formats.
You can sideload an unlimited number of apps from repos.
Experience improved overall speed and performance.
Added support for Two-Factor Authentication (2FA), giving users an extra layer of security when signing in to their Apple ID account.
Fixed issues with Anisette resetting and causing freezes, ensuring a more stable user experience.
Resolved problems with MailPlugin installation, allowing for smoother app installations.
Added a workaround for the 3 app limit, allowing users to install more apps on their device.
Deb decompression is now much faster, saving users time during the installation process.
Fixed visual bugs and improved performance, resulting in a smoother user interface.
Tweaks will now inject properly when clicking "install" from the navigation menu.
Introduced a new experimental sideloader for users to try out.