Sizei Tweak: Get Dynamic Island On Any iPhone For iOS 16 [No Jailbreak]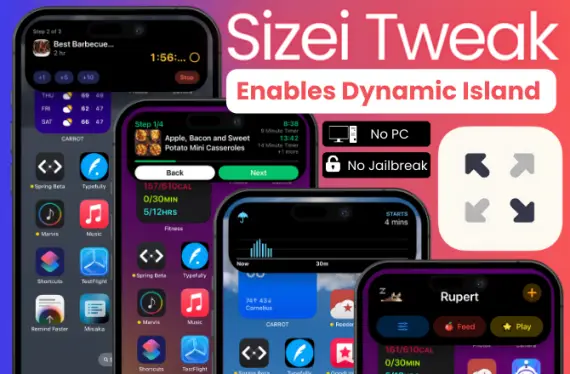 How to get Dynamic Island iOS for all iPhones? Dynamic Island iOS 16 was initially exclusive to iPhone 14 Pro and iPhone 14 Pro Max. The jailbreak community has discovered that Dynamic Island is present on all iOS 16-enabled devices, although it's deactivated by default.
Thanks to the KFD exploit, enabling Dynamic Island on any iPhone has become remarkably simple, and you won't need to jailbreak your device. To achieve this, you can use the Sizei tweak along with the Misaka tweak manager, making it accessible to a broader range of iPhone users.
What Is Sizei Tweak?
Sizei is a KFD tweak designed for iOS 16 through iOS 16.5, offering users the exciting opportunity to activate Dynamic Island on their iPhones. This Sizei tweak to enable Dynamic Island leverages the MacDirtyCow exploit and is an upgraded version of the DynamicCow tweak for Dynamic Island, now compatible with iOS 16.2 and newer.
Dynamic Island Activation: Sizei tweak empowers users to enable Dynamic Island iPhone 14 download, unlocking a plethora of features within both the Home Screen and various applications.
Compatibility And Installation: Bringing Dynamic Island To Your iPhone
While Sizei to enable Dynamic Island functions on notched iPhones, please be aware that complete visibility of download Dynamic Island may not be achieved on these specific devices. To gain access to all features, simply maximize Dynamic Island. Importantly, Sizei is not a plugin; it actively modifies iOS 16 to enable Dynamic Island and is not compatible with iOS 15 or earlier.
Installation Process: You can install Sizei to enable Dynamic Island on your iPhone through the Misaka tweak manager, making this innovative tweak readily accessible to a broader audience.
Exploring Dynamic Island: Features And Gestures
Once you've successfully installed Sizei best Dynamic Island for iPhone using the Misaka tweak manager, you'll gain access to an intuitive configuration panel. Within the "Advanced Settings," you can choose between the iPhone 14 Pro or iPhone 14 Pro Max layout, a crucial step to enable Dynamic Island.
Activation and Usage: After enabling Sizei tweak from Misaka tweak manager and performing a respring, Dynamic Island download iOS seamlessly becomes accessible from the top of your Home Screen. It dynamically adapts as supported applications are launched and offers support for gestures.
Dynamic Island With Sizei Tweak – No Jailbreak Needed!
Sizei Tweak provides a straightforward way to customize Dynamic Island iOS 16 download, and you can install it effortlessly using the Misaka app, without the need for a jailbreak.
The Misaka tweak manager acts as your gateway to Sizei Tweak. Download Dynamic Island for iOS offers functionality akin to Sileo and Cydia but is optimized for devices using MDC mining and KFD jailbreak exploits.
To access Sizei Tweak, you can locate it in the "YangJiii Repo's" repository within the Misaka app. This streamlined approach makes installing Sizei Tweak a breeze.
How To Install Sizei Tweak
Learn how to easily install Apple Dynamic Island with Sizei tweak on your iOS device with this straightforward guide.
Step 1: Download the Misaka IPA for iOS.
Step 2: You can sideload Misaka IPA from your Mac or Windows PC using AltStore or Sideloadly.
Step 3 Launch the Misaka tweak manager on your device.
Step 4: Inside Misaka, find the "Sources" section.
Step 5: Look for the "YangJiii Repo" within Sources.
Step 6: Tap "Sizei" and press the blue "Get" button.
Step 7: When the button turns red (Queued), tap it again.
Step 8: Hit the blue "Confirm" button.
Step 9: After installation, press "Close." In the "Packages" tab, select the downloaded package and tap "Apply" at the top-right.
Please note that tapping the "Apply" button will respring your device to save the changes associated with applying packages. After the restart, your add-on should be fully functional.
Enjoy Dynamic Island with Sizei tweak on your iOS device!
Supported Devices For Sizei Tweak To Get Dynamic Island
A11: iPhone 8, iPhone 8 Plus, iPhone X
A12: iPhone XS, iPhone XS Max, iPhone XR
A13: iPhone 11, iPhone 11 Pro, iPhone 11 Pro Max
A14: iPhone 12, iPhone 12 Mini, iPhone 12 Pro, iPhone 12 Pro Max
A15: iPhone 13 and 13 Mini, iPhone 13 Pro and 13 Pro Max, iPhone 14, iPhone 14 Plus
A16: iPhone 14 Pro, iPhone 14 Pro Max
How To Enables Dynamic Island For All iPhones | Dynamic Island Alternative
Dynamic Peninsula Tweak For Dynamic Island
For those seeking a robust alternative to Dynamic Island, consider exploring the jailbreak tweak known as Dynamic Peninsula dynamic island download for iPhone. Compatible with iOS 12 through iOS 16, this tweak even runs smoothly on older devices like iPhone 6, iPhone 7, and iPhone 8.
Dynamic Peninsula Features: Dynamic Peninsula offers a wide range of widgets, including call notifications, timers, music alerts, Do Not Disturb events, screen recording notifications, Bluetooth device connections, volume adjustments, battery notifications, and Apple Maps navigation.
DynamicCow IPA For Dynamic Island
DynamicCow enables access to a new feature in iOS 16 – iOS 16.1.2 called Dynamic Island. Unlock a new world of possibilities with DynamicCow IPA with the release of iPhone 14 Pro and Max, iOS 16 now includes Dynamic Island download on the Home Screen, displaying alerts and current activities like music, timer, AirDrop connection and more, every time you unlock your iPhone. Get DynamicCow IPA for Dynamic Island now and enhance your iPhone experience
Who Created Sizei Tweak To Enable Dynamic Island
The genius behind Sizei Tweak, the gateway to unlocking Dynamic Island on your iOS device, is none other than the talented iOS developer, Yangjii, known as @duongduong0908 in the iOS development community.
Yangjiii is not just about Sizei Tweak; this developer has a rich portfolio of tweaks and tools, including popular creations like Plumpy UI, Plampy settings, Font Apple symbols, LS UI, Font clock for iOS 16, Radar, Usagi passcode, LS UI NaYan, Wifi list, LS UI SamSungOld, Font cooperative Sans Alt, LS UI Plumpy, Text search, Fast ToolBox, Hide manager, and much more.
Plampy UI Tweak For Customize Control Center Icons On iOS
Plampy UI is a fantastic tweak developed by YangJiii that breathes fresh life into your iOS Control Center icons. This tweak allows you to effortlessly replace icons and glyphs, offering a seamless customization experience. The best part? It's compatible with both MDC and KFD exploits, making it versatile for iOS users ranging from 15.0 to 16.5. Whether you're on iOS 15.0 – 15.7.1 or the latest iOS 16.0 – 16.5, Plampy UI has got you covered. Elevate your Control Center aesthetics today!.
Enhance Your Control Center with Plampy UI Tweak »
What's New In Sizei Tweak
Sizei Tweak has been upgraded to version 1.0b1 with several technical enhancements.
This update focuses on improving the functionality and performance of Dynamic Island.