BigSurCenter Tweak For iOS 13 – iOS 15 Modern & Lightweight Control Center [Latest]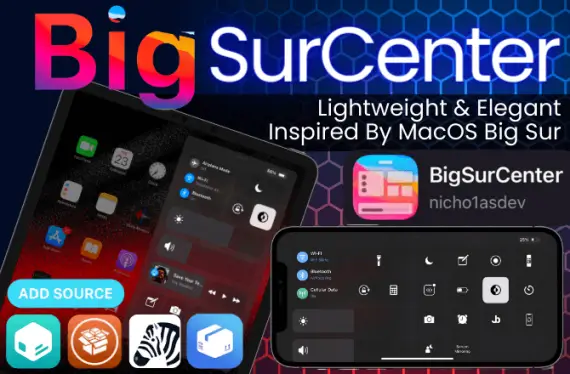 BigSurCenter tweak is a new and modern tweak that revamps the look and feel of the Control Center on your iOS device. BigSurCenter tweak iOS takes inspiration from the new Control Center in macOS Big Sur and gives your device a fresh and lightweight appearance. With BigSurCenter, you get easy access to a range of controls and app shortcuts from a single location. If you're looking to give your iOS device a fresh new look, the BigSurCenter tweak is definitely worth checking out.
BigSurCenter Tweak Features
✅ Choose your favorite modules easily with the top right module selection.
✅ Rearrange the slider modules according to your preference.
✅ Bottom presentation gestures available for notched devices.
✅ Adjust the presentation speed to match your liking.
BigSurCenter Tweak Customization
☑️ Customize the colors of sliders, slider backgrounds, module backgrounds, and selected modules.
☑️ Hide specific elements for a cleaner look.
☑️ Adjust the corner radius of the background or modules and much more!
With BigSurCenter Tweak, you have the power to personalize your Control Center and enhance your iOS experience with a wide range of features and customization options. Whether you want to rearrange modules, change colors, or hide certain elements, BigSurCenter gives you the flexibility to create a Control Center that suits your style and preferences. Try it out and make your iOS device truly unique!
BigSurCenter Jailbreak Tweak Compatibility
BigSurCenter For iOS 15: iOS 15.7.5 / iOS 15.7.4 / iOS 15.7.3 / iOS 15.7.2 / iOS 15.7.1 / iOS 15.7 / iOS 15.6.1 / iOS 15.6 / iOS 15.5 / iOS 15.4.1 / iOS 15.4 / iOS 15.3.1 / iOS 15.3 / iOS 15.2.1 / iOS 15.2 / iOS 15.1.1 / iOS 15.1 / iOS 15.0.2 / iOS 15.0.1 / iOS 15
BigSurCenter For iOS 14: iOS 14.8.1 / iOS 14.8 / iOS 14.7.1 / iOS 14.7 / iOS 14.6 / iOS 14.5.1 / iOS 14.5 / iOS 14.4.2 / iOS 14.4.1 / iOS 14.4 / iOS 14.3 / iOS 14.2.1 / iOS 14.2 / iOS 14.1 / iOS 14.0.1 / iOS 14
BigSurCenter For iOS 13: iOS 13.7 / iOS 13.6.1 / iOS 13.6 / iOS 13.5.1 / iOS 13.5 / iOS 13.4.1 / iOS 13.4 / iOS 13.3.1 / iOS 13.3 / iOS 13.2.3 / iOS 13.2.2 / iOS 13.2 / iOS 13.1.3 / iOS 13.1.2 / iOS 13.1.1 / iOS 13.1 / iOS 13
📱 Fully compatible with both iPhones and iPads: The iOS app is designed to work seamlessly on both iPhones and iPads, allowing users to enjoy the features and functionality on their preferred device.
🔧 Compatible with custom control center module tweaks: The app is designed to be compatible with various custom control center module tweaks, giving users the flexibility to personalize their iOS experience and enhance their device's control center functionality.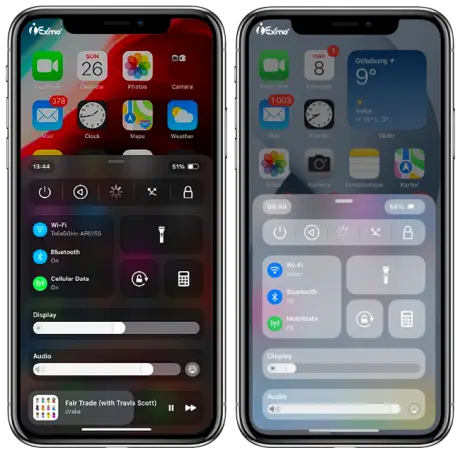 How To Add BigSurCenter Repository For iOS
BigSurCenter is a paid tweak that can be downloaded from the Havoc repository for $2.99. It's a great tweak for customizing the Control Center on iOS 13, iOS 14, and iOS 15. To install BigSurCenter, you'll need to add the official BigSurCenter repository to your package manager. If you're using Dopamine jailbreak, you can also get the BigSurCenter rootless version. This tweak is a simple and effective way to refresh your device and give it a new look and feel.
🔍 To get started, jailbreak your iOS device using the perfect jailbreak tool for your device compatibility. Find the ideal jailbreak tool now!
To start using the BigSurCenter Control Center tweak on your iOS device, follow these simple steps:
Step 1: Open the Cydia app on your iPhone or iPad and navigate to the Sources tab.
Step 2: In the top right corner, tap on the Edit button, and then select Add.
Step 3: Enter the BigSurCenter tweak repository URL and tap on Add Source.
🔰 BigSurCenter Repo URL: https://havoc.app 
Step 4: Wait for Cydia to verify the repository and add it to your sources list.
Step 5: Once the repository is added, go back to the Cydia main screen and select the Search tab.
Step 6: Type "BigSurCenter" in the search bar and select the package from the search results.
Step 7: Tap on Install, and then confirm the installation when prompted.
Step 8: Wait for the package to download and install on your device.
Step 9: After the installation is complete, you need to respring your device. You can do this by going to the Home screen and either restarting your device or using a respring tweak.
Step 10: Once your device has resprung, go to the Settings app.
Step 11: Scroll down and find the BigSurCenter option. Tap on it to access the tweak's settings.
Step 12: Enable the BigSurCenter tweak by toggling the switch to the ON position.
You're done! Now you can enjoy the new, modern, and lightweight Control Center provided by BigSurCenter on your iOS device.
💡 Tip: Add the Repository to Your Favorite Package Manager!
To easily access and install the tweak, make sure to add the repository to your preferred package manager, such as Cydia, Sileo, Installer, or Zebra. This way, you can quickly browse and install the BigSurCenter tweak without any hassle.
💡 Tip: Use Modern Package Managers for Purchasing!
If you're interested in purchasing the BigSurCenter tweak, it's recommended to use a modern package manager like Sileo, Saily, Zebra, or Installer. These package managers provide a more streamlined and up-to-date experience compared to Cydia, which is considered outdated. By using a modern package manager, you'll have a smoother purchasing process and access to the latest features and updates for the tweak.
BigSurCenter Tweak Compatibility With iOS Jailbreak Tools
🔹 BigSurCenter Tweak is compatible with various jailbreaks that support iOS 14, such as Unc0ver Jailbreak, Checkra1n Jailbreak, Taurine Jailbreak and odyssey.
🔹 Recently, the tweak has been updated to support iOS 15, and can be installed on the Palera1n Jailbreak for iOS 15.0 to 15.7.2 on A9-A11 devices.
🔹 Additionally, BigSurCenter is compatible with XinaA15, which is a rootless jailbreak for iOS 15.0 to 15.1.1 on A12 devices.
🔹 The most recent version of BigSurCenter has also been released as a rootless package for the Dopamine Jailbreak.
Explore the Best Sources Repos List for iOS [Trending]
Discover the top jailbreak tweaks that will take your iOS device to the next level. From customization options to enhanced functionality, these tweaks offer a wide range of features that will transform your iOS experience.
🚀 Best iOS Jailbreak Tweaks You Should Try
Top Cydia & Sileo Tweaks
Discover a curated collection of the most popular and sought-after tweaks for Cydia and Sileo. Enhance your iOS experience with these powerful modifications that offer customization, new features, and improved functionality.
📲 Discover the Top Cydia and Sileo Tweak
Rootless Tweaks Repo
Unleash the full potential of your iOS device with the Rootless Tweaks Repo. This repository houses a selection of innovative tweaks that can be installed without the need for a full jailbreak. Explore the exciting world of rootless tweaks and elevate your iOS experience.
🔓 Dive into the Rootless Tweaks Repos
Explore Best Sources & Repos
Unlock a vast array of exciting tweaks, themes, and modifications for your iOS device with the iPastore Repo. This reliable and trusted repository offers a wide range of options to customize and personalize your device, providing a seamless and enhanced user experience.
📱 Explore the Best Sources Repos List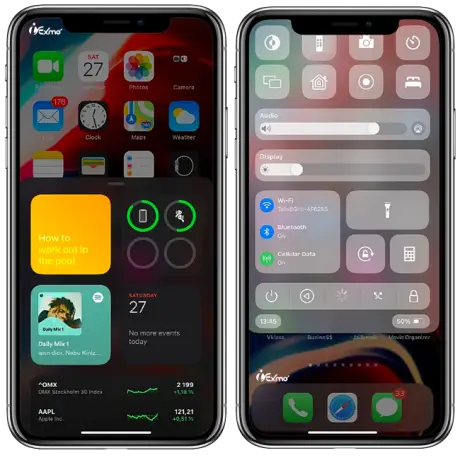 BigSurCenter: Transform Your iOS Control Center With A Sleek MacOS Big Sur Design
The iOS Control Center is a convenient feature that grants quick access to various settings and app shortcuts. But what if you could take it a step further and infuse it with the sleek and modern design of macOS Big Sur? That's where BigSurCenter comes in. In this article, we'll explore the features, customization options, and benefits of this powerful jailbreak tweak that revolutionizes the iOS Control Center experience.
What Is BigSurCenter Tweak?
BigSurCenter is a remarkable jailbreak tweak that replaces the default iOS Control Center with a stunning design inspired by macOS Big Sur. It is compatible with a wide range of jailbreaks, spanning from iOS 13 all the way up to iOS 15.7.2. Whether you're using Palera1n or XinaA15 jailbreaks, or the latest BigSurCenter rootless package for Dopamine, you can enjoy the enhanced aesthetics and functionality of BigSurCenter.
Customize Your Control Center
BigSurCenter offers an extensive array of customization options, empowering you to transform your Control Center according to your preferences. Not only can you activate and manage available modules, but you can also redefine the look and style of your Control Center. This tweak seamlessly integrates with custom control center module tweaks and supports both iPhones and iPads, giving you the flexibility to curate a personalized Control Center experience.
Unleash Your Control Center's Potential
With BigSurCenter, you have full control over the layout, slider style, module size, corner radius, and appearance of your Control Center. You can select between a dark, light, or dynamic theme, set a custom background image, and define custom colors for sliders and module backgrounds. Tailor your Control Center to match your unique style and preferences.
From the BigSurCenter preference page in the Settings app, you can further customize various aspects of the Control Center. Toggle the slider percent label, enable continuous module corners, hide the AirPlay button, customize its position, hide the battery percentage or battery view, hide the time, and even add a blur effect to the background image. This level of flexibility allows you to fine-tune your Control Center to perfection.
BigSurCenter enhances the activation and animation options of the Control Center, providing you with a truly immersive experience. Choose from different activation gestures, including the stock gesture, lower left corner, lower right corner, or both corners of the
screen. Additionally, you can adjust the animation speed to match your desired pace, whether you prefer a smooth transition or a lightning-fast reveal.
Incorporating the aesthetics and functionality of macOS Big Sur, BigSurCenter brings a breath of fresh air to the iOS Control Center. With its extensive customization options, compatibility with custom control center module tweaks, and support for both iPhones and iPads, BigSurCenter allows you to personalize your Control Center like never before. Unlock the full potential of your Control Center and elevate your iOS experience with BigSurCenter.
Who Developed BigSurCenter iOS?
Discover the masterminds behind the sleek and modern BigSurCenter for iOS, designed by Futur3Sn0w and developed by nicho1asdev, which replaces the standard iOS control center with a lightweight and sophisticated interface inspired by MacOS Big Sur's control center.
What's New In BigSurCenter Tweak
BigSurCenter Tweak Version 1.4.2
Fixed a crash issue on Dopamine.
BigSurCenter Tweak Version 1.4.1
Added support for rootless jailbreaks like Dopamine.
Added support for iOS 16.
Temporarily removed Cephei as a dependency until it's updated for rootless.
Removed dependency for rocketbootstrap.
Removed dependency for Alderis (rootless only).
BigSurCenter Tweak Version 1.3.3
Auto brightness feature turned off to prevent frequent brightness changes (can be enabled in settings).
Fixed a layout bug for toggle modules, ensuring three per row.
Miscellaneous smaller fixes.
BigSurCenter Tweak Version 1.3.2
Fixed an issue with loading on iOS 14.
BigSurCenter Tweak Version 1.3.1
Resolved crashes on iOS 14 and iOS 15.
Improved spacing between toggles for a cleaner appearance.
Fixed the audio module to function properly on iOS 15.
BigSurCenter Tweak Version 1.3.0
Added support for iOS 15.
Fixed an issue causing the control center to get stuck on opening.
BigSurCenter Tweak Version 1.2.4
Resolved layout issue on iPads where the control center appears off-screen.
Fixed animation issues when dismissing the control center on iPads.
BigSurCenter Tweak Version 1.2.3
Added the ability to have 4 favorite modules.
Options to partially turn off Wi-Fi or Bluetooth from the control center, similar to stock functionality.
VPN indicator next to the time when a VPN is active.
BigSurCenter Tweak Version 1.2.2
Initial release for Havoc.