Latest XinA15 Jailbreak For iOS 15 – iOS 15.1.1 Free | @xina520 Jailbreak Development
The XinaA15 Jailbreak App is a brand-new jailbreak development for the iOS 15 version, that is still under iOS 15 – iOS 15.1.1 development and hasn't yet been made available to the general public. All iPhone, iPad, including iPod Touch devices that are compatible with iOS 15 may use this.
The latest jailbreak update for iOS 15 – iSO 15.1, according to well-known iOS hacker @xina520 was just tweeted about. To install his YouTube Reborn tweak on iPhone 13, he is using the Sileo package manager.
The developer has hinted that a public jailbreak targeting iOS 15 through 15.1.1 may be available in upcoming releases, giving hope to jailbreak enthusiasts.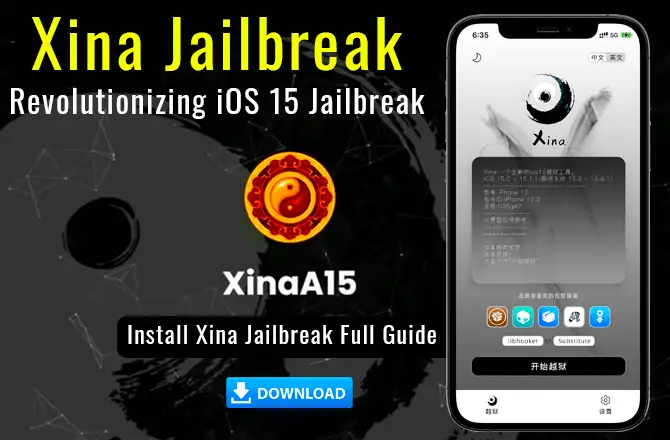 What Is XinaA15 Jailbreak?
XinaA15 Jailbreak is a script for macOS and Linux, allowing you to execute iOS 15.0 – iOS 15.1.1 checkm8 exploit on compatible iDevices. XinaA15 Jailbreak boots the device with AMFI patches and requires you to install through the TrollStore app to access the Sileo package manager.
XinaA15 Jailbreak is brought to you by @xina520, the developer behind the appreciated IPA tweak apps for iOS.
The installation procedure for the XinaA15 jailbreak is still under development, but it will hopefully be as simple as that of previous jailbreaks. It was necessary to do some initial preparations and utilize a computer in order to install this semi-tethered iOS 15 jailbreak using XinaA15 Jailbreak. Only experienced users should apply the XinaA15 jailbreak tool!
The checkra1n jailbreak is primarily powered by the checkm8 vulnerability created by axi0mX. This bootrom exploit's potential to guarantee a lifetime of jailbreaks for A5-A11 devices is what makes it so fascinating. Therefore, any new iOS version should really be vulnerable.
The jailbreak tool XinaA15 Jailbreak runs all required jailbreak scripts and is used to set up Sileo and Procursus Bootstrap. On iOS 15 with XinaA15 Jailbreak, you can manage repositories, browse packages, and install "jailbreak" applications via the package manager.
XinaA15 Jailbreak For iOS 15 Progress
✅ XinA15 jailbreak is really fast and stable demo by @xybp888.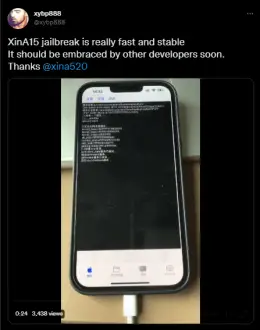 ✅ Tweak Injection achieved on iOS15.0-15.1.1 / A12-A15. Gets sent out to "plug-in" developers by @xina520. The xinaA15 jailbreak is quite stable. Certain plug-ins won't be impacted. They are easy to use. For the time being, there is no crash issue.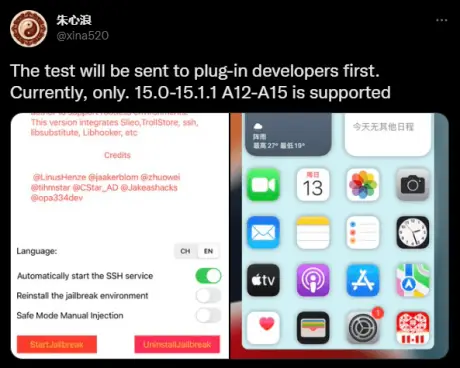 ✅ XinaA15 Jailbreak of iOS 15.0-15.1.1 on an A12-A15 device was demonstrated by @xina520.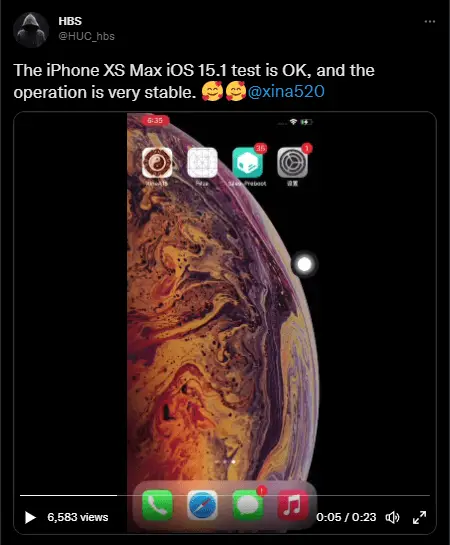 ✅ Xina520 achieved tweaks
✅ The most recent iOS 15 jailbreak accomplishments of xina520 include custom entitlements, running Sileo on their iPhone 13 Pro Max, and running iOS 15.1 customizations. Xina520 may be the only developer to have made significant progress toward a fully functional iOS 15 jailbreak including All devices, other than the Cheyote jailbreak.
There are still many compatibility issues to be resolved, XinaA15 Jailbreak. Every attempt is made for the XinaA15 Jailbreak to work with specific vintage components. @xina520 intends to finish it eventually However, there are still a couple of iOS 15 jailbreak issues that are quite difficult to fix. He makes every effort to use legacy technology. The Xina520 XinaA15 Jailbreak will soon be finished.
Developers will need to put a lot of effort into ensuring stability and device compatibility as a result of the XinaA15 jailbreak. Users can only hope that a jailbreak for the iOS 15 series will be released soon since multiple hackers are already working very hard on it.
XinaA15 Jailbreak Compatibility
Xina Jailbreak Support iOS/iPadOS Versions
iOS 15.1.1 / iOS 15.1 / iOS 15.0.2 / iOS 15.0.1 / iOS 15
Waiting for confirmation – iOS 16 / iOS 15.6.1 / iOS 15.6 / iOS 15.5 / iOS 15.4.1 / iOS 15.4 / iOS 15.3.1 / iOS 15.3 / iOS 15.2.1 / iOS 15.2
XinaA15 Jailbreak Supported iOS Devices
A12 > iPhone XS / iPhone XS Max / iPhone XR
A13 > iPhone 11 / iPhone 11 Pro / iPhone 11 Pro Max / iPhone SE (2nd gen)
A14 > iPhone 12 / iPhone 12 Mini / iPhone 12 Pro / iPhone12 Pro Max
A15 > iPhone 14 / iPhone 14 Plus / iPhone 13 & 13 Mini / iPhone 13 Pro iPhone 13 Pro Max / iPhone SE (3rd gen)
Xina Jailbreak Features
✅ 100% Revoke-free Xina Jailbreak – This IPA will be installed permanently and used with the most modern TrollStore app.
✅ Supported with iOS 15 XinaA15 Jailbreak for A12-A15 on iOS 15 – iOS 15.1.1 jailbreak compatible for iPhone and iPad – It provides a series of iPhone models, such as the iPhone 13, iPhone 12, and iPhone 11, as well as different iOS versions.
✅ Download and install Sileo serves as the default package manager.
XinaA15 Jailbreak Package Manager
With an emphasis on speed and convenience, Sileo is a revolutionary APT Package Manager supporting iOS 12 and later. It was created to give jailbroken smartphones a genuine Cydia alternative. All jailbreaks are officially supported by Sileo, and if you're using Unc0ver or Checkra1n, you may share its sources with Cydia.
It was written in Swift, a cutting-edge programming language designed by Apple to make iOS apps that load incredibly quickly. As a result, Sileo Package Manager functions efficiently including all jailbroken devices.
How To Install Xina Jailbreak
You may get the Xina520 jailbreak app for iOS by clicking the download link below or going to the official website. Please use the iOS Safari web browser to download.
📌 Xina520 has still not released this XinaA15 jailbreak tool to the public, so we will update the download links below as soon as @xina520 releases the iOS 15 jailbreak.
Xina Jailbreak For iOS 15.0 up toiOS 15.1.1 With Tweaks Support
Development on the XinaA15 Jailbreak was recently begun by @xina520, with the main goal being to provide ability for tweaks. A tweak injection technique called Substitute works with jailbroken devices. Basically, it's utilized for tweaking. Using a newly created tweak injection method, Substitute 2.3.1 can load a large amount of adjustments for maximum customisation on iOS 15 with very little overhead.
The Best XinaA15 Jailbreak Alternatives
Here are the top iOS 15 jailbreak tools that are currently being used as XinaA15 jailbreak alternative methods. The latest jailbreak techniques for Apple devices, including iOS 15, are explained and available for download. Discover jailbreaks for iOS 8 through iOS 15.
Palera1n Jailbreak For iOS 15 – iOS 15.7.1
Innovative first-public semi-tethered jailbreak solution for iOS 15.0 – 15.7.1 on iPhone, iPad, as well as iPod Touch devices is designated Palera1n. Depending on a bootrom security vulnerability by axi0mX, Palera1n was created. It is now feasible to jailbreak iPhones and iPads running the iOS 15 model through using the Palera1n tool created by @itsnebulalol Nebula. With the release of Palera1n 15.7, the jailbreak hope was fulfilled.
How To Jailbreak iOS 15 Using Palera1n Jailbreak »
Fugu15 Jailbreak For iOS 15.0 – iOS 15.4.1
Linus Hanze published the open-source Fugu15 Jailbreak for iOS 15 through GitHub. Fugu15 jailbreak is a rootless jailbreak, as predicted, thus a majority of the tweaks will need to be modified to work. The iOS 15 jailbreak, Fugu15, does not implement an untethered method and instead makes use of the CoreTrust exploit from Fugu14 that was fully fixed. This has led to substantial differences between the two jailbreaks, as well as in the installation processes. The most recent release of Fugu15 was made available as a TIPA package that can only be loaded through TrollStore on iOS 15-compatible devices.
How To Install Fugu15 Jailbreak Online ( Without PC ) »
Blizzard Jailbreak For iOS 15 – iOS 16
The ideal user experience for simply jailbreaking iOS 16 as well as iOS 15 is what Blizzard Jailbreak ensures. iOS 15 or iOS 16 can be jailbroken without the use of regular terminal methods by sideloading the Blizzard IPA file on checkra1n-compatible iPhones or iPads. The initial version of GeoSn0w's semi-tethered jailbreak for iOS 9 didn't allow the installation of tweaks. A used primarily as a development environment to figure out how to make an iOS jailbreak. Finally, Blizzard for iOS 9 brought tweak compatibility, turning it into a fully functional jailbreak.
It is possible to jailbreak iOS 15 and iOS 16 using the semi-tethered Blizzard Jailbreak, which is available as an IPA package that could be sideloaded with just an IPA installer.
Cheyote Jailbreak For iOS 15.0 – iOS 15.1.1
There have been numerous iOS 15 proof-of-concept vulnerabilities (PoC) released recently that enable reliable kernel read and write. The very first jailbreak provided by CoolStar for iOS 15, called Cheyote, includes the ability to install Sileo Package Manager onto your iPhone or iPad and supports iOS 15 and iPadOS 15. Furthermore, the reveal trailer for the iOS and iPadOS 15 jailbreak that CoolStar states shouldn't be interpreted as a release date because she hasn't committed to it yet. Once more, there is no estimated time of launch for Cheyote, especially as tweak injection must be changed to allow the more recent rootless dynamic.