H3lix Jailbreak IPA For iOS 10.0 – iOS 10.3.4 Jailbreak On iPhone, iPad, iPod | H3lix Jailbreak No PC
Want to H3lix jailbreak your iPhone, iPad, or iPod Touch running iOS 10.3 – iOS 10.3.4 for free? Download the H3lix jailbreak tool to quickly jailbreak your iOS device and make jailbreaking easy for you with h3lix jailbreak no computer. Use a jailbreak tool like H3lix to jailbreak iOS 10 and install Cydia tweaks and cool apps on your iPhone or iPad. Download H3lix jailbreak iPA RC6 and use Sideloadly to install the H3lix IPA file.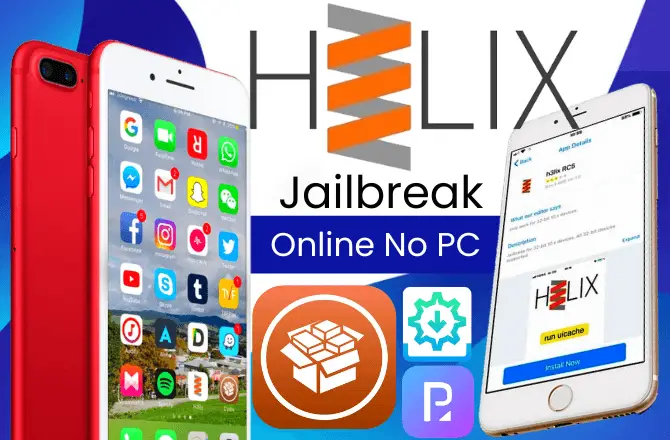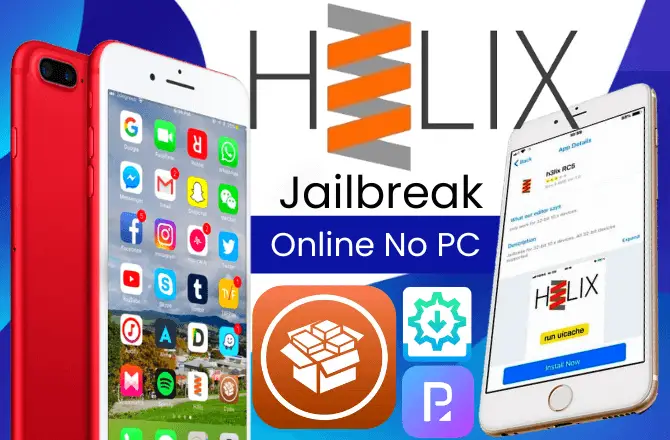 Download H3lix RC6 Jailbreak IPA
Helix Jailbreak Features
✅ Powerful semi-untethered jailbreak application supporting iOS 10.0 through iOS 10.3.4 iDevices.
✅ H3lix jailbreak download can let you access the Cydia store.
✅ H3lix allows you to download your preferred Cydia tweak ++games, themes, and applications.
✅ The greatest replacement for the Saigon Jailbreak, Yalu Jailbreak, and G0blin Jailbreak programs is H3lix IPA.
✅ Internal files aren't deleted by it.
✅ All it takes is a simple device reboot to unjailbreak a device.
Top Cydia Tweaks For Helix Jailbreak
There are countless numbers of Cydia tweaks available to install after you've jailbroken your iPhone, iPod Touch, or iPad.
For your iPhone, iPod Touch, and iPad, you can discover the best Cydia customizations right here. Browse the list, select a Cydia tweak that inspires your interest, and explore how it can improve the way you use your iPhone, iPod Touch, or iPad.
🚀 Innovative Jailbreak Tweaks »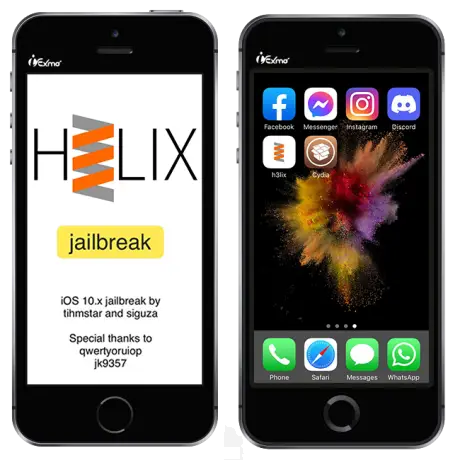 How To Install H3lix Jailbreak For iOS 10.0 – 10.3.4
You must sign and then install the H3lix IPA file on a computer in order to download helix jailbreak RC6 and jailbreak your iPhone. You will always succeed with this approach.
How to jailbreak iOS 10.3.3 with a computer? You may sideload IPA files using Sideloadly, a Cydia Impactor substitute, over Wi-Fi. There is no difference in the process whether you downloaded the macOS and otherwise Windows version.
How To Patching The H3lix IPA
How to use h3lix jailbreak? The H3lix IPA must be modified since it was created to function with Cydia Impactor but no longer supports free accounts. Here's how to modify the H3lix IPA file so that Sideloadly may use it. Currently only offer the patched RC6 IPA version for download.
For MacOS And Linux Users
Download MacOS And Linux: Jakeajames' Patcher Script
Step 1 > Ensure that the patch.sh file and the H3lix IPA have been downloaded to your PC.
Step 2 > Open your Terminal app.
Step 3 > Change directories to the location of the script and h3lix.ipa files that you saved before. Drag the patch.sh file and the H3lix IPA onto your desktop.
Step 4 > Run the command on your terminal window.
cd ~/desktop
Step 5 > Run the command.
chmod +x patch.sh
Step 6 > Execute the ./patch.sh in the terminal.
./patch.sh h3lix-RC6.ipa h3lix-RC6-patch.ipa
Step 7 > On your desktop, the file should appear as h3lix RC6-patch.ipa.
As of right now, you can sign an IPA in Sideloadly using a patched version of the H3lix IPA.
H3lix Jailbreak For Windows Users
Download Windows: winh3lixpatcher »
Step 1 > Drag the h3lix ipa file and drop it on the winh3lixpatcher.exe file.
Install H3lix IPA With Sideloadly Tool
Step 1 > Open Sideloadly app [MacOS / Windows]
Step 2 > Connect your iPhone or iPad to your PC.
➤ To access the contents of your device, confirm that your computer is trusted and permitted to do so.
Step 3 > Download the H3lix RC6 IPA – h3lix.ipa
Step 4 > In Sideloadly, drag and drop the h3lix.ipa file.
Step 5 > Enter in your Apple ID and password.
➤ To function with free developer accounts, Sideloadly must send a request to its servers. You can use a different Apple ID if you are uncomfortable with this.
Step 6 > Your iOS device will now download the H3lix jailbreak app.

How To Trusting The H3lix App
Step 7 > Go to Settings > General
Step 8 > Navigate to Device Management > Your Apple ID
➤ Device Management may have the names Profiles and Device Management depending on how you use it.
Step 9 > Trust on your Apple ID
Step 10 > You may now access the h3lix app from the home screen.
How To Running H3lix Jailbreak App For Jailbreak iOS 10
It is incredibly easy to jailbreak iOS 10 with the H3lix tool. The IPA file must be installed on your iPhone before you can jailbreak it and install Cydia, which gives you access to applications and cydia tweaks.
Because the h3lix jailbreak is not "persistent," it is not retained after a reboot. After each reboot, you must execute the exploit again. On how to achieve this, instructions will be provided.
Most of the time, you will be required to reinstall your h3lix jailbreak app to your iPhone from your pc every 7 days due to how customized apps are loaded to the iPhone, iPad.
How To Jailbreak iOS 10 With H3lix
Step 1 > From the Home Screen, launch the H3lix app.
Step 2 > Tap the Jailbreak button.
Step 3 > Await the end of the exploit until respringing.
Step 4 > Install tweaks on your home screen by launching the Cydia package manager.
Unlimited iOS Repository For Jailbroken iPhone iPad Or iPod
The finest Cydia source is iExmo, which offers many fantastic features in addition to the free versions of apps that are expensive. The ideal Cydia Source for you if you're a creative device owner who needs to personalize your iPhone.
Incredible is packed with hundreds of packages that let users add free applications, themes, games, best game hack repos for cydia, all repos for cydia, best repos for cydia iOS 10, top repos for cydia, cool repos for cydia, repositories for cydia and other content to their devices to make them more unique. Because developers continue to upload new packages to this repository on a daily basis, you'll never run out of amazing packages for Insanely.
Enjoy The Best Cydia Sources & Repos Now! »
How To Install Helix Jailbreak iPA RC6 Without A Computer | Online Method
Without a PC or Mac, the H3lix jailbreak no computer application may be installed via the links supplied to well-known third-party App Stores. The issue with this technique is that the IPA file is certified with a certificate that is often used to pirate applications and games that are sold legitimately in the App Store.
As a result, Apple has revoked the certificate, and most links no longer function. You won't be able to download or launch the H3lix app on your mobile device as a result. If you want to install iOS 10.3.3 jailbreak H3lix RC6 without a pc, you can try using the link below. The h3lix download direct website link is regularly updated.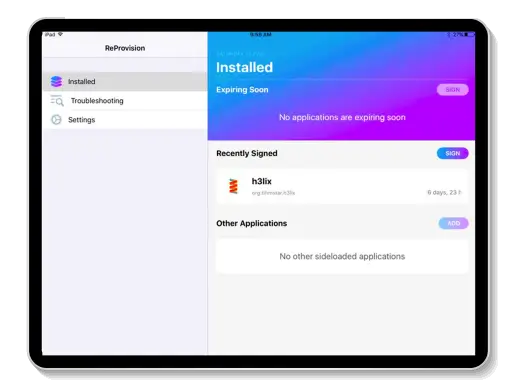 Installing H3lix Online
The Helix app can be revoked from your iPhone / iPad after installation, at which point it will no longer operate. To activate H3lix Jailbreak directly online on an iOS 10 device, it is best practice to utilize a jailbreak tool such as ReProvision. You aren't going to forget since Reborn will actually move it out automatically.
Step 1 > Download H3lix IPA file on the iOS Safari browser.
Step 2 > Share the H3lix IPA file to the ReProvision Reborn.
Step 3 > Open the H3lix IPA file with the ReProvision Reborn app.
Step 4 > Tap on the Install button.
Step 5 > The signed H3lix IPA app will be available from the Home Screen.
Which Jailbreak Is Best For An iPhone?
It actually depends on the iPhone model you have and the jailbreak method you use. While trying to remain objective with regards to the different iOS versions and jailbreaks, the fastest AI-powered jailbreak finder tool can assist you in finding the best iPhone jailbreak app for you.
Helix Jailbreak Compatibility iOS Devices
iPhone – iPhone 5s / iPhone 6 / iPhone 6 Plus / iPhone 6s / iPhone 6s Plus / iPhone SE
iPad – iPad Air / iPad Air 2 / iPad Pro / iPad mini 2 / iPad mini 3 / iPad mini 4
iPod – iPod touch 6
What Is H3lix Jailbreak?
H3lix Jailbreak is a free program that allows you to jailbreak iOS devices running versions 10.0.1 through 10.3.4 and install Cydia. Two versions of this jailbreak, one for 32-bit and one for 64-bit iOS computers, were made available. Your iOS 10 smartphone may easily and quickly have Cydia installed.
The 64-bit platform is the focus of the H3lix release RC6. Download the H3lix RC5 version with compatibility for iOS 10 or later for all other 32-bit devices including the iPhone, iPad, and iPod Touch. H3lix jailbreak no computer methods Remove /Applications/Cydia.app if you're having problems with Cydia and wish to reinstall the H3lix. H3lix Jailbreak verifies for Cydia rather than a marker file that may be deleted to re-jailbreak.
The h3lix no computer uses the V0rtex vulnerability, which enables semi-untethered jailbreaking. H3lix untethered to access all functions, you must re-jailbreak the iOS 10 operating system with each restart of your iDevice. This Cydia app is installed by H3lix, gives you instant access to customizations and applications from well-known repositories.
The headphone jack-equipped iPhones running iOS 10 through iOS 10.3.4 are supported by doubleH3lix jailbreak RC8 for A7-A9 devices. With h3lix iOS 10.3.3 jailbreak you may browse the top Cydia Repos with tweaks, applications, iOS themes, and other freebies by using the same capabilities as if you had Cydia installed on your iPhone or iPad.
Regarding 64-bit iOS 10.x devices without KTRR, use this jailbreak. In order to prohibit the change of the iOS kernel, this method was first employed in Apple's A10 processor and afterwards. In addition to the iPad Air, iPad Air 2, iPad Pro, and iPad Mini 2 / iPad Mini 3 / iPad Mini 4, doubleH3lix jailbreak also works with the iPhone 5s, iPhone 6 / iPhone 6s, iPhone 6 / iPhone 6s Plus, and iPad Air. SockH3lix jailbreak is an alternative that you may try. With enhanced compatibility for the iPhone 5, this is the greatest H3lix jailbreak as well as doubleH3lix for iOS 10 version.
Who Developed H3lix Jailbreak?
The quickest jailbreak for 32-bit iOS devices, developed by tihmstar and siguza, depending on the V0rtex vulnerability. Helix is a straightforward semi-Untethered jailbreak tool for iOS 10.0 through iOS 10.3.4 firmware-enabled iPhone, iPad, and iPod touch devices.